Our re-admittance to the airport went a lot more smoothly than our exit.  After going through security right at the entrance, we found our way back up to the main terminal, and were able to find the Turkish lounge with ease.
We spent but little time in the lounge, just enough to explore a little more and snap a quick photo of a guy playing pool (stress-free living much?)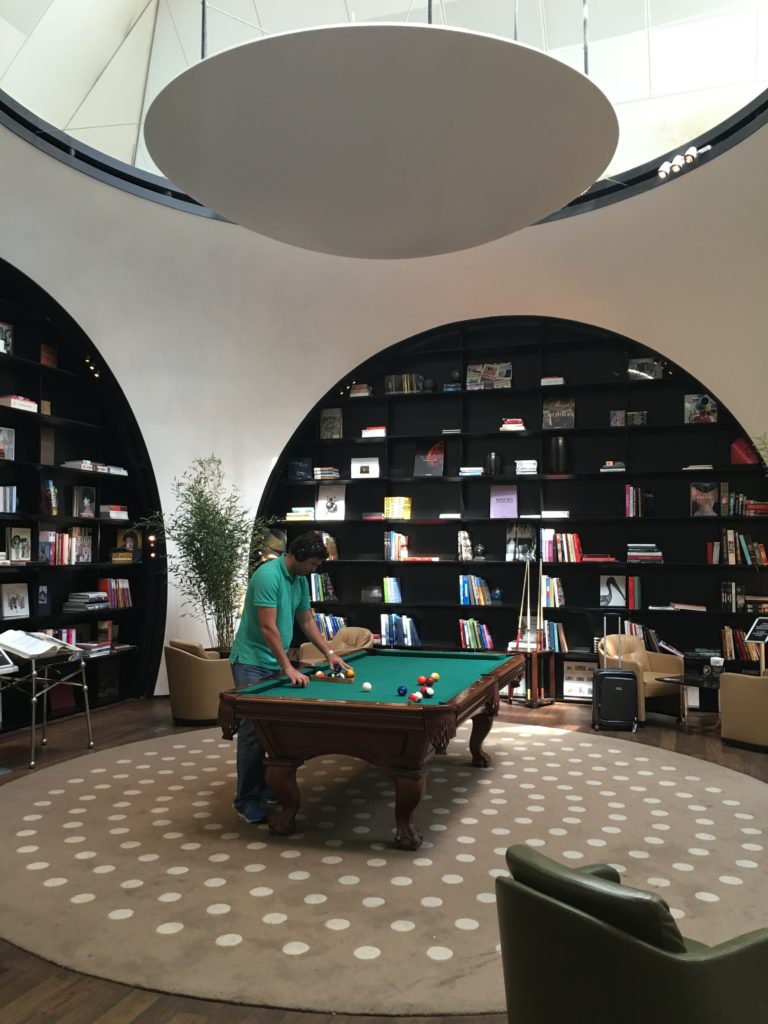 We collected our bags from the locker and started to the gate, knowing we wanted to pick up some food on the way.
We found a soiree of shops selling Turkish Delights, Baklava, and plenty more goods and treats and managed to navigate around the crowds to pick some up.
With camera bags, backpacks, hats, store bags and more we managed to drag ourselves to the gate and get through the additional screening needed when traveling Turkey to the U.S.
It wasn't long after before boarding for business class began.
-The Big One! Introduction/Giveaway
-Day One: Hyatt Regency San Francisco Airport Review
-Day Two: United First Class B737-800 SFO-IAD summary
-Days Three through Six: D.C Area recommendations: Smithsonian, National Harbor, Baltimore Aquarium
-Day Seven: Lufthansa Business Class Lounge IAD summary, Lufthansa First Class A330-300 IAD-MUC Summary
-Day Eight Part 1: Six hours in downtown Munich, Lufthansa First Class Lounge Munich Summary
-Day Eight Part 2: Lufthansa First Class A330-300 MUC-DXB Summary
-Day Nine Part 1: Dubai Exotic Limo brief review part 1 & Abu Dhabi recommendations: Ferrari World, the Grand Mosque
-Day Nine Part 2: Park Hyatt Abu Dhabi Review
-Days Ten through Twelve Part 1: Park Hyatt Dubai Review
-Days Ten through Twelve Part 2: Dubai Exotic Limo brief review part 2 & Dubai recommendations:  Burj Khalifa Sky
-Days Ten through Twelve Part 3: Dubai Recommendations: Tea at the Ritz Carlton Jumeirah Beach, Atlantis Monorail, Dubai Mall
-Days Ten through Twelve Part 4: Dubai recommendations: Platinum-Heritage Falconry Heritage Tour.  The Dubai Museum
-Day Thirteen: Emirates 777-300 DXB-MLE summary, Moonima Lounge MLE summary, Park Hyatt Maldives transfer summary
-Days Thirteen through Sixteen Part 1: Park Hyatt Maldives Hadahaa Review
-Days Thirteen through Sixteen Part 2: What to do at the Park Hyatt Maldives Hadahaa
-Day Seventeen: Maldivian Dash-8/Boat Transfer Park Hyatt-MLE summary, Conrad Rangali MLE Lounge summary, Trans-Maldivian Twin Otter transfer MLE-Conrad Rangali Island
-Days Seventeen through Twenty-One Part 1: Conrad Maldives Rangali Island Review
-Days Seventeen through Twenty-One Part 2: What to do at the Conrad Maldives Rangali Island Resort
-Day Twenty-Two Part 1: Trans-Maldivian Twin Otter Conrad Rangali Island-MLE summary, Conrad Lounge MLE summary, Leeli Lounge MLE summary
-Day Twenty-Two Part 2: Turkish Airlines Business Class A330-300 MLE-IST summary.
-Day Twenty-Three Part 1: Turkish Airlines IST Lounge Summary, six hours in Istanbul
-Day Twenty-Three Part 2: Turkish Airlines Business Class B777-300  IST-SFO summary
-Day Twenty-Four: Hyatt Regency San Francisco Embarcadero Review
-Trip Summary/The Numbers
-The BIG Question: Park Hyatt Maldives Hadahaa or Conrad Maldives Rangali?
Flight Stats:
Aircraft Type: Boeing B777-300ER
Seats:  2J & 2K (Business)
Duration: 13 hours, 25 Minutes
Cost: 80K United Miles and $75 Per Person - Booked from MLE-IST-SFO
Value: ~$2500 per person- Booked from MLE-IST-SFO
We boarded with dozens of other business class passengers and were directed to our left.
While the seats were exactly the same on the Turkish B777 as they were on our A330, they were laid out in a 2-3-2 configuration instead of a 2-2-2.
We took our seats on the second row right side and found plenty of storage space in the ottoman ahead of us.
The cabin filled quickly, and soon we began our taxi for an on-time 1:00 departure.  By the time we pulled from the gate there were only a few empty seats remaining.  We also noticed several children occupying business class seats next to their parents, a different experience than we had on our flight from Male.
We were airborne quickly and as we climbed to cruise altitude flight attendants passed out amenity kits to the passengers.  The kits came in a Jaguar-Branded pouch and consisted of: socks, lip-balm, body lotion, a comb, a toothbrush and toothpaste, an eye-mask, a shoe horn, and ear plugs.  We pretty much left the kits intact save for using the eye-masks.
Given the recent promotional partnership between Turkish Airlines and D.C for the then upcoming "Batman VS. Superman" movie, both the safety video and the food menus were Batman themed.  So it was only fitting that a little while into our cruise I plugged into the inflight entertainment and begin watching the Michael Keaton-starring "Batman".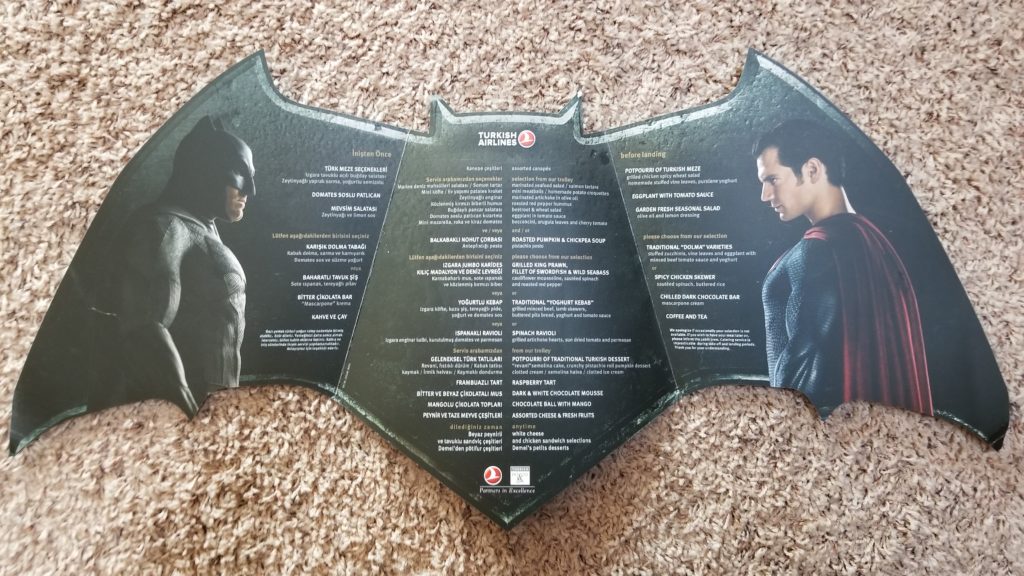 I didn't get too far into it though, as we were already nearing 2 hours into our flight, and the meal service began.
To start we were served a multi-grain bread with butter, olive oil, and spices.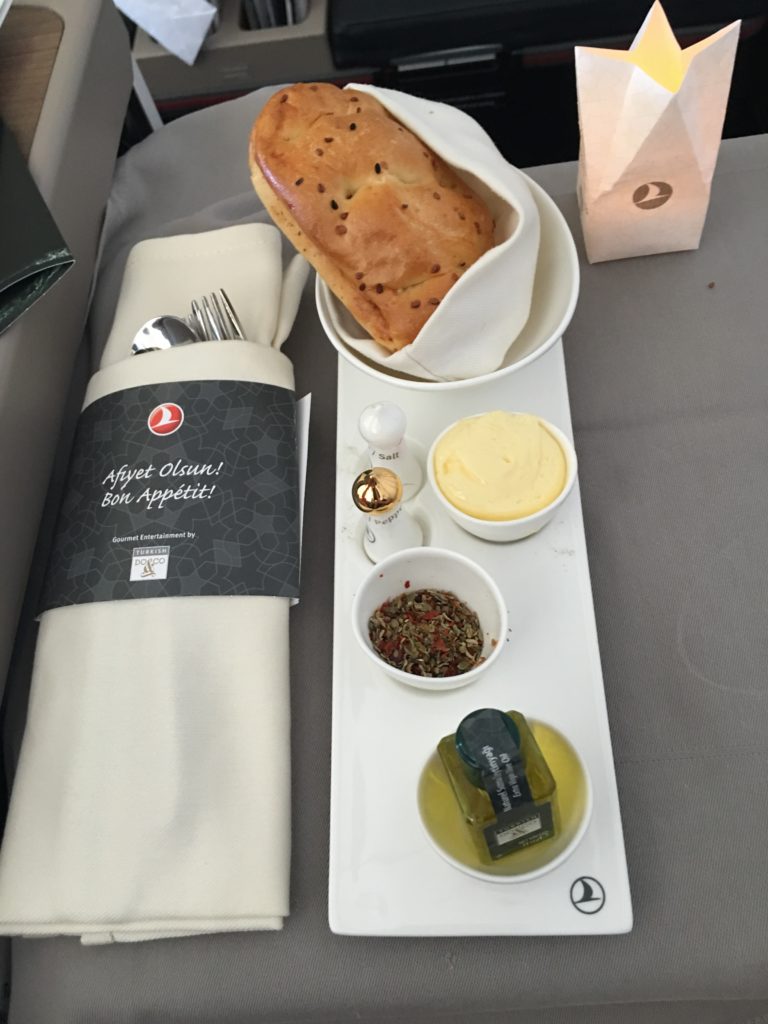 Then the appetizer cart rolled through.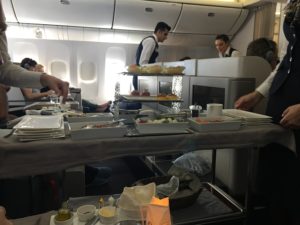 From the cart we both selected mini-meatballs and a pumpkin and chickpea soup.  I also opted for a roasted-red pepper hummus, wheras Kim picked out a canapé and a beet-root salad.
We both settled on the King Prawn and Wild Seabass for our entrée.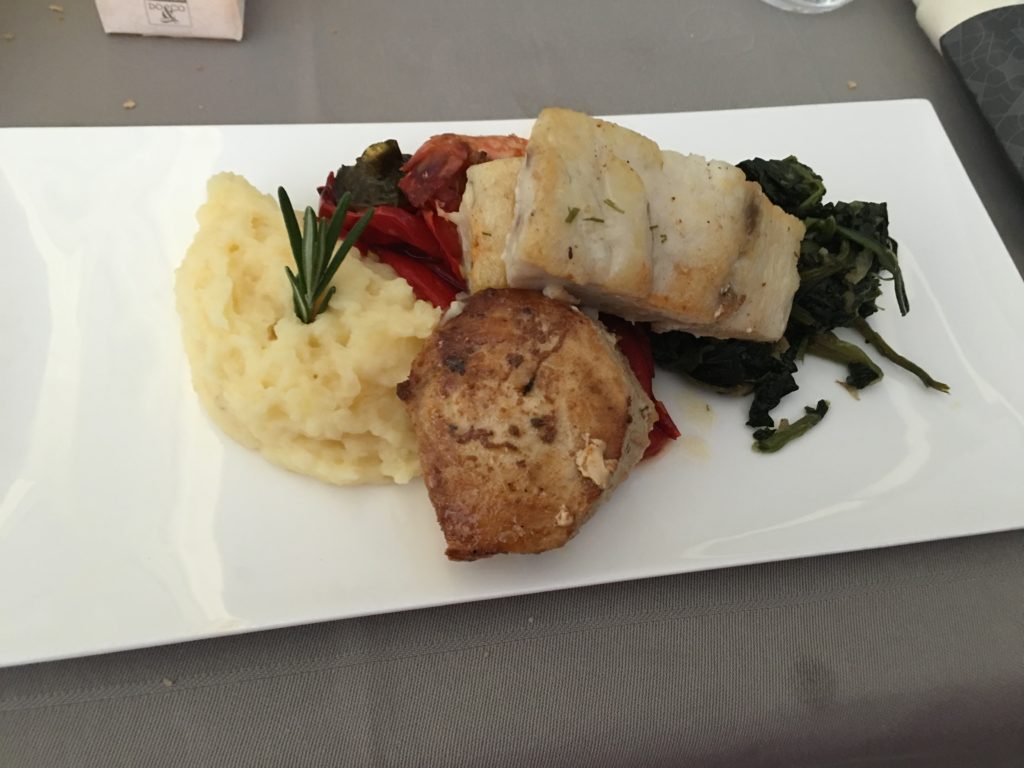 We found all the food to be exceptional, but wish there had been a couple more options for the entrée.
Lastly was the dessert cart.  Never the people to pass up free sweets (or suites 😉 ), we tried almost every available option, including a pistachio roll, raspberry tart, chocolate mango ball, and some ice cream.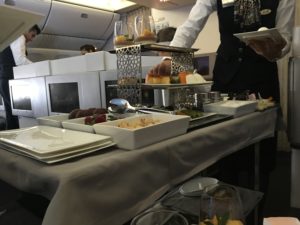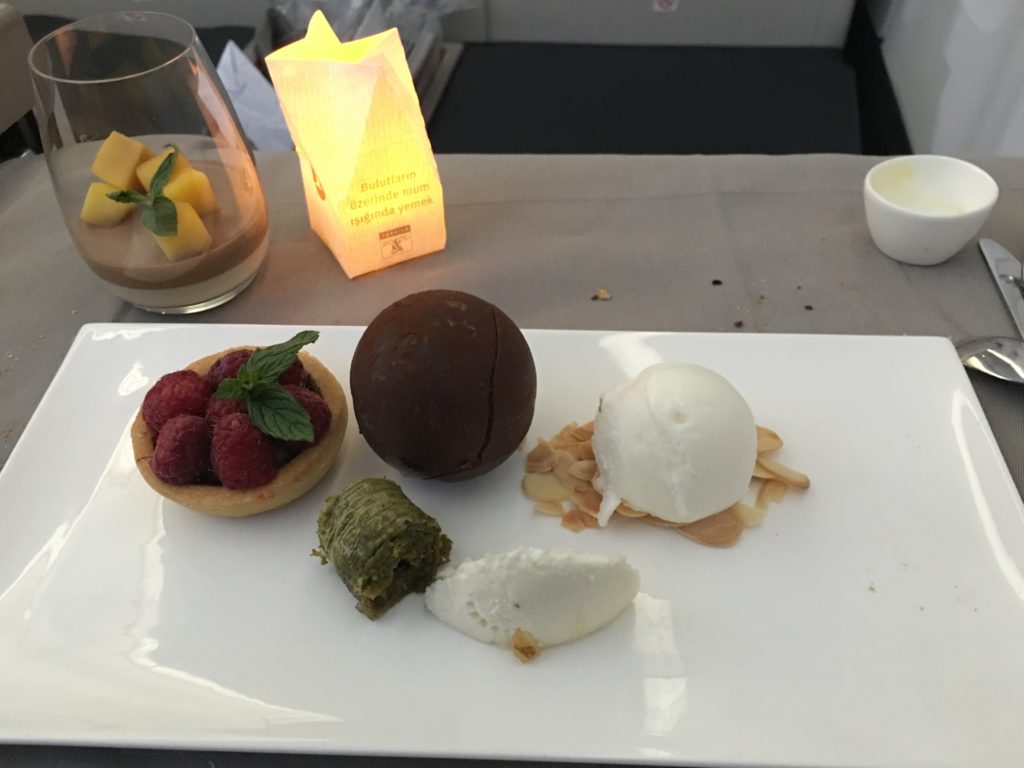 To top it off, we were offered some tea and pastries.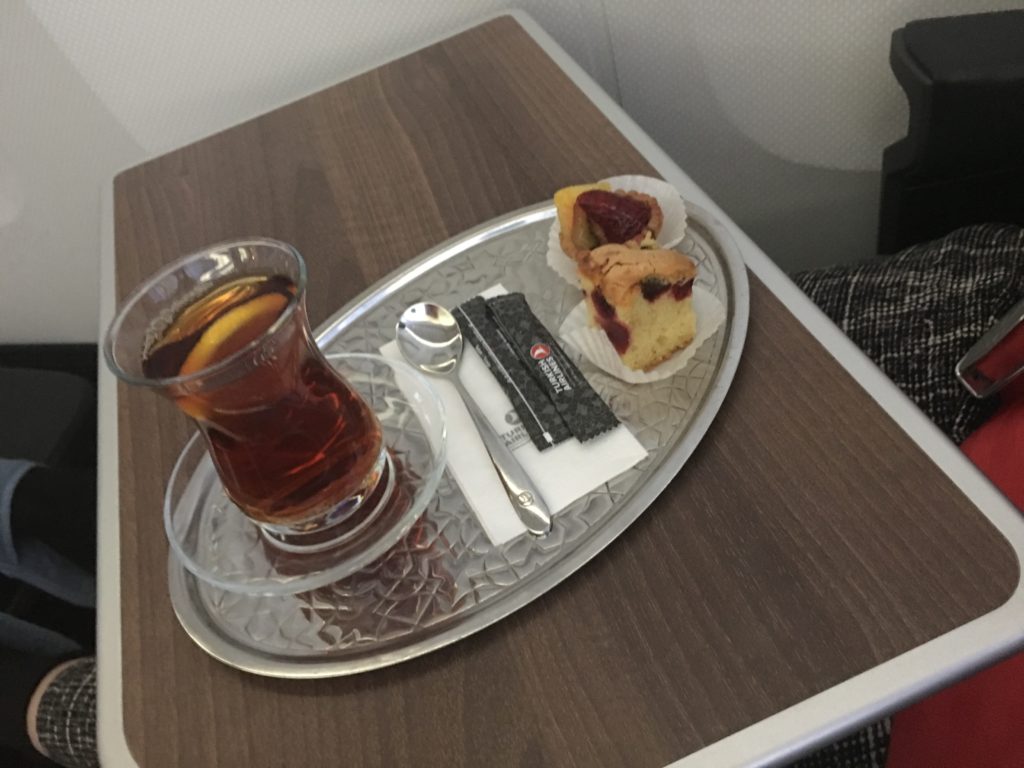 The whole meal service ran about an hour and 45 minutes, and by the time it was over, we were exhausted.
About an hour after meal service was over, we asked about having our beds made.
The flight attendants obliged and while they worked their magic we changed into our Lufthansa pajamas. Soon we were tucked in our cozy seat-beds.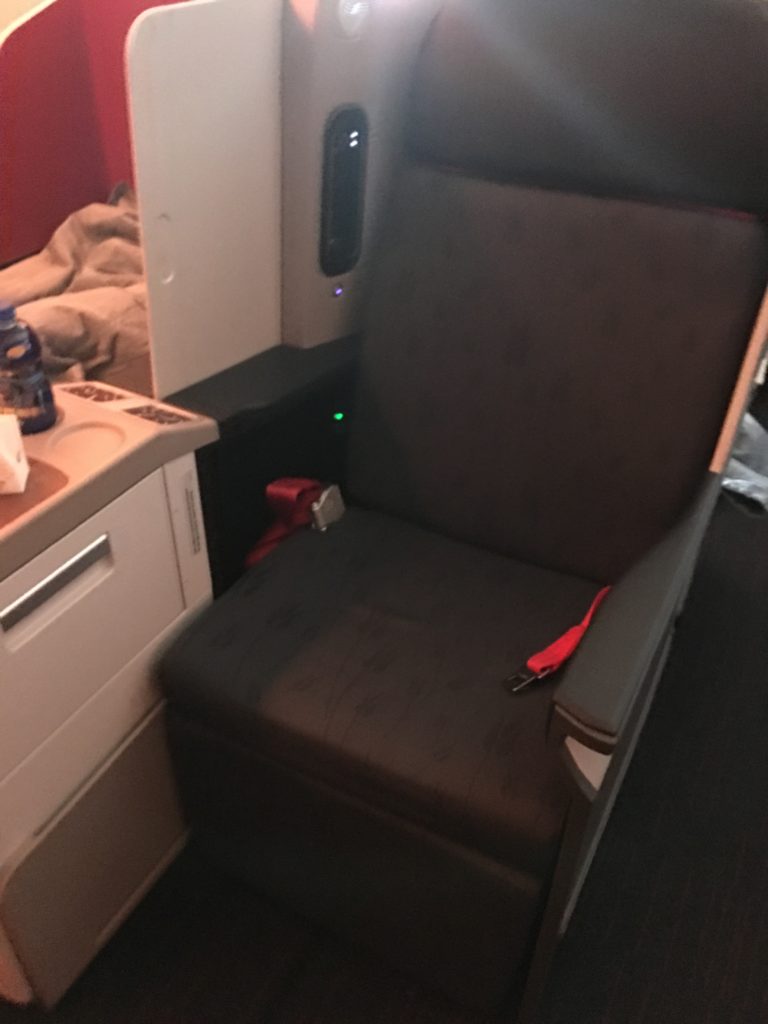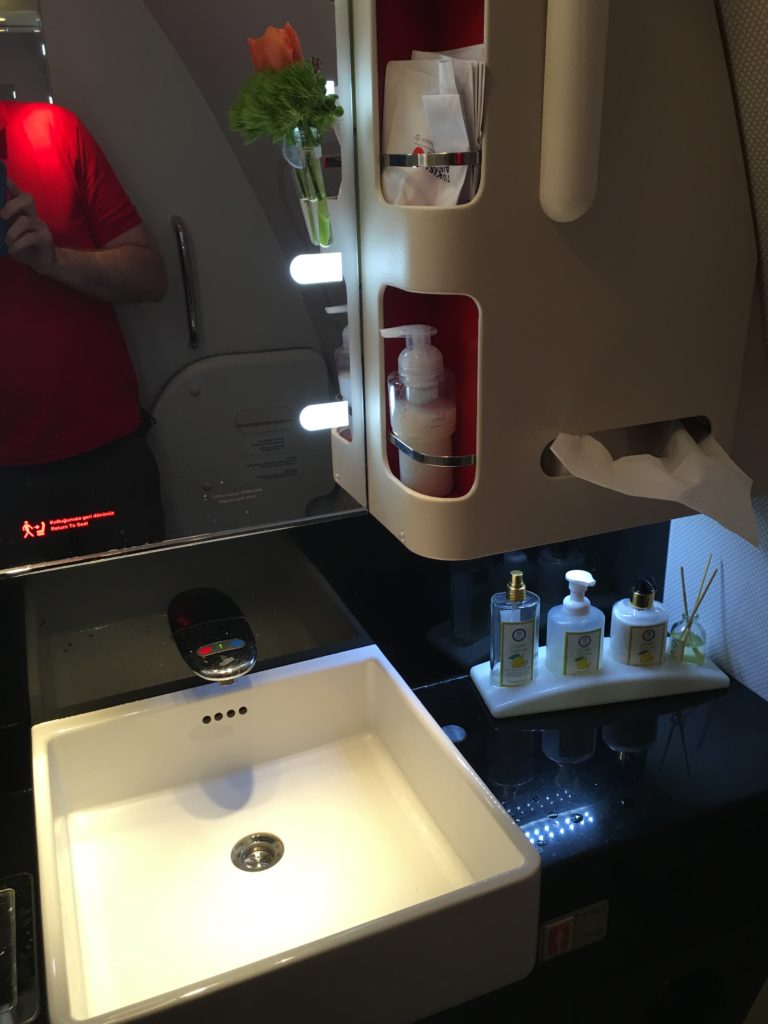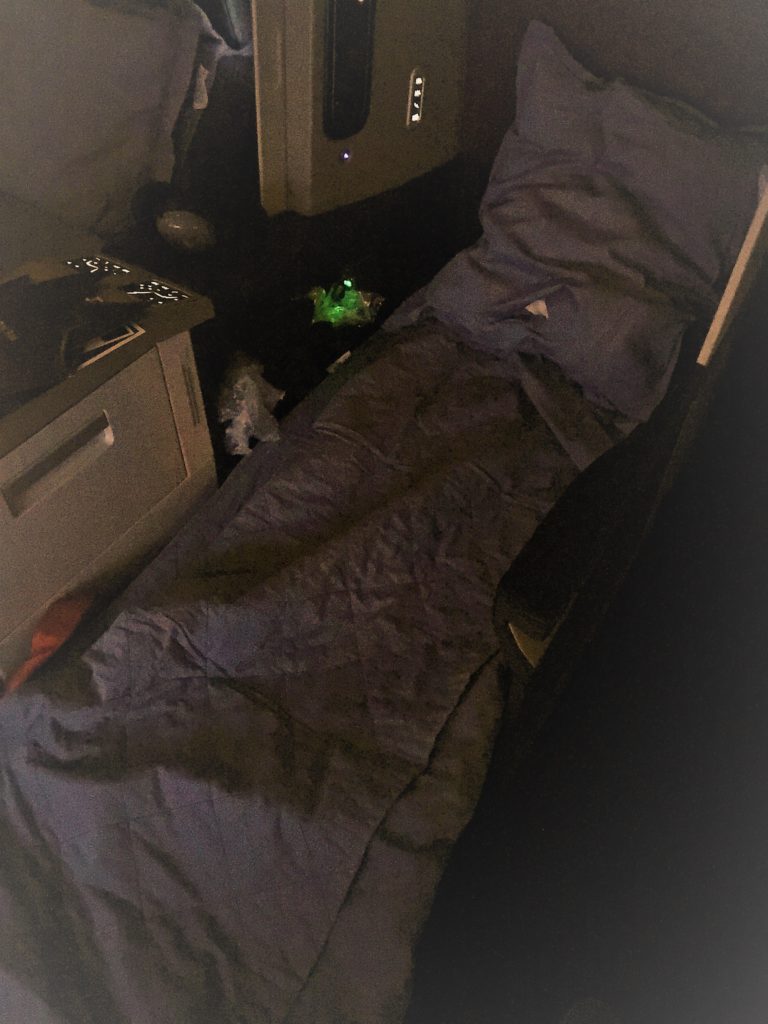 Our westbound route meant we'd be following the sun all day, and for that reason passengers were asked to keep their shades down throughout the flight.
I was in and out of sleep for the next 8 and a half hours, but KimPro slept pretty solidly throughout.  Despite a few less-than-perfectly-happy children, the noise never really bothered us.  Kim even slept better than with the two talkative seniors on our previous leg.
When I was fully awake I had my bed taken apart, and checked out the In-Flight Progress Map: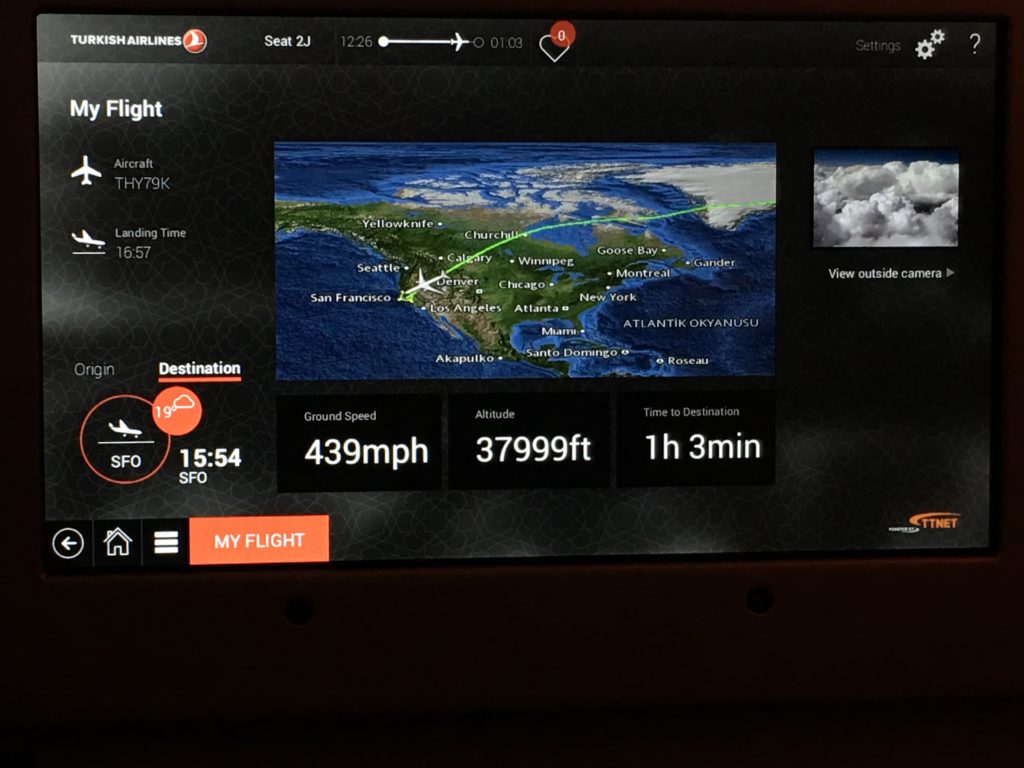 KimPro stayed asleep until the flight attendants started preparing for landing:
Landing was smooth and we arrived in San Francisco at around 4:30 in the afternoon (2:30 A.M Istanbul time). Despite our onboard sleep, we were in no way ready to push through the day.
Ultimately:
I was pleasantly surprised by the food, service and comfort of our flight from Istanbul to San Francisco. I went into our flights with uncertain expectations, given that I wasn't that educated on the airline (VS the many articles I've read about Lufthansa First Class). Our seats were cozy but comfortable and the food was served and presented in an appealing manner. I wouldn't hesitate to book the airline again were I headed back to the Maldives or Istanbul.
Please follow and like us: