After the extravagant first leg of our trip, we had arrived in Munich!  We followed a simple set of directions to find the First Class Lounge, just a short walk away from our gate. We were warmly greeted at the entrance, and discussed our options with the front desk for getting into downtown Munich. But first it was time to kick back for a little bit and get our bearings.  The lounge agents sat directly across from the customs agent, and they explained to him that we were going to leave later (thank goodness, because he spoke little to no English).  He had us keep our passports since we'd be leaving soon enough.
-The Big One! Introduction/Giveaway
-Day One: Hyatt Regency San Francisco Airport Review
-Day Two: United First Class B737-800 SFO-IAD summary
-Days Three through Six: D.C Area recommendations: Smithsonian, National Harbor, Baltimore Aquarium
-Day Seven: Lufthansa Business Class Lounge IAD summary, Lufthansa First Class A330-300 IAD-MUC Summary
-Day Eight Part 1: Six hours in downtown Munich, Lufthansa First Class Lounge Munich Summary
-Day Eight Part 2: Lufthansa First Class A330-300 MUC-DXB Summary
-Day Nine Part 1: Dubai Exotic Limo brief review part 1 & Abu Dhabi recommendations: Ferrari World, the Grand Mosque
-Day Nine Part 2: Park Hyatt Abu Dhabi Review
-Days Ten through Twelve Part 1: Park Hyatt Dubai Review
-Days Ten through Twelve Part 2: Dubai Exotic Limo brief review part 2 & Dubai recommendations:  Burj Khalifa Sky
-Days Ten through Twelve Part 3: Dubai Recommendations: Tea at the Ritz Carlton Jumeirah Beach, Atlantis Monorail, Dubai Mall
-Days Ten through Twelve Part 4: Dubai recommendations: Platinum-Heritage Falconry Heritage Tour.  The Dubai Museum
-Day Thirteen: Emirates 777-300 DXB-MLE summary, Moonima Lounge MLE summary, Park Hyatt Maldives transfer summary
-Days Thirteen through Sixteen Part 1: Park Hyatt Maldives Hadahaa Review
-Days Thirteen through Sixteen Part 2: What to do at the Park Hyatt Maldives Hadahaa
-Day Seventeen: Maldivian Dash-8/Boat Transfer Park Hyatt-MLE summary, Conrad Rangali MLE Lounge summary, Trans-Maldivian Twin Otter transfer MLE-Conrad Rangali Island
-Days Seventeen through Twenty-One Part 1: Conrad Maldives Rangali Island Review
-Days Seventeen through Twenty-One Part 2: What to do at the Conrad Maldives Rangali Island Resort
-Day Twenty-Two Part 1: Trans-Maldivian Twin Otter Conrad Rangali Island-MLE summary, Conrad Lounge MLE summary, Leeli Lounge MLE summary
-Day Twenty-Two Part 2: Turkish Airlines Business Class A330-300 MLE-IST summary.
-Day Twenty-Three Part 1: Turkish Airlines IST Lounge Summary, six hours in Istanbul
-Day Twenty-Three Part 2: Turkish Airlines Business Class B777-300  IST-SFO summary
-Day Twenty-Four: Hyatt Regency San Francisco Embarcadero Review
-Trip Summary/The Numbers
-The BIG Question: Park Hyatt Maldives Hadahaa or Conrad Maldives Rangali?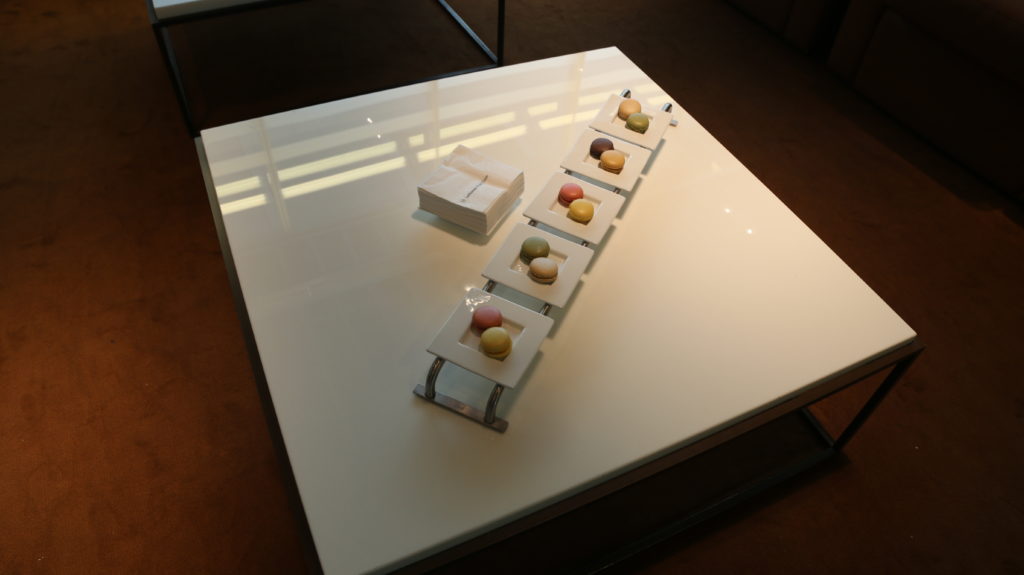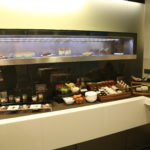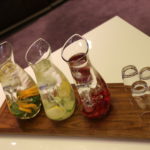 After sorting the confusion, we were led into the lounge and we took a seat and started munching on some Macarons. At first, I was hesitant to eat them, as they appeared to be more for decoration. But within a minute or two of eating a few, they were immediately replenished by a lounge attendant.
I was not very hungry after our breakfast so I didn't indulge in much, but there was definitely a variety available... from the macarons to gummy bears, soft pretzels and more. They also had fruit infused water available, and they had a full bar.
While I kicked back on the couch, Kim went exploring and discovered the showers. After our long and rather warm flight over from DC, we definitely needed one.
While tolerable for her, I discovered that I could not get the water warm enough for comfort, and an attempt at a different shower room yielded no better result.  I eventually gave up on freshening up and went back into the main lounge.
On my way to the showers, I also noticed a Cigar Lounge. While it's not something I'd ever partake in, it certainly appeared classy, with comfortable seating and available whiskey.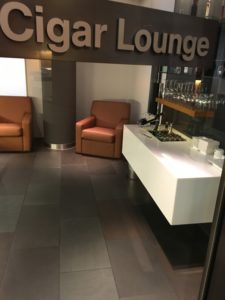 After gathering our things, we headed out to the city, dropping off unneeded luggage at the lounge storage room. We walked through and out of the terminal and followed the signs for the metro rail. We purchased two day passes directly from a station agent and made our way down the escalator onto a waiting train.  After a five minute minute wait, the train departed towards Marienplatz, Munich's city center.  The trip to Marienplatz is about 45 minutes long, and is relatively comfortable.  The train is akin to a subway or metro in the U.S.  It cost us approximately $26.50 for the day passes ($13.25 per person).   Very shortly after we departed the airport, an attendant began requesting to view people's tickets. I suggest you keep it at the ready if you embark on the same venture.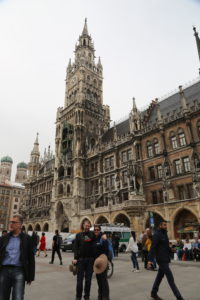 We arrived to a bustling and loud city center.  It may have been the day of a soccer game because there were marches, there was chanting, there was general excitement in the air.  We took the escalator up the the ground level and found ourselves in the midst of some incredible history and architectural wonders.
It took a moment to take it all in. Church bells rang every so often, and the noise came from all over.  Chanting continued from nearby.
The air was slightly chilly, and we began walking in a generally random direction.  We found a chocolate shop (I believe it was Chocolaterie Beluga) , a miniature farmers market (Victuals Market), some cafes, some retail shops.  We continued along some of the sidewalks and passed by some adult shops displaying the latest in fashionable adult toys.
We picked up some postcards at a convenience store and walked a block down to Caffe Piemonte, a hidden gem tucked nearby the Heiliggeistkirche.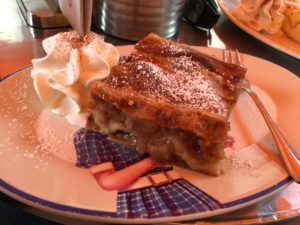 It was here that we both indulged in some delicious apple and cheese strudels, while enjoying the atmosphere.  We then continued to visit the Heiliggeistkirche Munich, a gothic church built in the 14th century.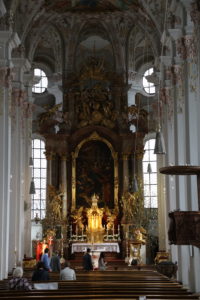 We spent only a short amount of time inside admiring the detail and architecture of the building and its interior.  While there were a few worshipers, it seemed the mass of the crowd inside were like Kim and I: cameras out.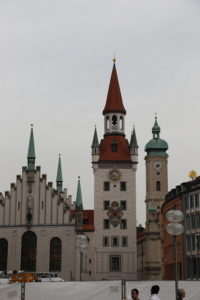 After finishing some photos and taking a couple postcards (available in the back with donation), we continued out to the town square where we started, and found the tower of the Altes Rathaus.  We entered the base of the tower and climbed some stairs to the entrance of a toy museum.  But despite a relatively minor surcharge to visit (about six bucks a person), we were pretty much out of cash at this point, so we elected not to continue.
Next up we visited the courtyard of the Neues Rathaus, one of the most prominent pieces of Architecture visible from the town square.  During business hours tourists are able to visit the clock tower for views of the city, but as we were running out of time we decided to skip out on this opportunity.  Instead we walked a little further down the road past several retailers and through another rowdy football crowd flanked by police over to the Frauenkirche, another incredible church.  Then it was time to head back to the airport.  For our entire time of exploring, we had never wandered far from the train station, and the hardest part of the navigation was finding the proper tracks once we arrived at the station.  After traversing several escalators and meandering around several paths, all while surrounded by the noisy football fans, we found our train, and were on our way back.
After getting back to the airport station and walking across the giant airport atrium to the terminal, we found the first class check-in and security.  Since we already had our boarding passes, we bypassed the check-in counter and went straight to the security line.  With NOBODY else waiting.  It was no less convenient in terms of strictness of the security (and that's for the best), but there was no rush to move through the queue.  After passing through the metal detectors, we started on a journey in the wrong direction, making our way to the standard customs entrance.  My girlfriend smartly guided me away from this area back towards terminal 2 (per what the lounge attendants had advised us to do) and we found the first class lounge entrance, where we gathered our things from the storage area, took the elevator up a level, and went through a simple customs procedure with the agent at the lounge entrance, leaving our passports with him.  Then was time for an hour or so of relaxation and dinner before our boarding.
We took seats in the dining room of the lounge and were soon handed dinner menus.  Though none of it looked particularly appealing to me (more a cause of the descriptions than the actual food), the food actually turned out pretty great.  Admittedly I made the mistake of ordering a beef filet while Kim splurged on Schnitzel, which is the proper choice for dinner in Germany.  I enjoyed a bite of her meal and would have otherwise ordered one for myself but for that we were running out of time.  After finishing dinner we quickly gathered our belongings and headed out for our next flight.
Next up: Day 8 Part 2: Lufthansa First Class MUC-DXB.
Please follow and like us: