Before embarking on our journey to the Park Hyatt Maldives, we spent a good amount of time researching and picking out our activities for the trip.  Of course Kim's prime focus was the diving, which she accomplished on two mornings.  But I wanted to try a few things myself.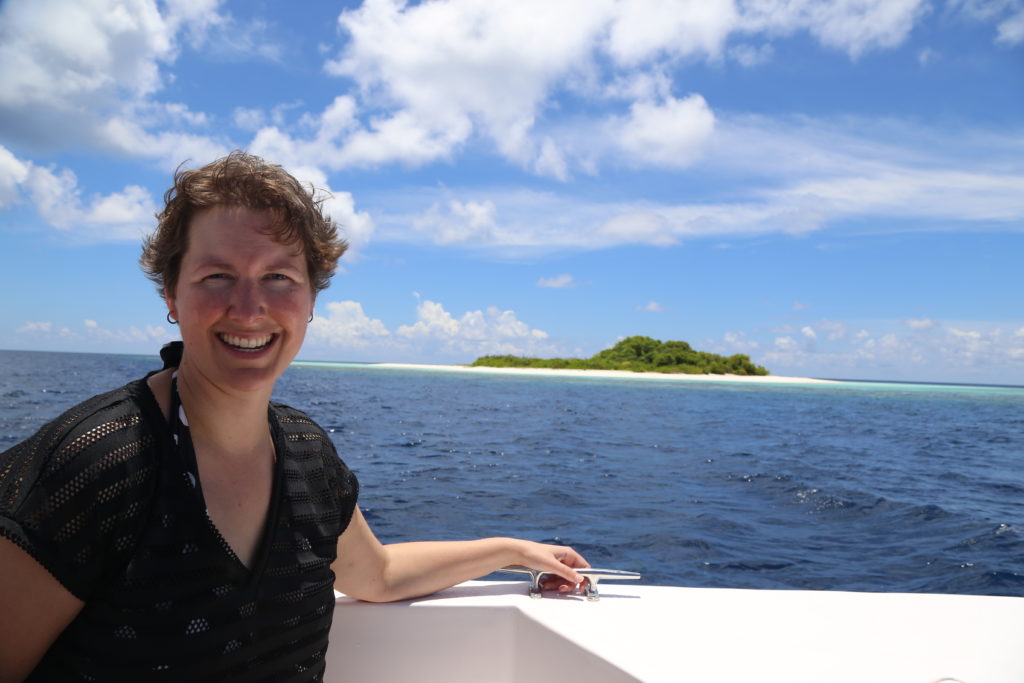 -The Big One! Introduction/Giveaway
-Day One: Hyatt Regency San Francisco Airport Review
-Day Two: United First Class B737-800 SFO-IAD summary
-Days Three through Six: D.C Area recommendations: Smithsonian, National Harbor, Baltimore Aquarium
-Day Seven: Lufthansa Business Class Lounge IAD summary, Lufthansa First Class A330-300 IAD-MUC Summary
-Day Eight Part 1: Six hours in downtown Munich, Lufthansa First Class Lounge Munich Summary
-Day Eight Part 2: Lufthansa First Class A330-300 MUC-DXB Summary
-Day Nine Part 1: Dubai Exotic Limo brief review part 1 & Abu Dhabi recommendations: Ferrari World, the Grand Mosque
-Day Nine Part 2: Park Hyatt Abu Dhabi Review
-Days Ten through Twelve Part 1: Park Hyatt Dubai Review
-Days Ten through Twelve Part 2: Dubai Exotic Limo brief review part 2 & Dubai recommendations:  Burj Khalifa Sky
-Days Ten through Twelve Part 3: Dubai Recommendations: Tea at the Ritz Carlton Jumeirah Beach, Atlantis Monorail, Dubai Mall
-Days Ten through Twelve Part 4: Dubai recommendations: Platinum-Heritage Falconry Heritage Tour.  The Dubai Museum
-Day Thirteen: Emirates 777-300 DXB-MLE summary, Moonima Lounge MLE summary, Park Hyatt Maldives transfer summary
-Days Thirteen through Sixteen Part 1: Park Hyatt Maldives Hadahaa Review
-Days Thirteen through Sixteen Part 2: What to do at the Park Hyatt Maldives Hadahaa
-Day Seventeen: Maldivian Dash-8/Boat Transfer Park Hyatt-MLE summary, Conrad Rangali MLE Lounge summary, Trans-Maldivian Twin Otter transfer MLE-Conrad Rangali Island
-Days Seventeen through Twenty-One Part 1: Conrad Maldives Rangali Island Review
-Days Seventeen through Twenty-One Part 2: What to do at the Conrad Maldives Rangali Island Resort
-Day Twenty-Two Part 1: Trans-Maldivian Twin Otter Conrad Rangali Island-MLE summary, Conrad Lounge MLE summary, Leeli Lounge MLE summary
-Day Twenty-Two Part 2: Turkish Airlines Business Class A330-300 MLE-IST summary.
-Day Twenty-Three Part 1: Turkish Airlines IST Lounge Summary, six hours in Istanbul
-Day Twenty-Three Part 2: Turkish Airlines Business Class B777-300  IST-SFO summary
-Day Twenty-Four: Hyatt Regency San Francisco Embarcadero Review
-Trip Summary/The Numbers
-The BIG Question: Park Hyatt Maldives Hadahaa or Conrad Maldives Rangali?
We made some attempts to juggle what we'd do at the Park Hyatt with activities we'd partake in at the Conrad Maldives.  After several different plans we finally ended up with the following:
Monday: Private Equator Excursion - $1200++
Tuesday: Private Dining, Sunset Dinner - $400++
Wednesday: Koimala Ritual, Couples Spa Treatment - $640++
As I noted in my review of the Park Hyatt Maldives, our Private Dining was rescheduled to 7:00 on Wednesday.
The Equator
When we first inquired about the Private Equator Excursion, the dive center informed us that the cost would be $2500++, and would take place on a small yacht.  This seemed expensive, but for a fully private 5 hour trip on a yacht, I felt it would be worthwhile.  It was also where I intended to propose to Kim.  In March I asked to confirm our reservation, and the dive center let us know that the yacht was undergoing maintenance and would not be available.  Instead, they would provide us with a speedboat similar to the one they used for transfers between Kooddoo and Hadahaa.  I expressed my disappointment and advised them that for $2500++ on a speedboat, it would not seem worthwhile.  At this, they apologized for not correcting their estimate and offered me a much better price of $1200++
There was some more confusion in our following e-mails, but eventually we confirmed our booking at the aforementioned price.  The dive center also asked us to pick a menu for lunch: Oceanic, Terrain, or Vegetarian.  We picked the Oceanic menu.
The Equator excursion is catered to the guests preferences, and some of the activities can be arranged during the journey. The options can be found on This PDF.  The price for the journey has increased to $2000, and from the looks of things the yacht is no longer available at all.
Our journey began around 10:30 A.M.  Our crew welcomed us and introduced themselves.
Onboard we had:
Guide- Hissan
Dive master- Ahmed
Captain- Aseel
Boat hands-Shafeen And Naufal.
We took off southbound, past the Water villas on our way to 0 00'00.00.  Just 30 minutes into the ride, at around 11:00 we came across Maahutigalaa Island.  This was a spectacular uninhabited place that even our guide had not ventured to.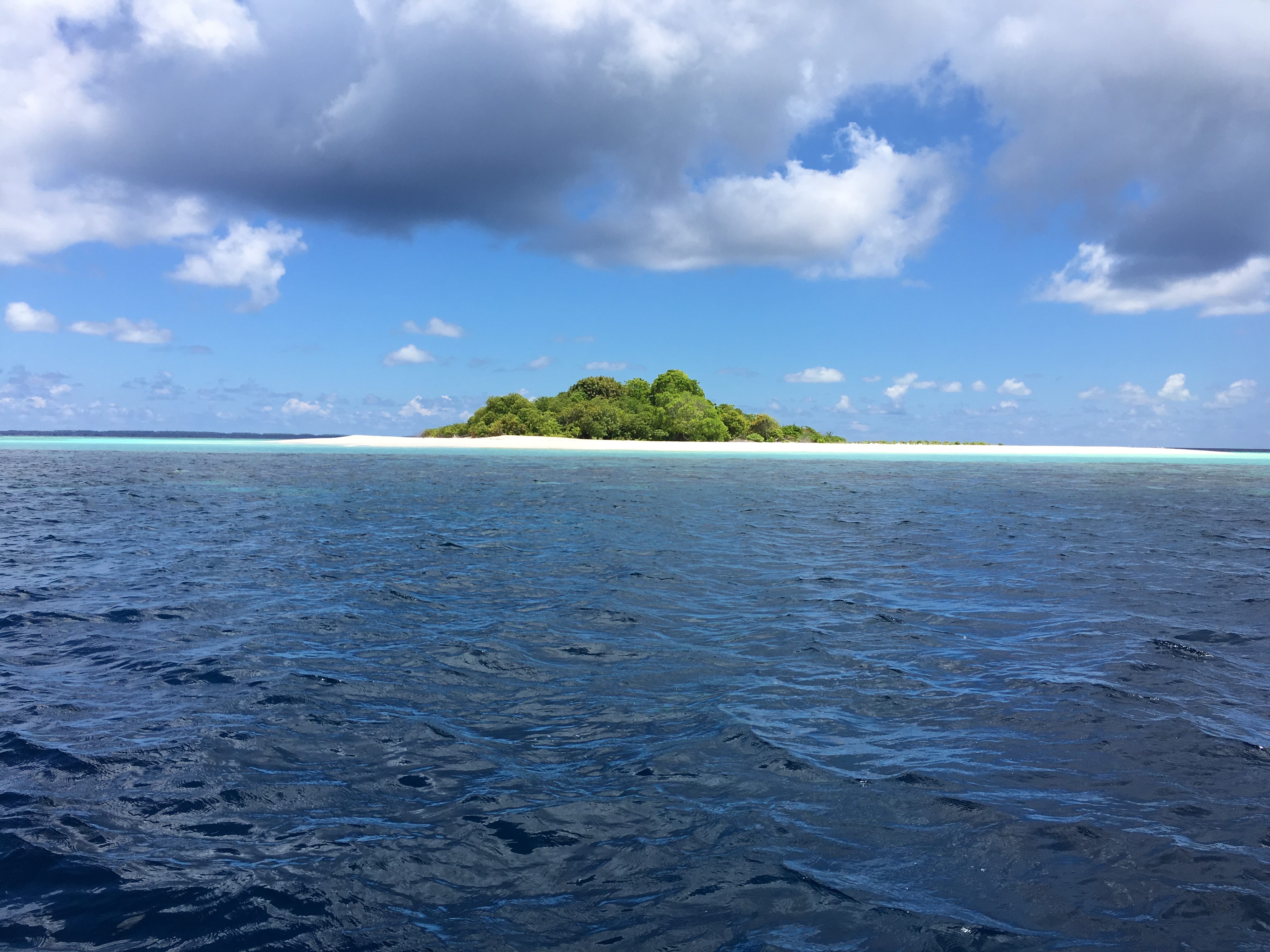 Uninhabited Island of Maahutigalaa
We continued our journey, but just five minutes passed before we had to slow once more, for we had come up on a school of dolphins!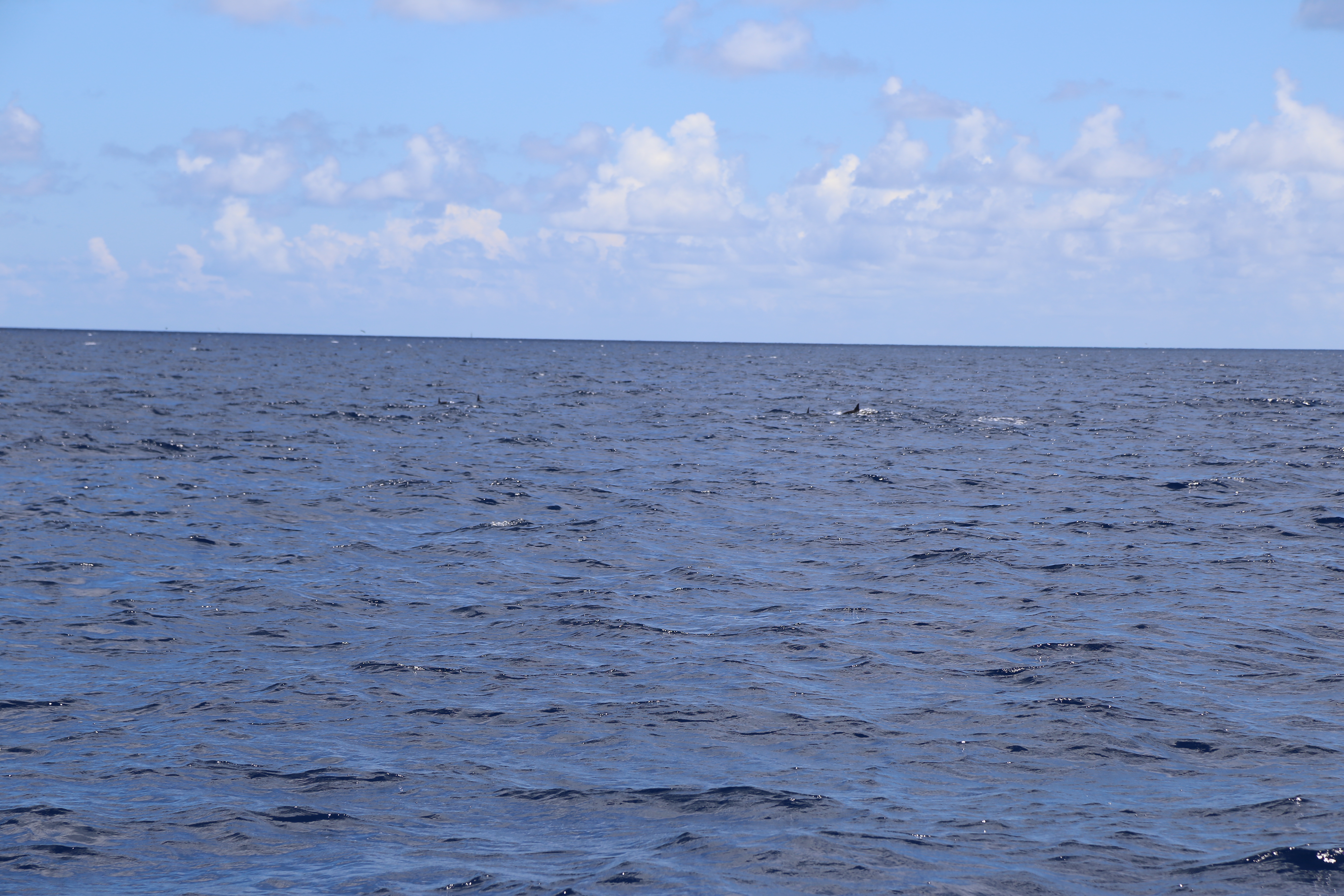 We were somewhat distant from them though, and despite our entire crew attempting to entice them with calls, our excitement was short-lived. We had not the time to continue persuing the school, so we ventured forward.
Around 11:30 we came to the edge of the Huvadhu atoll, and passed Fiyoaree Island, transitioning from the relatively smooth water of the atoll to the rougher terrain of the open ocean, from there it was another 25 minutes before we reached our destination: 0 00.00' N, 72 60.00' E.  The captain worked his butt off so that the boat would maneuver slowly so I could take some photos and videos. As he finagled the boat towards 0 00.00' using both engines in a precision movement, I started a countdown which the crew joined in.  Then the milestone was passed! As the boat waddled and the crew rested, I proposed to my girlfriend of 5 years, and she agreed to marry me!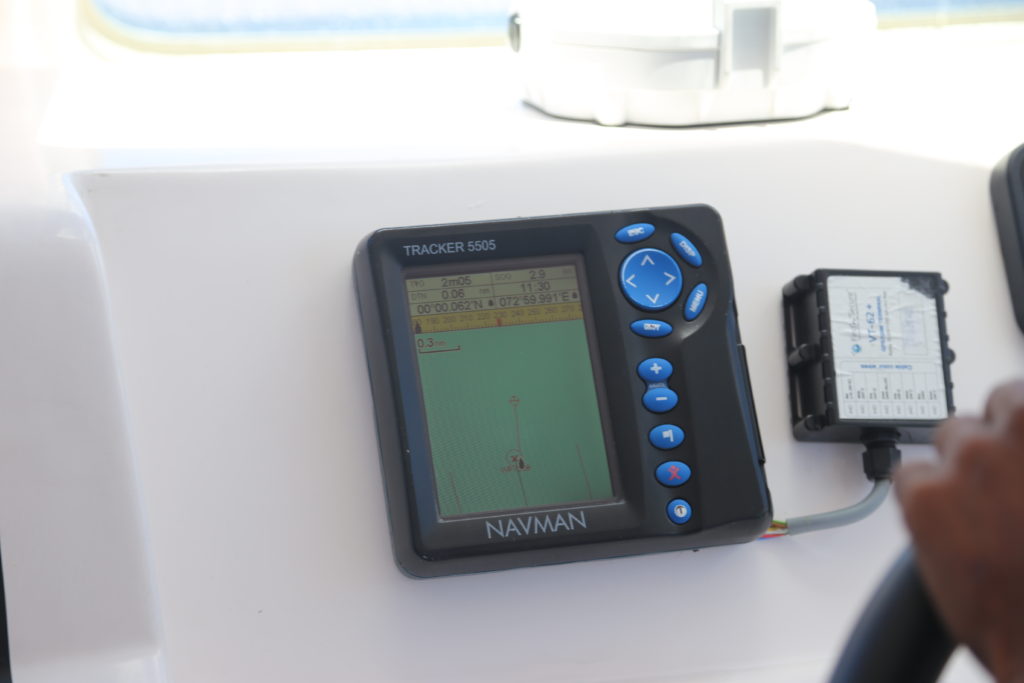 Where Kim and I got engaged!
We enjoyed a few snacks and relaxed, but were not offered and didn't ask about snorkeling to find the equator line in the water.  The seas were a bit rougher in that area than in the atoll, anyways.  So we started the journey back.
After reentering the atoll and speeding quicker than on our way out, we came across Maahutigalaa once more, and together with the guide decided to swim up to it.  At first, the crew wanted to set up lunch for us on this island since they had never been there.  But after circling the island the captain determined there was no safe way to bring the boat to shore, as the reef was too pristine.  So instead, we put on our snorkel gear and dove in!  It was about a 10 minute swim across beautiful reef to reach the island.  We saw a giant clam and an eagle ray on the way over!
We wanted to walk around the whole island, but after only a few minutes I felt my skin starting to cook.  Having forgotten to lotion up and remembering a previous horror experience, I pushed us to take off, so we left.  By the time we made it back to the boat around 1:15, I was sufficiently toasted.
Kim and I un-geared and dried off as we started for our next adventure: a tour of Vaadhoo Island!
I should note that there are a few "Vaadhoo" islands in the Maldives, but this was the one was a fishing village in the Upper South Province.  After about a 20 minute journey from Maahutigalaa, we docked the boat and unloaded.
Our guide and the divemaster both joined us for our walk down the main street, with the guide snapping photos of us as we went.
Our guide gave us some history of the island and of the Maldives in general as we passed children and families going about their day.  He told of that the Maldivian government provided schools for all the islands in the nation, no matter how small.  He also noted that houses were painted not for decoration, but as a symbol of political preference.  Different colors represented different parties.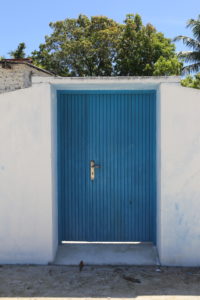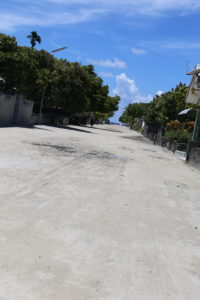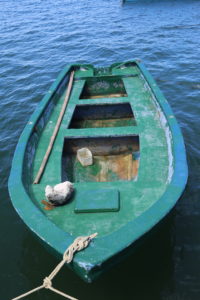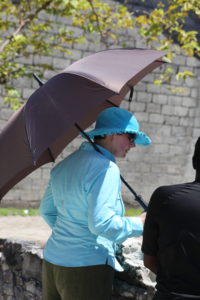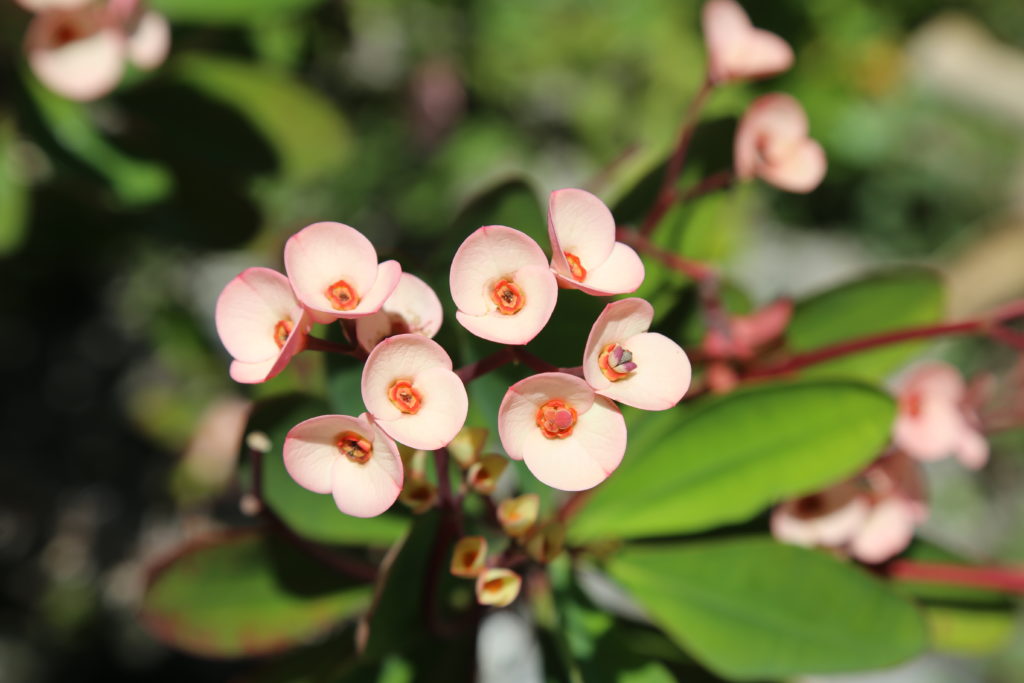 We spent about 30 minutes on the island, walking a good portion of the distance down the main street- but not all the way to the end- before turning back.
As we got close to the boat and the crew prepared to leave, we came to the moment of greatest regret in our 3 week journey.  After collecting our sand sample from the island, an islander near the dock approached us and said "look what I found!" He went behind a bush and brought out s a gorgeous conch shell, which he offered for $100.  I declined at first, and didn't hear him lower his price to $50.  Kim presumed I wasn't interested even at $50 (and though I had no cash on me, I figured it was possible that one of our guides would front it). So we passed it up.  Later on our trip we saw similar shells selling at a resort for $350 and up.
We continued rather oblivious to how much we would later regret our decision, and as we got close to the boat we saw one of the guides had coconut drinks waiting for us!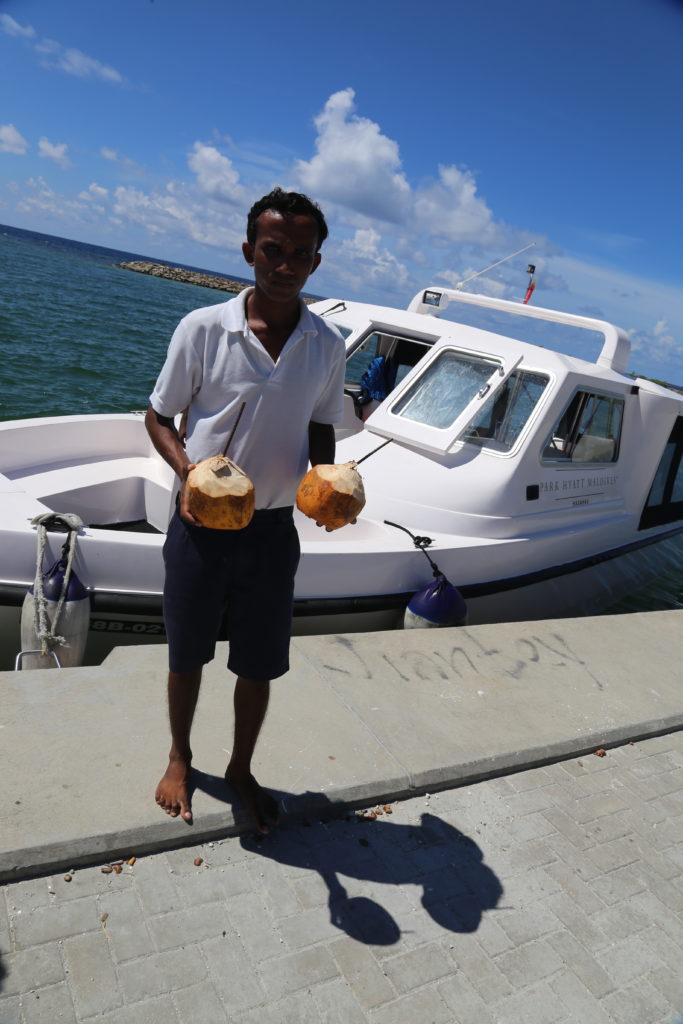 Last on the to-do list was lunch.  We took our seats and sipped our drinks as the crew untied the boat.
Despite the crew suggesting lunch on Maahutigalaa earlier (which as I noted did not work out), it hadn't really occurred to me that lunch on a private island was part of the itinerary.  I figured that since we couldn't do it on the island, we'd end up eating on the boat.  But instead the crew took us 25 minutes over to Laabadhoo Island, and we arrived around 2:30.
As we slowed to a crawl Kim and I took up seats at the front of the boat.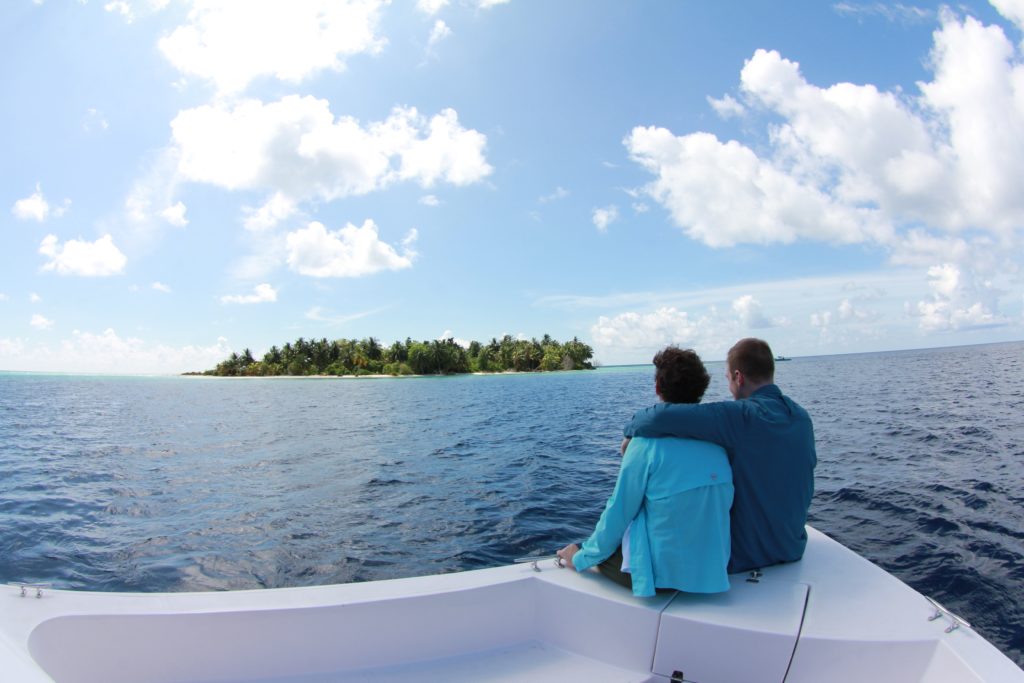 The sun beat down upon us, but suddenly one of the crew was behind us with an umbrella for shade- not handing us umbrellas, but actually holding one above us.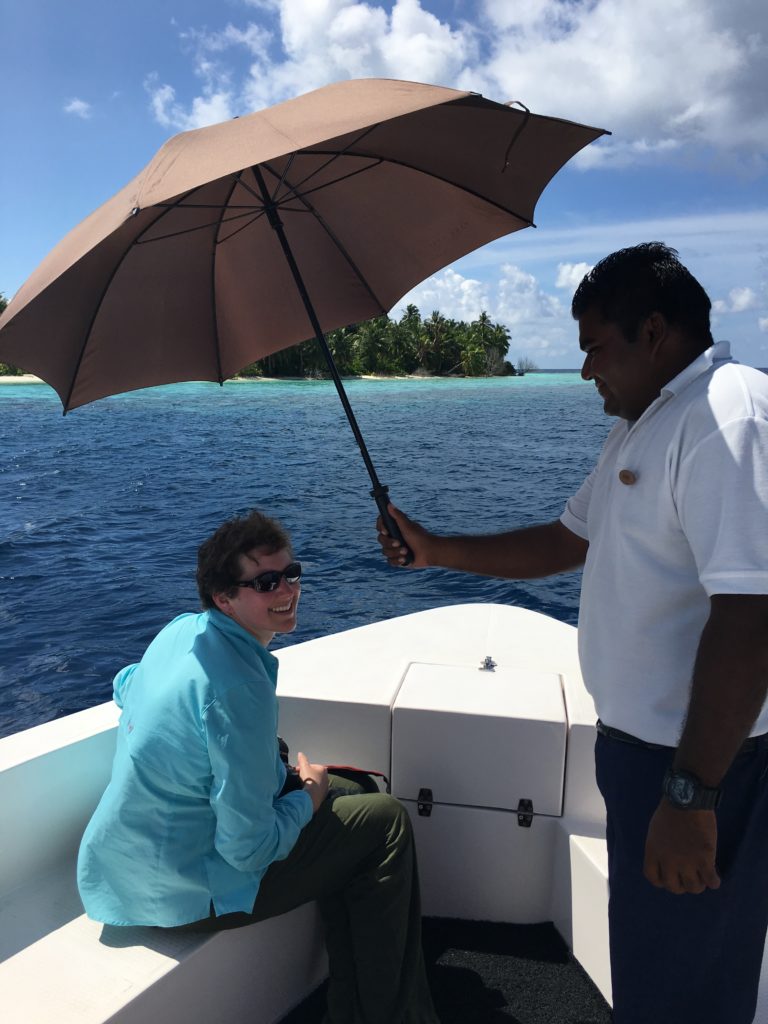 He smiled and said "to make your trip memorable". I didn't ask nor expect such treatment, but we smiled at the luxury.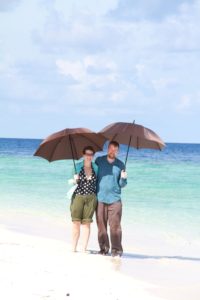 When we arrived in shallow water, Kim and I hopped out and waddled up to the shore.  On the island we found sand more pure than we had ever set foot on.  As we walked along the beach our feet sank into the ground as though it were mud.
As we had been getting in the habit of doing, we took our sand sample and found some small shells to add to our bottle.  We did this while the crew set up our picnic lunch.
After about 15 minutes, we were advised that our lunch was ready.  We walked over to where a blanket and umbrella had been set out for us and sat down in the shade.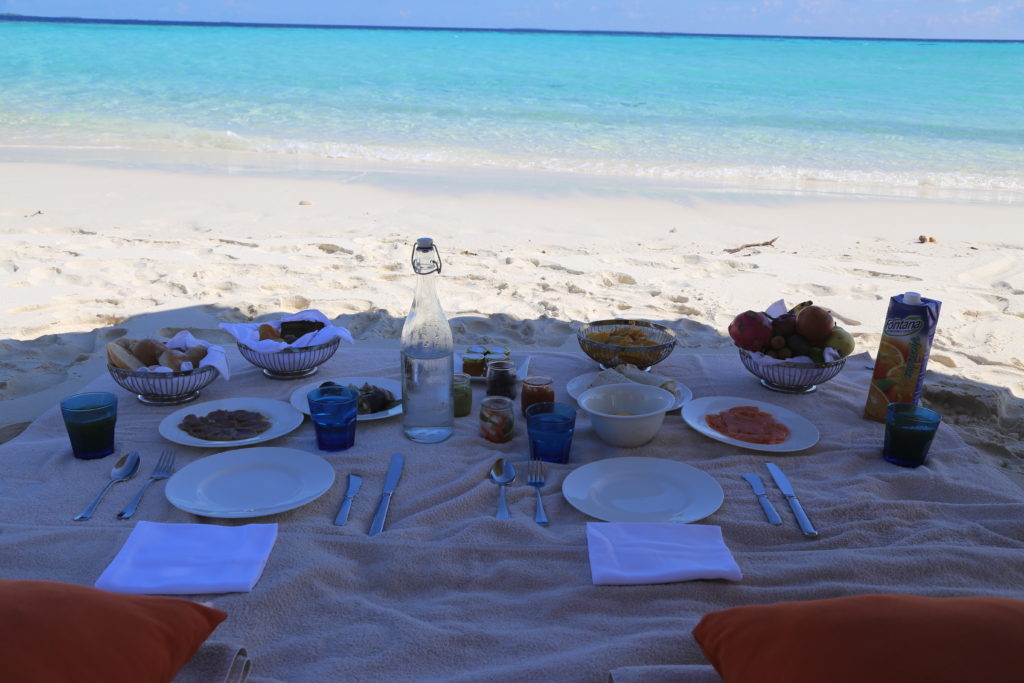 By the time we sat to eat it was about 3:15.  The excursion was scheduled for only 5 hours from when we left at 10:30, but the crew was in no rush and gave us plenty of time to relax on the beach.  Our feast was fantastic.  Sushi rolls, fish, breads, fruits and garnishes were complimented with water and orange juice, making for an exceptional meal with an even more spectacular view.
After our lunch, Kim went into the water for some swimming and relaxation, and I shot some more video and photos from the island.  I hadn't enough time to explore the whole thing, but I did get to traverse most of the western side.
At about 4:00, we were ready to go, and we took a short ride back to the hotel, arriving just about 10-15 minutes later at the dusk jetty.
Our equator excursion was a great value.  I'm certain I would've been just as satisfied paying double the cost for use of the yacht, but that was not an option, and appears to still be unavailable over a year later.  The cost has gone up by $800 since I took the excursion as well, but it covers a lot of ground other excursions offer: a picnic lunch on an uninhabited island, a dolphin cruise, and a local island tour.
We gave our crew a healthy tip, despite service charges already included in our price.  I mean, one of them did hold an umbrella over our heads as if we were royalty.
We thanked the crew and departed.
The Spa
Just two days later we experienced our next bout of luxury with a 4 hour spa treatment: the Koimala Ritual.
We arrived at approximately noon to begin our pampering, just as another Californian couple was completing theirs.
This experience included a foot scrub, a body scrub, a body wrap, a massage, and a facial.  It was every bit as relaxing as you could hope for, topped by a luxurious and lush environment to bask in.
After introducing themselves, our two masseuses Tripi and Catarina discussed our options for our treatment.  The spa encompasses the themes of Hoonu, Fini and Hiki for their treatments, with Hoonu being hot, Fini cold, and Hiki dry.
Taking my minor sunburn into consideration, we decided I would have a Hiki Shea and Salt Scrub, a Hoonu Seamint envelopment wrap, a Hoonu Gentle Facial, and a Hiki Rolling Ocean Massage.
Meanwhile Kim chose to go for a Hoonu Green Tea and Cucumber Scrub, the Seamint envelopment wrap, the Hoonu Gentle Facial, and the Hoonu Turquoise Blue Massage.
Tripi and Catarina then led us down a path to his-and-hers changing rooms, where robes and thin underwear awaited us.
We both changed into them and met outside, where Tripi waited, and then followed her a little further to our spa-room.
Tripi provided my services, while Catarina catered to Kim.
After the foot scrub, body scrub, and body wrap, the two masseuses sent us outside and we were given the (necessary) opportunity to shower off before our massage was to begin.  We were provided with tea, water, and a fresh set of underwear.  In the meantime Tripi and Catarina closed off the room to give us privacy and so they could prepare our massage tables for the next portion of treatment.
After finishing, we took a seat, and shortly after Tripi and Catarina re-opened the room and took us back for our massage and facials.
We finished the treatment refreshed and relaxed.  We thanked our hosts and walked hand in hand back to our room.  It was only a short while before we'd have to prepare for dinner on the beach.  Which brings us to...
The Private Beach Dinner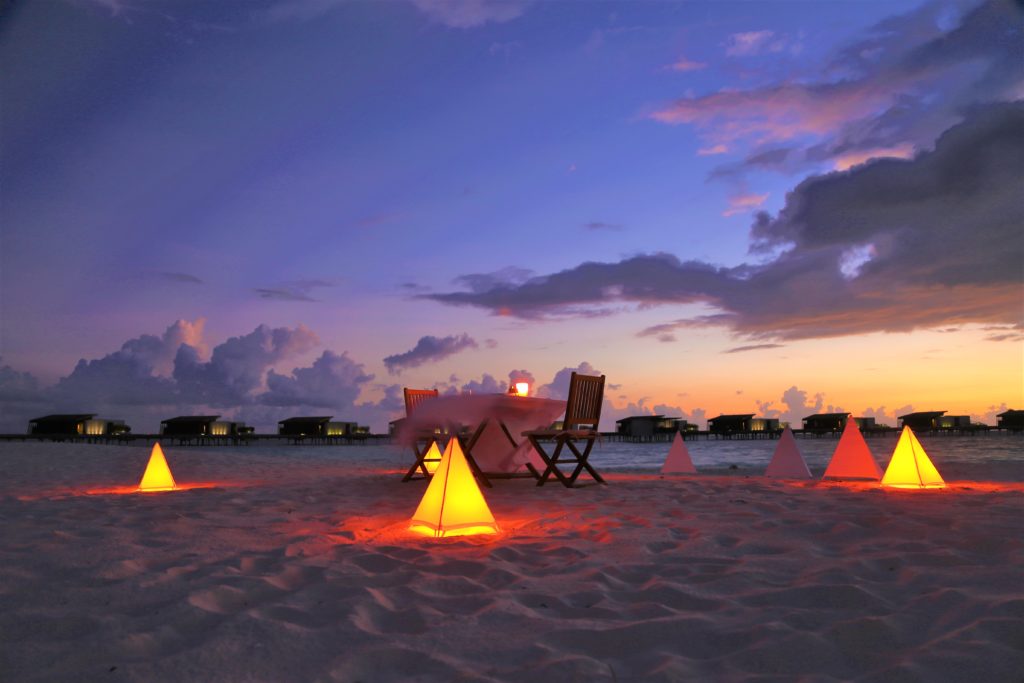 As the clock approached 7:00 P.M, we met our host at the resort bar next to the beach we'd be enjoying our dinner at.
We were led out to the beach, where a table was set and some nearby beanbag chairs beckoned us.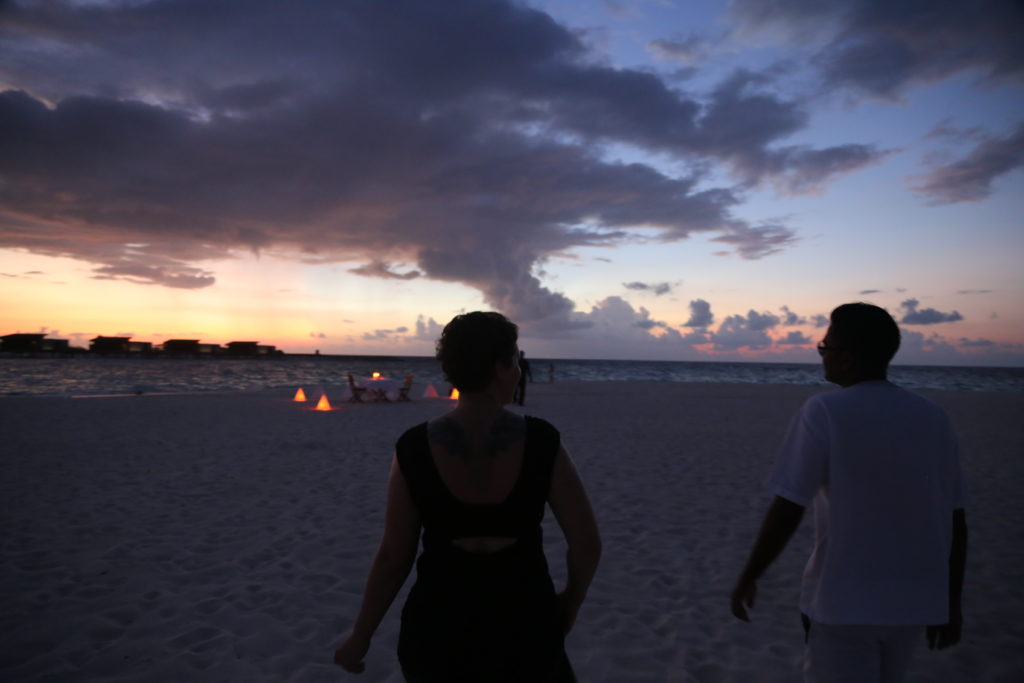 Our host presented the menu and asked if we wanted anything adjusted or removed.  We reviewed the menu and made a couple tweaks.  We were also offered cocktails to begin, which we accepted.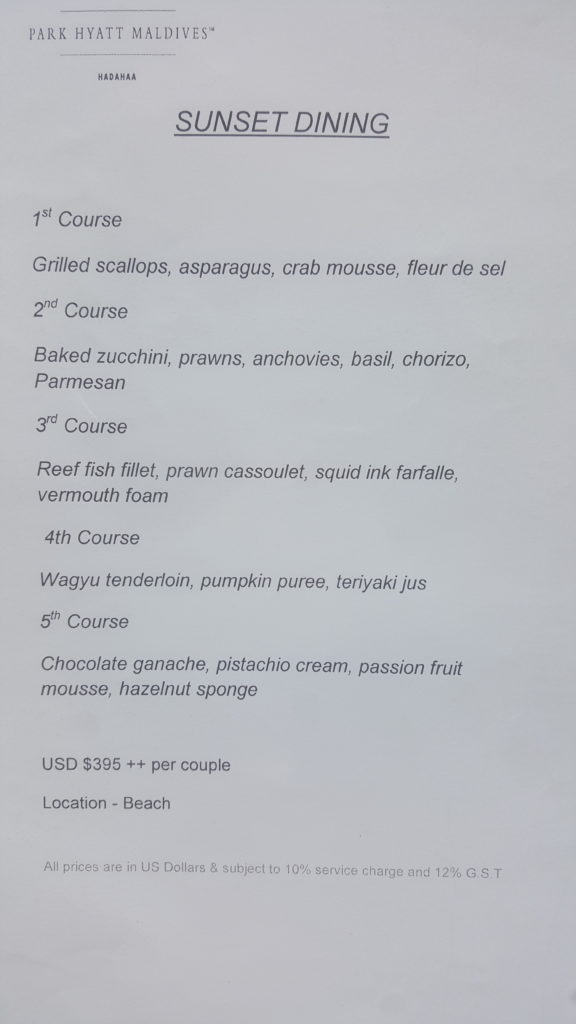 We sipped on our cocktails as the sun continued its descent.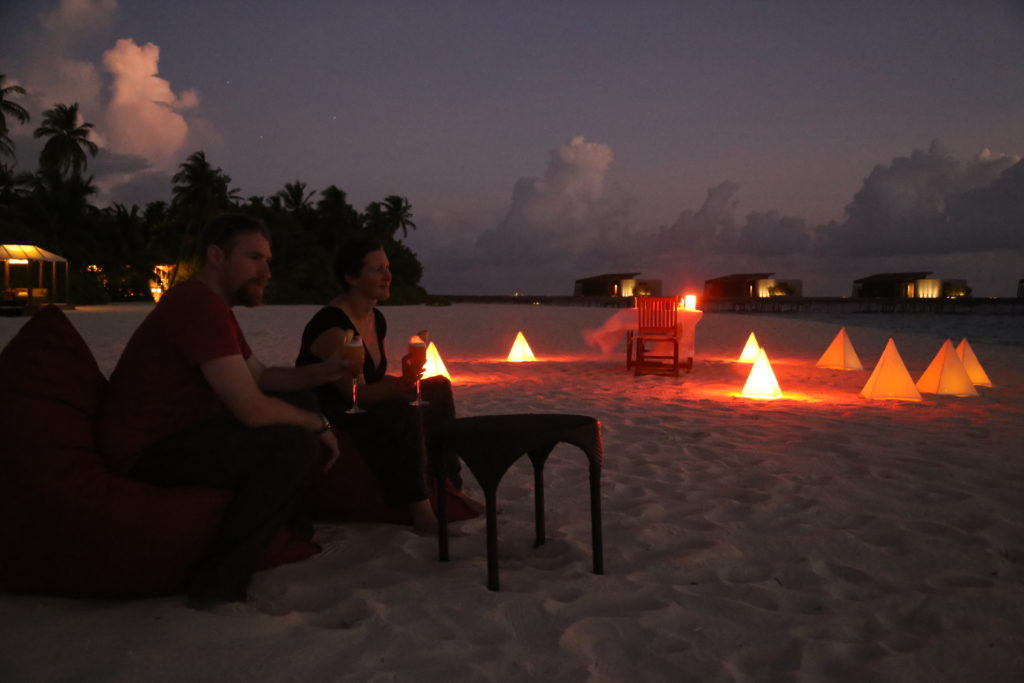 Though the dinner was considered sunset dining, the sun had pretty much set by the time we took our cocktails, and darkness had overtaken by the point our first platter was served.
The ambiance was provided by tent-protected candles, soft breezes, sand at our feet, and the sound of the ocean just steps away.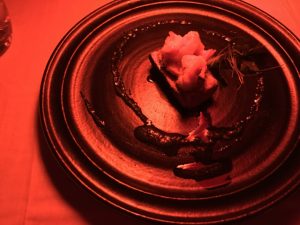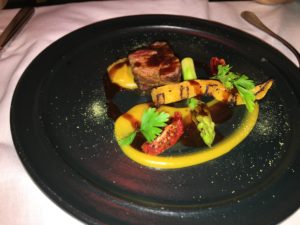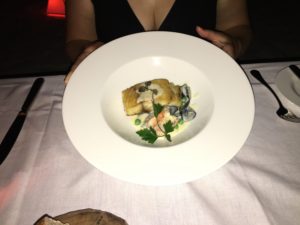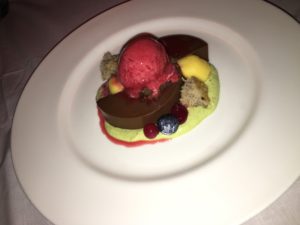 Our courses were provided in a timely manner, and we took our time enjoying the night air as we ate.
The food was excellent, but the price was more for the experience than for the eating.  For a romantic evening I'd highly recommend this splurge, but it's not an absolute must.
Diving and Snorkeling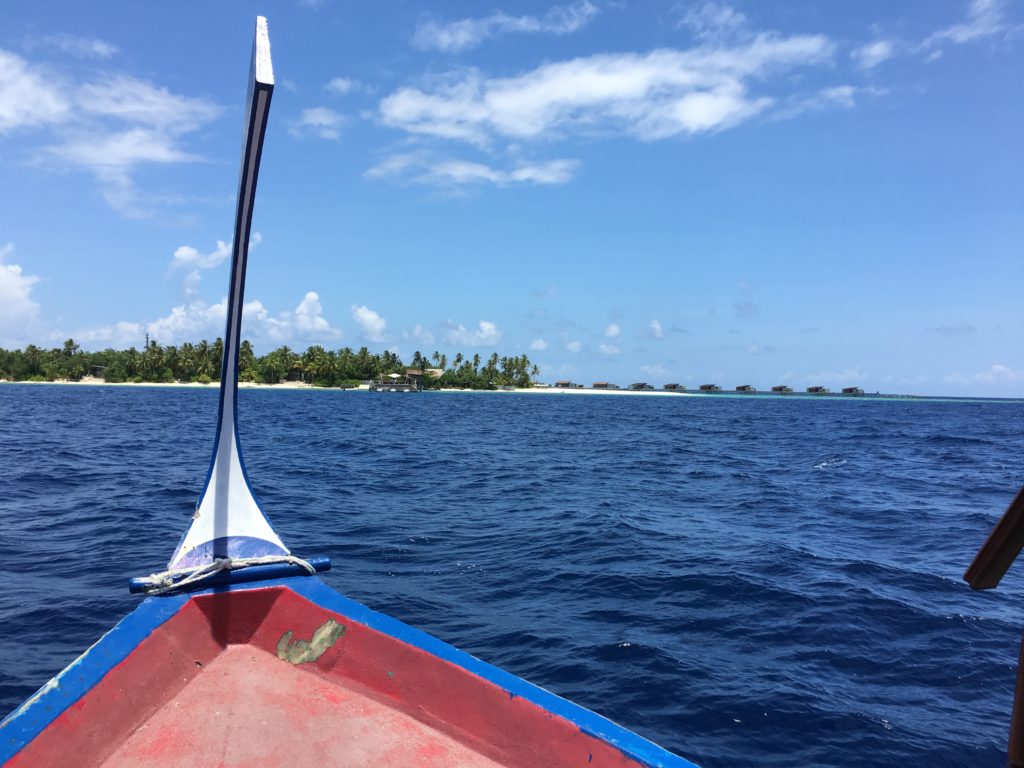 Many people note there's not much point in visiting the Maldives if you don't dive or snorkel.  Personally I was content with the little snorkeling I did along the house reef and the room.  KimPro on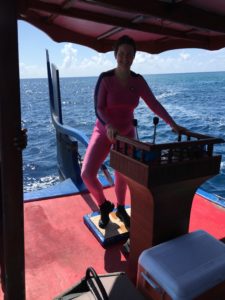 the other hand is an experienced diver who's been diving in the Galapagos and Sri Lanka, among many other places. She got plenty of dives in at the Park Hyatt.
We carried a lot of camera equipment with us overseas, but professional grade underwater cameras were not part of that. We also have no training in underwater videography/photography.  Thus, a good portion of our photos and videos turned out mediocre.  Indeed I'd say most of what I captured while snorkeling is barely worth posting.  But the reef at the Hyatt was exceptional in its health and vibrancy.
For as little time as I spent in the water, I suppose it makes sense that I missed out on spying any of the more exotic sea creatures.  No turtles, octopuses, or rays were spotted by either me or Kim around the house reef.
Kim conducted her intro dive at the house reef on the morning following our arrival at the Park Hyatt. She went on a night dive the evening after arriving back from our equator excursion, and she subsequently took two additional dives on Tuesday and Wednesday, cruising on a traditional Dhoni.  On top of diving, she was given the opportunity to fish off the boat, instructed on how to steer the Dhoni, and served what became her new favorite tea: TWG Vanilla Bourbon.
They also provided her with finger sandwiches and fruit.
Below are three videos from our trip:
Snorkeling at the Park Hyatt
Night Dive at the Park Hyatt House Reef
Daytime Dives around the North Huvadhu Atoll
Ultimately
With 3 full days at the Park Hyatt and an excursion, spa treatment, private dinner, and lots of diving and snorkeling- we had barely any time to relax.  I'm sure you could get bored if you had nothing to do all day and don't enjoy snorkeling, but we definitely felt we could've used more time at the resort.
Activities are expensive, but they afford luxury you might not find most elsewhere and grant memories that you'll cherish forever.  And if excursions are not in the cards, you can always kick back and enjoy the fresh air: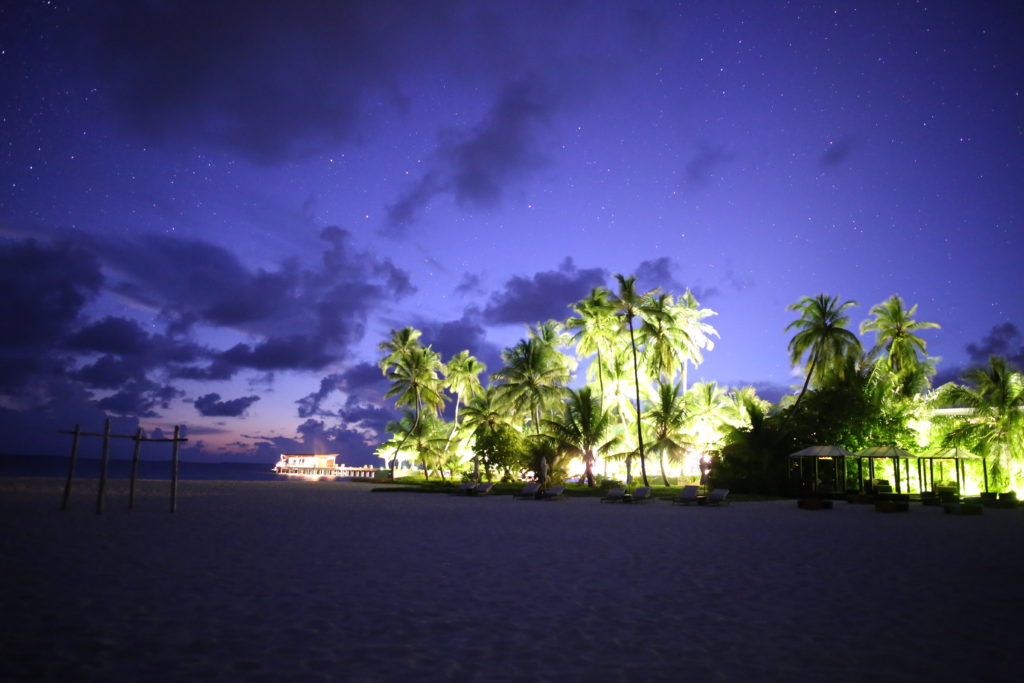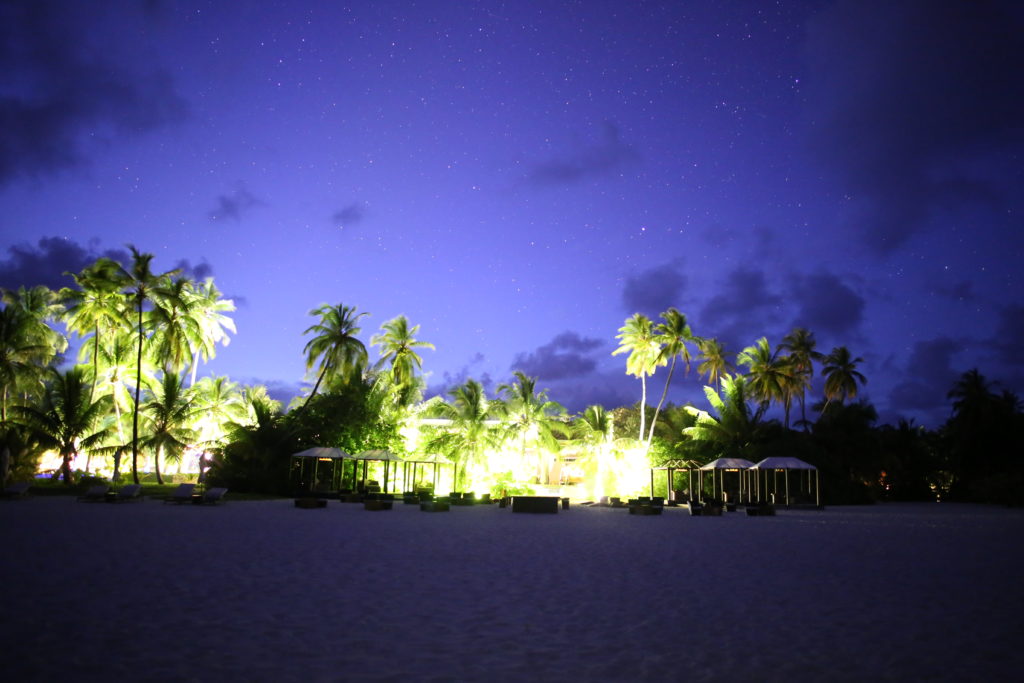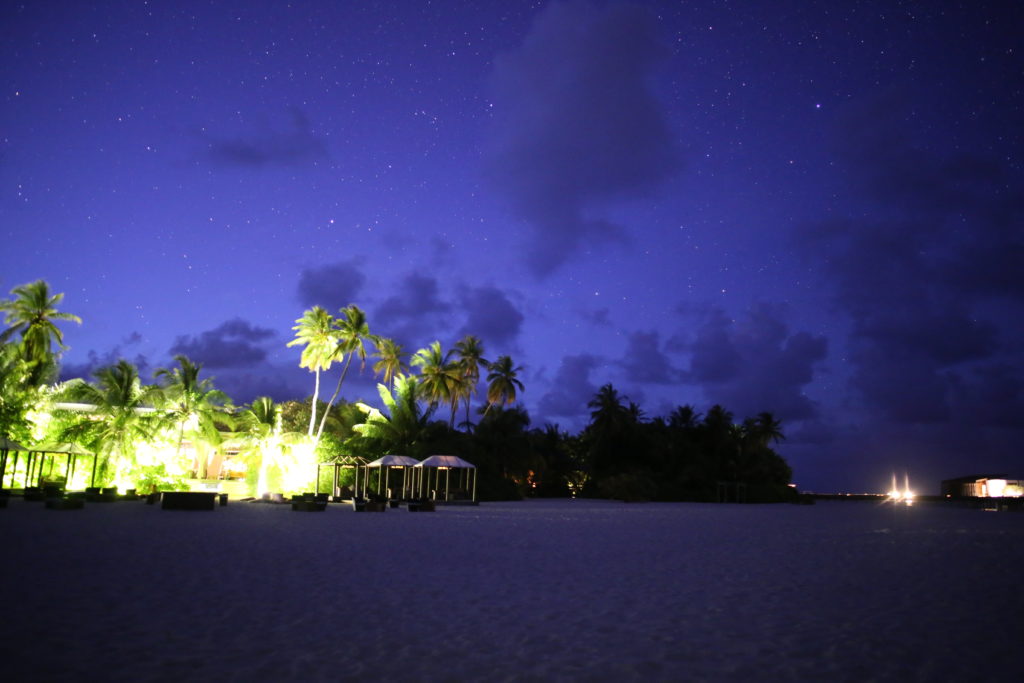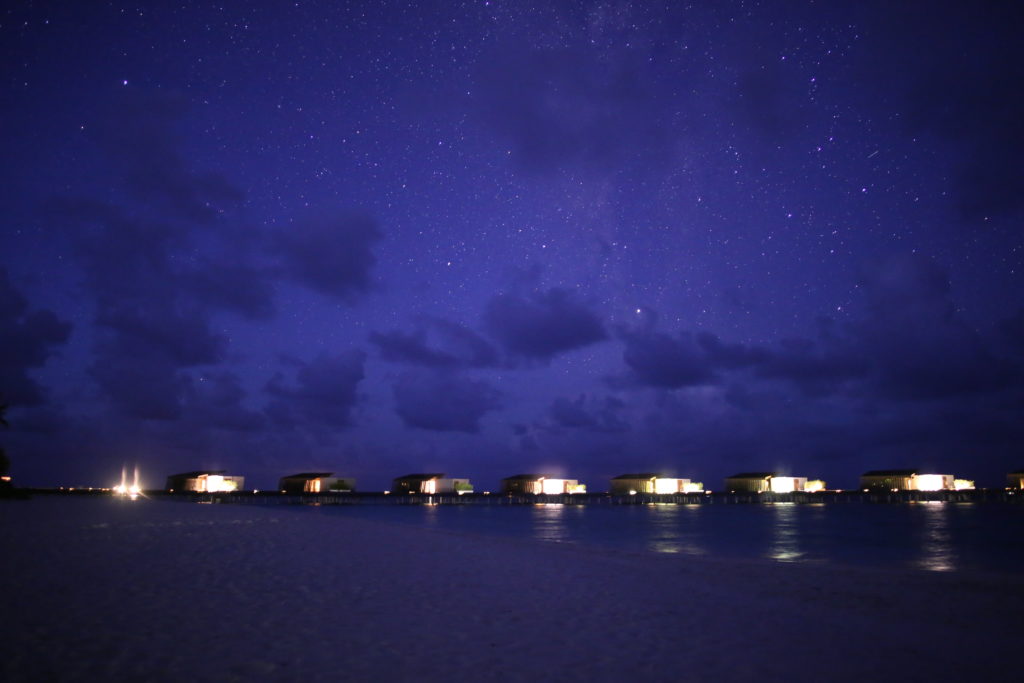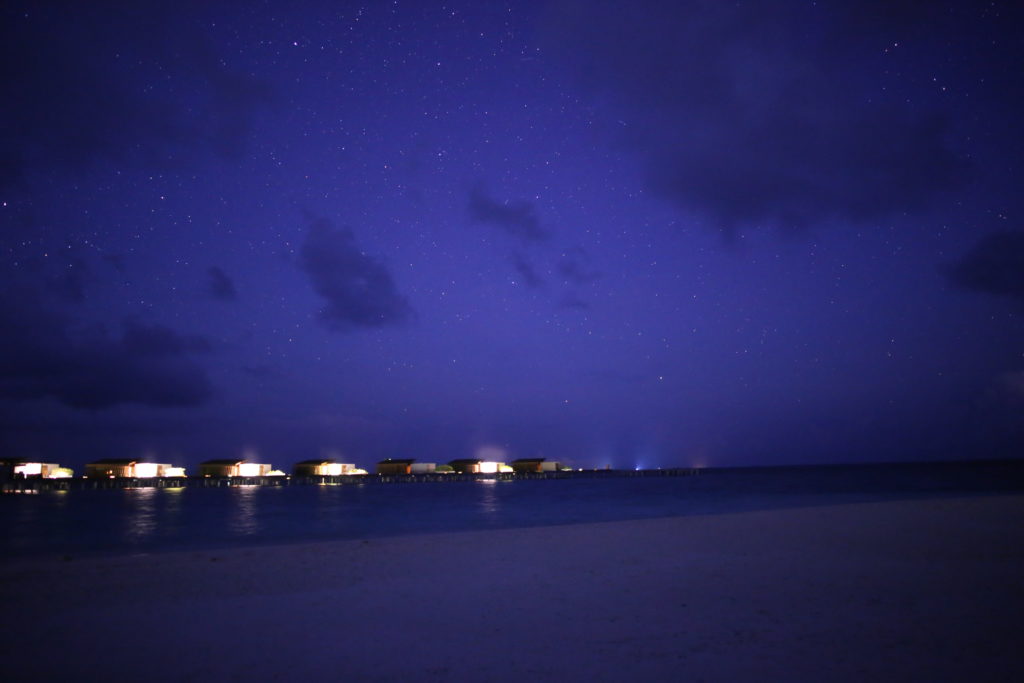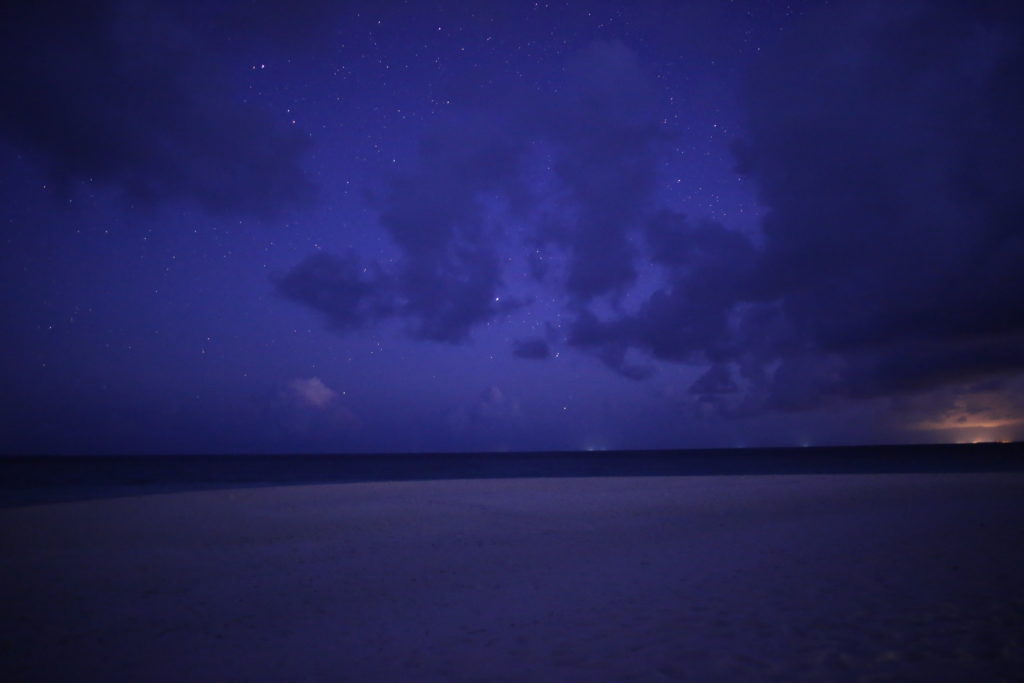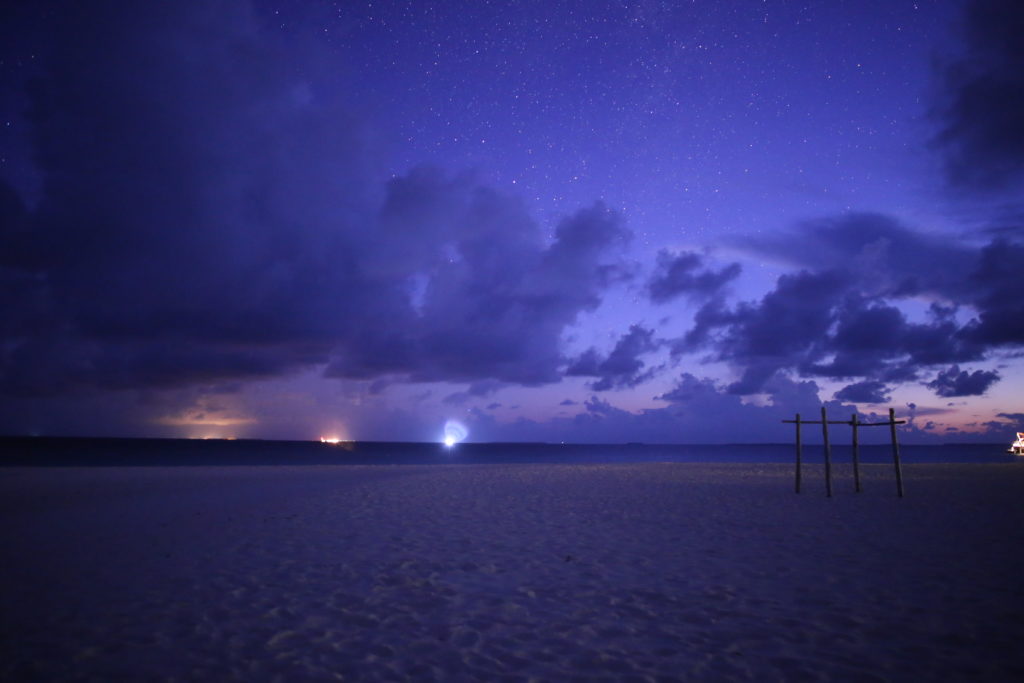 Please follow and like us: