Our adventure began with a single night stay at the Hyatt Regency San Francisco Airport.  This was the first time I had stayed here, and I was looking forward to it.  I had booked this stay using Hyatt Points + Cash, at a cost of 4000 points and $55.
-The Big One! Introduction/Giveaway
-Day One: Hyatt Regency San Francisco Airport Review
-Day Two: United First Class B737-800 SFO-IAD summary
-Days Three through Six: D.C Area recommendations: Smithsonian, National Harbor, Baltimore Aquarium
-Day Seven: Lufthansa Business Class Lounge IAD summary, Lufthansa First Class A330-300 IAD-MUC Summary
-Day Eight Part 1: Six hours in downtown Munich, Lufthansa First Class Lounge Munich Summary
-Day Eight Part 2: Lufthansa First Class A330-300 MUC-DXB Summary
-Day Nine Part 1: Dubai Exotic Limo brief review part 1 & Abu Dhabi recommendations: Ferrari World, the Grand Mosque
-Day Nine Part 2: Park Hyatt Abu Dhabi Review
-Days Ten through Twelve Part 1: Park Hyatt Dubai Review
-Days Ten through Twelve Part 2: Dubai Exotic Limo brief review part 2 & Dubai recommendations:  Burj Khalifa Sky
-Days Ten through Twelve Part 3: Dubai Recommendations: Tea at the Ritz Carlton Jumeirah Beach, Atlantis Monorail, Dubai Mall
-Days Ten through Twelve Part 4: Dubai recommendations: Platinum-Heritage Falconry Heritage Tour.  The Dubai Museum
-Day Thirteen: Emirates 777-300 DXB-MLE summary, Moonima Lounge MLE summary, Park Hyatt Maldives transfer summary
-Days Thirteen through Sixteen Part 1: Park Hyatt Maldives Hadahaa Review
-Days Thirteen through Sixteen Part 2: What to do at the Park Hyatt Maldives Hadahaa
-Day Seventeen: Maldivian Dash-8/Boat Transfer Park Hyatt-MLE summary, Conrad Rangali MLE Lounge summary, Trans-Maldivian Twin Otter transfer MLE-Conrad Rangali Island
-Days Seventeen through Twenty-One Part 1: Conrad Maldives Rangali Island Review
-Days Seventeen through Twenty-One Part 2: What to do at the Conrad Maldives Rangali Island Resort
-Day Twenty-Two Part 1: Trans-Maldivian Twin Otter Conrad Rangali Island-MLE summary, Conrad Lounge MLE summary, Leeli Lounge MLE summary
-Day Twenty-Two Part 2: Turkish Airlines Business Class A330-300 MLE-IST summary.
-Day Twenty-Three Part 1: Turkish Airlines IST Lounge Summary, six hours in Istanbul
-Day Twenty-Three Part 2: Turkish Airlines Business Class B777-300  IST-SFO summary
-Day Twenty-Four: Hyatt Regency San Francisco Embarcadero Review
-Trip Summary/The Numbers
-The BIG Question: Park Hyatt Maldives Hadahaa or Conrad Maldives Rangali?
After the 2 hour drive from home, we pulled to the front at around 7:30 in the evening.  The valet assisted with luggage and Kim's mother took the car and made her way back home.
We walked into the hotel, and I was instantly unimpressed. Unfortunately, the hotel was under renovations, and the entrance to the main atrium was blocked off by a large wall.  Hotel check-in was (I presume temporarily) in a rather depressing hall area off the right side of the entrance.
While the valet took the luggage to the bellman, we got in line to check-in.
While waiting to check-in, a customer ahead of us was loudly complaining to the front desk about her room, describing it as noisy and demanding a better view .  As the hotel seemed to be sold-out, the issue was escalating quickly.  Our personal check-in was eventless, and the front desk clerk welcomed us, advising that we had been upgraded to a business suite.
We got our keys, and opted for the 1,000 point bonus for our Diamond membership, then we made our way to the elevator.
The walk from the elevator down the hall to room 2097 seemed to be significant.  The hotel is essentially a giant square with rooms on all edges, and it took at least a couple minutes to traverse our edge.
We entered the room to find a spacious living area.
Overall, the room was most impressive.  Off the right of the entrance was the workspace and living area, immediately to the left of the entrance was the bathroom, and the bedroom was around the corner from that.
From our second story room, the freeway was quite close, but the hotel has done a fantastic job insulating and has multi-pane windows to block the noise (which was unnoticeable).  Sure the view wasn't that great, but for an airport hotel, I wouldn't expect anything more, and we were more than happy with the extra space we were given.  Exploring the room, we found the typical amenities, including Kenet M.D shampoo and conditioner.  I was rather surprised that for as nice as the room was, it lacked automatic blinds/shades. This was rather inconvenient given that there was no solid divide between the living and bedroom, which meant needing to manually close the gigantic blinds on both windows.  Small inconvenience, but something I'm used to seeing in suites as nice as this was.
After dropping off our bags, we made the long trek down the hall back to the elevators and went up to the ninth-floor regency-club lounge, where things got interesting.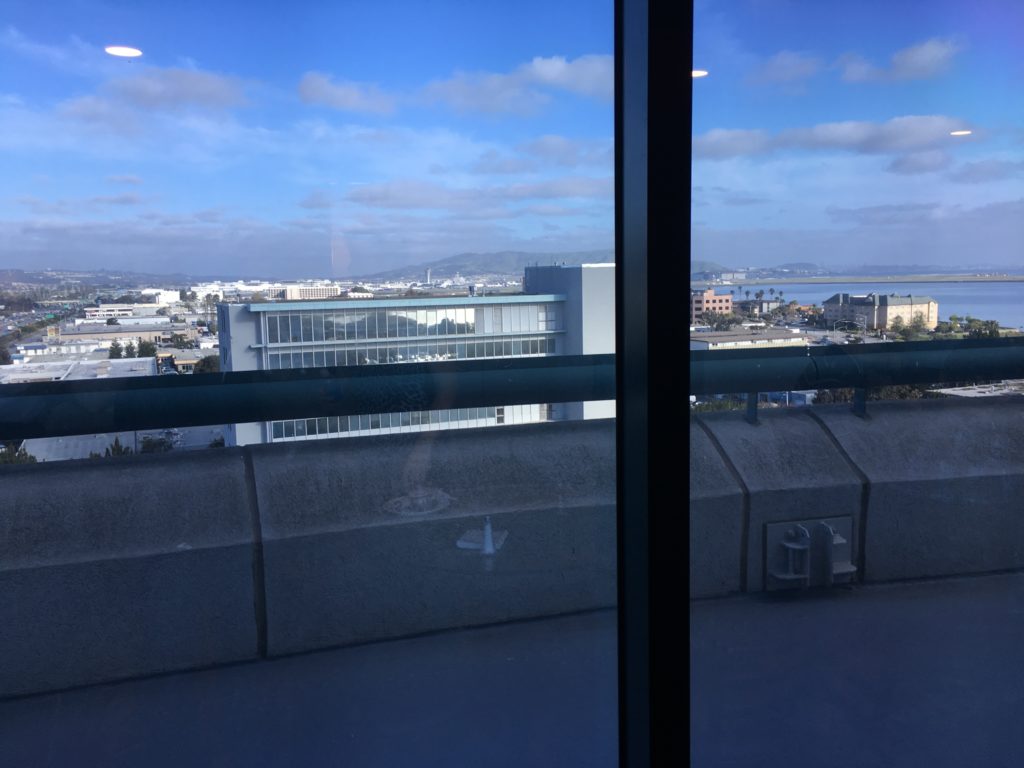 It was 7:50, and the dinner was technically over at 8:00.  But while I wasn't particularly concerned about missing out (the remnants in the pot on the hot-plate lacked appeal)-  apparently another guest was quite put off by it, and demanded more food be put out.  The host gave the guest a rather blank stare, and let him know that dinner was over, and there was no more food to put out.  This only infuriated the elderly gentleman even more, and he made that quite clear by tossing his silverware loudly on top of the bussing station.  He then ordered to speak to a manager, at which point I had exhausted any interest I had in the club.  Kim and I left and made the trek back to the room.
After a little TV, and a little videography, I went back to the club to scout for dessert.  Fortunately, the dessert selection was more appealing than what was left of the dinner, though it still wasn't the most interesting thing going on in the club.
I almost laughed aloud when a guest who straggled into the club behind me sought out a host to ask if he could check-in at the club.  Of course, I'm unfamiliar with clubs overseas, and this man was most definitely not from the U.S--- maybe some clubs offer check-in service?  The man fruitlessly explained that the line for registration was substantial, and he wanted to check-in upstairs.
With little else to say, the host reassured the guest that the lines would die down after 15 minutes or so (a baseless assumption).
After taking dessert back to the room and sharing it with Kim, I set a wake-up call and we passed out.
Our wake up-call came a bit early though, when the phone startled us awake at 2:00 A.M.  I groggily answered, still half-asleep.
"Mr. Dubya?"
"Yes."
"Sir, your room door is open!"
"It is?"
"Yes, sir"
So I got up and went to the front door, to find it sealed shut.  "Our door is closed."
"My apologies, we have the wrong room."
"Okay."
Within 10 minutes, I was back asleep.
I clarified later in the morning with the front desk, and it turns out a guest had called to report a door open, but the guest gave security the wrong room number.  The hotel offered 2,500 points for the inconvenience despite it not being the fault of the hotel. I gladly accepted the offer, but unfortunately said points have yet to show up in my account, and I may end up calling Hyatt in the near future to resolve.
When we finally got up we packed quickly, grabbed a light breakfast from the club, checked out, and hopped on the shuttle to the San Francisco Airport.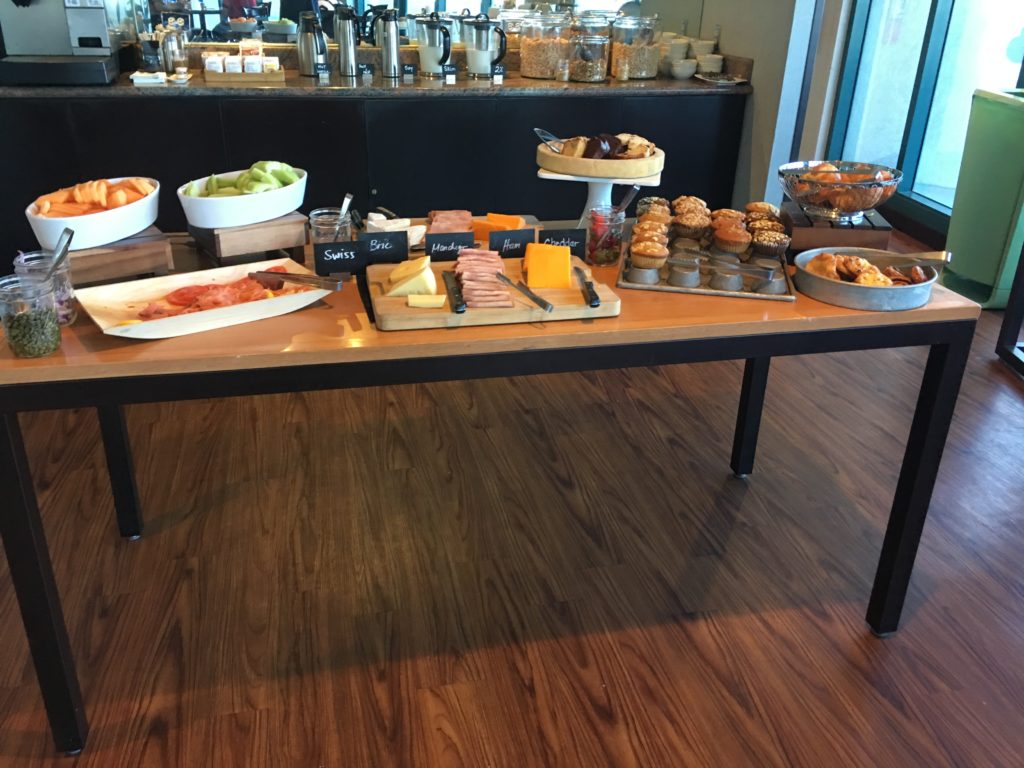 Overall, the suite upgrade made this stay.  I may have enjoyed it more had the renovations not been in progress, as I'm a fan of different hotel atmospheres, and I particularly enjoy hotel atriums.  The Regency Club I felt was sub-par.  I enjoyed the Hyatt Regency Embarcadero's club far more. Despite the club issue, this hotel still offers great point redemption value, considering it is only a category 2.  I would definitely consider returning here if I were flying in or out of SFO again.
Stats for this stay:
1 Night Points Plus Cash: $55 +4000 Points (Total bill w/taxes ~$65)
Room Value (Based on low end cost for standard room): $310
Diamond Value Received: $125 (Based on $100 value upgrade, and $25 value for club access for two)
Points Earned: 1358 (275 Base, 83 Diamond Bonus, 1000 Welcome Amenity)
Next up, Day Two: United First Class B737-800 SFO-IAD summary.
Please follow and like us: