When we first booked our flight from Washington Dulles to Dubai, we were scheduled on United's direct flight in business class at the cost of 70,000 United Miles per person.  Then late last year, United announced they would be ending their direct service to Dubai, meaning we had to rebook. We were changed over to Lufthansa Business Class, connecting in Frankfurt.  Our flight IAD-FRA would be on a 747-8, and our flight FRA-DXB would be on an A330-300.
-The Big One! Introduction/Giveaway
-Day One: Hyatt Regency San Francisco Airport Review
-Day Two: United First Class B737-800 SFO-IAD summary
-Days Three through Six: D.C Area recommendations: Smithsonian, National Harbor, Baltimore Aquarium
-Day Seven: Lufthansa Business Class Lounge IAD summary, Lufthansa First Class A330-300 IAD-MUC Summary
-Day Eight Part 1: Six hours in downtown Munich, Lufthansa First Class Lounge Munich Summary
-Day Eight Part 2: Lufthansa First Class A330-300 MUC-DXB Summary
-Day Nine Part 1: Dubai Exotic Limo brief review part 1 & Abu Dhabi recommendations: Ferrari World, the Grand Mosque
-Day Nine Part 2: Park Hyatt Abu Dhabi Review
-Days Ten through Twelve Part 1: Park Hyatt Dubai Review
-Days Ten through Twelve Part 2: Dubai Exotic Limo brief review part 2 & Dubai recommendations:  Burj Khalifa Sky
-Days Ten through Twelve Part 3: Dubai Recommendations: Tea at the Ritz Carlton Jumeirah Beach, Atlantis Monorail, Dubai Mall
-Days Ten through Twelve Part 4: Dubai recommendations: Platinum-Heritage Falconry Heritage Tour.  The Dubai Museum
-Day Thirteen: Emirates 777-300 DXB-MLE summary, Moonima Lounge MLE summary, Park Hyatt Maldives transfer summary
-Days Thirteen through Sixteen Part 1: Park Hyatt Maldives Hadahaa Review
-Days Thirteen through Sixteen Part 2: What to do at the Park Hyatt Maldives Hadahaa
-Day Seventeen: Maldivian Dash-8/Boat Transfer Park Hyatt-MLE summary, Conrad Rangali MLE Lounge summary, Trans-Maldivian Twin Otter transfer MLE-Conrad Rangali Island
-Days Seventeen through Twenty-One Part 1: Conrad Maldives Rangali Island Review
-Days Seventeen through Twenty-One Part 2: What to do at the Conrad Maldives Rangali Island Resort
-Day Twenty-Two Part 1: Trans-Maldivian Twin Otter Conrad Rangali Island-MLE summary, Conrad Lounge MLE summary, Leeli Lounge MLE summary
-Day Twenty-Two Part 2: Turkish Airlines Business Class A330-300 MLE-IST summary.
-Day Twenty-Three Part 1: Turkish Airlines IST Lounge Summary, six hours in Istanbul
-Day Twenty-Three Part 2: Turkish Airlines Business Class B777-300  IST-SFO summary
-Day Twenty-Four: Hyatt Regency San Francisco Embarcadero Review
-Trip Summary/The Numbers
-The BIG Question: Park Hyatt Maldives Hadahaa or Conrad Maldives Rangali?
Normally, this flight would run 80,000 miles per person, but due to United's cancellation of our original flight, we incurred no extra mileage cost.  Fourteen days before our flight, I began to monitor availability for First Class.
Though first class did pop up, the only flight that ever became available was on an A330-300 connecting in Munich.  I questioned whether it'd be worthwhile to change our flights, given that we'd each incur change fees and close-in booking fees adding up to $250 per person.  On top of this, it would be an additional 70,000 miles per person (for 140K total per person), I would not get to fly on a 747 (something I've always wanted to do), and we would be unable to experience Lufthansa's First Class Terminal in Frankfurt.
We decided against it.
But then, the night prior to our business class flight from Washington Dulles to Dubai through Frankfurt, we changed our minds and upgraded our flight to first class.
At first, it became apparent that we had made a terrible choice.  Due to a snaffu involving misinformation from customer service and my eagerness to get the flight booked ASAP, I ended up spending 3 hours on the phone with United.  This detracted from spending the last night in D.C with my family, and it loaded me with a heavy amount of stress.  After several agents, the snaffu was resolved, but not before I unnecessarily transferred 40,000 Ultimate rewards points into Kim's United account, something I was kicking myself for during a good portion of the call.
In the end it was worth it, as all $500 of change fees and close-in booking fees were waived because of the confusion.  Kim still has those 40K United Miles in her account, and we have yet to determine what they'll be used on.
Our final booking was as follows:
LH415 IAD-MUC  Seats 1D & 1G.  Depart 10:30 P.M Arrive 12:45 P.M (8hr, 15mins)
LH638 MUC-DXB Seats 1D & 1G. Depart 10:15 P.M Arrive 6:20 A.M (6hr, 5 mins)
Our total cost for this flight was 140,000 Miles and ~$75 per person.
Estimated cash cost for a one way ticket: $11,000+
After saying goodbye to my dad, my mother drove Kim and I to Dulles at a ripe 7:30 P.M.  It was my belief that such time was far too early, but it turned out for the best.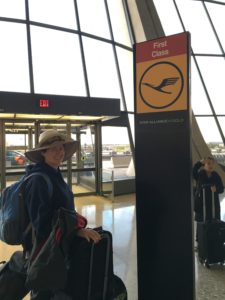 We made our way to the first class check-in, though given how early it was, there was only one other couple in the queue. Ironically, despite the other couple standing in the business class line, they were called over first.
Not much of a biggie.
We were assisted quickly, though I didn't specifically feel any more special treatment at the counter than I might normally receive.  We took our boarding passes, clamped in a fancy first class folder, then hopped over to a currency exchange to get some Euro's.
I'm fairly confident I paid more than necessary for the exchange (I couldn't tell you now the rate), but we were on vacation, and convenience always wins over cost (to a limit).
From the exchange, we took the escalator down to security.
It was at the bottom of the escalator that I noticed both boarding passes were in my name. No, not just the two passes for the two legs, all four printed passes were for me.  We took the escalator back up, went right back up to the desk (there was nobody at all in the queue at this point), and got the error resolved.
Again, no biggie and no hard feelings against the agent, but in general you could probably expect a more efficient process.
Finally we were off through security, onto the tram, and over to our terminal.
From the tram exit we made our way to the business class lounge and the real experience began.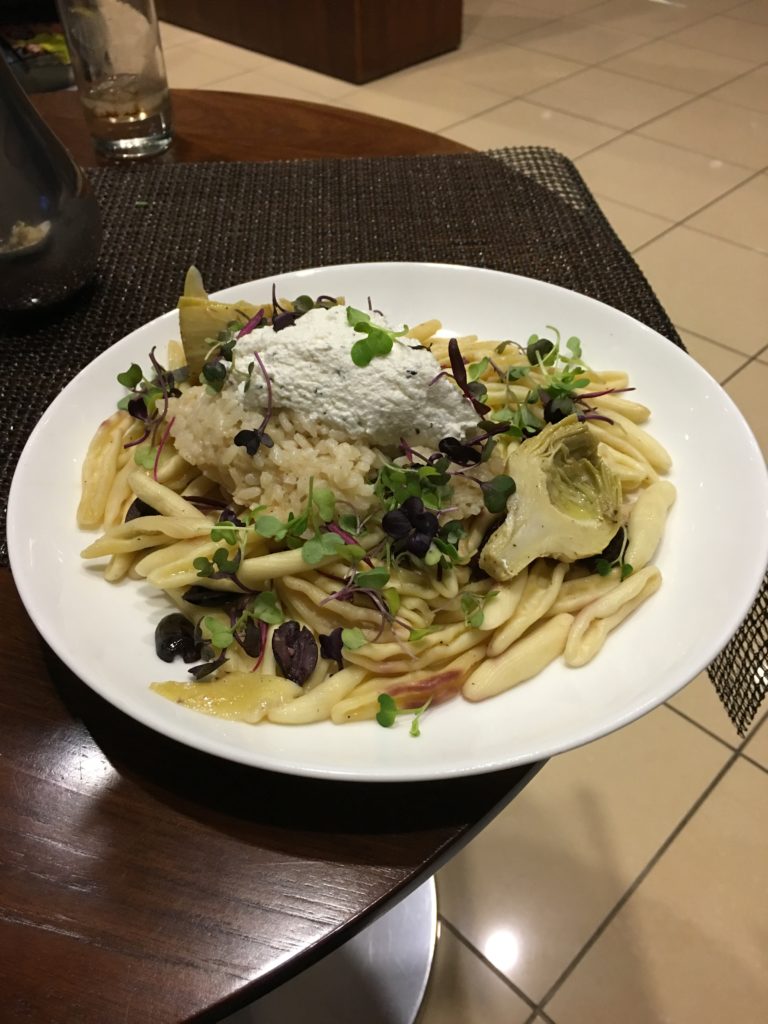 There is no separate lounge at Dulles for Lufthansa first class (the agents even apologized for not having a first class lounge), but a portion of the business class lounge is dedicated to first class passengers, where a full meal is served, drinks are consistently offered, and passenger comfort is of the essence.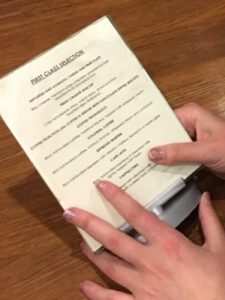 On arrival there was only one other passenger in the first class section, though that eventually bumped up to about 6 or 7 people.
The agent at the front desk welcomed us, and introduced us to Ebee, who ended up serving us our drinks and taking our food orders.  She was exceptionally friendly, and gave us great recommendations.  She also tipped us off to the secret of our delectable caramel ice-cream: it was Breyers!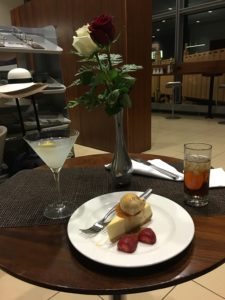 For dinner I chose the Cavatelli with Artichokes and herbed ricotta. Admittedly I didn't quite know what Cavatelli was, but it turned out decent enough.  In retrospect, it wasn't my cup of tea, and had I known, I might have chosen the filet of Atlantic Cod instead, but my meal was in no way poorly made, and I'm always a fan of ricotta and of artichokes.
We also sipped on Lemon Drops (specially prepared by Ebee, despite the lounge not having the proper ingredients available) and Rum and Coke while awaiting our flight.
For desert, we had an excellent slice of cheesecake topped with the previously mentioned Breyer's caramel ice cream.
We finished our desert just in time (though I was unable to down my entire dinner).  An agent came to inform us that we were boarding.  We grabbed our things and I expected we'd be headed out the way we came.  To my pleasant surprise, the agent led us through a side door out the first class area of the lounge.  She scanned our boarding passes, and we made an immediate left turn to the jet bridge. (Jet-bridge visible in photo of cheesecake).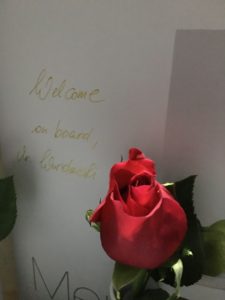 Admittedly, most of the flight was a blur.  Among the dozens of other activities and hotels and restaurants, it's hard to look back and remember the exact details.  But what I do remember is being warmly welcomed, and gaping at the largest and most luxurious airline seat I've ever seen.
But there was little time to admire.  We were in a rush! To put on pajamas!?!?!
Yes, while economy continued to board behind us, each of the 5 first class passengers (out of 8 seats) took turns changing in the restroom.  Soon we were all kicked back, our belongings stored in various overhead bins and cupboards.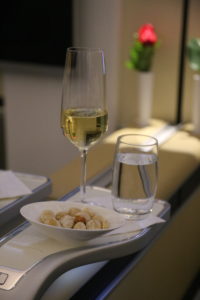 Next up: Champaigne and Macadamia nuts!
As we settled in, I requested a photo from the flight attendants, who happily obliged.  We configured Kim's seat to lie flat and gave her a blanket for the photo, but as it was pre-departure, they did not fully make up the bed.  After our quick photo-shoot, we positioned our seats upright (as required).  Soon, we were off.  As we climbed to cruising altitude, we admired our hard-case amenity kit, which featured a variety of useful toiletries and a blindfold, among other things.
After getting airborne and approaching cruising altitude, we requested our beds be made up.  We were full and exhausted, and definitely ready for some sleep.
Hard as it is to admit, the ultimate in luxury failed me at this point.  Despite a very comfortable, spacious, and private sleeping area, as I've heard is typical with international airlines the cabin was a tad too warm for me.  I tossed and turned for a good portion of the evening, though I did manage to get some shut-eye in the process.  Despite the high temperature, I'm convinced I was in a much better position than had I flown business or economy on this 8 hour leg.  And when it was finally time to open the shades and have breakfast, I was certainly not in a foul mood.  (I managed a little more sleep on the second leg, as well).
The dark cabin slowly became light and others began to stir.  I woke up and we all started preparing for breakfast.  First on the menu was changing into regular clothes.  Everybody settled in before the carts came out.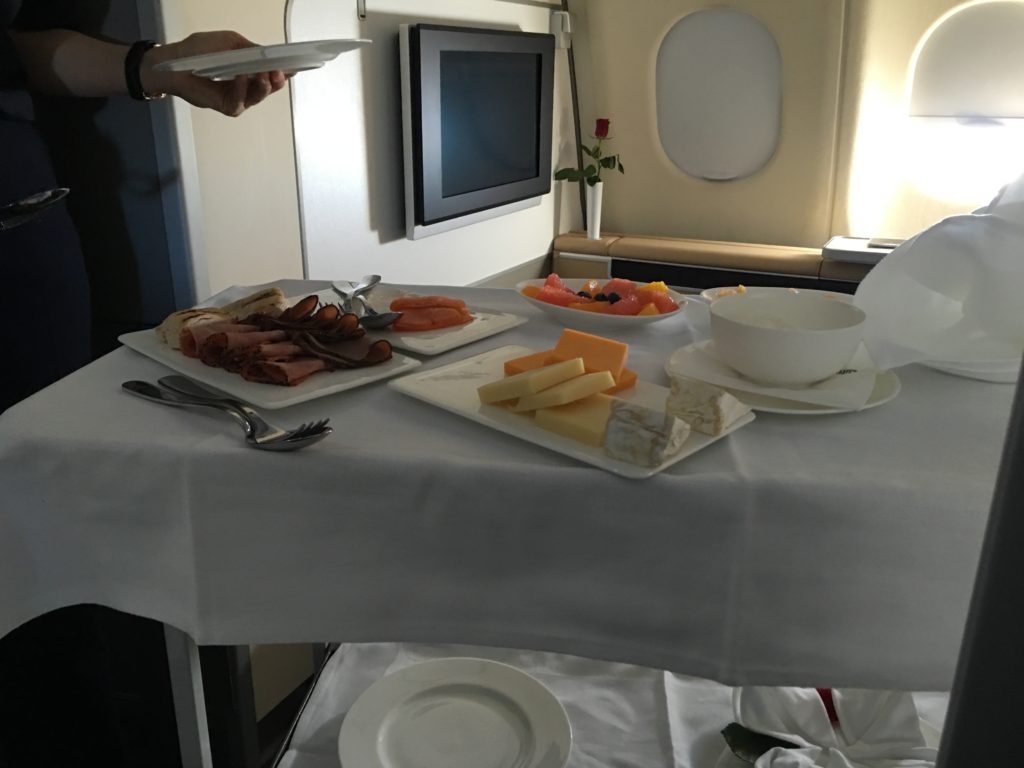 We were served more champagne, mimosas, offered a variety of cheeses, and handed an amazing platter of bacon and eggs. To top off the morning we were given a box of chocolates... because life is like it.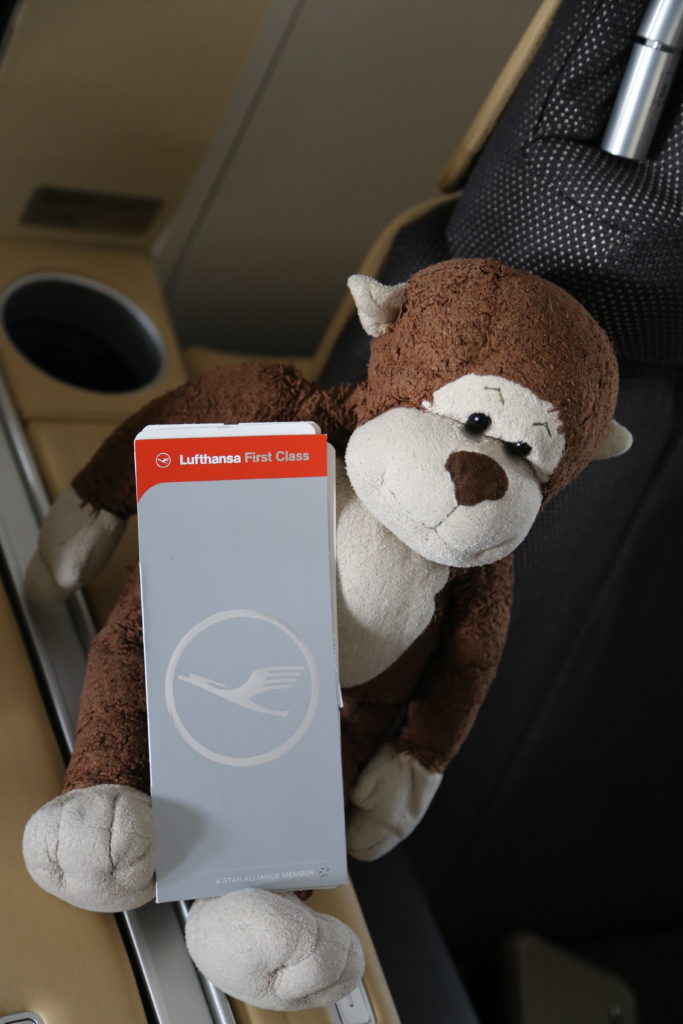 Our flight landed uneventfully, and we deplaned with smiles.  The luxury was far from over.
Next up: Day Eight Part 1: 6 Hours in downtown Munich, Lufthansa First Class Lounge Munich Summary.
Please follow and like us: