From the lap of luxury and exotic locales, we found ourselves back on solid ground at San Francisco International airport.
Our shuffle through baggage claim and then through customs was fairly painless, maybe in part because of how quickly we were able to get off the plane from business class.
Despite KimPro's insistence that we grab an Uber to the Hyatt Regency Embarcadero, I hard-headedly led us to the BART station, three weeks of luggage in tow.
This would turn out to be a decision I'd regret as we struggled to lug our bags on and off, the bags fell over once or twice despite our firm grip while on the train, and to top it off we ran into a very non-understanding woman as we tried to exit with our massive gear.
So you might imagine our relief as we reached the top of the escalator at the Embarcadero BART station just in front of the Hyatt Regency.
-The Big One! Introduction/Giveaway
-Day One: Hyatt Regency San Francisco Airport Review
-Day Two: United First Class B737-800 SFO-IAD summary
-Days Three through Six: D.C Area recommendations: Smithsonian, National Harbor, Baltimore Aquarium
-Day Seven: Lufthansa Business Class Lounge IAD summary, Lufthansa First Class A330-300 IAD-MUC Summary
-Day Eight Part 1: Six hours in downtown Munich, Lufthansa First Class Lounge Munich Summary
-Day Eight Part 2: Lufthansa First Class A330-300 MUC-DXB Summary
-Day Nine Part 1: Dubai Exotic Limo brief review part 1 & Abu Dhabi recommendations: Ferrari World, the Grand Mosque
-Day Nine Part 2: Park Hyatt Abu Dhabi Review
-Days Ten through Twelve Part 1: Park Hyatt Dubai Review
-Days Ten through Twelve Part 2: Dubai Exotic Limo brief review part 2 & Dubai recommendations:  Burj Khalifa Sky
-Days Ten through Twelve Part 3: Dubai Recommendations: Tea at the Ritz Carlton Jumeirah Beach, Atlantis Monorail, Dubai Mall
-Days Ten through Twelve Part 4: Dubai recommendations: Platinum-Heritage Falconry Heritage Tour.  The Dubai Museum
-Day Thirteen: Emirates 777-300 DXB-MLE summary, Moonima Lounge MLE summary, Park Hyatt Maldives transfer summary
-Days Thirteen through Sixteen Part 1: Park Hyatt Maldives Hadahaa Review
-Days Thirteen through Sixteen Part 2: What to do at the Park Hyatt Maldives Hadahaa
-Day Seventeen: Maldivian Dash-8/Boat Transfer Park Hyatt-MLE summary, Conrad Rangali MLE Lounge summary, Trans-Maldivian Twin Otter transfer MLE-Conrad Rangali Island
-Days Seventeen through Twenty-One Part 1: Conrad Maldives Rangali Island Review
-Days Seventeen through Twenty-One Part 2: What to do at the Conrad Maldives Rangali Island Resort
-Day Twenty-Two Part 1: Trans-Maldivian Twin Otter Conrad Rangali Island-MLE summary, Conrad Lounge MLE summary, Leeli Lounge MLE summary
-Day Twenty-Two Part 2: Turkish Airlines Business Class A330-300 MLE-IST summary.
-Day Twenty-Three Part 1: Turkish Airlines IST Lounge Summary, six hours in Istanbul
-Day Twenty-Three Part 2: Turkish Airlines Business Class B777-300  IST-SFO summary
-Day Twenty-Four: Hyatt Regency San Francisco Embarcadero Review
-Trip Summary/The Numbers
-The BIG Question: Park Hyatt Maldives Hadahaa or Conrad Maldives Rangali?
Despite staying here nearly a dozen times, I'd never really had the chance to review the hotel.  I was looking forward to the experience.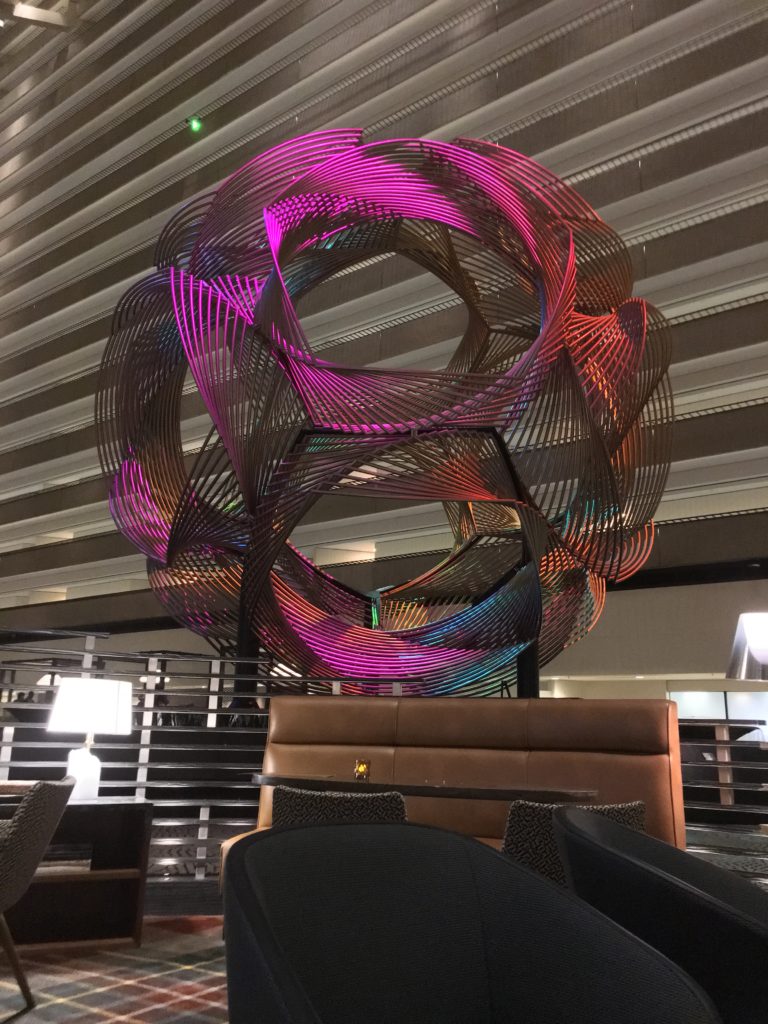 While the hotel was certainly bustling as we reached the lobby from the escalators, it didn't seem overly busy, so I was surprised and delighted when Ted at the front desk casually stated "as you can see we're really busy, so we're putting you in our best suite."
I barely paid attention to the rest of the check-in, whereby he confirmed our choice of 1,000 points for our Diamond Amenity and went over the Regency Club hours.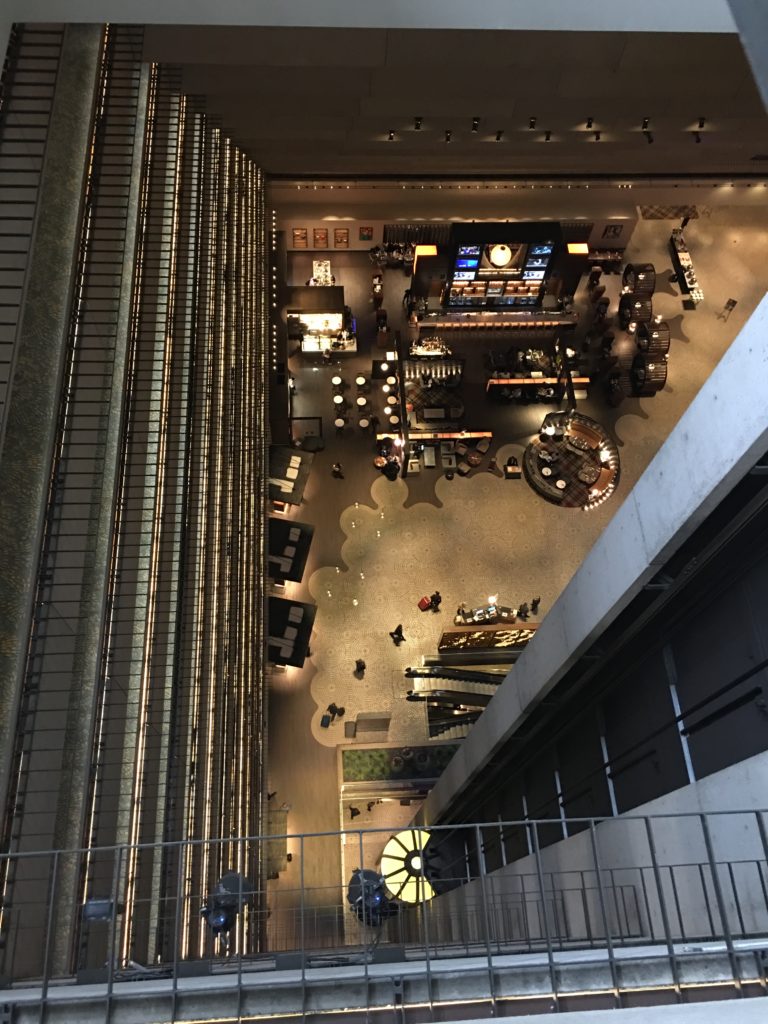 We thanked the agent, took our bags and rode the elevator up to the top floor, taking the long walk down the hall to our room: 1756.
As it turns out, I had toured this room when it was marketed as a "Grande Suite" about a year or two prior.  (Check out the video I took of it, starting at 2:20 in the clip below)
Presently it is marketed as a "Luxury Suite", and contrary to what the front desk told us, it is not quite the nicest suite- that honor would go to the Presidential Suites.
Despite that, we walked in to find the room had been completely renovated, and while not the largest suite in the hotel, it does feature unparalleled views.
I fully intended to comprehensively film and photograph the room, but we were thoroughly exhausted, and we promptly collapsed on the bed for a much needed nap.
We woke up hours later after dark, and I commenced documenting the room:
A bit strange was the giant lamp in the main foyer.  Maybe it had something to do with the music theme of the room, but if so it went over my head.
The foyer itself featured two sitting benches and a display of vinyl records along one of the walls.
Straight ahead of us was the living room, featuring books, a sectional, two chairs with ottomans and a coffee table.
The room also had a wall mounted flat screen TV and attached to a dining nook, where a 3 person dining table faced a second flat screen.  There were also several dozen more books.
To the right of the main foyer was the bedroom, which housed a Hyatt Grand Bed, another television, two nightstands with-you guessed it-more books!
There was also a spacious closet with robes, a safe, and luggage racks.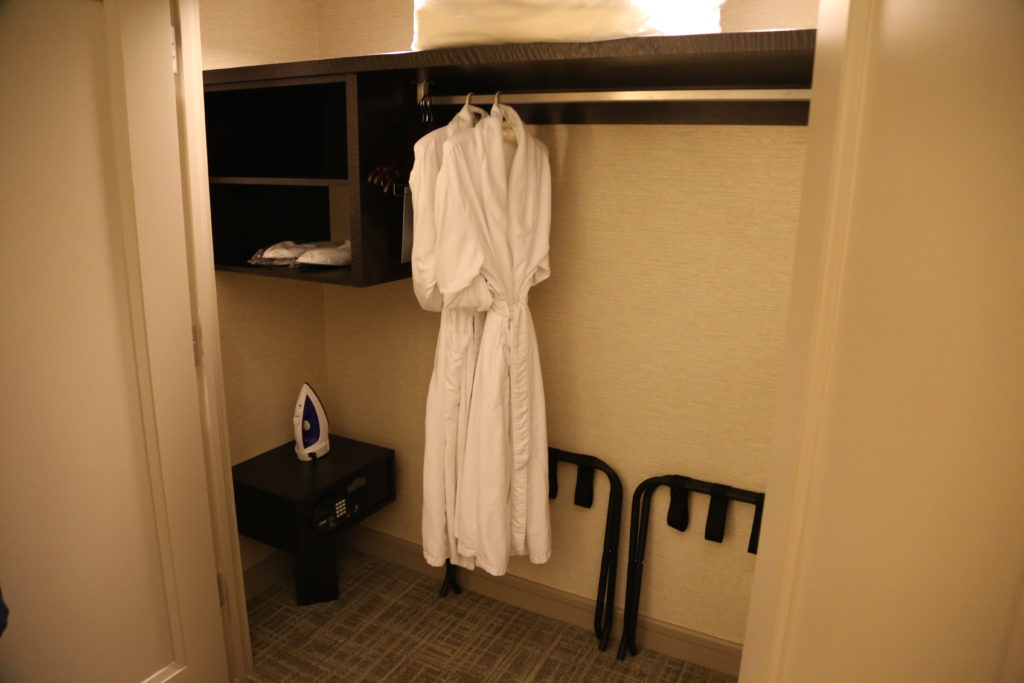 In the bathroom I found they had removed the jetted tub in favor of an oversized shower and a more private toilet.
There was also a dual vanity with a mirror wrapped in frosted class with lighting behind it.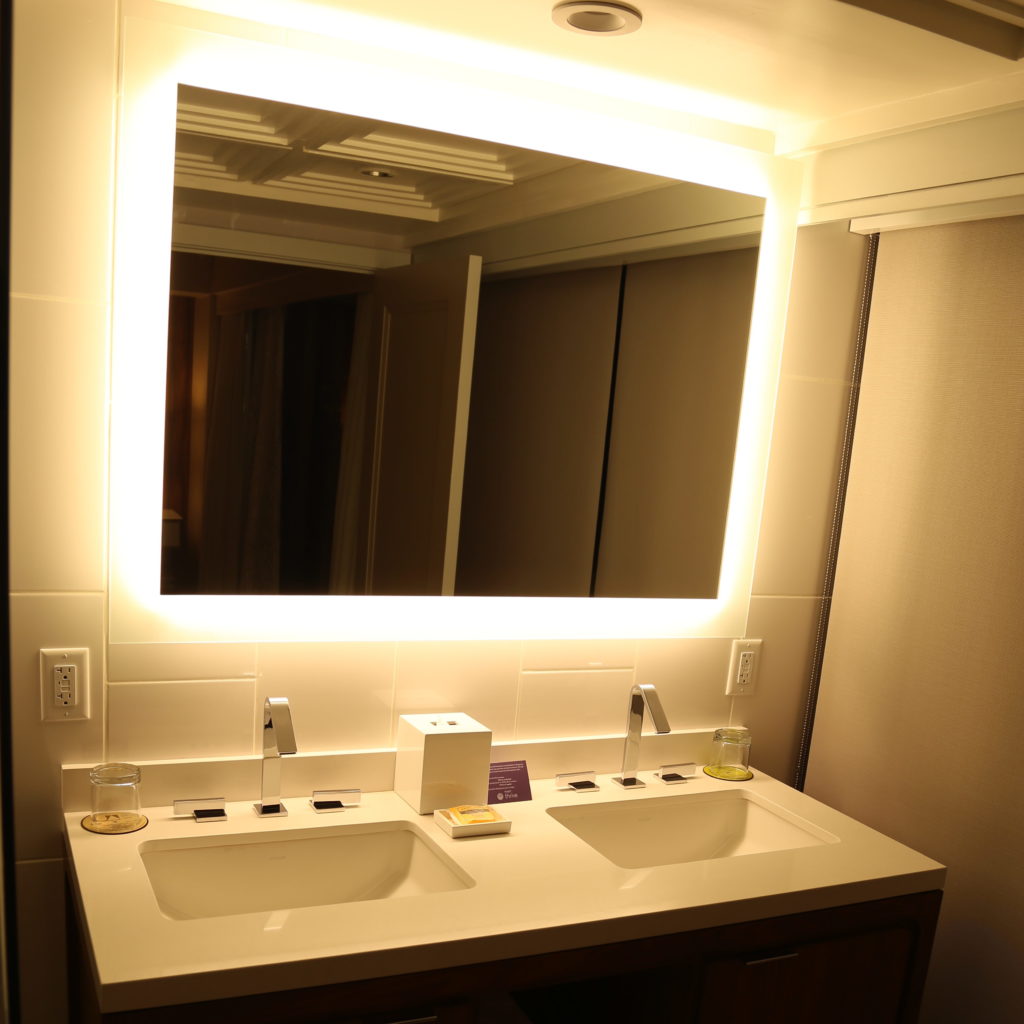 Another minute perk of the room was that unlike other rooms (featuring Hyatt's standard Kenet M.D amenities), this Luxury Suite was stocked with Pharmacopia soap, shampoo and conditioner.  While I'm far from qualified to tell the difference, these certainly appeared more upscale than the Kenet M.D brand.
Really the coolest part of the room remains the balcony, which I'm convinced offers the best views of all the rooms at the Regency Embarcadero.  There was a chaise, two chairs and a table just outside the bedroom, and a single chair with a table just outside the bathroom.  On one side you could look into the heart of the city, spotting the Transamerica pyramid, while the other side offered brilliant views of the Embarcadero and the Bay Bridge
After exploring the room, we decided we wanted some sweets without leaving the comfort of the hotel.
So we travelled down to the lobby restaurant to order dessert:
We enjoyed a small cheesecake and a lava-cake with ice cream and were out of the restaurant within 30 minutes or so.  It was only 8:45 when we got back to the room, but we still manage
d to get to sleep again.

Unfortunately my sleep schedule didn't snap back into place immediately, and I woke prior to sunrise, in time to take a few photos: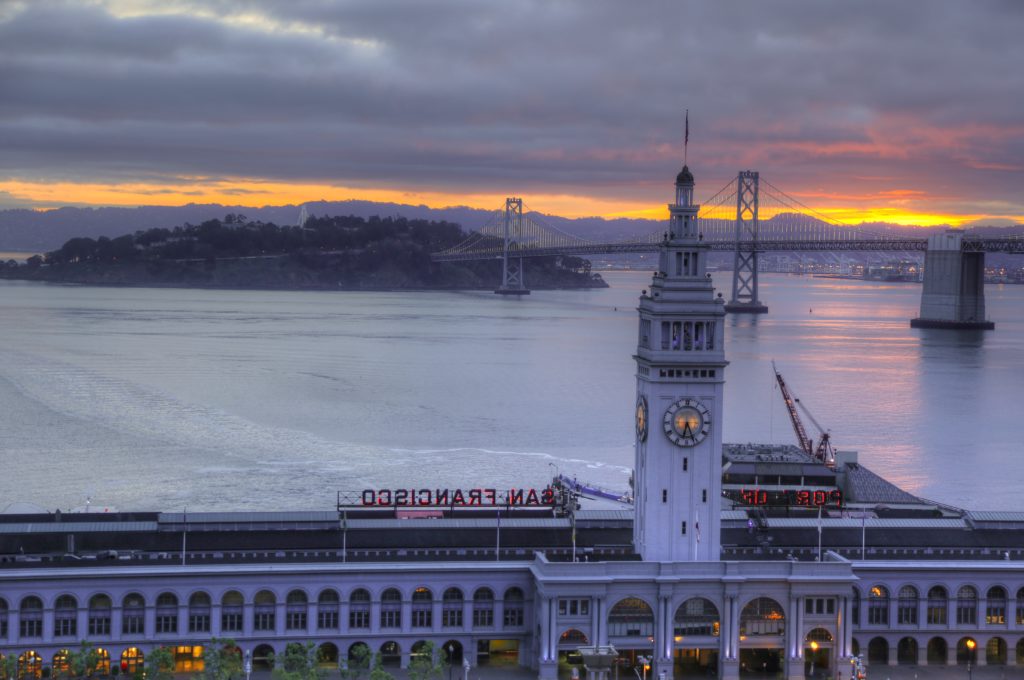 Kim woke a bit later and we went up to the Regency Club for breakfast, a privilege we got for being Diamond members with Hyatt.
The Regency club at the Hyatt Regency San Francisco Embarcadero is one of my favorites.  While in general the food is nothing to write home about, I love having the ability to walk around and get a 360 degree view of the entire city.
On this particular morning I was in the mood for what they were serving, so I was more than happy to be there with a spinach keesh, a Danish and some fruit.  There were other options as well but I was too hungry to spend time on photographing them.  (You can see another day's selection towards the end of the first video featured above).
After breakfast we relaxed some more, and late morning a family member picked us up from the lobby to bring us home.
Ultimately:
Our free upgrade may contribute to a bias, but on top of many other stays here I have to recommend the HR on the Embarcadero to anyone thinking of staying at a Hyatt in the city.  A stunning atrium, comfortable rooms (even if a tad outdated), great views, and convenient access to the Embarcadero and the many piers associated with it make it my favorite of the three downtown.  Not to mention it's also directly next to a street car and the BART station.
Please follow and like us: