My number #1 rule of vacationing is to never start a vacation without having the next one in the works.  We're coming up on this years "big one" pretty soon, and I'm excited to share all the details in a few weeks.  But of course that means I need to be thinking even further ahead, so I've already started planning our next 2 trips to take place in 2018, and am brainstorming our first one for 2019.
What does this mean on the home-front?  Lots of credit card sign-ups!
Let's start by saying I wouldn't recommend the following strategy to the average Joe. The ONLY reason this is going to work for us is because we have some MAJOR expenses coming up, and we'll be able to meet all the spend requirements.
This week I've signed KimPro and myself up for SEVEN credit cards (4 for me and 3 for KimPro), and might even sign us up for a couple more soon.  The tough part of this week's signups is that several of the cards feature annual fees, and we are in it for a total of $1,250.
So what did I sign up for and why? (Please be aware that the bonuses described below are subject to change, and may not reflect current offers.  Listed offers valid at time of posting 9/8/2017)
1. The Citi® / AAdvantage® Executive card (2X)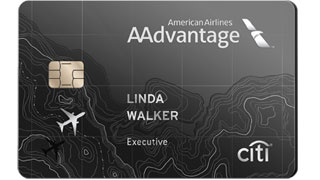 This card comes with a sign-up bonus of 75,000 American Airlines Miles after spending $7,500 in the first three months of card membership.  That's a lot of spend, but the real nail-biter is that each card has a $450 Annual Fee Associated.  You can bet your butt we're going to get some value off our sign-up bonus for paying that much.  While the card does get users free Aviator Club access when flying American Airlines, we don't intend to use that benefit.
2. Barclaycard AAdvantage® Aviator™ Red World Elite MasterCard® (2X)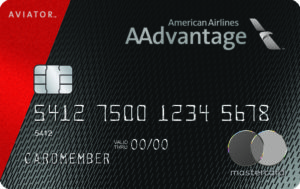 This card may be easier to swallow, with a 60,000 Mile Bonus after only making a single purchase on your card. The annual fee is also more down to earth at just $95.  This card gets users free checked bags for up to four people when you use it to pay for your American Airlines flight.  Again, we don't expect to take advantage of that benefit.
So that covers four cards, let's discuss why we applied for them.
We are planning a trip to Australia and New Zealand for 2018, in part to experience the new Singapore Airlines Suites that will be launching early next year.  But we need to figure out how to get there and back!
Given that we'll have already tried the current Singapore Suites, the next most luxurious flight option appears to be the Etihad Apartments.  That's right- Apartments!  That's the name they've given to what are some of the most spacious accommodations available to commercial flyers today.
The normal cost for a flight JFK-SYD in the apartments: Over 16 THOUSAND dollars! Per Person!

So we will find a way to get to New York City (Likely domestic First Class using miles), and then, if all goes according to plan, take the Etihad Apartments all the way eastbound to Sydney, Australia.  The cost in miles for this flight: 215,000 per person.
You may have noticed that the two signup bonuses above will only net us 142,500 miles per person (75,000+7,500 for the Citi Executive Spending & 60,000 for the Aviator Red), so where are we coming up with the other 72,500 apiece?
Last year I signed up for both the American Express SPG card and the American Express SPG business card.  The signup bonuses at the time were 35,000 points apiece, and by the time I met the spend requirements I had 80,000 Points.  Starwood Points convert to American Airlines Miles at a 1:1 Ratio, and for every 20,000 points you convert, you receive an extra 5,000 miles.  So those 80,000 points are worth another 100,000 Miles.  In addition, Starwood is currently offering a 20% bonus on transfers up to 80,000 Starwood Points. (30% on transfers of 80,000 points, but for this situation I won't be able to take advantage of that)  So that means we'll have a total of 405,000 Miles.  Plus KimPro has ~3,000 of her own SPG points, so we'll only need 22,000 Miles. How we'll obtain those miles is still a mystery (care to utilize our SPG Referal links!? 😉 , but we're confident we'll get it figured out before it comes time to book.
3. Hilton Honors™Surpass® Card from American Express (2X)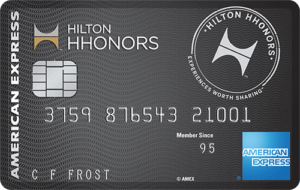 The current bonus on this card is an atypical 100,000 Hilton Points after spending $3,000 within 3 months of signing up.  This offer is valid until Oct. 4, 2017.  The card carries a humble $75 annual fee.
We're accumulating Hilton points in anticipation of the recently announced Waldorf Astoria Maldives, which according to various sources will open in early 2019.  Based on its location and prestige, we can expect that this hotel will either offer base rooms at 95,000 points per night OR offer them at an insane number of points (in which case we'll have to make alternate plans).  All silver, gold, and Diamond Hilton Honors members get the 5th award night free (The Hilton Surpass card gives holders Gold Status for as long as they have the card, but you can always sign up for the no-fee Hilton Amex Card for complimentary Silver Status).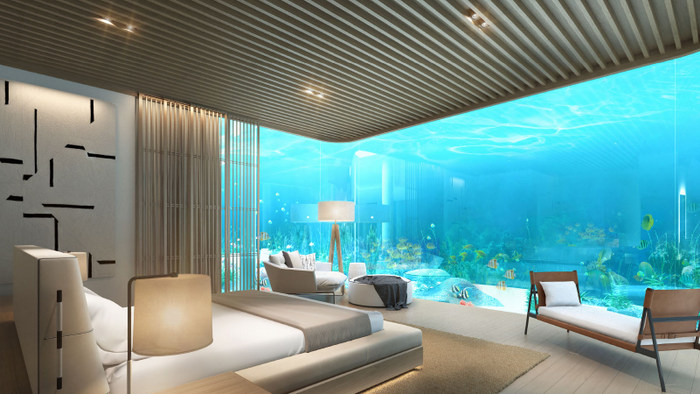 This means, presuming my 95,000 point theory is correct, we'll need 380,000 Hilton Points for a five night stay at the Waldorf Astoria Maldives.  I already have 20K, KimPro has 100K, and once we meet the requirements on this card, we'll have 320K.  I stupidly forgot to sign up for Kim's card using my own referral link, costing me 25,000 Hilton Points. Ouch! (We appreciate anyone signing up for this card via our link, as we get 25,000 points from it for up to 3 signups and 5,000 for a fourth. Please let us know if you do so we can thank you and keep tabs!)
So we need to come up with 60K more points, which brings us to the last card:
4. Hilton Honors™ Card from American Express (1X)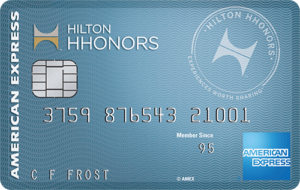 Right now AMEX is offering 50,000 bonus points to new cardholders who spend $1,000 in their first three months of membership, and another 25,000 points to cardholders who spend an additional $1,000 in their first 6 months of membership.  This card has no annual fee and gives cardholders complimentary Hilton Silver Status.  While I signed up for this card, I haven't yet determined if KimPro should get it too. It may be a stretch to meet the spend requirement on that atop all others, and I'm also considering getting her the AMEX SPG personal card to obtain the remaining AA miles that we need instead.
If we do get her this Hilton card and hit the spend requirements, we'll have close to enough points for a 6th night at the Waldorf Astoria Maldives (again, presuming they offer it at 95K a night).
Bear in mind that if you are signing up for more than one American express card, it is recommended you wait at least 5-7 days between applications, as you may not be approved otherwise. I employeed this technique for my two AMEX Hilton Applications and applied for the second one 5 days after the first.
If you've been keeping score, you haven't done your math wrong- we have to spend $22,000 by the end of November and an additional $1,000 by February to meet all of our minimum spend requirements.  But between booking an upcoming cruise, early Christmas shopping, and other pre-planned expenses including a wedding, we've got it covered.
For those with less expenditures I might recommend a combination of the Barclaycard Aviator Red, the Citi AAdvantage Platinum Select Card (30,000 Mile Bonus after spending $1,000 in 3 months, $95 annual fee waived the first year), and the above Hilton Honors™ Card from American Express.  You can still go far with 180,000 Miles and 150,000 Hilton Points (Based on 2 people signing up for the cards).
Ultimately:
A lot of work and a lot of planning goes into maximizing credit card rewards.  At the end of the day though we're hoping to gain $25,000+ in value out of only $1250 in annual fees, and continue our streak of ultra-luxury travel at a steep discount.
Please follow and like us: