Over our 6 days at the Conrad Maldives we filled our schedule jam-packed with activities and excursions.  If we weren't stuffing our faces with ice cream at the Rangali Bar, you could find at least one of us flailing about on an under-foot jetpack, squealing with delight at the Mantas along the main jetty, or diving the beautiful reefs around and nearby the resort.  We may have over-exerted ourselves on the trip, but boy was it worth it!
-The Big One! Introduction/Giveaway
-Day One: Hyatt Regency San Francisco Airport Review
-Day Two: United First Class B737-800 SFO-IAD summary
-Days Three through Six: D.C Area recommendations: Smithsonian, National Harbor, Baltimore Aquarium
-Day Seven: Lufthansa Business Class Lounge IAD summary, Lufthansa First Class A330-300 IAD-MUC Summary
-Day Eight Part 1: Six hours in downtown Munich, Lufthansa First Class Lounge Munich Summary
-Day Eight Part 2: Lufthansa First Class A330-300 MUC-DXB Summary
-Day Nine Part 1: Dubai Exotic Limo brief review part 1 & Abu Dhabi recommendations: Ferrari World, the Grand Mosque
-Day Nine Part 2: Park Hyatt Abu Dhabi Review
-Days Ten through Twelve Part 1: Park Hyatt Dubai Review
-Days Ten through Twelve Part 2: Dubai Exotic Limo brief review part 2 & Dubai recommendations:  Burj Khalifa Sky
-Days Ten through Twelve Part 3: Dubai Recommendations: Tea at the Ritz Carlton Jumeirah Beach, Atlantis Monorail, Dubai Mall
-Days Ten through Twelve Part 4: Dubai recommendations: Platinum-Heritage Falconry Heritage Tour.  The Dubai Museum
-Day Thirteen: Emirates 777-300 DXB-MLE summary, Moonima Lounge MLE summary, Park Hyatt Maldives transfer summary
-Days Thirteen through Sixteen Part 1: Park Hyatt Maldives Hadahaa Review
-Days Thirteen through Sixteen Part 2: What to do at the Park Hyatt Maldives Hadahaa
-Day Seventeen: Maldivian Dash-8/Boat Transfer Park Hyatt-MLE summary, Conrad Rangali MLE Lounge summary, Trans-Maldivian Twin Otter transfer MLE-Conrad Rangali Island
-Days Seventeen through Twenty-One Part 1: Conrad Maldives Rangali Island Review
-Days Seventeen through Twenty-One Part 2: What to do at the Conrad Maldives Rangali Island Resort
-Day Twenty-Two Part 1: Trans-Maldivian Twin Otter Conrad Rangali Island-MLE summary, Conrad Lounge MLE summary, Leeli Lounge MLE summary
-Day Twenty-Two Part 2: Turkish Airlines Business Class A330-300 MLE-IST summary.
-Day Twenty-Three Part 1: Turkish Airlines IST Lounge Summary, six hours in Istanbul
-Day Twenty-Three Part 2: Turkish Airlines Business Class B777-300  IST-SFO summary
-Day Twenty-Four: Hyatt Regency San Francisco Embarcadero Review
-Trip Summary/The Numbers
-The BIG Question: Park Hyatt Maldives Hadahaa or Conrad Maldives Rangali?
Whale Shark Snorkeling:
Maybe the most disappointing excursion over our entire trip, we spent our first morning at the Conrad out at sea with a dozen-or-so others in hunt of the massive Whale Shark.  After hanging around the dive shop for 15-20 minutes or so, wherin we had a chance to see images of the creature on their TV's, we took off.
We were provided with beverages and snacks during the trip, and a little while into it we spotted some Dolphins.  The captain and his assistants kept in communique with other resort boats searching for Whale Sharks as well, and after anxiously hoping we finally had a hit.  We sped over to the spot, where 3 or 4 other boats had already stopped to let their guests into the water.  Kim, myself and the others dove as quick as possible into the water, but alas the beast had already descended deep.  We were able to catch a glimpse of what we were told was a young one, but it was less than a minute before it disappeared out of sight.
Thus was the extent of our Whale Shark spotting.  Of course, we knew going in that it was a hit-or-miss trip, so our disappointment in the excursion was not the fault of the hotel just a bad circumstance.
For us it passed as a decent day at sea, but at $200++ ($247) per person for a 3 hour trip, you really need to see the sharks for it to be worthwhile.
The Private Yacht Cruise:
We met for our Sunset Dinner Cruise at 6:00 the same evening as our Whale Shark snorkeling excursion.  This 2 hour trip was to take place on one of the two resort yachts: The Rehendi.  It was cheaper than our Whale Shark expedition at just $160++ ($198) a head.  It turned out to be much more valuable.
We were greeted at the lobby by a dive-shop guide, who would be at our service throughout the trip.  I looked around for any other guests, and he told us that we would be the only two on the cruise!
I had expected the resort to cancel the trip given that there were only two of us, but instead our guide led us aboard, and we were off!
We first went upstairs to sit under the shade, dropping our bags by our seats.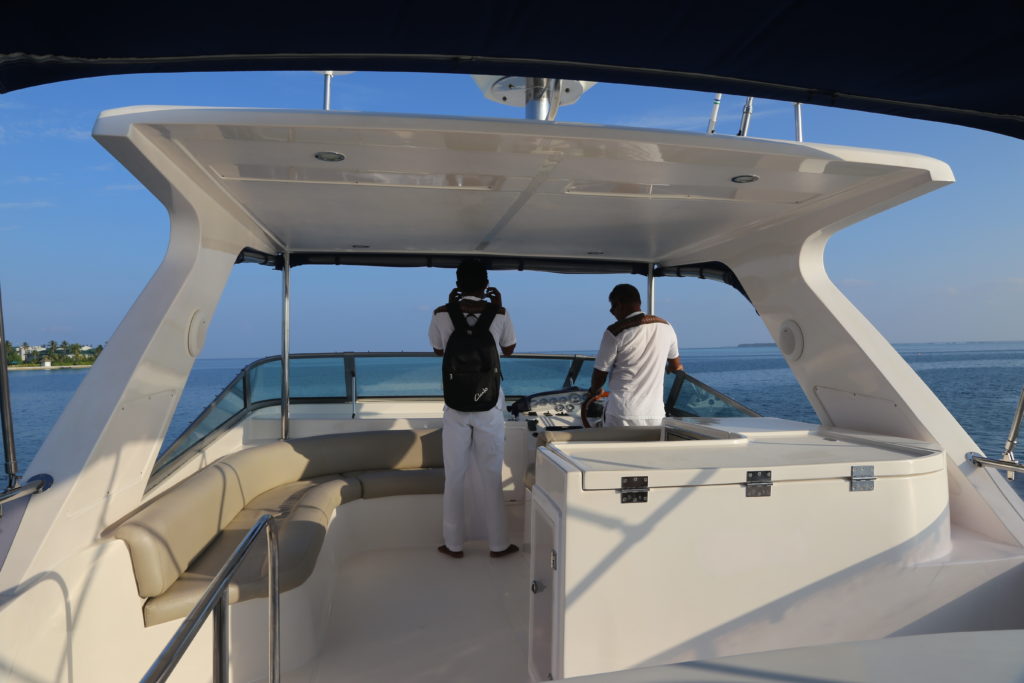 But soon after leaving we realized we would get a much better view and be just as comfortable (if not more comfortable) up at the front of the yacht.  We kicked back and were offered bottled water.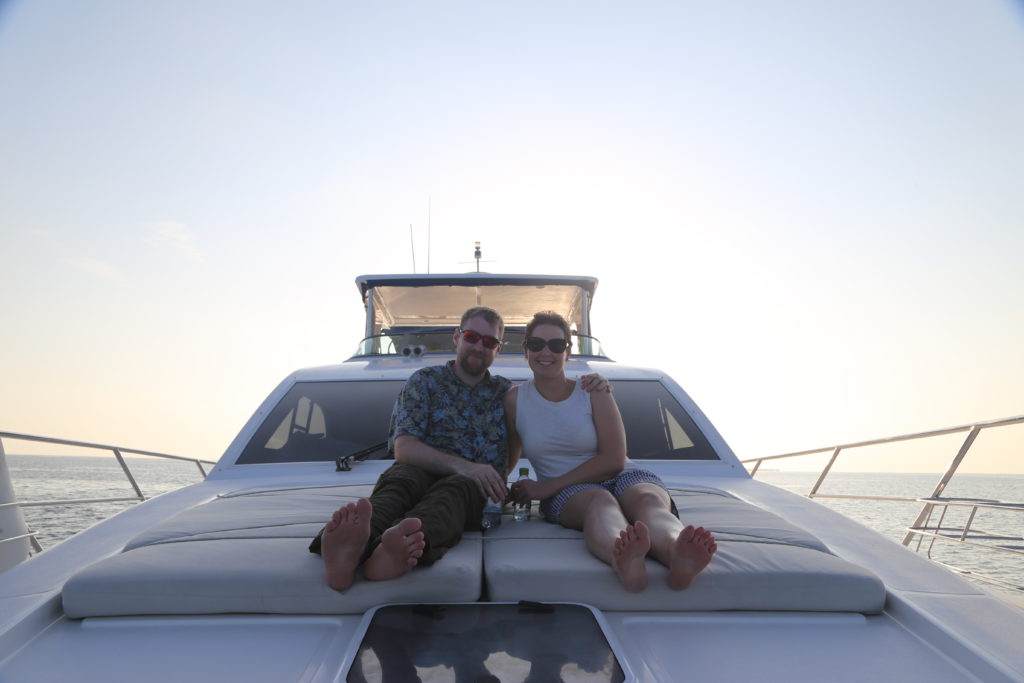 A little while in our crew spotted a school of dolphins, and the captain steered the boat towards them.  We got decently close and smiled as the swam nearby. (Admittedly, we weren't as giddy as the first 4 times we saw dolphins in the Maldives) As the trip went on we were offered a selection of hors d'oeurvres and champagne.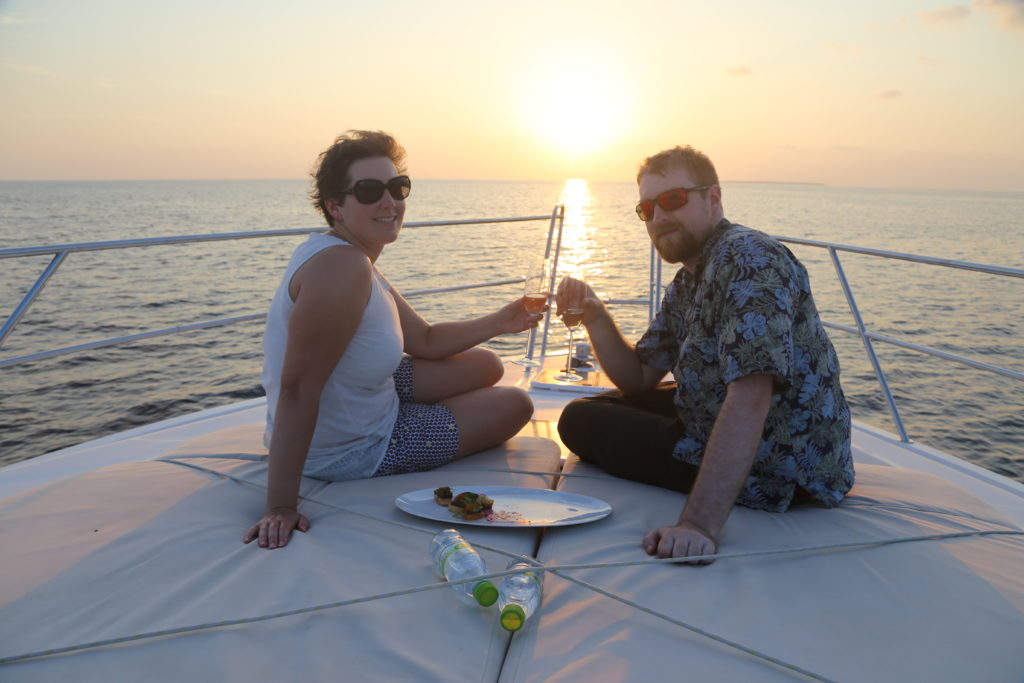 I managed to put my foot in my mouth when our guide offered us a bottle of champagne and I suggested he keep it.  After he declined, Kim pointed out my error: our guide was Muslim.  When I next saw him I apologized and we had a good talk about it and the culture in the Maldives (apparently there are some avid drinkers among the youth).
We passed by the island used for the Dream Island excursion and watched the sunset.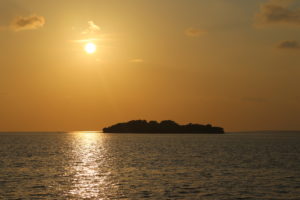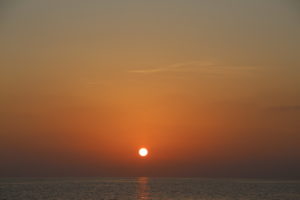 The crew took us back to shore and we arrived as darkness overtook.  Before disembarking the crew allowed me to explore the cabin and check out the inside.  We had been advised to avoid it during the trip as the A/C was out of service at the time.  It certainly seemed cozy inside, with a kitchen, bathroom, seating area, and three bedrooms.  We thanked our crew and disembarked.
Manta Spotting:
After striking out on the previous night (we had gone to the jetty at around 8 P.M), we returned to the main jetty at 9:00 to see if we could spot the infamous Manta Rays that fed along the bridge.  The area was quiet, with several guests crossing in either direction, but nobody spending any time looking over the railing.  After 10-15 minutes of searching I spotted the first one of the night and shouted out to Kim.  The shout caught the attention of some others as well, and soon there were several people gaping at the amazing creature.
The crowd only grew as the hour went on, and soon the gathering could be seen swaying back and forth on the jetty as the Mantas swam to either side in search of food. The movement of the group of people was almost as much of a spectacle as the Mantas themselves.
We watched and followed for quite some time, getting a good bit of walking in through it all. We would return twice more for this incredible attraction.
We were lucky in our timing, as it turns out the season for Mantas goes from November through April.  Had we shown up just a few weeks later we may have missed them.
You can see these amazing creatures in my video above.
The Spa Retreat:
We booked our spa package while at the Conrad Lounge at the Male airport. The "Tour De Spa" package consisted of a one hour couples massage at both The Spa Retreat and the Over Water Spa, along with lunch at the Mandhoo Restaurant (lunch detailed in previous post).
We arrived at the spa about 15 minutes early and were kindly welcomed in. We took a seat and were handed some paperwork to fill out.  We were also offered water while we completed the form.  Soon enough our two masseuses arrived and introduced themselves.  
Florita would be giving Kim a Lomi Lomi Massage, while I would have a Swedish massage from Irene.  They led us through a door and down a hall before veering us off to one of the treatment rooms.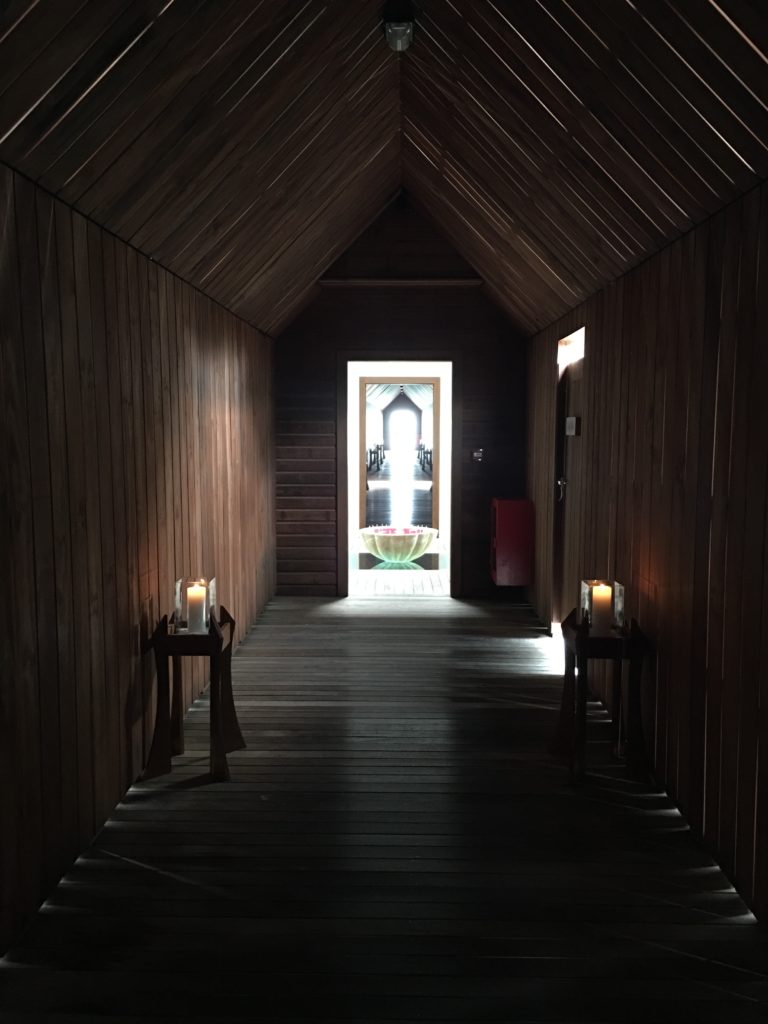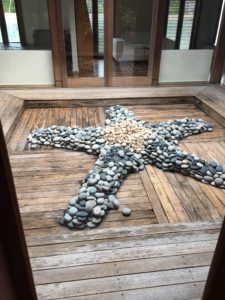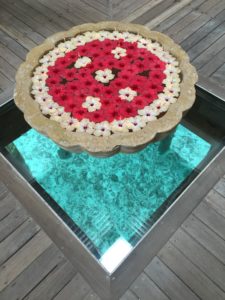 Once we were settled in the room, Florita and Irene gave us time to change and use the restroom.  When they showed us where the toilet was, we just had to take a clip, as it was certainly a fascinating piece of work:
Our treatment began with a Maldivian foot scrub, and we then settled into our beds for the massage.
The hour flew by, and we got dressed again before our two masseuses brought us back to the spa lobby, where we were served tea with rock-sugar.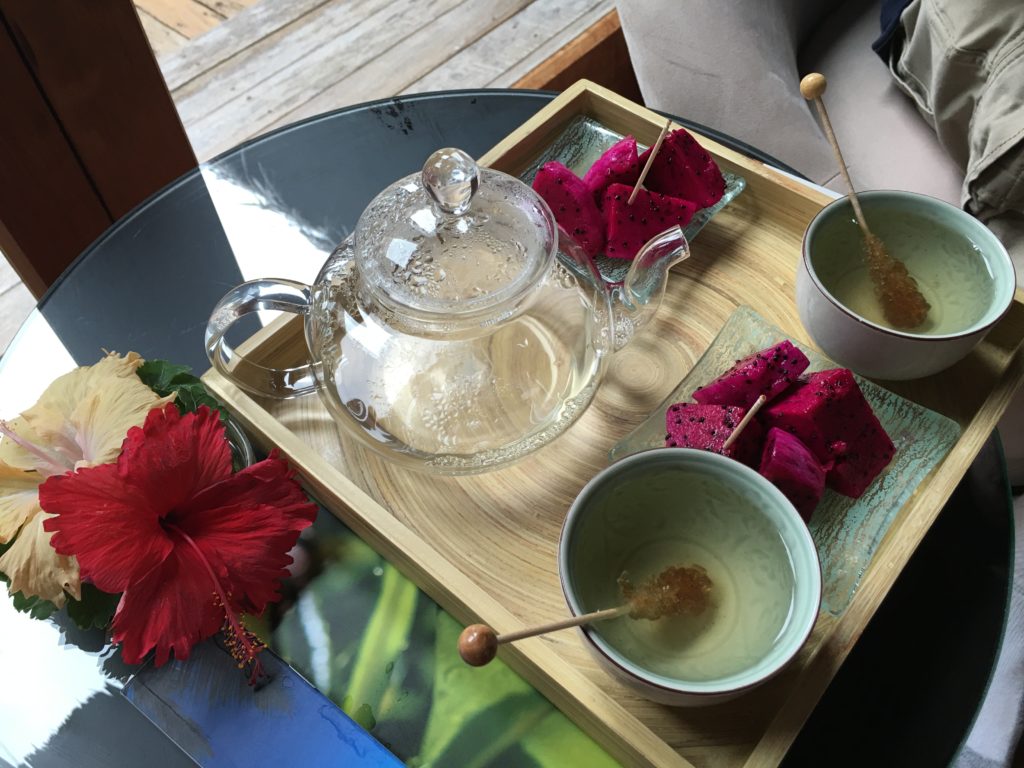 We said goodbye to the two ladies and left refreshed and rejuvenated.
Ithaa Lunch:
As I mentioned in my previous post, I returned from getting a drink at the Rangali Bar to find a crowd waiting for lunch.  Kim had still not returned from her dive trip, so I would start the meal on my own.
When it was finally time to begin, staff led the group of us from where we waited in the shade at the Sunset Grill across a jetty to the Ithaa restaurant.  We were directed to remove our shoes as we stepped inside.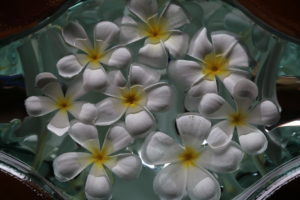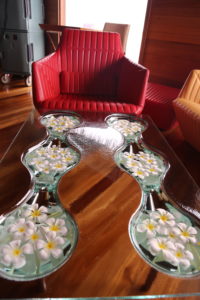 We hung out up top for a bit, waiting for any stragglers. While we waited, a staff member welcomed us and gave us some fun facts about the restaurant.  After a few minutes of that, he then led us down a spiral staircase and into the acrylic tunnel: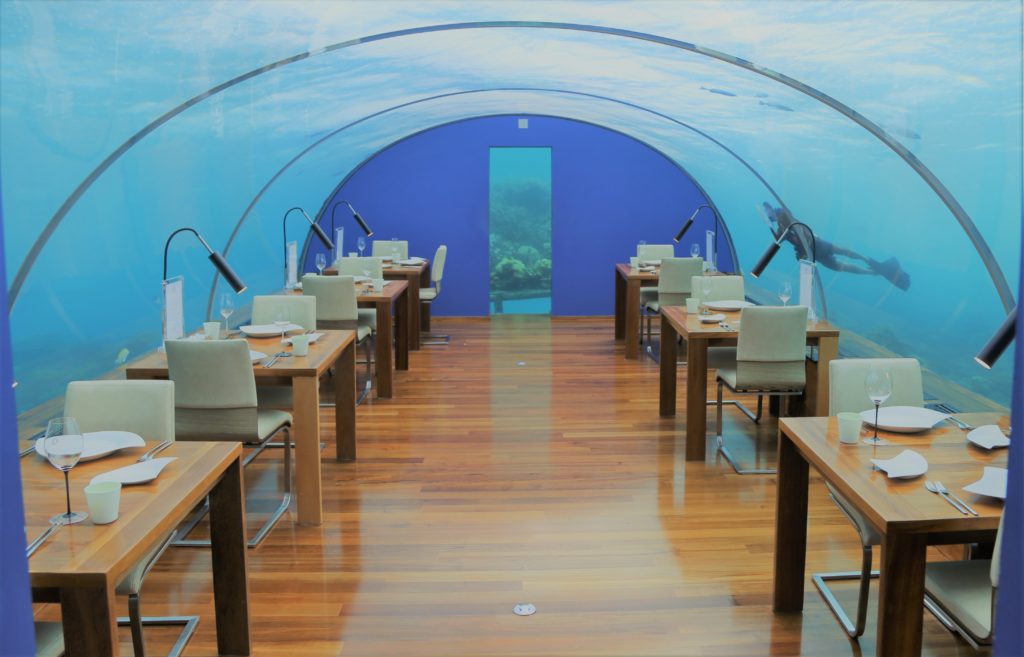 The environment was as awesome as you might expect: a dining room under the sea.  But I had been forewarned that the heat in this place tended to get intense, and I had lathered myself in sunscreen to prepare.
Sadly, it wasn't quite enough.  I had neglected to bring sunglasses! One of the waiters noticed my discomfort (given away by intense squinting!) and offered his glasses to me to use during lunch.
On top of all that, I turned my napkin into a headscarf.
Just to remind you what I looked like (in case you didn't catch it on my last post):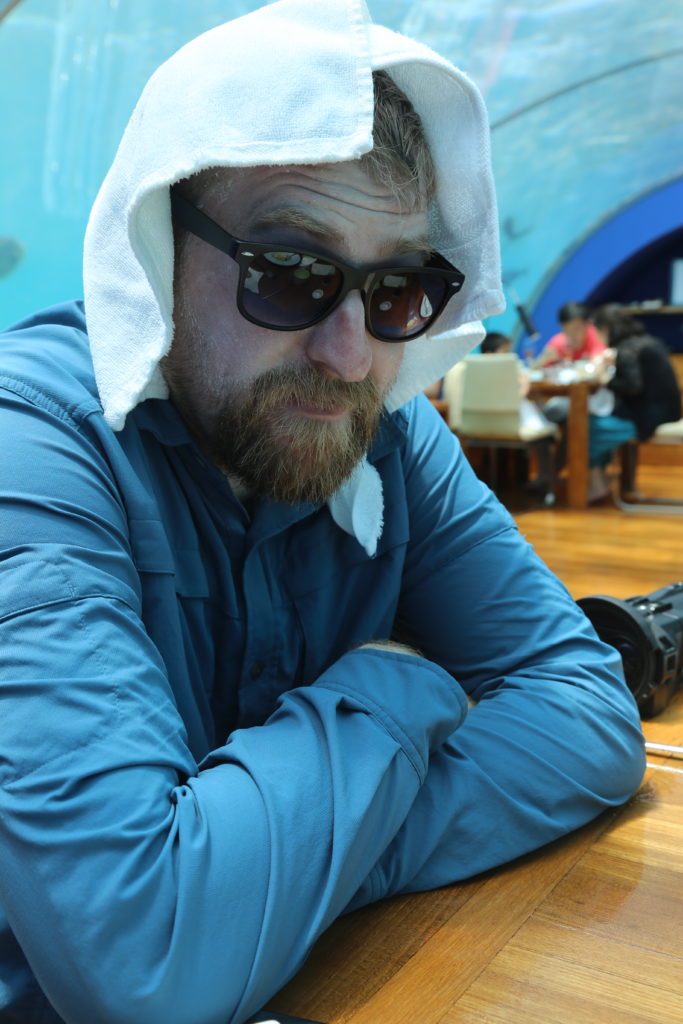 I may have contributed to the destruction of elegance in what was supposed to be an upscale restaurant, but children in the background didn't do anything to help either.
Our waiters presented the menu to the guests, and given the time constraint I chose Kim's main entrée while waiting for her to arrive.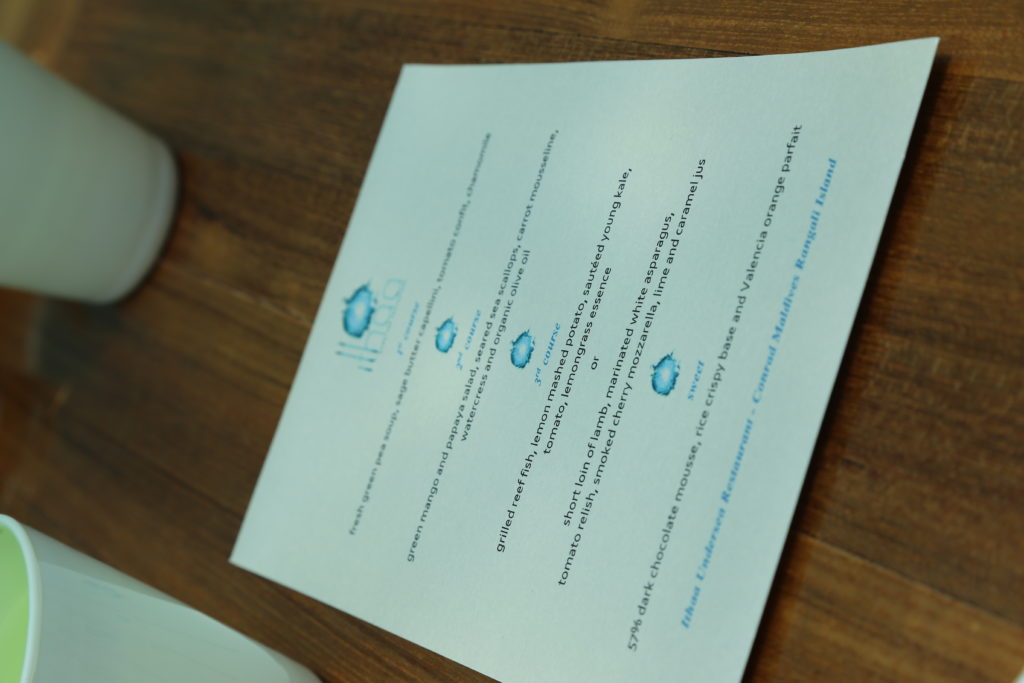 The first and second courses came out and I quickly devoured them, enjoying every bit. Kim arrived from her dive just before they brought out the main course, and she had a little time to finish the first two courses as well.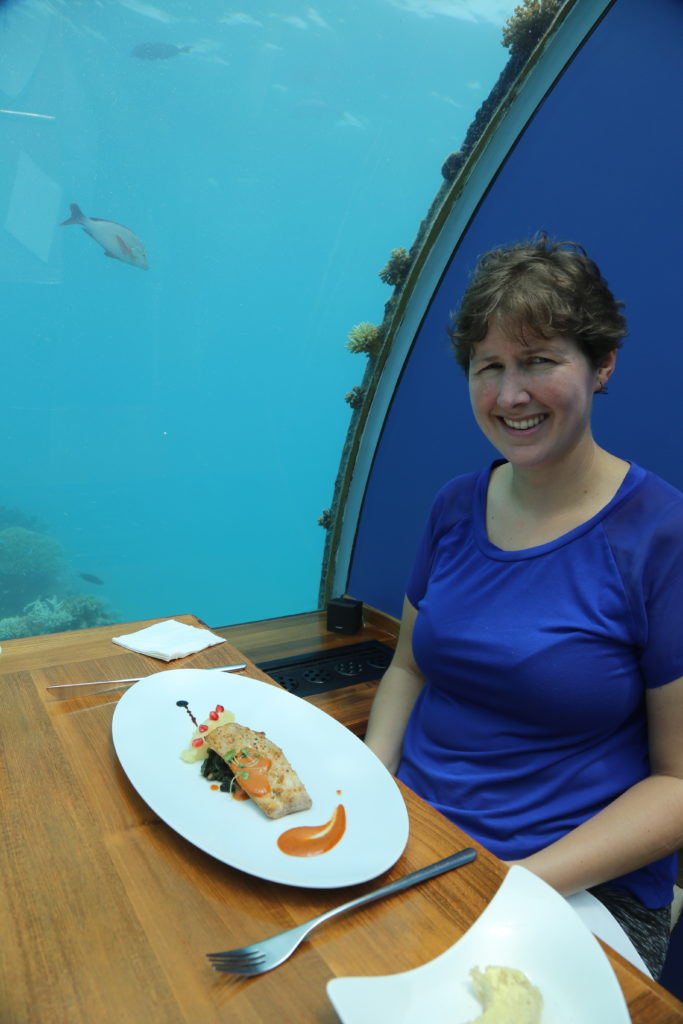 I selected the grilled reef fish as the main course for the both of us, and don't regret it in the least.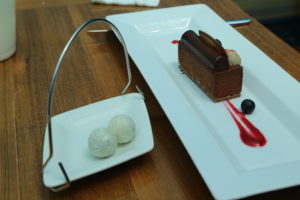 By the time we chowed through dessert, most of the other guests were already out the door.  We took some time to get some photos, but were ushered out after not too long so the staff could clean up and start preparations for dinner.
While the experience of eating in an underwater restaurant cannot be overstated, the reality of it is a little tougher.  A hot room, casual atmosphere, and enjoyable but overpriced food make this tough to recommend.  Fortunately I knew all of this going in, I wanted the experience.  The less informed may be a bit more scathing of it all when they re-emerge from the deep.
Other options are to enjoy cocktails here at a premium, or the even more expensive dinner.  They all have pros and cons, but at least you get to pick your poison if you (like me) consider this experience a must-do.
Over Water Spa:
Our evening Over Water Spa treatment began with a romantic walk across the sandy island to the lobby as the sun was setting.  We were welcomed into the shoreline building just as another couple was departing.  After filling out our massage preferences we were shown to a private locker room and had the chance to change into robes.
On exiting the changing room, we were greeted by our two masseuses for the evening, Ubon for myself and Ari for Kim.
The two ladies invited us to follow them across the jetty to our spa room.  We first rinsed our feet of sand and then started across.  It had been on and off raining throughout the day, so the women held umbrellas over us on our way across.  I quickly offered to hold the umbrella instead of Ubon, as she was struggling to keep it over my head given my substantial height difference.
Our treatment at the Over Water Spa was quite similar to that in The Spa Retreat.  Because the sun had set there was a little more ambience to the experience, and we both felt the setting and view was superior.
On completion of the treatment we were led back to the lobby under darkening skies.  We changed back into our clothes and thanked our hosts.
I felt the service at both spas was equally fantastic, so if I had to recommend one over the other it would be the Over Water Spa for its location and ambience.
Jet-Blade:
My experience on the jet-blade did not go quite as I hoped. This awesome-looking experience is created using an underfoot platform that is attached via a large tube to the water-output portion of a jet-ski.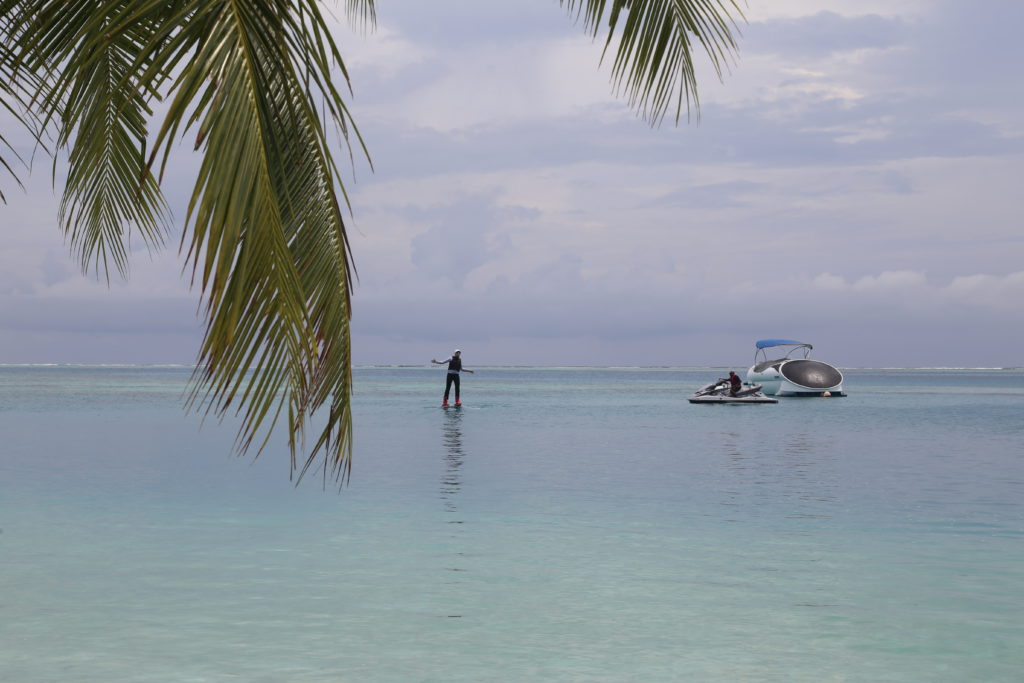 Unfortunately, unlike Mr. Hotshot in the video below, I never made it more than a couple feet off the ground.
My frustration was only compacted by the instructors overly ambitious desire to see me do well in an athletic capacity. 😉  You can see my feat of 2 feet in the video at the top of the page.
Like the Ithaa restaurant, I felt the mass of the value in trying out the Jet-Blade is having that experience under my belt.  The less athletically-awkward of folk will probably have a more enjoyable time than I had.  My hour was full of flopping and flailing, and in the end my $250++ ($308) did not see me performing backflips and barrel-rolls.
You should totally expect to be able to do this within your first hour.  Courtesy of Conrad Hotels.
Ali was certainly a friendly instructor through it all.
Snorkeling/Diving:  
I spent a minimal time snorkeling at the Conrad Rangali.  As I've stated numerous times already, the area around our water villa was almost completely barren of life, and the worthwhile snorkeling took place on the opposite end of the resort, at the east side of Rangalifinolhu.
We spent an hour or two on our final morning exploring the house reef, and enjoyed spotting skates and rays.
Meanwhile, Kim went on 5 dives over our five night stay, including 3 morning dives, a dive at the Ithaa restaurant, and a night dive at the house reef whereby she encountered mating cuttlefish!  That clip is featured at the 5 minute mark of the night dive video (second video below).
Ultimately:
Five nights in this action-packed paradise left us pretty exhausted.  We chose our food and activities in a manner to get the most out of our trip, but were left with no time to try out the resort pools or several of their restaurants, including the Koko Grill, the Sunset Grill, or Ufaa.  We also ended up passing on one of our excursions: the Dream Island.
While we came away from some of the activities with less than perfect impressions, it was not for lack of trying on the part of the resort.  On the contrary we loved our service all around.  But maybe had we seen one more whale-shark, felt one cool gust of air in Ithaa, or maybe had I had the aptitude to climb a little higher on the jet-blade our stay would have felt a little more complete.
There's little left to tell about our Maldivian adventures save for my upcoming comparison to the Park Hyatt.  Look forward to that soon!
But next up: Day Twenty-Two Part 1: Trans-Maldivian Twin Otter Conrad Rangali Island-MLE summary, Conrad Lounge MLE summary, Leeli Lounge MLE summary.
Please follow and like us: