As mentioned before, we arrived at the Conrad Maldives right around 4:30.  We unloaded from the plane to find we were in the center of a giant jetty.  Nearby was a lounge for passengers waiting to depart.  We were met on arrival by our personal host, Asif.
Since several of us arrived at once, our luggage did not come directly with us, instead it would arrive later in the day at our room.
Asif welcomed us warmly, and we followed him across the jetty that connected the two islands of the Conrad Maldives.  As we walked, we kept peering over the railing of the jetty into the crystal water, at one point spotting a turtle, and then less than a couple minutes later, a spotted ray!
-The Big One! Introduction/Giveaway
-Day One: Hyatt Regency San Francisco Airport Review
-Day Two: United First Class B737-800 SFO-IAD summary
-Days Three through Six: D.C Area recommendations: Smithsonian, National Harbor, Baltimore Aquarium
-Day Seven: Lufthansa Business Class Lounge IAD summary, Lufthansa First Class A330-300 IAD-MUC Summary
-Day Eight Part 1: Six hours in downtown Munich, Lufthansa First Class Lounge Munich Summary
-Day Eight Part 2: Lufthansa First Class A330-300 MUC-DXB Summary
-Day Nine Part 1: Dubai Exotic Limo brief review part 1 & Abu Dhabi recommendations: Ferrari World, the Grand Mosque
-Day Nine Part 2: Park Hyatt Abu Dhabi Review
-Days Ten through Twelve Part 1: Park Hyatt Dubai Review
-Days Ten through Twelve Part 2: Dubai Exotic Limo brief review part 2 & Dubai recommendations:  Burj Khalifa Sky
-Days Ten through Twelve Part 3: Dubai Recommendations: Tea at the Ritz Carlton Jumeirah Beach, Atlantis Monorail, Dubai Mall
-Days Ten through Twelve Part 4: Dubai recommendations: Platinum-Heritage Falconry Heritage Tour.  The Dubai Museum
-Day Thirteen: Emirates 777-300 DXB-MLE summary, Moonima Lounge MLE summary, Park Hyatt Maldives transfer summary
-Days Thirteen through Sixteen Part 1: Park Hyatt Maldives Hadahaa Review
-Days Thirteen through Sixteen Part 2: What to do at the Park Hyatt Maldives Hadahaa
-Day Seventeen: Maldivian Dash-8/Boat Transfer Park Hyatt-MLE summary, Conrad Rangali MLE Lounge summary, Trans-Maldivian Twin Otter transfer MLE-Conrad Rangali Island
-Days Seventeen through Twenty-One Part 1: Conrad Maldives Rangali Island Review
-Days Seventeen through Twenty-One Part 2: What to do at the Conrad Maldives Rangali Island Resort
-Day Twenty-Two Part 1: Trans-Maldivian Twin Otter Conrad Rangali Island-MLE summary, Conrad Lounge MLE summary, Leeli Lounge MLE summary
-Day Twenty-Two Part 2: Turkish Airlines Business Class A330-300 MLE-IST summary.
-Day Twenty-Three Part 1: Turkish Airlines IST Lounge Summary, six hours in Istanbul
-Day Twenty-Three Part 2: Turkish Airlines Business Class B777-300  IST-SFO summary
-Day Twenty-Four: Hyatt Regency San Francisco Embarcadero Review
-Trip Summary/The Numbers
-The BIG Question: Park Hyatt Maldives Hadahaa or Conrad Maldives Rangali?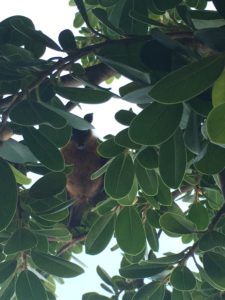 Asif took us to the front desk to help us process our check-in.  We took a seat and relaxed while waiting our turn to be helped.  While waiting, Kim did exploring and found an oh-so-cute fruit bat hanging out in a tree.  In the background, live music played from the Rangali Bar.
From the time we got off the sea-plane, it was about 30-40 minutes before we finally got processed.  We had reserved our first and last nights using a total of 190,000 Hilton points earned via a signup bonus on the Citi Hilton Visa Card.  We each earned 75,000 bonus points by signing up and meeting spend requirements and Kim and I had additional points totaling 40,000, earned via the spend requirement itself and other Hilton stays.  The 3 weekend nights (Friday, Saturday, and Sunday) were booked using our Weekend Night certificates, which came with meeting a minimum spend on two separate HHonors Reserve Visa signups. (We used our 4th free night at the Parc 55 in San Francisco).  We also confirmed a 3 night upgrade to a Superior Water Villa at $330 plus taxes and fees per night.  The upgrades vary in cost depending on time of year.  Our visit was during the high-season.  More info on upgrade costs can be found via the Wiki of the Flyertalk Conrad Maldives Forum
After confirming the details at the registration center, Asif led us to our first room: Beach Villa #113.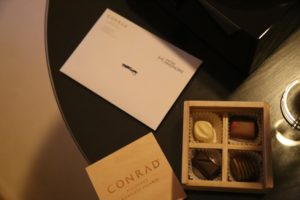 We followed Asif inside, where we found waiting chocolates and a welcome note.
Because of the layout of the room, there were a half-dozen tips & tricks Asif had to go over with us. For instance, leaving certain doors open for a period of time would cause the A/C to turn off.  Everything about the room felt complex: the blinds, the switches, the thermostat, the remotes.  It was no wonder that just a short while later we had to call the front desk about a "malfunctioning" (more likely misused) temperature control.  That took about 45 minutes to resolve.
Luckily the beach villas have since been remodeled, and during our tour of the "model" for the revamp, we saw the changes would transform the rooms into something more comfortable and user friendly.
Asif was very cordial, and let us know how to get in touch with him if we needed.  He said he would relay my request to upgrade to a Sunset Water Villa at a discounted rate, and he gave us our key-cards.  He assured us our luggage would be along soon, and then he left.
We had a lot to do for the evening, spending our time exploring and filming the room, going over the schedule, and unpacking.  Our schedule was jam-packed with excursions for us and diving for Kim, and given we had already enjoyed a picnic lunch on a private island at Hyatt, we decided to cancel our "Dream Island" excursion. We also rescheduled our spa treatments, opting to move everything back a day to accommodate our other plans.
Finally, we took a trip over to the island jetty, where the fabled Manta Rays were rumored to lounge.
Unfortunately, at 8:15 we were maybe a bit too early to spot the Mantas, though we did find some incredibly large jack fish roaming along the bridge.  We went back to the room to get some shut eye.
Our beach villa was nestled a short walk from the lobby.  It was pretty decently-sized but quite outdated.  I'll spare you a full review and pictures and instead I'll refer you to a video I took of the new beach villas that is further down in the post.
The only flaw I'd say that remains after the changes is the proximity to neighbors.  It's a very short distance from the back-door of the room to the beach, and I was shocked to see chaise loungers packed together as though it was Miami beach:

There was no more than 10 feet between our chaise lounge chairs and our next-door neighbors.
There was a bit more distance between other villa's stretch of beach, and I imagine that when renting both villas for a family trip, it might actually be a benefit.  But it was not my cup of tea.
The following morning we awoke at 6:30 to explore the island and take in the sunrise before breakfast and our 8:30 A.M Whale Shark Snorkeling excursion.
During our exploration, we spotted tennis courts, the dive shop, and the Mandhoo restaurant.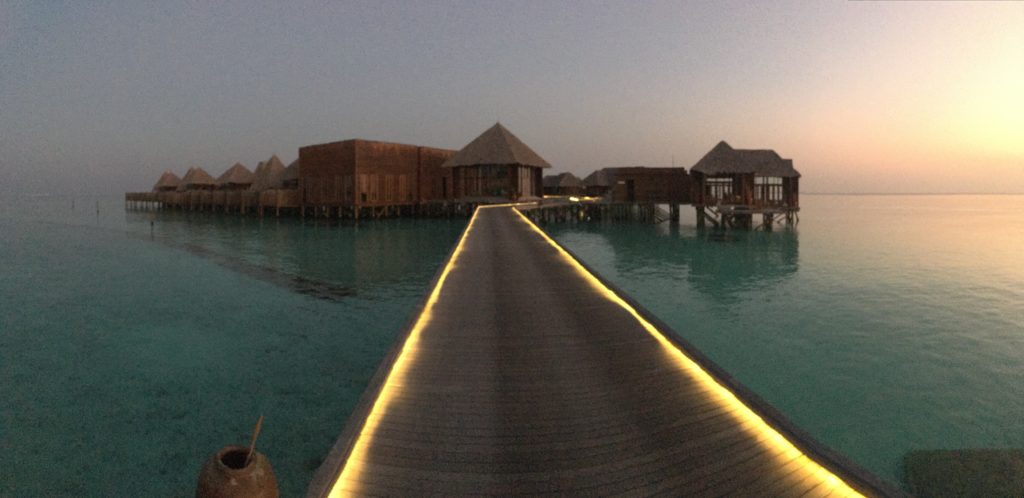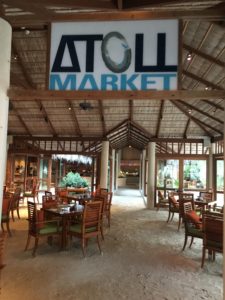 Then it was breakfast time. We approached the buffet at Atoll Market, one of two breakfast options at the resort, and easily found a place to sit. Being as early as it was, we were one of only a few people at the buffet.  It was a nice feeling relaxing in the shade with sand under our feet.
A waiter soon approached and took our drink order, and then we made our way over to the food... and more food....and MORE FOOD!!!
I had been drifting through various buffet towns for almost two weeks in Abu Dhabi, Dubai, and Hadahaa, but I had suddenly stumbled onto a buffet city. The suburbs of this city spread far and wide, and the diversity was vast.
Yogurts and Melons and French Toast, Pancakes, and Crepes. Pastries and hash browns, fish and pork.  The list goes on and on.  But what ultimately melted my heart (or rather, froze it) was a good ole helping of ice cream.  What more could a man want at 7:00 in the morning? If the variety of food that ended up on my plate isn't the most bizarre breakfast ever, then I don't know what is: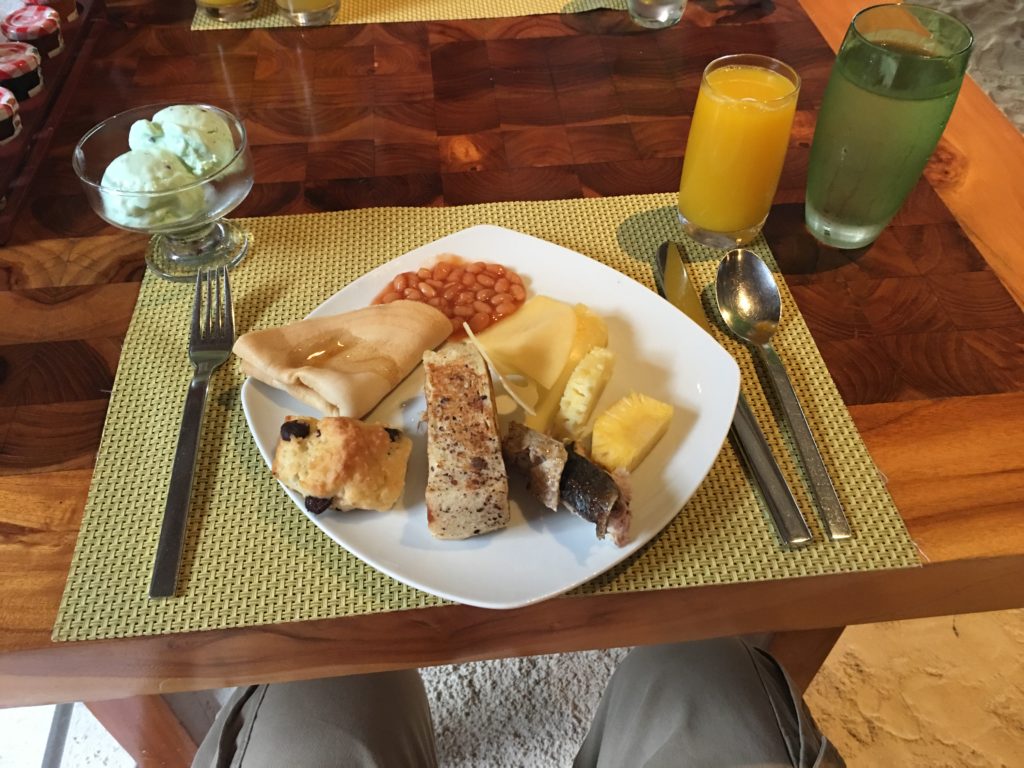 Crepes, Mint Ice Cream, Baked Beans, Fish, Pineapple, and more.
Kim's meal was pretty decent looking, too: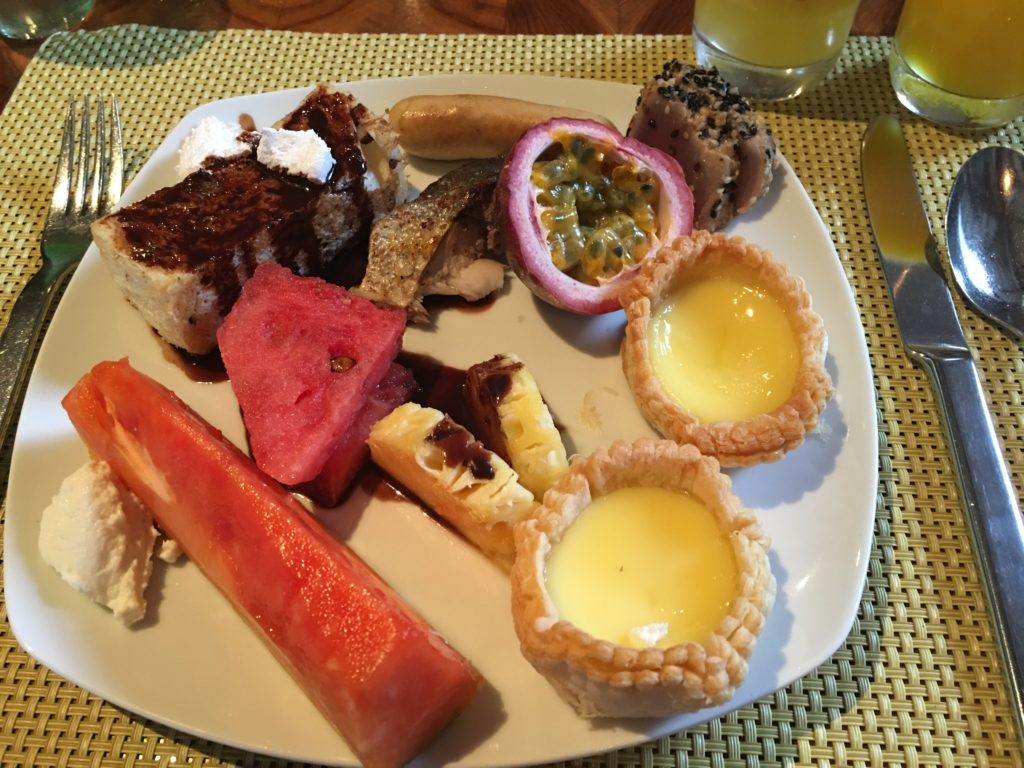 After our breakfast, we wandered over to the dive shop to get checked in for our 3 hour whale-shark snorkeling adventure.  While there's not a whole lot to tell about our excursion, I'll have more details on the upcoming post: Days Seventeen through Twenty-One Part 2: What to do at the Conrad Maldives Rangali Island Resort.
When we got back from our trip at around noon, we went back to the room and changed for our 1:30 lunch reservation at the Mandhoo restaurant.
Our lunch was included in the package we purchased: the Tour De Spa.  It felt steep at $900 tax and service charge inclusive. But it would give us an opportunity to try both the Overwater Spa and the Retreat Spa.  More details on that to come as well in the next post.
Our lunch was simply terrific, and honestly we might've filled up on bread alone if they kept handing us more (we probably devoured two or three platters like that shown below).  Our meal started with a trio of rolls and both pesto and apple sauce.  I'm a sucker for pesto, and I consumed much of this in my quest to down the delectable rolls.  Soon enough though, they brought out our salad.
As we ate, some of the staff chummed the fish around the restaurant so guests would be able to see sharks and other fish in an area of water that appeared mostly barren otherwise.
Next up was the main course, a delectable pan-fried sea bass.  This was certainly a highlight, ranking in my opinion as one of the best meals I had in the Maldives, and it went down quick! Kim felt a little differently about the meal, preferring the polenta without the wasabi.
Finally was dessert, a crème brulee served with berry macarons and sorbet.
Our meal was excellent overall, and adding to it was the incredible atmosphere over the crystal blue of the Indian Ocean.  It was really one of the better restaurants location wise.
We finished our meal around 2:00, then went back to the room to relax. It was only a couple hours later though that we returned to the restaurant for afternoon tea.
The tea at Mandhoo is held from 4:00-5:00 everyday and was a benefit to us as Diamond members (it is also available for Gold members).  There was a small selection of hors d'overes and pastries along with a terrific selection of teas.  We had arrived at 4:30, and soon enough they started packing it up, but not before I had stuffed myself silly.
Oddly though, my full belly was still able to accommodate more food on evening excursion: a Luxury Sunset Yacht Cruise.  Our 6:00 excursion arrived right on the money, and it did not disappoint.  More details on that of course can be found in the next post: What to do at the Conrad Maldives Rangali Island.
Our two hour trip was over before we knew it, and soon we were back on land.  Despite eating, and eating, and eating throughout the day, we still felt we could pack in more, so we made our way over to the Rangali Bar.
It was here that I discovered what would become a 3-day addiction: the Ice Cream Creations.
At $15 a pop, it may have been smarter to steer clear of these treats, but despite months researching the island, nobody warned me of this danger.
I pretty much stuck to basics and ordered the Coffee Extravaganza- and an extravaganza it was. Every time!
We sipped our cocktails and enjoyed the atmosphere. While at the bar, Allison from guest services approached us and asked us about our stay.  I was pleasantly surprised when she addressed us by name and knew what type of room we were in.  I had not previously met her, and it was quite delightful to find that the staff had our interests in mind.
Then, the most important part of our stay: Manta Spotting.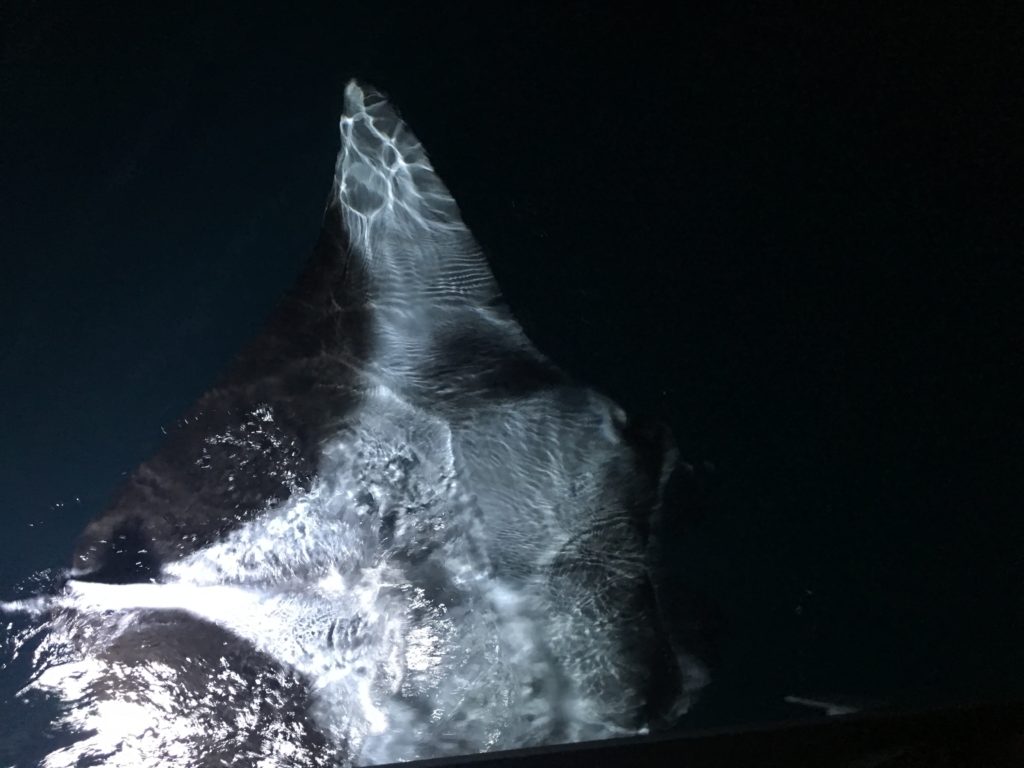 The previous night had been too early of a venture, and when we first arrived at 9:00, there was no crowd or sign that anyone had seen them.  But soon enough, one showed itself:
Between Kim's gushy cries and my giggle fits, it didn't take long for a crowd to find us and join us as we swayed back and forth on the jetty to see the Manta traversing both sides under the lights.
We spent about 30 minutes tracking the Manta and in the process spotted one more.  But soon enough it was 10:00, and bedtime.
Our second morning on the island began a little later than the previous day, at 8:00.  By the time we got to the Atoll Market at 8:30, it was noticeably more crowded than the previous morning at 7:00.
Despite the crowd, we were still able to sit immediately and finish quickly, in time for Kim's 9:00 dive trip.
After she departed, I spent the rest of the morning packing for our move over to a Superior Water Villa. I was delighted when I found a note in our mailbox.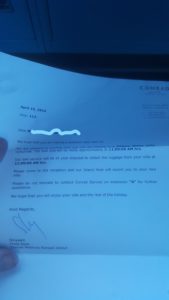 Turns out our upgrade to a Superior Water Villa was being further upgraded to a Deluxe Water Villa.
This may have been as a result of my Diamond membership (status matched from Hyatt Diamond), or just a general courtesy. Either way, I was pretty excited to get the upgrade.
I finished the packing and filming of our room (the video was since scrapped given that the rooms have now been dramatically transformed), and right at 11:00 the bell rang for our transfer.
I was transported with the luggage via buggy across the main jetty from the large island to the small one.  We curved through a jungle path until we emerged again to another jetty, this time the one leading to the 6 Deluxe Water Villas.  We were assigned room 347, the second from the corner.  The assistant unloaded the luggage from the buggy into the closet-space and left me to take it all in.
The room was open, spacious and stylish.  A closet rested next to the entrance, while the bathroom lay to the right.  Double pocket doors opened from the hall to the restroom, which was graced on both sides by individual his-and-her sinks. Past that, a standalone tub sat in front of a picture window. Beyond the glass was the sprawling ocean vista. Off to the side was a glass shower and a water closet.
Out in the bedroom, a king-sized bed was featured on a platform, with night-stands on either side.  A light switch controlled built in ambient lighting around the platform, which doubled in functionality as a night-light. In front of the bed was a loveseat and a coffee table. To the right was the TV. Beyond the coffee table were French doors that led to the outdoor deck and hot tub.
The room itself stayed cool and comfortable despite the Maldivian heat.  The hot tub never got all that hot, but given the evening temperature, it wasn't a problem for us.
The ocean surrounding the room was beautiful blue, with pristine white sand underfoot.  Because of the rooms location, snorkeling was less than ideal.  The hotel itself advises against snorkeling in that area because of strong currents. But beyond a few stray fish and a group of squid, there was little to see anyways.
The room offered picture perfect sunset views and felt relatively private. Noise from other rooms was barely noticeable, though with the outdoor speaker system, the potential to hear your neighbors certainly was present.
I think if any flaw could be remedied regarding the Deluxe Water Villas, it would be the less than completely private toilet room. From the outside jetty leading to the rooms, it was blatantly obvious when these rooms were occupied, as you could clearly make out silhouettes sitting down to do their business behind the frosted glass windows.
Kim arrived back from her morning dive around 1:00, I met her at the jetty and led her to our new room. After a little rest, we made our way to the Retreat Spa by Mandhoo for our 3:00 Treatment.
More on that of course will be in my next post.
Next we caught the tail end of afternoon tea at Mandhoo before heading to Vilu for happy hour. The Vilu happy hour runs from 5-6:00 and is free for Gold and Diamond Hilton members.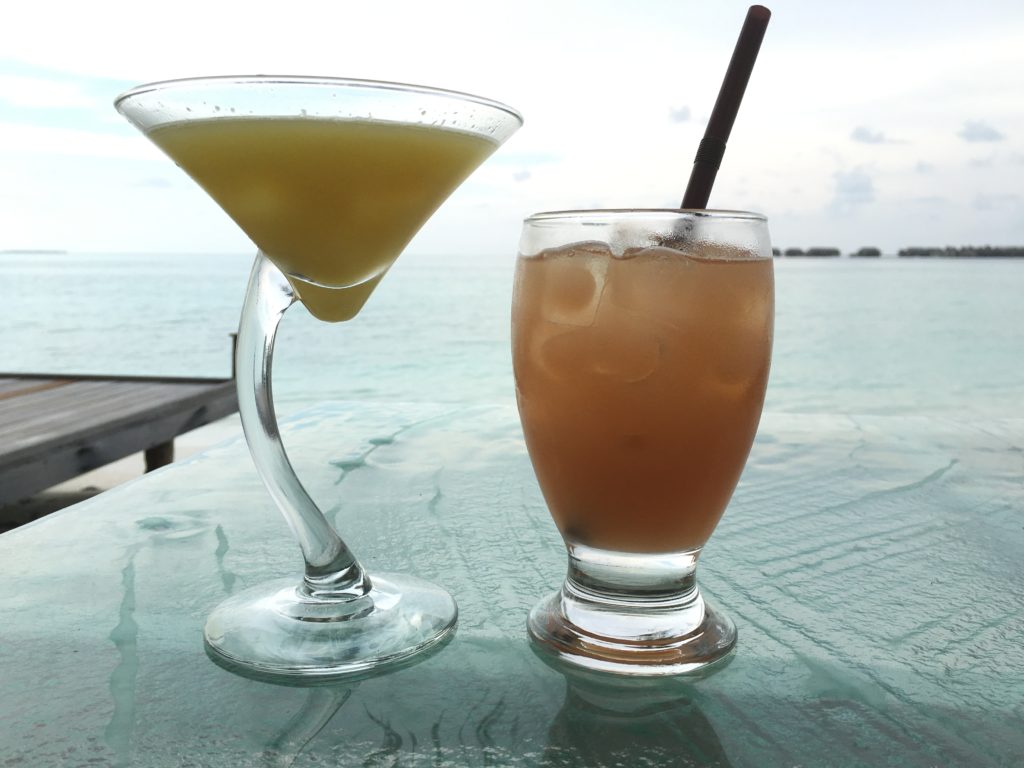 We enjoyed relaxing by the beach and picked out a couple cocktails while servers passed out a variety of hor d'oeuvres. Meanwhile, the resident heron George staked out the beach searching for scraps.  While we thought the happy hour was a nice perk, we ended up not returning again, in part because of our busy schedule.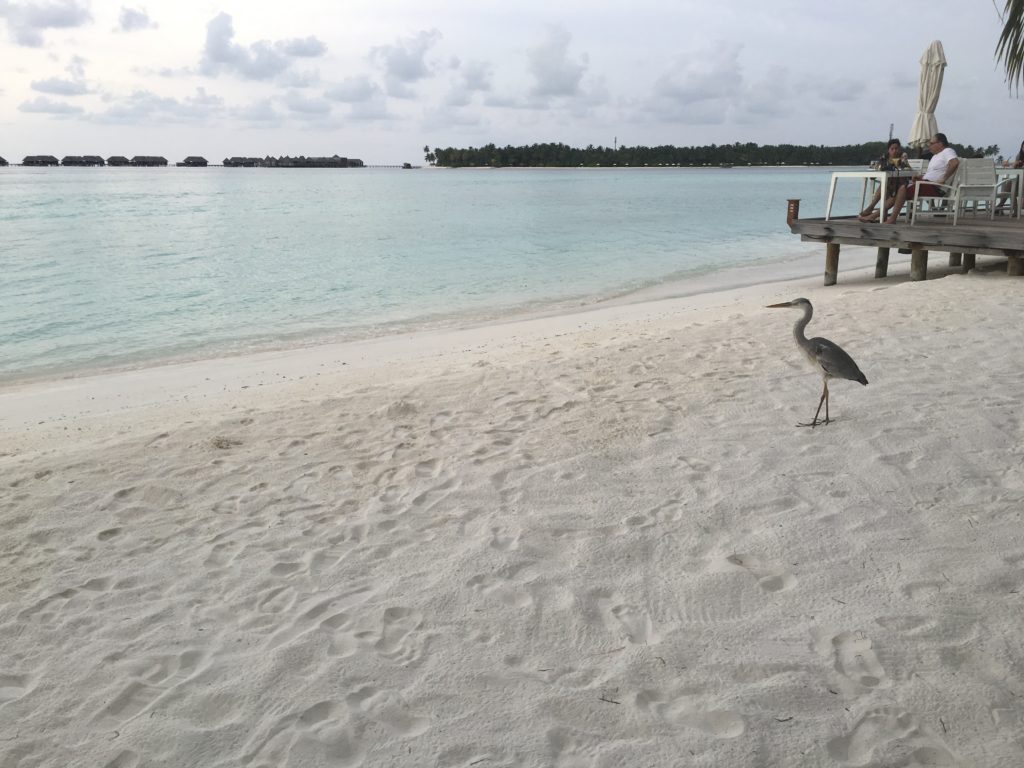 That evening we did a little more exploring and took in the sunset: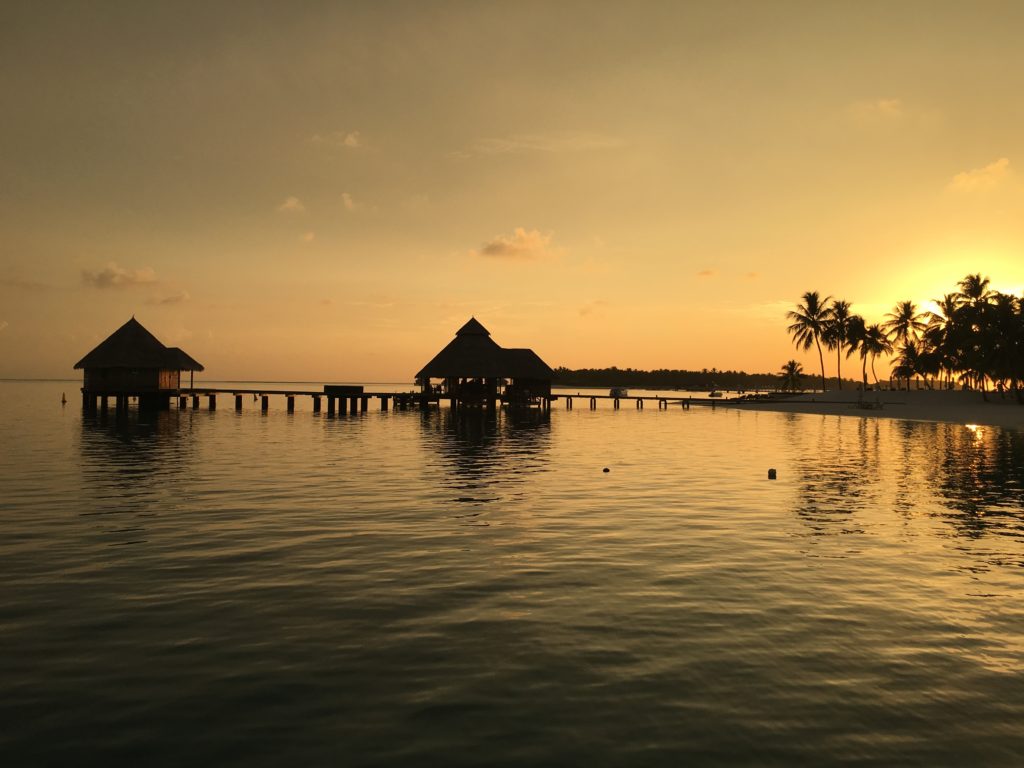 Kim left for a scheduled night dive at around 7:00.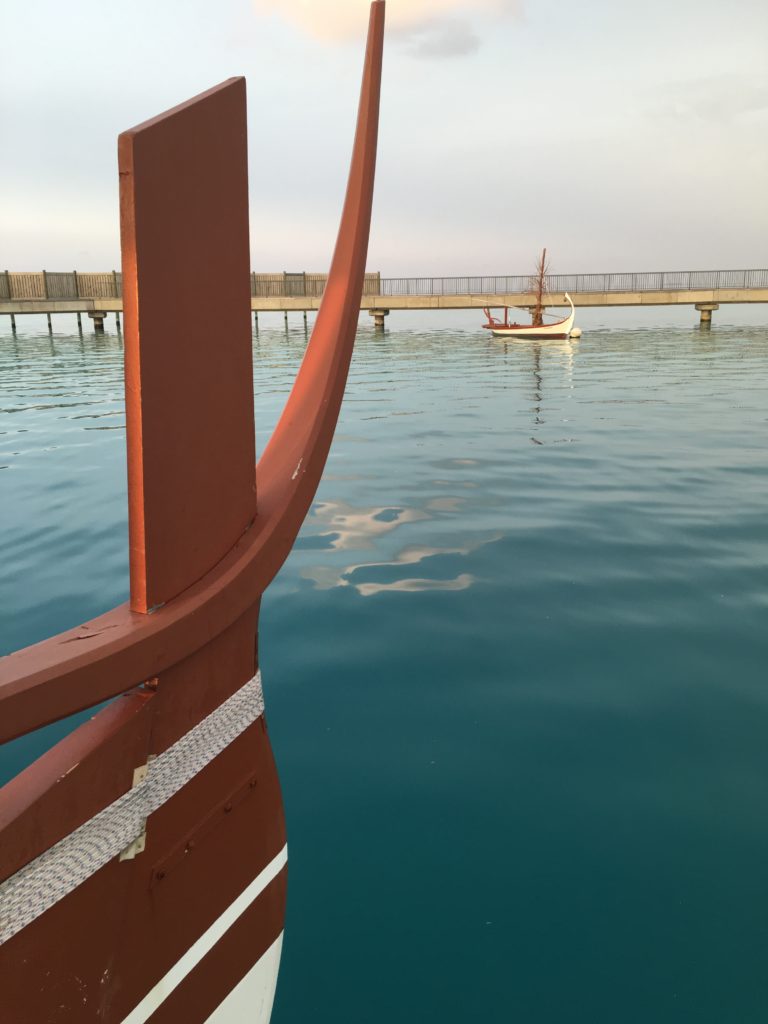 She returned around 8:30, and after a little bit of rest from that the two of us returned to the Rangali Bar for more cocktails and ice cream creations.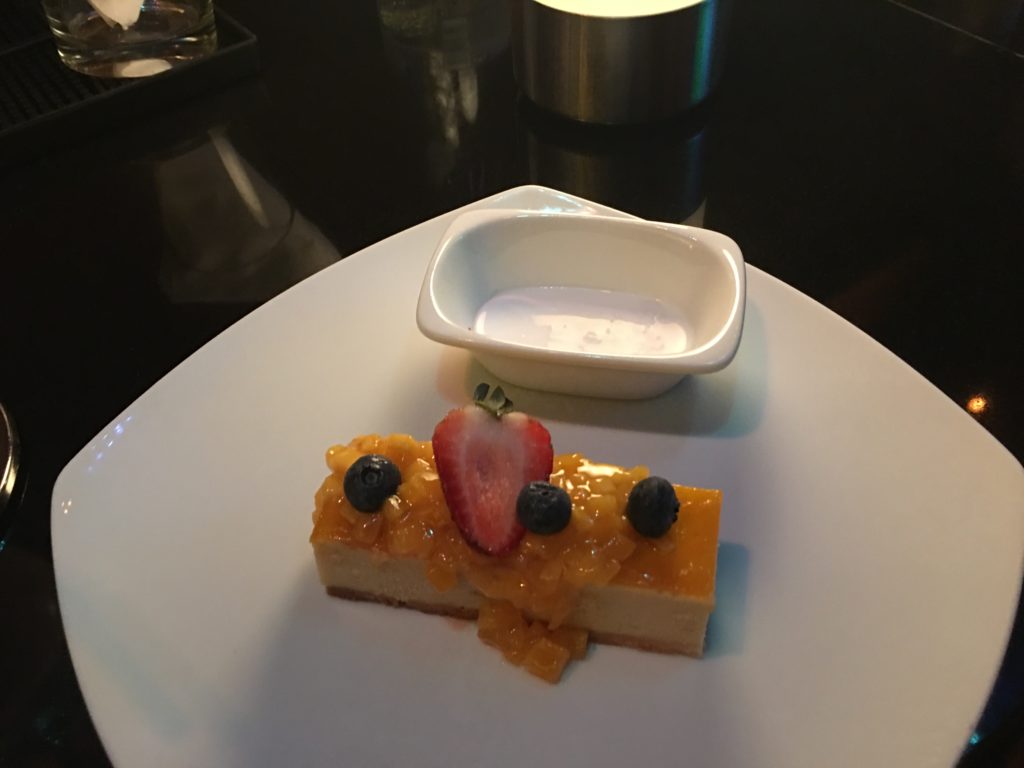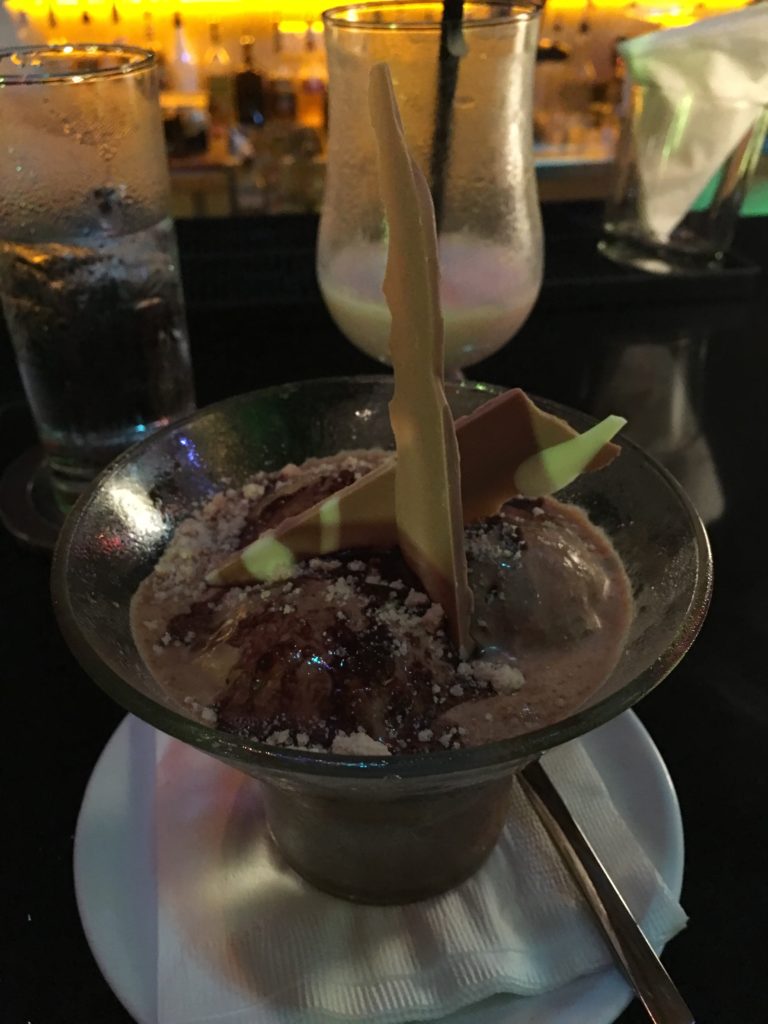 We also had a chance to enjoy our room's outdoor hot tub before bed.
Our third morning on the island began early as usual, once again at the Atoll Market around 8:15 so Kim would make her 9 A.M dive trip.
Breakfast consisted of quite the variety, with fish and French toast- with a side of ice cream to start the day off right.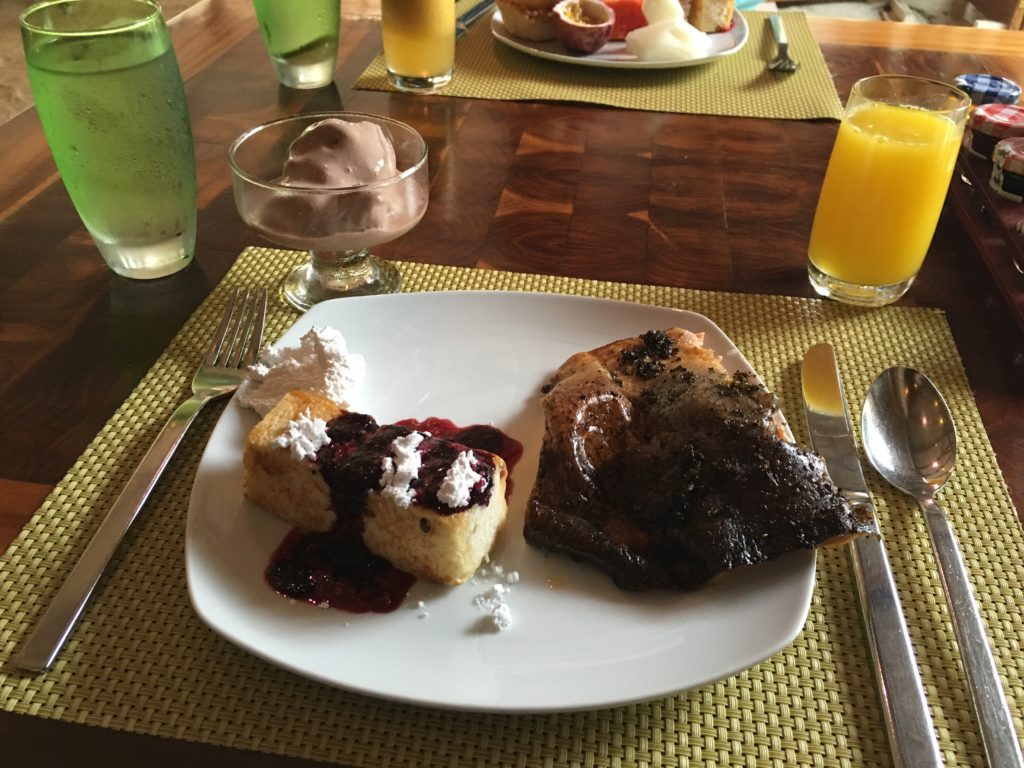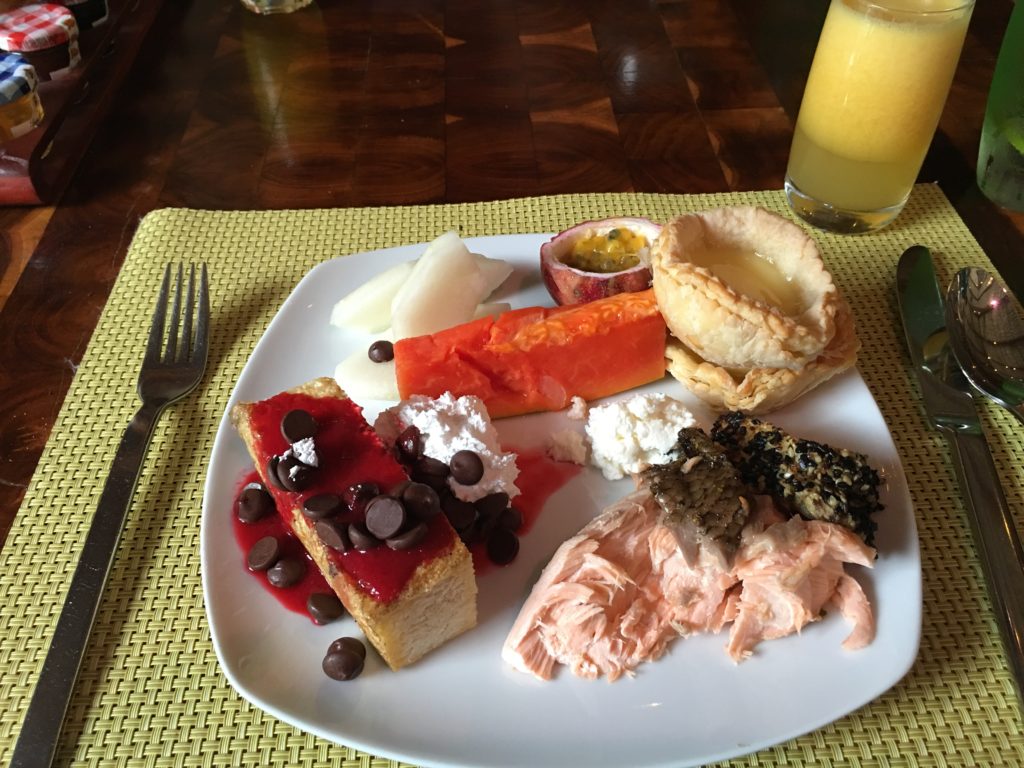 I spent my morning relaxing while Kim was on her dive.  By 11:30 it was time to head over to Ithaa for our lunch.  I realized shortly after arriving there that I would need sunscreen, and instead of walking all the way back across the jetty to our room to grab some, I opted to pay a premium at one of the resort shops to get a bottle.
I walked over to the Sunset Grill, which is in-between the shore and Ithaa, and began the waiting game.  I was clearly too early, as nobody else was around except for a chef preparing the grill.  I was informed that I would not be able to go inside Ithaa until it was ready, as it was in the process of being cleaned.
So I went back to the Rangali Bar to grab a drink before my meal.  Soon enough, it was time for lunch, and I went back to discover a small crowd waiting.
Since Ithaa is an experience in and of itself, I'll leave most of the details for my post: What to do at the Conrad Maldives Rangali Island Resort.  I will say that it's a once in a lifetime experience that is disappointingly overpriced.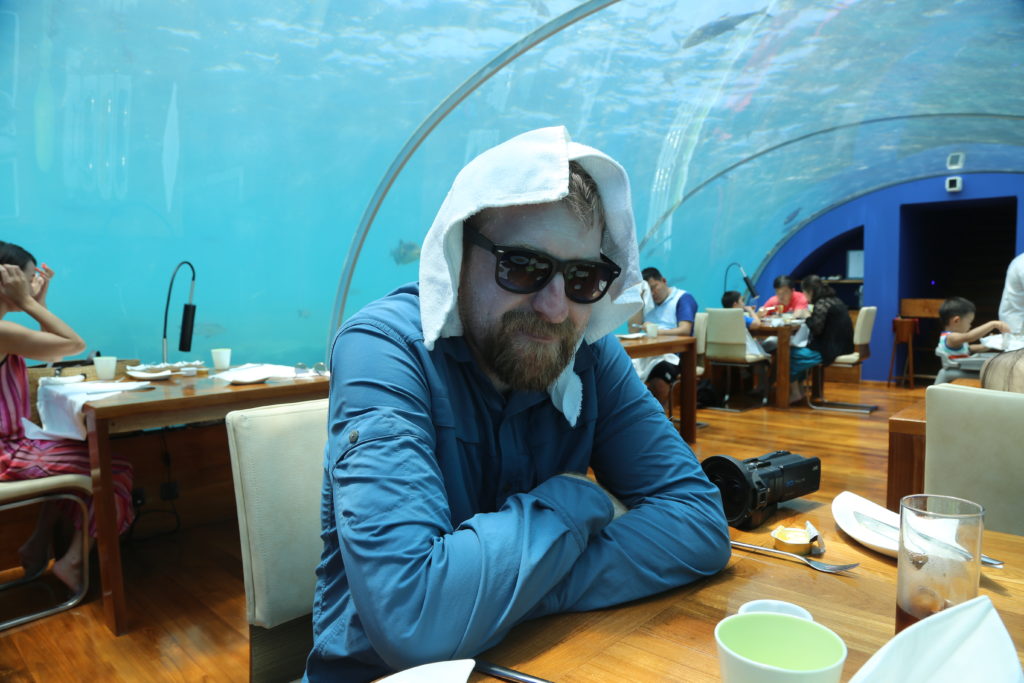 After lunch we lounged around for a bit, picked up another drink at the Rangali Bar, and went back for another tour of Ithaa after-hours.  It was at this point that Kim came up with the idea to request a dive with the staff to see the surroundings of the restaurant from the outside.
While she did this, I convinced a higher-up staff member to allow me inside the restaurant for some photography as they cleaned.  What resulted was some unique shots of KimPro from the inside of the underwater restaurant.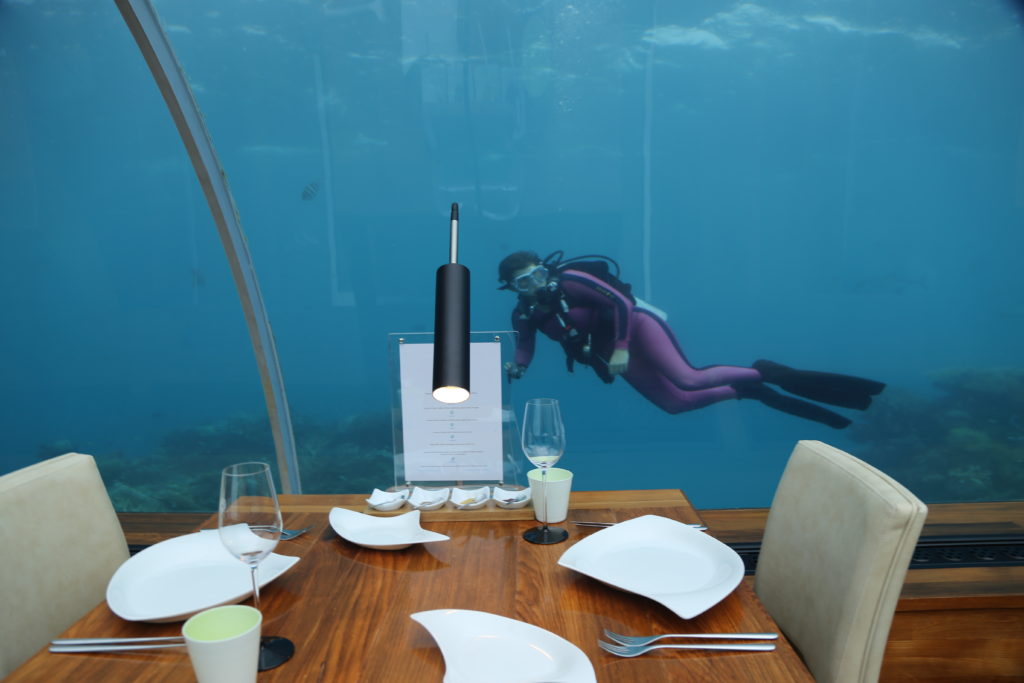 Kim finished up and we had just enough time to go back to the room to get ready before our 7:00 Water Spa Treatment.  We had a chance to visit the Quiet Zone Bar and pool and spotted a baby bird while on our walk over to the spa.  We never did have a chance to relax at the Quiet Zone, though.
As usual, you'll see more about the Spa treatment in my next post. (We've definitely got a lot to go over!)
By the time we left the spa it was 8:30, and we decided to take the most convenient option for dinner, the nearby Vilu restaurant.
So long after, all I can say I remember about this dinner was that it was quiet, enjoyable, and relaxing.
Our dinner lasted about an hour, and we returned to our villa at 9:45 to find a surprise waiting for us: friends!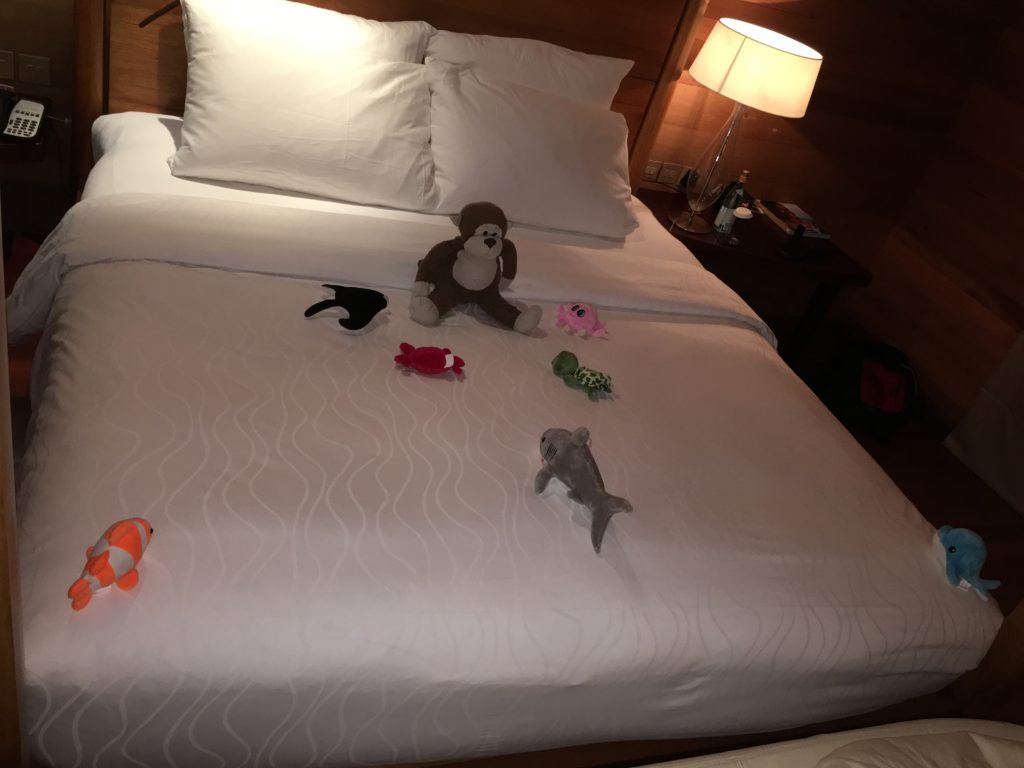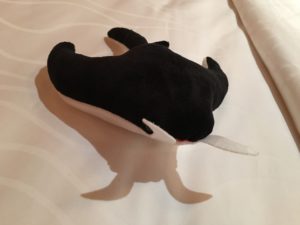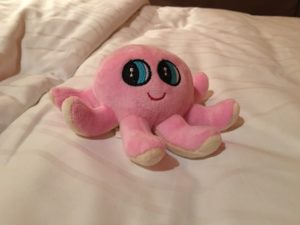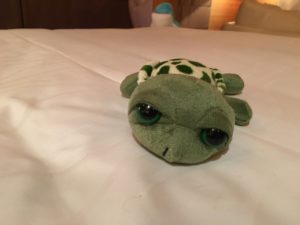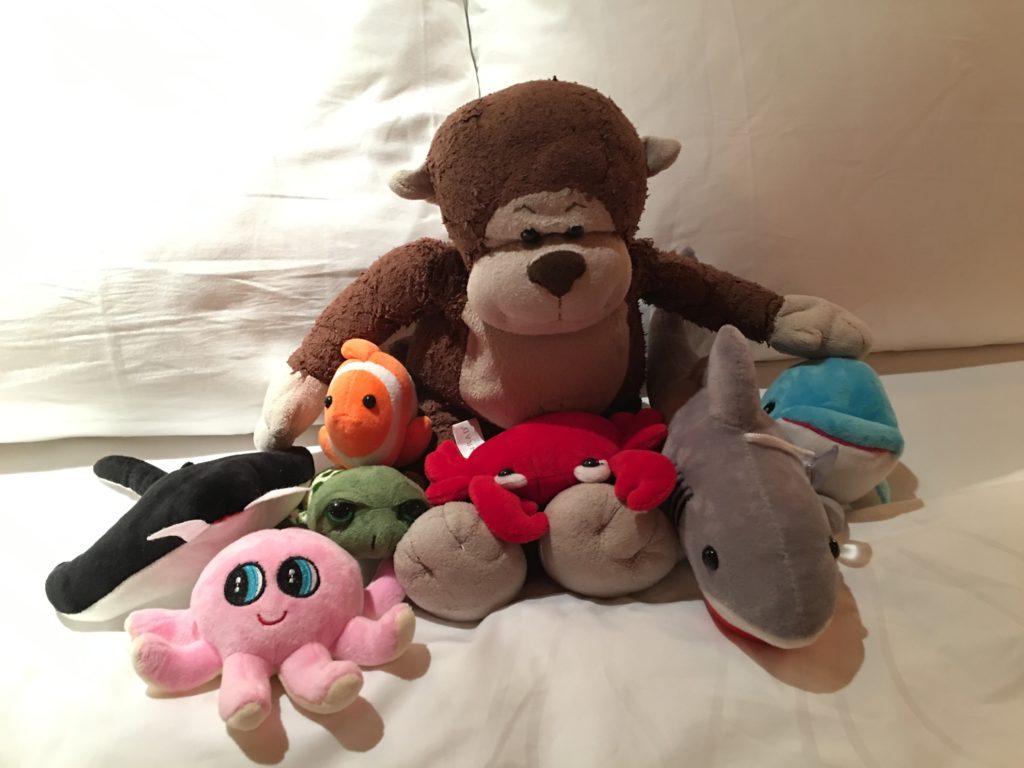 Earlier in the day I had a delightful conversation with our housekeeper Ali, who was genuinely interested in making sure our stay was as comfortable as possible.  So before I took off that morning I left him a healthy tip.
Maybe as a result of that tip, our bed was overrun with stuffed animal-souvenirs. We gathered them together for a photoshoot with Monkey, then it was time for bed.
On the morning of our last full day at the resort, we took a break from our routine of breakfast at the Atoll Market and instead indulged at the Vilu Restaurant. While the selection was certainly smaller, the food remained the same great quality that we found at Atoll.  Ultimately I felt the restaurant was merely a more convenient option for those staying on the water-villa island.
We enjoyed French toast and an eggs benedict, and as we ate we spotted a bride in the distance posing for photos.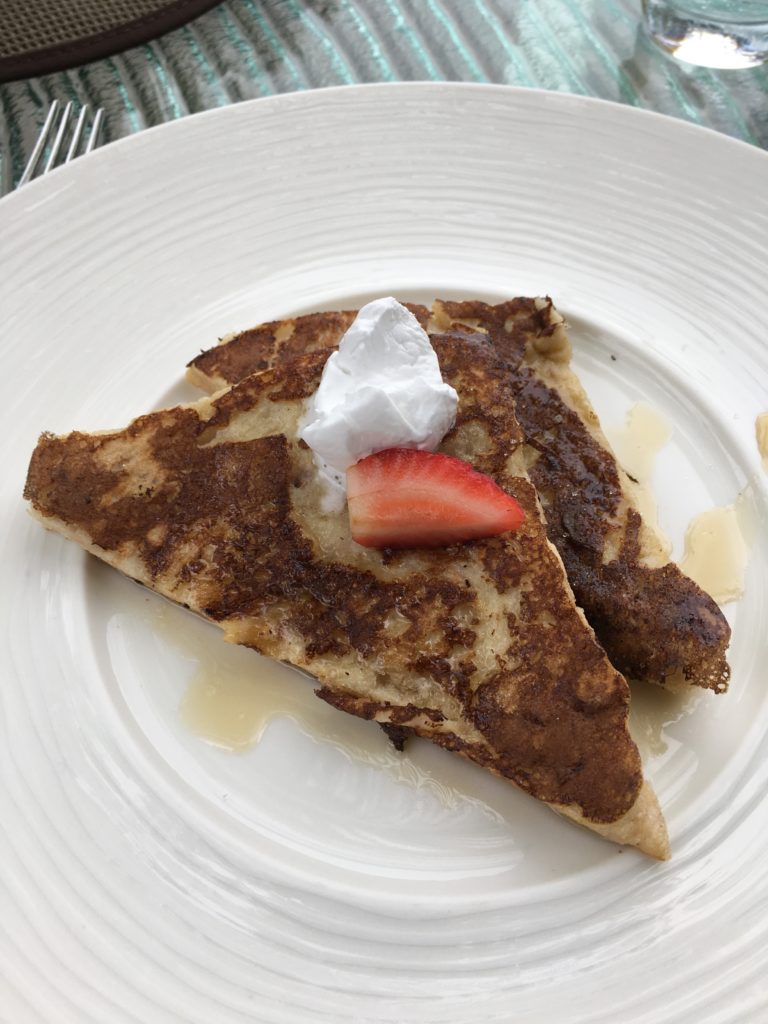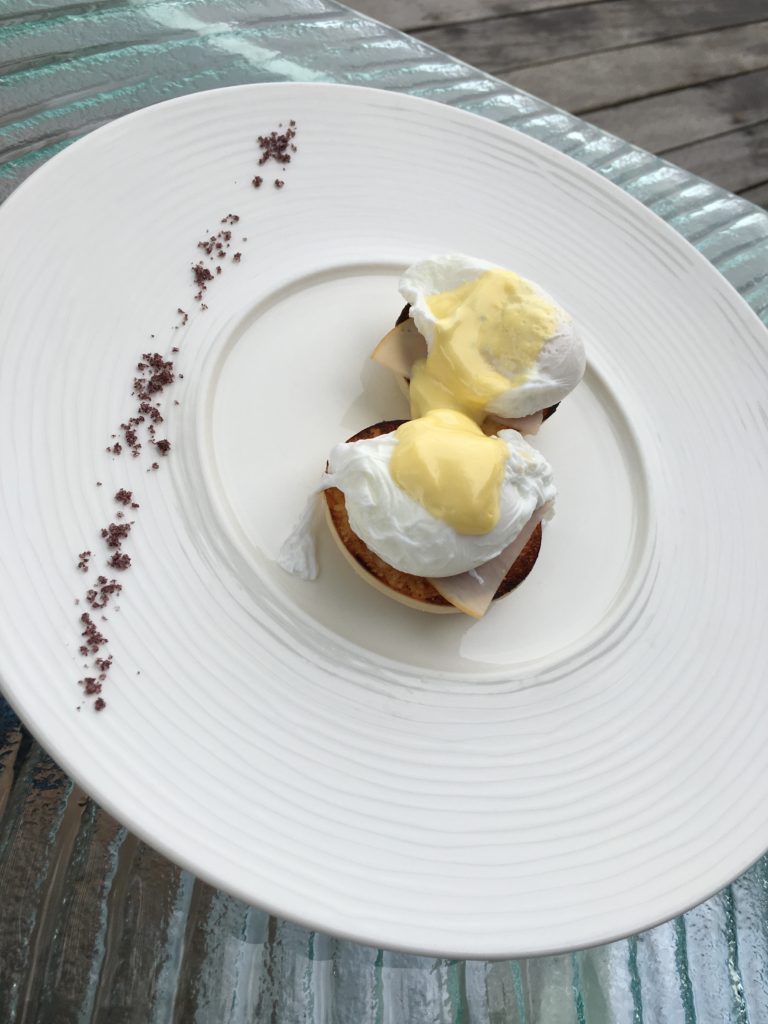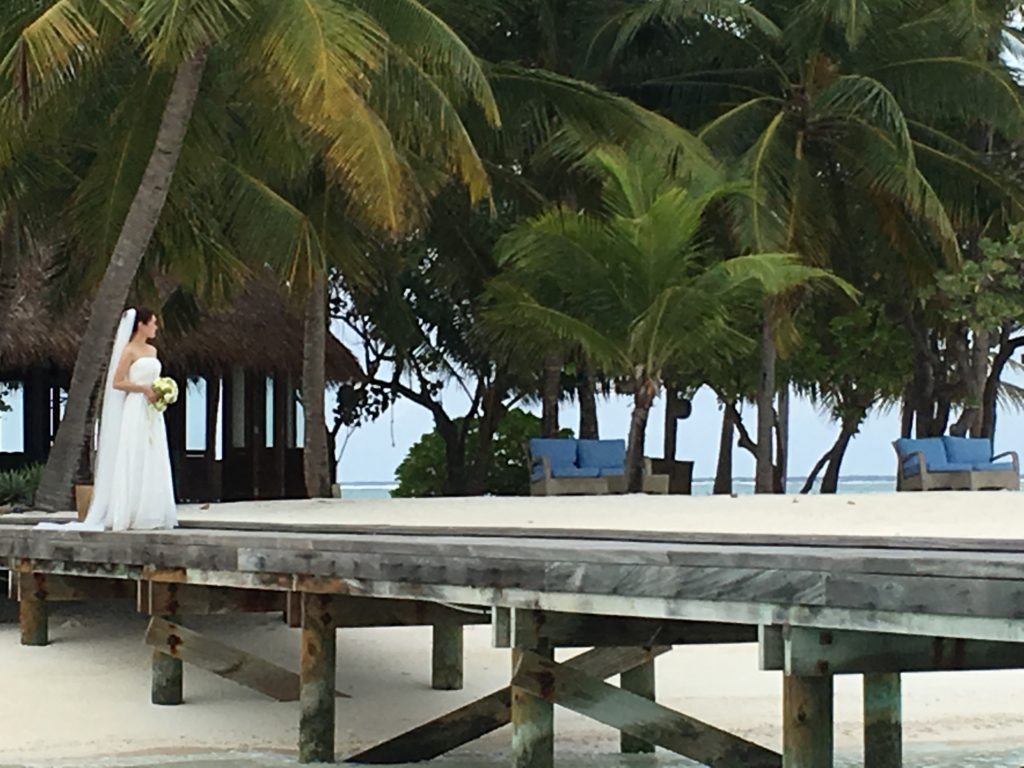 Kim had another dive scheduled for 9:00, and soon I was alone once more.  I decided to document my day, and it went something like this: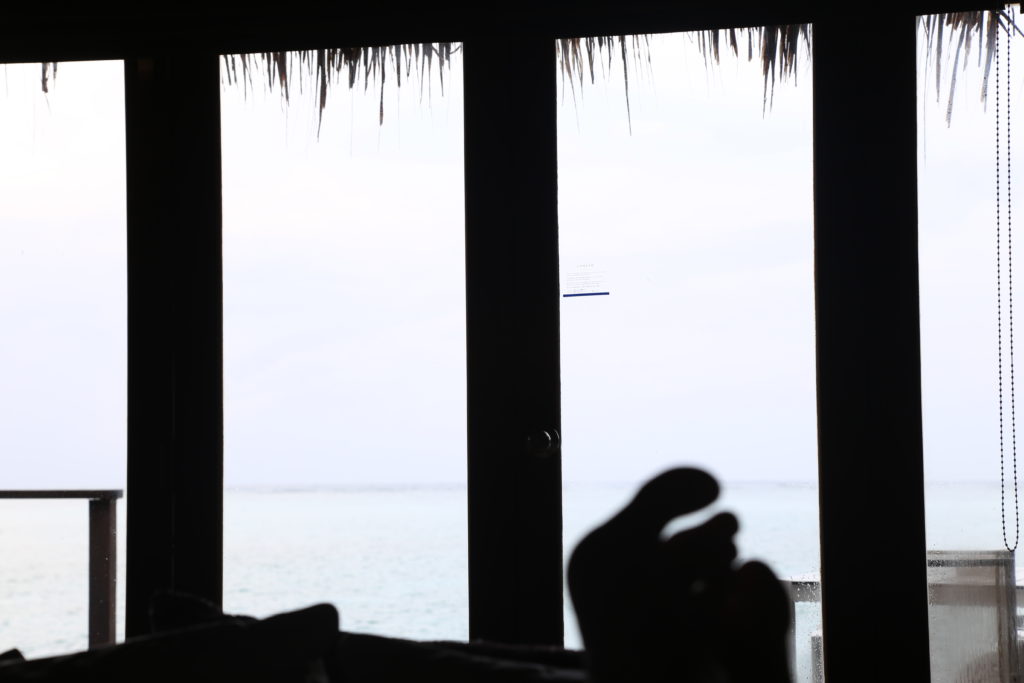 I also saw a squid outside the room, practically the only sea-life I spotted around the room during my stay: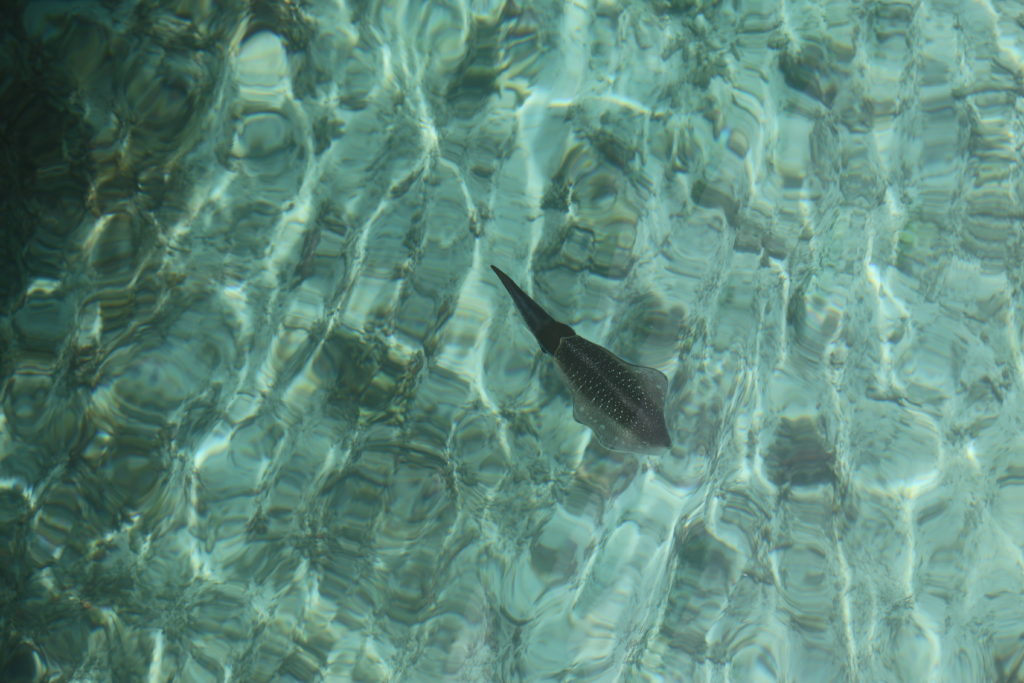 At some point in the day, the front desk called me to let me know that my request to upgrade to a Sunset Water Villa had been approved at a cost of $2000 for the night.  I asked if it would be in room 349 or 350, and I was told that 350 was unavailable.  I thanked the rep and sat down to consider the upgrade.  The Sunset Water villas appeared extremely luxurious, with an oversized glass floor, a bed that rotates with the Sunset, and it's own infinity pool.  However, the difference between room 349 and 350 is significant.  Room 350 is at the far end of the jetty, with unobstructed ocean views and ultimate privacy.  Room 349 on the other hand was further in, not private from it's counterpart, and of course had an obstructed view.  I decided that given the price, it would not be worth the upgrade, so I called back to cancel.
In no time at all I was hungry once more, so I walked over to the Rangali Bar to await Kim's return.  I had my lunch while waiting, and she arrived back soon after.
Next on my to-do list was attempting to Jet-Blade.  You know the drill- find the details on my next post 😉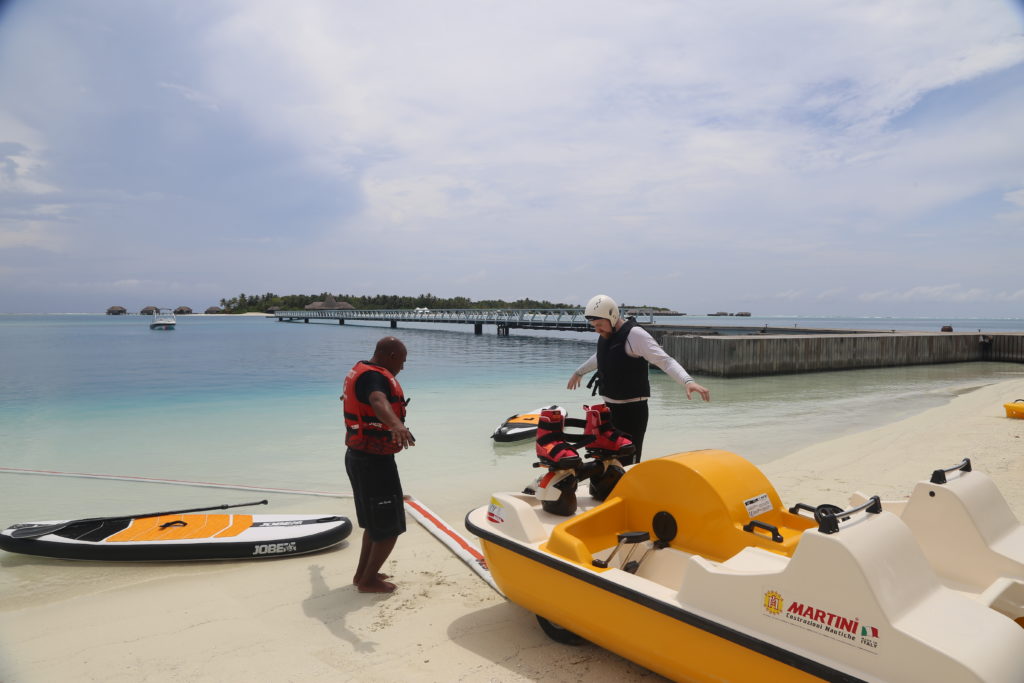 But apparently I wasn't the highlight of the afternoon, as Kim indulged in a lobster tail and a cocktail for lunch: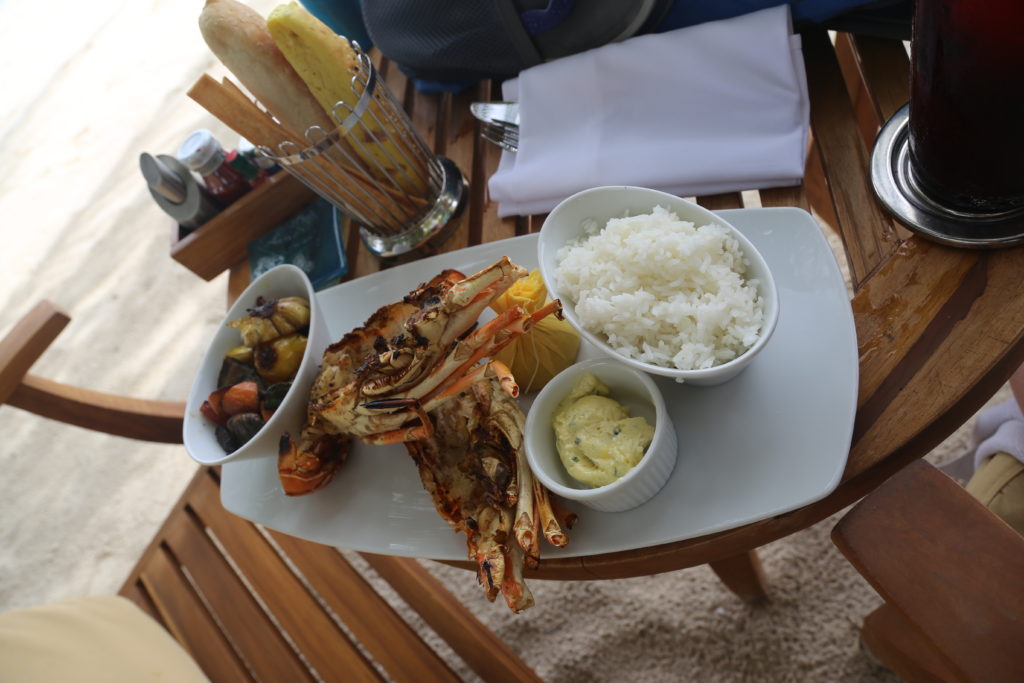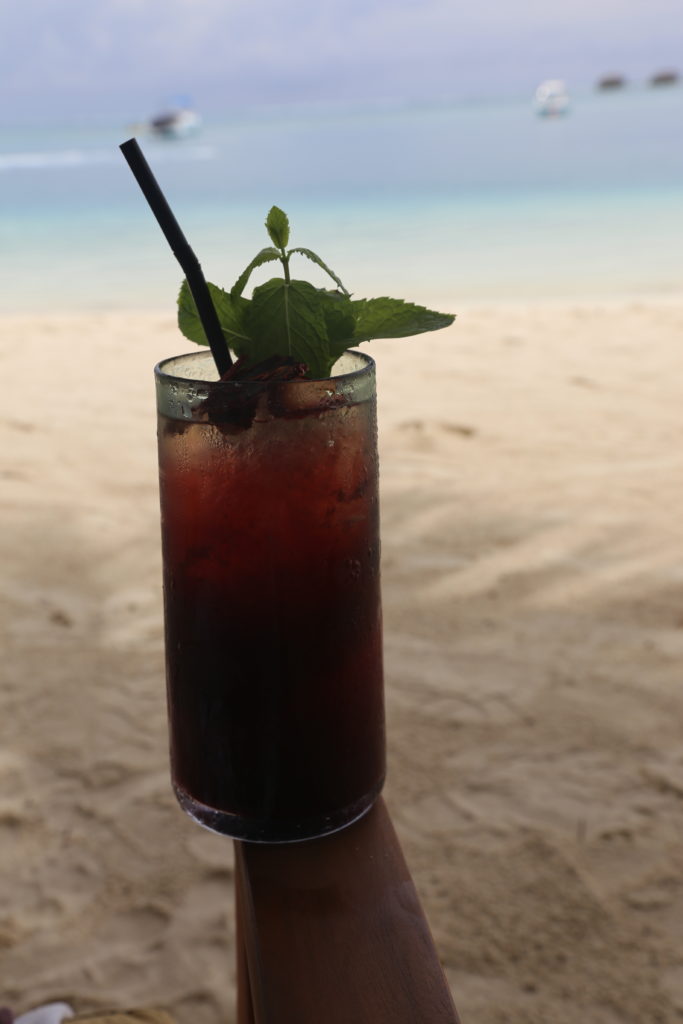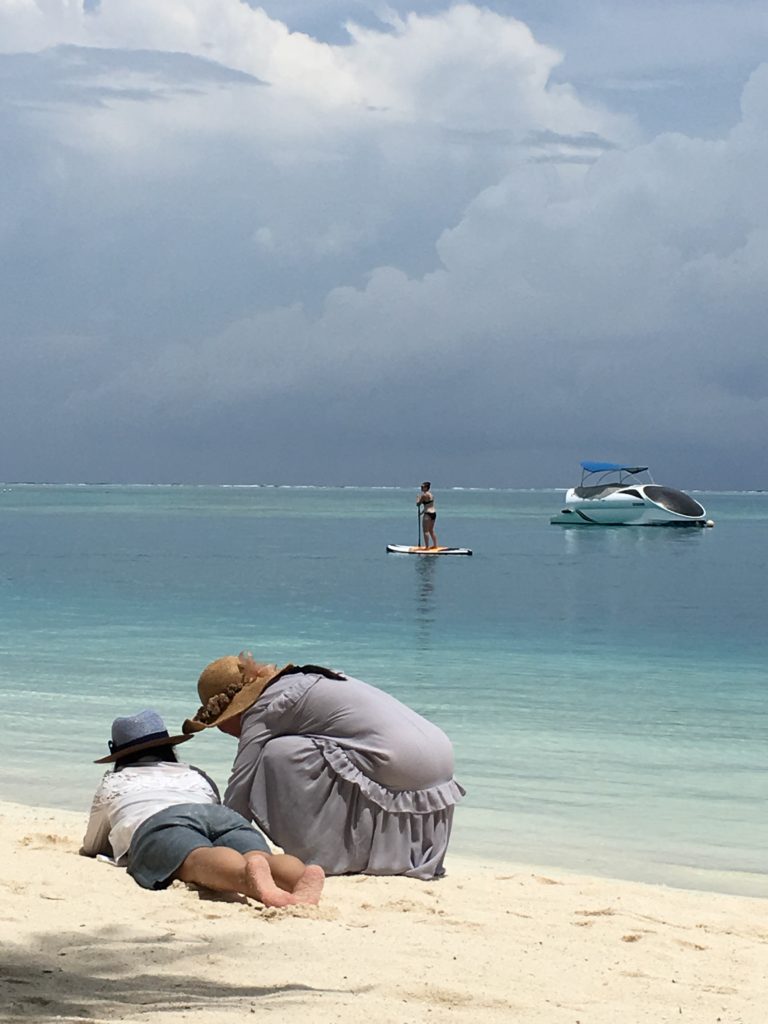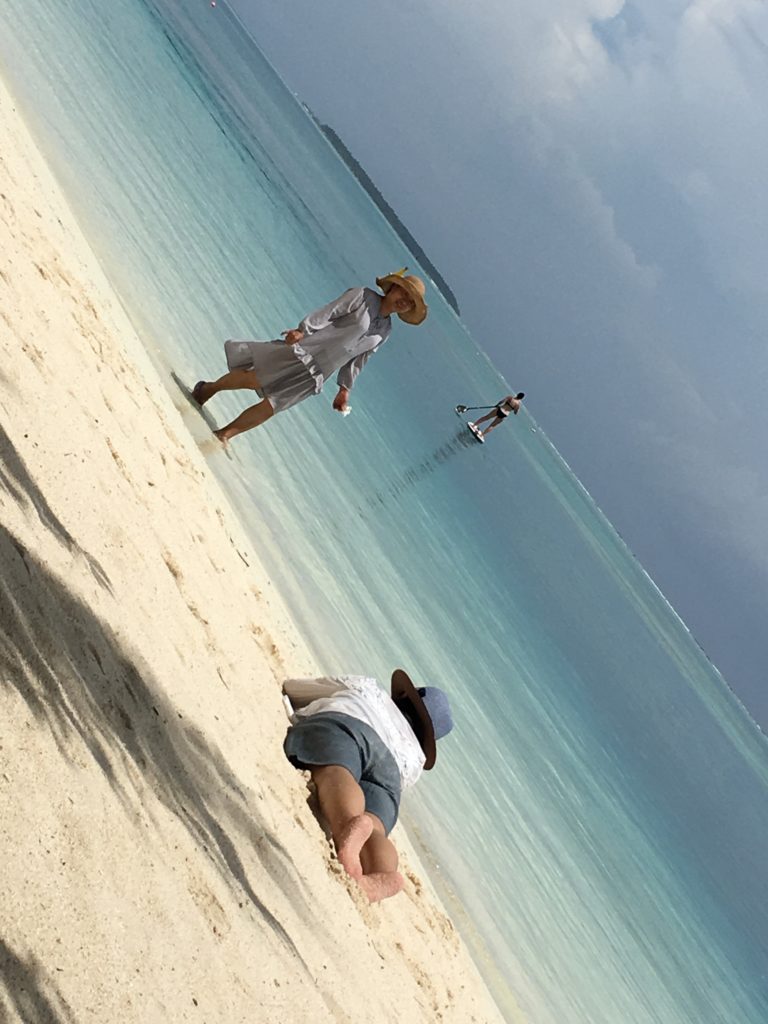 Not Pictured: My Macho Back-Flips on the Jet-Blade
After I completed making a fool of myself on the jet-blade, we took out a complimentary paddleboat and made our way across the water from Rangalifinolhu to Rangali Island.  After a short stop on the other side, we made our way back across.  The whole venture took around an hour.
I had arranged with a higher-level staff member to visit the Ithaa restaurant once more before the beginning of dinner that evening. At this point I was probably abusing their hospitality, but hopefully I wasn't too in the way as I took some more shots and filmed a bit. I was also more fortunate in the type of sea life traversing around. Whereas at lunch there was pretty much only fish, this time I spotted a ray floating by.  While I took video inside, Kim shot some photos outside.  She too spotted the ray: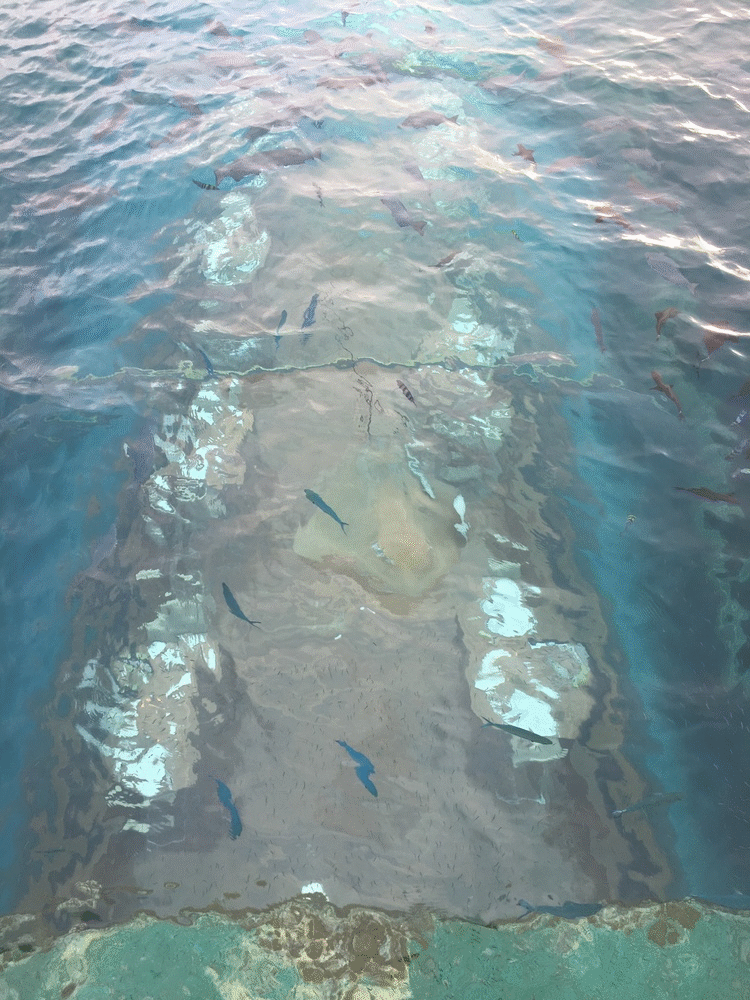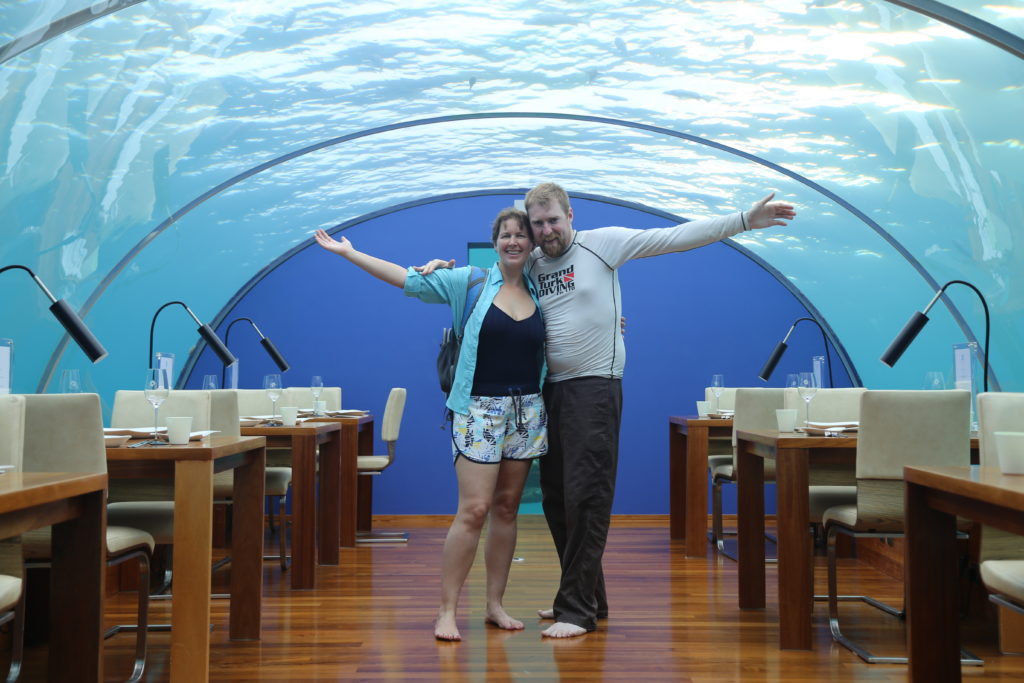 After our photo-shoot, we walked over to the Rangali Bar where a live band played calm classics.  I ordered a cocktail and we relaxed for a bit. 
We had arranged to tour a remodeled beach villa with our host Asif at 7:00, and he met us at the reception area promptly to take us over.  As I noted before, all the beach villas have since been remodeled, so it would serve little purpose to share pictures or video of the room as it was.  However, I did take a clip of the remodeled room. Because of time constraints when touring the villa, it's a little shakier than my typical room videos, but I hope you'll enjoy:
After the tour, we took the resort dhoni from Rangalifinolhu to Rangai Island. The rest of our evening was spent crab spotting and enjoying dinner and dessert at the Vilu Restaurant.  The only remnant of our dinner is this single photograph-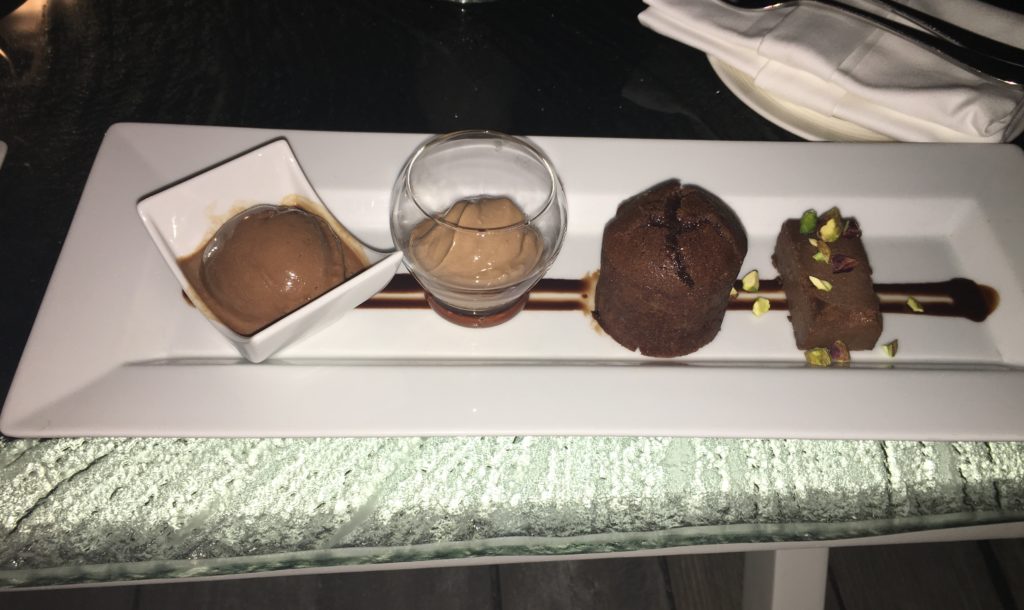 After our meal we spent a good time on the jetty connecting the islands searching for Mantas.  They didn't disappoint for our final evening there. Be on the lookout for some video of them coming in the next post!  Then it was time for our last night of rest at the resort, so we begrudgingly trudged back to our room 😉
A note came to our mailbox notifying us that we would need to vacate our room by noon, though we wouldn't be leaving the island until around five.  We procrastinated on the packing until the following morning and went to bed.
Our final morning at the resort was a blur.  We ate breakfast and packed our things, and by noon we were prepared to leave.  With four hours left on our plate we grabbed lunch at the Rangali Bar and then got dressed for some snorkeling.  We utilized the hotel locker rooms right near the reception area and lathered ourselves in sunscreen.  We then walked over to the beach near the house reef on the east side of the Rangalifinolhu. Details of our snorkeling adventure to follow.
When we finished it was time to press into gear to get ready to leave. We hopped on a nearby buggy which returned us to the dive shop so we could drop off our borrowed snorkel gear.  Then it was back to the locker rooms to shower and change.  In no time at all we were back in our normal clothes, and we arrived in the lobby shortly before it was time to leave.
With just a little time to spare, we explored the nearby gift shop, where we spotted a conch shell similar to the one we had been offered by a local elsewhere in the Maldives (refer to "What to do at the Park Hyatt Maldives").  We considered purchasing it until we saw the price and were left shell-shocked (pun intended).  Versus the $50 shell we had regrettably passed up on, this comparable shell was a whopping $500 dollars.
We settled our bill and were taken via buggy back to the seaplane departure point.  I thanked the buggy driver Amzel, who had ferried me around numerous places on the island. Our host Asif then bid us adieu and took off, while we waited in an air-conditioned room for the plane to be readied.
Soon we were off once more.
Ultimately:
Our stay at the Conrad Maldives Rangali Island was about as much as one could hope for.  This family-friendly resort offered a ton to do, a terrific variety of high-quality food, and great service all around.  We were particularly entranced by the Mantas feeding around the main jetty.  While the beach-villa wasn't what I was expecting, it was priced accordingly.  Meanwhile our Deluxe Water Villa had every amenity I like to have in a room and was perfect for viewing the sunset, though it wasn't ideal for viewing sea-life.
Our bill was as sky-high as I expected going-in, but as a result of our splurges there was rarely a dull moment in this little slice of heaven.
Thanks to KimPro for contributing some of her photos and memories to this post!
Thanks to MaldivesFreak on Flyertalk.com for his contributions!
Please follow and like us: