After our arrival into Washington Dulles, we headed off to my parents to stay at my old home for a few nights.  We passed out fairly quickly after watching Jeopardy, and woke up the next morning to take off for D.C.
(Author's Note:  Thanks all for your patience as I work through this extensive process.  This piece is long overdue, and I promise that at least the next few updates will come more quickly (I'm already well into writing the next few).  As time passes I'm losing more and more of the minute details in my mind (how much some things cost, how long things took and what times we started and finished various activities).  I apologize in advance for generalizing in some places I wish I could be more specific about.  My weekends have been consumed with other tasks these last few months.)
My mother dropped us off at the Franconia/Springfield metro station Thursday morning before she went to work, and we took the metro all the way to Smithsonian Station.  We arrived at about 9:00, and we made our way to the Washington Monument, hoping to snag a couple of tickets.
Tickets for the Washington monument are available online for a small fee, but those tickets sell out about 2 months in advance.  You can also visit the lodge in front of the Washington monument to get free tickets on the day of.  But as we found out, while the lodge opens at 8:30, you need to be in line for the tickets at 6:00 A.M.  So instead, we started walking to the Lincoln Memorial, passing both the monument and the World War 2 memorial.
-The Big One! Introduction/Giveaway
-Day One: Hyatt Regency San Francisco Airport Review
-Day Two: United First Class B737-800 SFO-IAD summary
-Days Three through Six: D.C Area recommendations: Smithsonian, National Harbor, Baltimore Aquarium
-Day Seven: Lufthansa Business Class Lounge IAD summary, Lufthansa First Class A330-300 IAD-MUC Summary
-Day Eight Part 1: Six hours in downtown Munich, Lufthansa First Class Lounge Munich Summary
-Day Eight Part 2: Lufthansa First Class A330-300 MUC-DXB Summary
-Day Nine Part 1: Dubai Exotic Limo brief review part 1 & Abu Dhabi recommendations: Ferrari World, the Grand Mosque
-Day Nine Part 2: Park Hyatt Abu Dhabi Review
-Days Ten through Twelve Part 1: Park Hyatt Dubai Review
-Days Ten through Twelve Part 2: Dubai Exotic Limo brief review part 2 & Dubai recommendations:  Burj Khalifa Sky
-Days Ten through Twelve Part 3: Dubai Recommendations: Tea at the Ritz Carlton Jumeirah Beach, Atlantis Monorail, Dubai Mall
-Days Ten through Twelve Part 4: Dubai recommendations: Platinum-Heritage Falconry Heritage Tour.  The Dubai Museum
-Day Thirteen: Emirates 777-300 DXB-MLE summary, Moonima Lounge MLE summary, Park Hyatt Maldives transfer summary
-Days Thirteen through Sixteen Part 1: Park Hyatt Maldives Hadahaa Review
-Days Thirteen through Sixteen Part 2: What to do at the Park Hyatt Maldives Hadahaa
-Day Seventeen: Maldivian Dash-8/Boat Transfer Park Hyatt-MLE summary, Conrad Rangali MLE Lounge summary, Trans-Maldivian Twin Otter transfer MLE-Conrad Rangali Island
-Days Seventeen through Twenty-One Part 1: Conrad Maldives Rangali Island Review
-Days Seventeen through Twenty-One Part 2: What to do at the Conrad Maldives Rangali Island Resort
-Day Twenty-Two Part 1: Trans-Maldivian Twin Otter Conrad Rangali Island-MLE summary, Conrad Lounge MLE summary, Leeli Lounge MLE summary
-Day Twenty-Two Part 2: Turkish Airlines Business Class A330-300 MLE-IST summary.
-Day Twenty-Three Part 1: Turkish Airlines IST Lounge Summary, six hours in Istanbul
-Day Twenty-Three Part 2: Turkish Airlines Business Class B777-300  IST-SFO summary
-Day Twenty-Four: Hyatt Regency San Francisco Embarcadero Review
-Trip Summary/The Numbers
-The BIG Question: Park Hyatt Maldives Hadahaa or Conrad Maldives Rangali?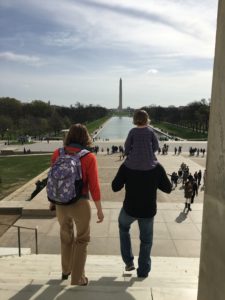 We spent some time at the Lincoln memorial, taking in the grandeur.  It was exceptional how many people were visiting, including hundreds of children out on a field trip.  Overhearing many adults shouting out historical facts to their students reminded me of how great it was growing up in the area, where history is rich.
After perusing the gift shop in the memorial, we made our way back towards the Smithsonian, opting to take a path that would lead us by the White house.
As we walked, we found a memorial to the 56 signers of the Declaration of Independence.  Unfortunately, the surrounding area seemed to be somewhat neglected, and this location went rather unnoticed as a result.
We continued towards the White House, and passed a few photogenic tulip gardens on the way.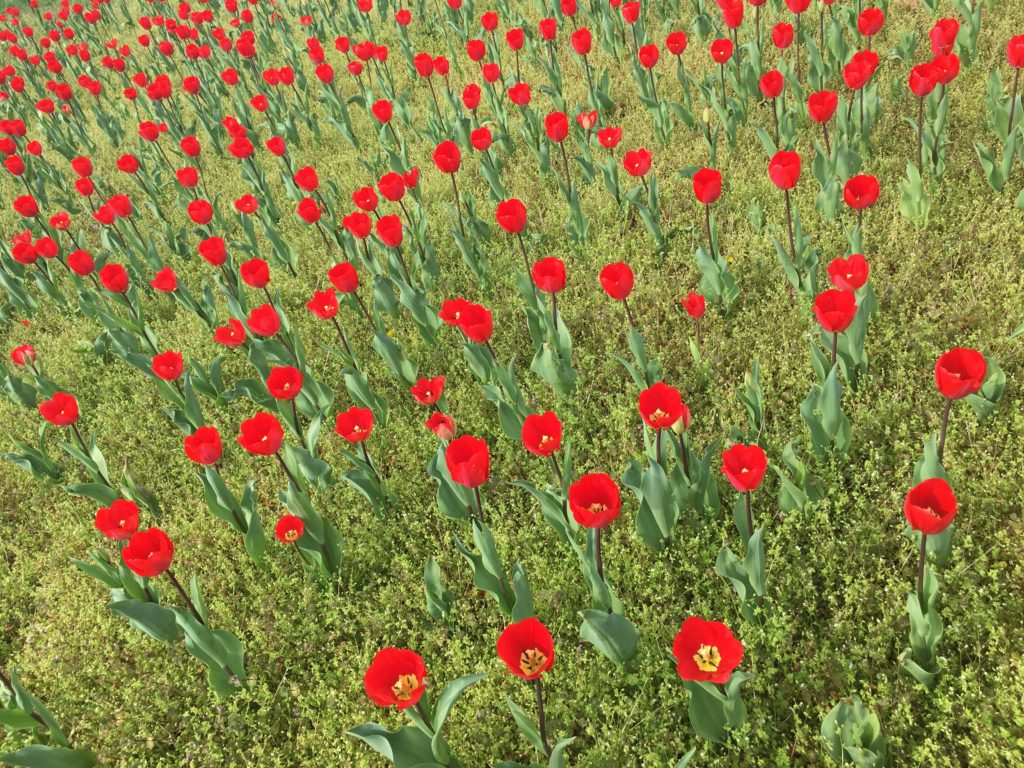 The gardens just west of the White House are part of the Division One memorial, and one garden is roped off in the shape of a "1".  Maybe it's not worth a detour just to see, but while walking from the Lincoln Memorial back towards the Smithsonian museums, it's not far off the path.
After stopping in front of the White House to get a glimpse of executiveness (we saw nobody), it was off to the Natural History Museum. On the way we heard siren after siren as several motorcade were in the area.
The Natural History Museum is free admittance, but on this morning the crowd was only moderate.  A short wait in a security line, and then we were in.
The Natural History Museum is a fantastic home to several exhibits.  As you might guess by the name, the museums focus is on the natural on Earth.  You'll find exhibits on insects, animals, sea-life, and gemstones, among others.  Perhaps the most popular attraction is the Hope Diamond, and indeed the crowd swells in this area.
Kim and I actually went through many exhibits pretty quickly.  Possibly due to the jet lag, we weren't feeling on our game, so we made it through about half the exhibits along with taking in an IMAX film: America Wild: National Parks Adventure 3D.  The film was a visual spectacle, but I'd recommend against it if you're impressionable and think you might want to take on the lifestyle of the film's protagonists, who adventure for a living.  😉
After leaving the museum, we walked over to the nearby sculpture garden, and then across the street to walk along the other side of the mall.
We took in the cherry blossoms lining much of the walkway, and then stopped for a carousel ride across from the arts and industries building.
By this point, it was already closing on 3:30, so we went back to the metro station to start making our way to Franconia.  We did make a pit stop at a childhood favorite- the Pentagon City Mall.  It's a nice mall just to visit the atrium of.  We grabbed some Godiva chocolate, walked around a couple floors, then went back to the metro station at the bottom floor.
Friday was another early day, with plans to visit both the Asian History Musuem and the Air and Space Museum.
We arrived at the Asian History Museum shortly after they opened.  As we entered, we noticed some men in suits coordinating with museum security.  It was later that I found out that the First Lady of Turkey was visiting as part of a summit taking place in the area.
We made our way down from the top, heading a few stories deep while taking in several exhibits, the most famous being the Filthy Lucre, a mock-up of James Whistler's peacock room.
We spent a couple hours at this museum before making our way back to the top.
I have little to offer in terms of media from this museum, save for this tid-bit panning up to the ground floor of the museum from the bottom. (2D Version at top, 3D Version at bottom. 3DTV and Glasses Required for 3D version)
We then ventured towards the air and space museum just a block away.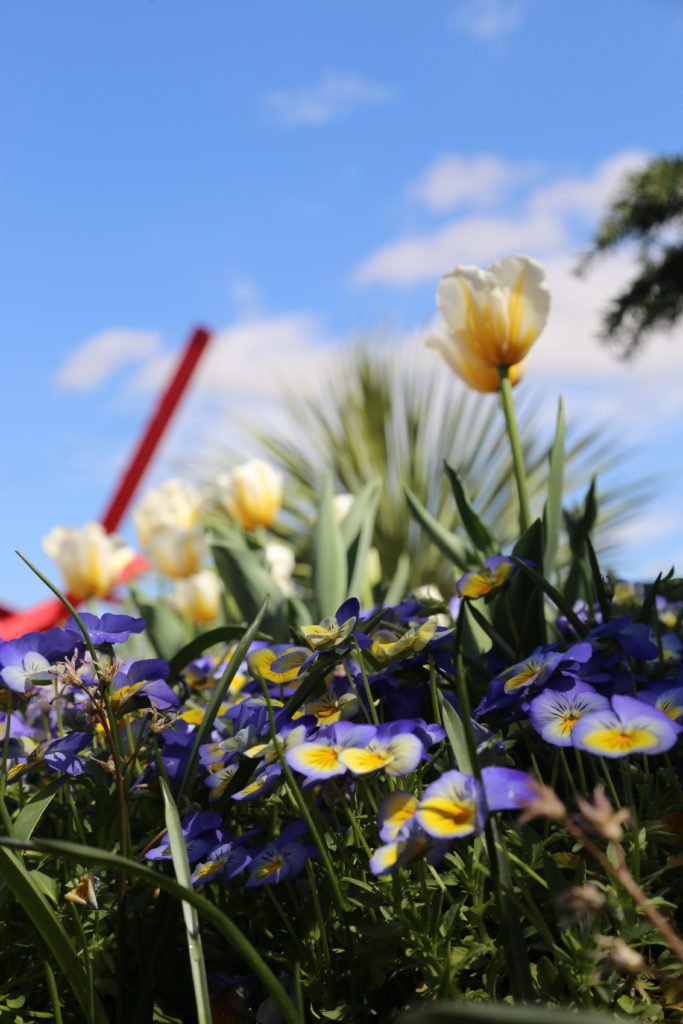 The sun was blazing and the line to get in went to the bottom of the steps, but it moved quickly through security, and in no time we were back in the comfortable indoors.
The museum was more densely packed than the natural history museum, but far from over-crowded.  Kim and I took in the overhead displays and then walked upstairs to the skylab orbital workshop.  After waiting in a short line, we moved briskly through the exhibit.  Because of the line behind us, we went through a little too quickly through America's first space station.  But others clearly did have the chance to take more of it in.  From our exit, we then ventured through various exhibits including The Wright Brothers & The Invention of the Aerial Age, Art of the Airport Tower (personal to me), and Sea-Air Operations.  We also munched on space ice cream, as I did when I visited the museum as a child (it was as tasty as ever), and even snuck some of the freeze dried delicacy into the planetarium for a viewing of "Dark Universe".  Planetarium shows run 9 dollars for adults, and for the most part showings were of "Dark Universe" or "Journey to the Stars".  When I asked the ticket agent which she recommended, she answered without hesitation "Dark Universe."  The show was an enjoyable 25 minutes long. After exiting, we picked up some more freeze dried ice cream, checked out a couple more exhibits, then left for the day.
With just a little time to spare, we decided that we might give visiting Union station a shot, as it was one of my childhood favorites in terms of D.C staples to visit.  Unfortunately the Metro Red line from Metro Center was experiencing delays, so we decided to head back to Franconia. After a long, tiring day, we collapsed into our seats on the metro.  We would later take in Ruth Chris' Steakhouse for my mother's birthday dinner.
The entirety of Saturday we spent with my dad visiting the National Harbor and the Tysons Corner mall.
Directly across the Potomac River by the Wilson Bridge in Maryland, the National Harbor is still a fairly new development, with an MGM Casino being built nearby.  It features a man-made beach, a viewing wheel similar to the many observation wheels going up across the nation, and the spectacular Gaylord hotel.
I say "spectacular" having never actually stayed there, but several times visiting the expansive lobby and atrium area.
The atrium spans many stories high, and almost creates a greenhouse-like environment below it. There is a large fountain, upscale shops, gardens and sitting areas, and a few restaurants.  It's worth a quick walk through, even if you're not staying the night.
Outside the Gaylord is the main street of the Harbor.  We made a quick stop at the Peep Store, and in the past I've enjoyed a sandwich at the Potbelly Sandwich Shop.  There's also a McCormick and Schmicks, an elegant chocolate store, and much more.
Across from the main street, a giant lawn and LCD screen host local and sporting events.  This time around, the Peep store was hosting an event for kids, and giving away peep hats to all.
We walked by the bustling lawn and purchased tickets for the Capitol Wheel.
While a bit pricey, it was a relaxing 15 minute ride offering views of the U.S Capitol, the Washington Monument, and the dozens of planes on approach to Washington Reagan Airport.
We finished with a ride on the harbor carousel, though it's designed primarily for kid's use.
We then took a trip over to the Tysons Corner Mall.  Other than it's size, there's nothing too special about the mall, so I'll spare most of the details save for that we ate lunch at Seasons 52, one of my favorite restaurants.  The rest of the time was mainly spent walking, perusing L.L bean, and finding some specialty eye cream at Bloomingdale's and Macys, both stores of which were hosting fashion related events.
We would return to the mall the next day to correct an error with one of our purchases, and to dine at American Tandoor, a terrific Indian restaurant which enticed us with samples on both days.
We woke up early Sunday for our trip to the Baltimore Aquarium.  From my old home, it was about an hour and fifteen minute drive.  We showed up very shortly after they opened, around 10:15 (Hours vary monthly).  We had a short wait in line for tickets, then a quick entry.
It had been more than a decade since I last visited the aquarium.
The facility is extensive, much more so than the closest major aquarium to me, the Monterey Bay Aquarium.  Dolphins, sharks, sea turtles, stingrays, and much more fill this aquarium with an incredible diversification of life.  Inclined moving walkways guide you through the many floors and exhibits until you reach the top, where a rooftop rain forest setting awaits, then a descending rectangular ramp guides you back to the first floor while glass walls on all sides provide large views of a variety of sharks and other large fish.
Some Highlights of the Baltimore Aquarium.  2D Version Top, 3D Version Bottom.
On completing this area, we cruised over to the large dolphin pool and amphitheater.  While the aquarium does not host any shows, keepers do offer educational talks at various periods of the day.  None were being conducted while we were viewing, so I have no feedback to offer on that.
We zig-zagged through the cafeteria outside of the amphitheater to visit the Jellyfish exhibit.  This was easily the smallest exhibit at the aquarium, and felt hot and cramped.  It is much smaller than the jellyfish on display at the Monterey Bay aquarium, and as such we felt it was a disappointment.  Had it been a little less crowded, it might have been more enjoyable.
After several hours at the aquarium, we finally left around 2:30-3:00 to go grab a bite at Bertha's downtown.  I'll spare a full review of the place, suffice to say it is highly acclaimed for it's mussels, and I'm not a fan of mussels.
We left downtown after a short walk in the area, and headed home.
Our Monday was filled with last minute errands, and another stop at both Tysons Corner and Tysons Corner Galleria.  For the second time we sampled some of the butter chicken that was being offered nearby American Tandoor, an Indian Restaurant at Tysons Corner.  It was just as delectable the second time, and we opted for lunch there.  If you get a chance, I highly recommend it.
We then walked across the street from Tysons to the Galleria, which features higher-end department stores, jewlers, and restaurants. While I have fond memories of the Galleria from when I was a kid (a two-story F.A.O Schwartz was my cherry-on-top), it was far from the bustling hub I remember it to be.  Albeit, it was a Monday.  We spent less than an hour there before requesting an Uber home.
Despite the fact that our flight to Munich was scheduled for a 10:30 departure, my mother was insistant on leaving the house at around 6:30 to get us to Dulles.  It turned out for the best as it gave us time to experience the Lufthansa Lounge.  That experience and our First Class flight to Munich are next up in the blog!
Please follow and like us: