After our first class treatment from the security line at Munich to the curb at the Dubai Airport, we were finally ready for....  MORE first class treatment.  Having waited patiently for us to sort out our hat mess, our limo driver helped load our luggage and got us settled in the back.  Originally I had my reservations about the limo service, as my experiences in the U.S have been typically lackluster.  But this particular ride met my expectations.  We utilized Dubai Exotic Limo for the trip from the Dubai International Airport to the Park Hyatt Abu Dhabi, choosing the Dodge Charger VIP 2013 Limo.
Our driver was pleasant, but overall we didn't interact much.  We took advantage of the bottled water and relaxed for our hour and a half trip.
Relaxing is the best you can hope for during the ride, as subsequent rides in taxis and even the hotel limo (A BMW 7 Series) gave a little too much view of the dangerous and nerve wracking traffic ahead and around us.  On our trip up we saw one car on its side along the freeway.
The cost of our limo was significant at 1200AED plus an additional 250 AED Tip (Approx $400 total) and you can easily find cheaper transportation, but I'm a fan of pulling out all the stops.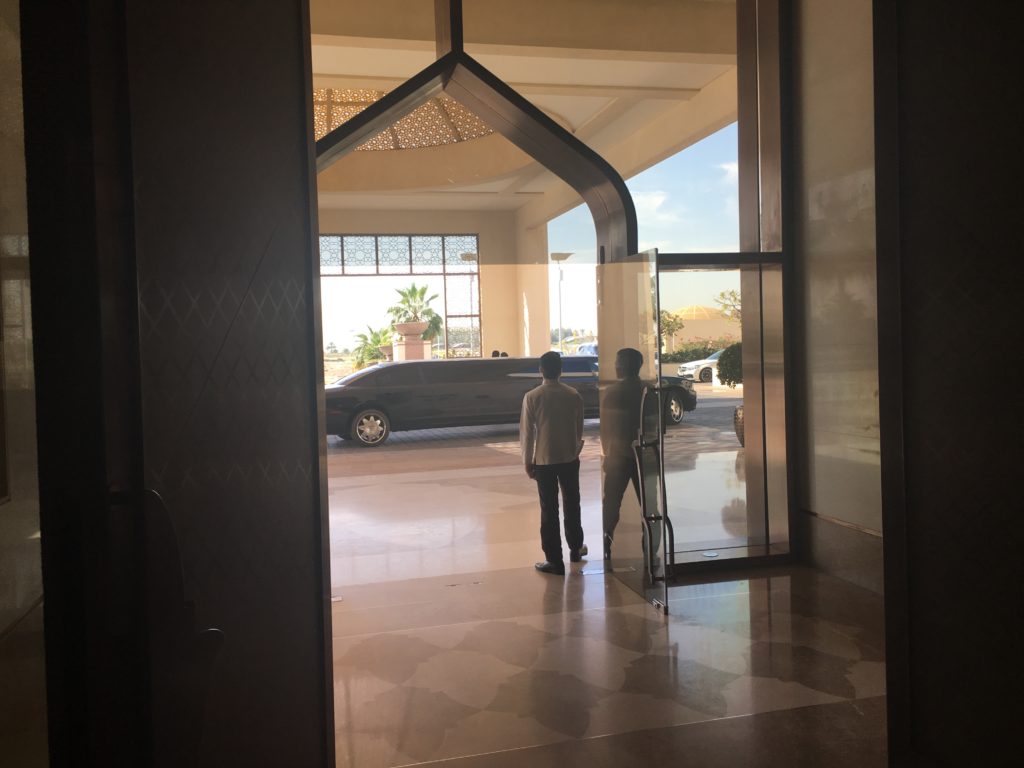 -The Big One! Introduction/Giveaway
-Day One: Hyatt Regency San Francisco Airport Review
-Day Two: United First Class B737-800 SFO-IAD summary
-Days Three through Six: D.C Area recommendations: Smithsonian, National Harbor, Baltimore Aquarium
-Day Seven: Lufthansa Business Class Lounge IAD summary, Lufthansa First Class A330-300 IAD-MUC Summary
-Day Eight Part 1: Six hours in downtown Munich, Lufthansa First Class Lounge Munich Summary
-Day Eight Part 2: Lufthansa First Class A330-300 MUC-DXB Summary
-Day Nine Part 1: Dubai Exotic Limo brief review part 1 & Abu Dhabi recommendations: Ferrari World, the Grand Mosque
-Day Nine Part 2: Park Hyatt Abu Dhabi Review
-Days Ten through Twelve Part 1: Park Hyatt Dubai Review
-Days Ten through Twelve Part 2: Dubai Exotic Limo brief review part 2 & Dubai recommendations:  Burj Khalifa Sky
-Days Ten through Twelve Part 3: Dubai Recommendations: Tea at the Ritz Carlton Jumeirah Beach, Atlantis Monorail, Dubai Mall
-Days Ten through Twelve Part 4: Dubai recommendations: Platinum-Heritage Falconry Heritage Tour.  The Dubai Museum
-Day Thirteen: Emirates 777-300 DXB-MLE summary, Moonima Lounge MLE summary, Park Hyatt Maldives transfer summary
-Days Thirteen through Sixteen Part 1: Park Hyatt Maldives Hadahaa Review
-Days Thirteen through Sixteen Part 2: What to do at the Park Hyatt Maldives Hadahaa
-Day Seventeen: Maldivian Dash-8/Boat Transfer Park Hyatt-MLE summary, Conrad Rangali MLE Lounge summary, Trans-Maldivian Twin Otter transfer MLE-Conrad Rangali Island
-Days Seventeen through Twenty-One Part 1: Conrad Maldives Rangali Island Review
-Days Seventeen through Twenty-One Part 2: What to do at the Conrad Maldives Rangali Island Resort
-Day Twenty-Two Part 1: Trans-Maldivian Twin Otter Conrad Rangali Island-MLE summary, Conrad Lounge MLE summary, Leeli Lounge MLE summary
-Day Twenty-Two Part 2: Turkish Airlines Business Class A330-300 MLE-IST summary.
-Day Twenty-Three Part 1: Turkish Airlines IST Lounge Summary, six hours in Istanbul
-Day Twenty-Three Part 2: Turkish Airlines Business Class B777-300  IST-SFO summary
-Day Twenty-Four: Hyatt Regency San Francisco Embarcadero Review
-Trip Summary/The Numbers
-The BIG Question: Park Hyatt Maldives Hadahaa or Conrad Maldives Rangali?

Finally we had arrived at the Park Hyatt Abu Dhabi.  We checked in (review to come), got a temporary room while they prepared our suite, and promptly completed all the things we wanted to do in Abu Dhabi passed out for 3 hours.  We were lucky enough to be woken at around 2 P.M when the phone rang to inform us that our suite was ready.  We gathered our things, moved into the new room, and set out to grab a cab from the front.
Our taxi driver from the hotel to Ferrari World was friendly enough, and one of the safer drivers we encountered.  At one point during our 25 minute ride from the hotel to the park, I pointed out another bad-looking accident to Kim, and our driver calmly announced "someone is dead".  I couldn't block Kim's view before we both saw the blood doused shrouds.  Fortunately it was the last major accident we passed, though it would not be the last of crazy road experiences.
Soon after, we pulled up to the front entrance of Ferrari world.  We got out and paid the approx $15 in cab fare.  We crossed the street and went up the Yas Mall escalator to the sky bridge linking Ferrari World.  We purchased standard tickets, as judging from the crowd we would not need fast-passes.  It was 3:30, and our tickets ran $70 per person, with the park closing at 8:00.  I only had one goal though- to hit all three coasters in the park.  First up was the Formula Rossa, the most important coaster on my list, and the fastest roller coaster in the world.  We entered the queue, went down the stairs, around some ropes, and finally to the stopped line.  The line did not look bad at all, but looks were deceiving.  The coaster was not launching, and they appeared to be water cooling the tracks, delaying any of the line from moving forward.  We kicked back against the rails, and after about ten minutes the coaster began its circuit. What looked like a fifteen minute wait turned out to be closer to an hour and fifteen, and as we got closer to the front we saw that the fast-pass ticket holders definitely had an advantage.  But we were in no particular rush, and we ended up spending even more time in line so that we could sit at the very front.  As the two lines between fast-pass and regular ticket holders merged, we handed our loose items to a check-in desk and received a wrist chain at no cost.  We would turn it in and get our items back with no trouble at the end of the ride.
The line split again for those that wanted to be at the front and the rest of the crowd.  We were finally down to two people ahead of us when an employee opened a side gate and let another couple ahead. While Kim and I knew what was going on, the two women ahead of us protested, and the employee had to explain that the people he allowed in had a priority ticket.
Finally we were in our seats.  The adrenaline began to kick in as the coaster pulled forward to the starting point.  Queue a fancy sound effect and a three second countdownnn-annnd-holy-cow!!!
You can't help but smile as your body is pushed hard into your seat and your heart starts to race. What resulted was 1 and a half minutes of smooth and speedy hills and turns that made the hour wait incredibly worthwhile.
It's a high you have to come down from, and you'll still be smiling minutes after you exit the ride... whether you want to be or not!
Next up was the only real "exploration" of the park that we did: the Galleria Ferrari. Essentially just a small collection of classic and new sports-cars, the facts offered around the miniature museum did offer an educational and interesting alternative to "just the rides".  The remainder of the sights we took in were on our trips to the next two roller coasters.  A good portion of other rides at the park require a higher-end ticket or extra fare, and still others are designed for kids.  There are coaster tracks coming out of various walls, some appeared just to be decoration, others may be part of future rides.  It was hard to tell which was which.  The whole park still seems to be a work in progress.
After reading about a few of the cars, we continued to the new Flying Aces Roller Coaster, which had opened just 2 months before.  In all honesty, while I'm a coaster fanatic, I do get sick nowadays, and I was definitely feeling it after Formula Rossa. Albeit in that case the smoothness of the ride and the adrenaline shooting through me muted that sick feeling.
We dropped off our bags at a locker area specifically for Flying Aces, before entering the queue.  The guardrails led us through a series of themed rooms, and it was about a 2 to 3 minute walk to the back of the line.  The line for the ride was quite short, and we were on board within 10 minutes.
Flying Aces took me to the brink of my breaking point.  It was awesome, smooth, fun, and not overly intense, but definitely the limit of what I can handle nowadays.  The Flying Aces coaster has set the world records for the steepest and fastest incline (and it definitely was steep and fast- from starting position it appeared nearly completely vertical), as well as the worlds tallest inverted loop. Essentially, at the top of the loop the coaster train sat upright and twisted downwards on the way back.
I was definitely nauseous upon exiting the ride, but I was determined to conquer the third, easiest coaster in the park: the Fiorano GT Challenger Racing coaster.  Two sets of steel tracks that, like the Formula Rossa, take you outside the comfort of the indoor park into the desert heat... albeit at a much lower pace.  You'll race alongside another coaster, and Kim and I took front seats in competing trains. Unsurprisingly, her train won the race.
We completed our trip to the park with that ride, and made our way out through the gift shop, where everything from sunglasses to miniature, $2000+ Ferrari models were on sale.  After crossing the skybridge back to the Yas Mall, we went downstairs to grab a drink from Starbucks and to gain internet access so we could determine our next course of action.
That next course of action turned out to be dinner at Al-Fanar Restaurant.  This restaurant is located on the second floor of the Yas Mall, very close to the skybridge leading to Ferrari World.  It appealed to us because of the opportunity to try local cuisine, and by looking around in the food court it seemed this was one of the only options (if not THE only option).  We passed on several restaurants found in the U.S.
Ultimately the food was good, and the setting was perfect as the sun was going down.  We sat outside with a view of some of the fountains, and we enjoyed a Machboos Deyay (essentially chicken and rice).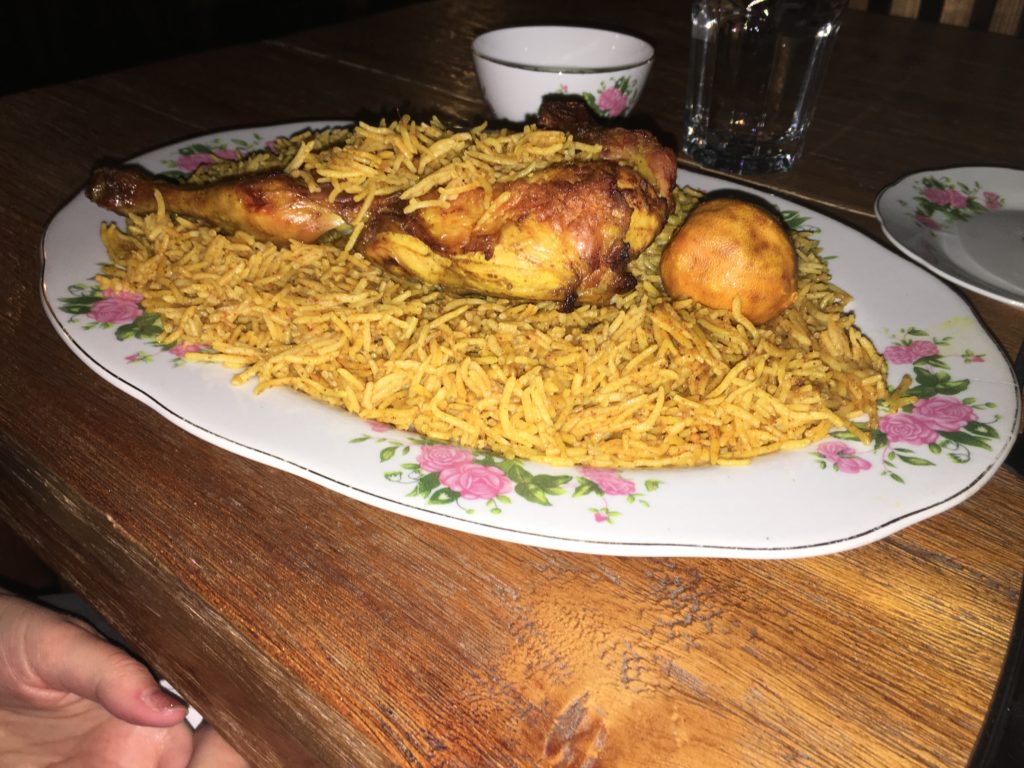 Upon completing our dinner, we grabbed another taxi to bring us to the Grand Mosque.  It was another $15 fare, and upon reaching the mosque our driver politely insisted that we return to him to take us back to the hotel, mentioning that the rate would be much cheaper than the starting rate of other drivers waiting at the mosque.  I which I was happy to oblige him, and was completely content with what turned out to be an approximately $20 fare back to the hotel.
The toughest part of being an American at the Grand Mosque turned out to be finding the entrance so we could borrow the proper attire.  There may have been an easier way, but we ended up looping around on various sidewalks, taking an escalator down to a parking garage, walking across the parking garage to a small area where hijabs and robes could be borrowed.  As we were both already dressed in conservative clothing (mainly to protect ourselves from the sun), all that was needed was a hijab for Kim, and the staff only took down her ID information, they didn't require leaving ID with them. (Your results for required attire and leaving your ID may vary, bringing your passport is recommended)
We walked back across the garage and up the escalator and entered the mosque, leaving our shoes amidst dozens of other pairs stowed away at one of the massive hallways.
We spent around an hour to an hour and a half admiring the incredible architecture and decor of the mosque, and dusk was the perfect time to do so, with a cool temperature providing perfect ambiance.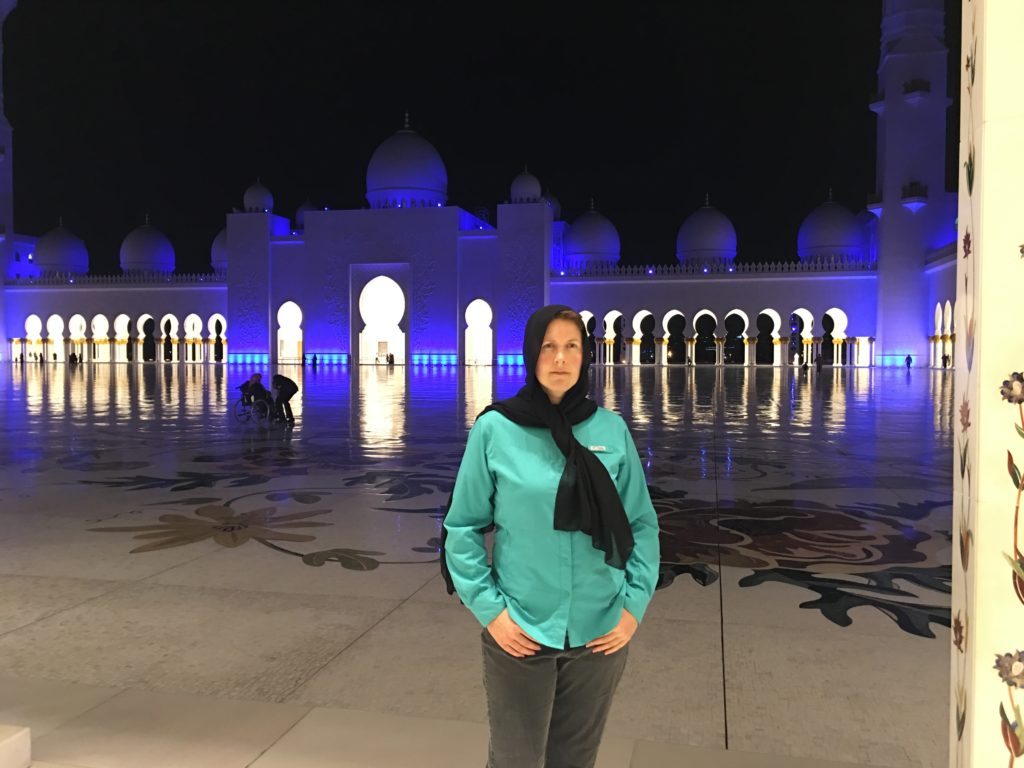 The above pictures can't do justice to the scale and grandeur of this place, but can give you some idea of what to expect.
Upon dropping off Kim's hijab and making our way back to the parking lot, our driver waved us down and we were off back to the hotel.
I took some video of our day's adventures.  Check it out to see the Formula Rossa complete a circuit (non-POV), a POV of the  Fiorano GT Challenger Racing coaster (second half of the circuit), a view from the Al-Fanar Restaurant across from Ferrari world, and a brief clip of the Grand Mosque interior:
Ultimately our single night in Abu Dhabi was well worthwhile.  We would have liked to have had tea at Emirate's Palace, but our jet-lag was a bit too strong.  I may return one day to see what else the city has to offer and to spend a little more time enjoying the Park Hyatt.
A review of the Park Hyatt Abu-Dhabi is soon to come, with details of our check-in, the room we crashed in, the suite we spent the night in, breakfast, and our hotel limo (Upscale Sedan) to the Park Hyatt Dubai.
Useful tidbits and links: I found myself in need of currency at the Dubai Arrivals Area.  I found an HSBC ATM and withdrew approximately 1500 AED.  I could not tell you what the surcharge was, but that it was not all too significant between three ATM transactions in Dubai and Istanbul.  I received an ATM surcharge rebate of $5.45 from my bank, but I am not certain what I was charged for conversions and fees.  I was also able to make change by making small purchases at a convenience store at the front of the airport. (Although they frowned on using super-high denomonations for that purpose).
Dubai Exotic Limo: Our Limo
My inspiration for our hotel stay in Abu Dhabi: Ben Schlappig's review. (My review to come soon)
My inspiration for excursions in Abu Dhabi: Points MD
Please follow and like us: