The last bridge between us and paradise.
A summary of our Emirates 777-300 DXB-MLE flight, the Moonima Lounge MLE, and the Maldivian Dash-8/Boat Transfer to Park Hyatt Maldives summary
(The following is a continuation of our D.C/Abu Dhabi/Dubai/Maldives trip report. Previous posts can be found at the thehyattguy.blogspot.com or via the links below)
After rushing to pack, we arrived at the Dubai International Airport at around 8:15 for our 9:50 A.M flight.
Check-in was pretty much a breeze, even for us measly economy passengers. I was concerned about the weight of our carry-on baggage. Emirates lists a maximum weight of 15lbs, and we were well beyond that. Fortunately they did not care to weigh the luggage, so we went off with no additional charges.
Security and immigration were also fairly simple to get through, the only tough part was figuring out which direction to go. But we were able to manage, and soon we were well on our way to the gate. We passed through plenty of shopping areas offering high-end products with no shortage of customers in sight. Soon we were at the gate, and it was only another 15-20 minutes before boarding began.
Flight Details:
Emirates Flight 652 DXB-MLE
Boeing 777-300 ER
Duration: 4Hr 15Min
Arrive Maldives 3:05 P.M
Seats: 19A, 19B
-The Big One! Introduction/Giveaway
-Day One: Hyatt Regency San Francisco Airport Review
-Day Two: United First Class B737-800 SFO-IAD summary
-Days Three through Six: D.C Area recommendations: Smithsonian, National Harbor, Baltimore Aquarium
-Day Seven: Lufthansa Business Class Lounge IAD summary, Lufthansa First Class A330-300 IAD-MUC Summary
-Day Eight Part 1: Six hours in downtown Munich, Lufthansa First Class Lounge Munich Summary
-Day Eight Part 2: Lufthansa First Class A330-300 MUC-DXB Summary
-Day Nine Part 1: Dubai Exotic Limo brief review part 1 & Abu Dhabi recommendations: Ferrari World, the Grand Mosque
-Day Nine Part 2: Park Hyatt Abu Dhabi Review
-Days Ten through Twelve Part 1: Park Hyatt Dubai Review
-Days Ten through Twelve Part 2: Dubai Exotic Limo brief review part 2 & Dubai recommendations:  Burj Khalifa Sky
-Days Ten through Twelve Part 3: Dubai Recommendations: Tea at the Ritz Carlton Jumeirah Beach, Atlantis Monorail, Dubai Mall
-Days Ten through Twelve Part 4: Dubai recommendations: Platinum-Heritage Falconry Heritage Tour.  The Dubai Museum
-Day Thirteen: Emirates 777-300 DXB-MLE summary, Moonima Lounge MLE summary, Park Hyatt Maldives transfer summary
-Days Thirteen through Sixteen Part 1: Park Hyatt Maldives Hadahaa Review
-Days Thirteen through Sixteen Part 2: What to do at the Park Hyatt Maldives Hadahaa
-Day Seventeen: Maldivian Dash-8/Boat Transfer Park Hyatt-MLE summary, Conrad Rangali MLE Lounge summary, Trans-Maldivian Twin Otter transfer MLE-Conrad Rangali Island
-Days Seventeen through Twenty-One Part 1: Conrad Maldives Rangali Island Review
-Days Seventeen through Twenty-One Part 2: What to do at the Conrad Maldives Rangali Island Resort
-Day Twenty-Two Part 1: Trans-Maldivian Twin Otter Conrad Rangali Island-MLE summary, Conrad Lounge MLE summary, Leeli Lounge MLE summary
-Day Twenty-Two Part 2: Turkish Airlines Business Class A330-300 MLE-IST summary.
-Day Twenty-Three Part 1: Turkish Airlines IST Lounge Summary, six hours in Istanbul
-Day Twenty-Three Part 2: Turkish Airlines Business Class B777-300  IST-SFO summary
-Day Twenty-Four: Hyatt Regency San Francisco Embarcadero Review
-Trip Summary/The Numbers
-The BIG Question: Park Hyatt Maldives Hadahaa or Conrad Maldives Rangali?
Boarding went smoothly. We shuffled through the business class section and packaged into our economy seats with plenty of room in the overhead. Kim took the window while I took a middle seat, and another lady who was traveling with family took the aisle. Our flight attendant presented us with a cold towel as we buckled in.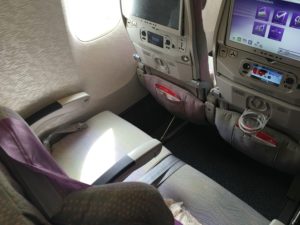 No delays as we taxied out to the runway and took off northwest-bound out over the sea and then made a climbing left turn to wrap around the city as we maneuvered towards the south-east.
Our flight was ultimately short and sweet.  We watched a movie, enjoyed a hot lunch, and spilled Orange Juice on our aisle-based seatmate.  While a tad unmemorable aside from the views, ultimately the service on our expedited flight beat out our typical United economy experiences with a full meal and cool towels.  We also utilized the tail-cam of the 777 to watch our departure from Dubai and arrival into Male. Bear in mind as well that between no photos to help us recollect our flight and the year that's passed since then, we've forgotten a good portion of this leg of travel, or I'd give you a more in-depth report.
We landed in the Maldives on time and utilized the sole runway and sole taxiway to taxi to our parking spot on the ramp.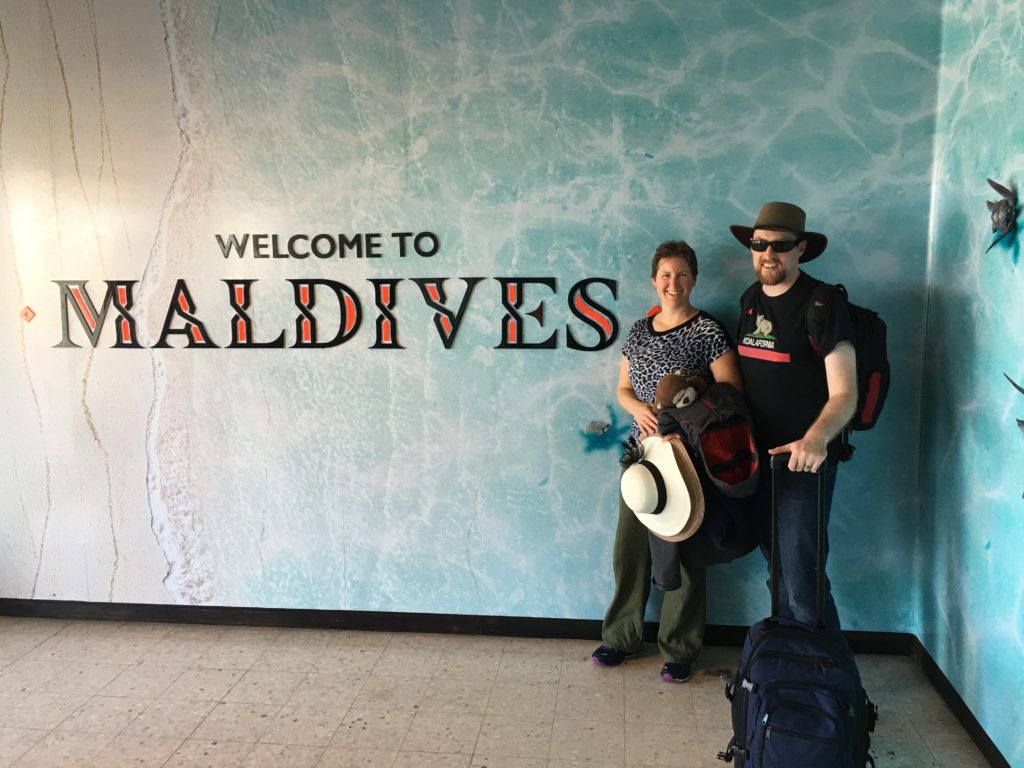 Arrival in Maldives!
We disembarked into the humid Maldives air with just a short walk between the plane and the entrance to customs.
After posing for a couple photos in front of the welcome sign, we shuffled over to the many desks and began filling out our customs forms.
While the business and first class customs line may have moved a bit quicker, ultimately our transition through was fairly simple.  We grabbed our baggage, went through another security checkpoint, and saw our guide holding a sign with our names.
Our guide introduced himself and led us out of the terminal and down the sidewalk.  He explained that we would check-in to our flight to Kooddoo, then proceed to the Moonima Lounge.  Our flight would leave at 5:00 and take about an hour.  He stayed with us through the entire process until dropping us off at the lounge and explaining that someone would get us when it was time to board.
At the check-in to the lounge, we were provided with a wi-fi password and told where we could find snacks and drinks.  We took some seats close to windows, which all had blinds obstructing the view.  It made sense to have the blinds though, as we soon found the seats we took to be way too hot.  We relocated closer to the food area and further inward from the windows, which was much more comfortable.  I did some exploring and noted a sign which indicated that the lounge was open to priority-pass customers, which may explain why it felt a bit crowded.
We took some snacks and soda and anxiously waited for someone to get us for our flight.  As 4:45 approached, I stood up, nervous that our guide was mistaken.  An attendant told us to sit back down though and assured us that we would be summoned when the time came.  Sure enough, just a few minutes later someone came to inform us our flight was ready to board.  We grabbed our things and went down the stairs.  The lounge was quite close to the gate, and we entered right as boarding began.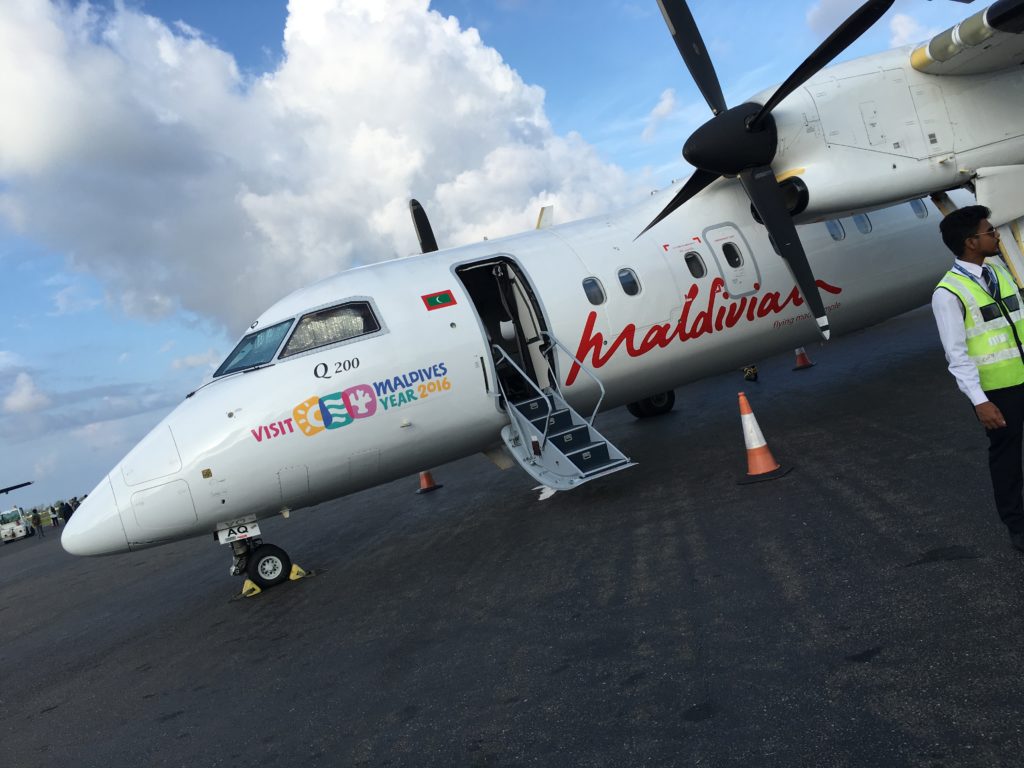 Our Dash-8 from Male to Kooddoo
As is typical for local flights, tourists heading to resort areas were assigned to the front of the plane.  It was only us and another couple headed to the Park Hyatt, and we took our seats front row right side.  We loaded up fairly quick, and as we taxied the flight attendant went over safety instructions and offered a Muslim prayer.
Then we were off!
Our flight took us south and offered only one incredible vista the whole way down. You might've thought you'd died and gone to heaven, were it not for the noise of the engines and the heat.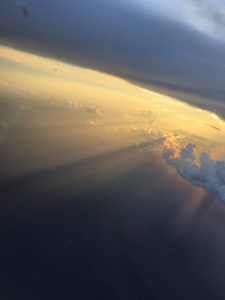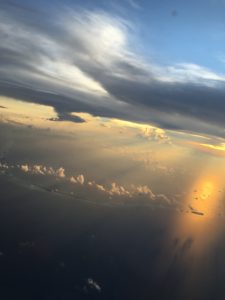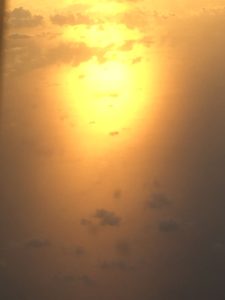 Our approach into Kooddoo was practically a nose-dive.  We plummeted towards the runway and the pilots slammed on the brakes as we touched down.  I completely expected to go-around, but perhaps it was just another day for them.
We disembarked into a small terminal, just a simple building of concrete blocks.  Most passengers carried out loads of fruits or other foods packaged in large boxes.  Our luggage came out close to last.
Our new guide met us inside and directed us to wait for our bags.  When they came out, he helped load them onto a buggy.  The sun had just set and it was getting dark quick.
The buggy ride was about 3-5 minutes long and led us down what appeared to be the only road on the island.  It let out at a small harbor, where our boat-shuttle to the Park Hyatt awaited us.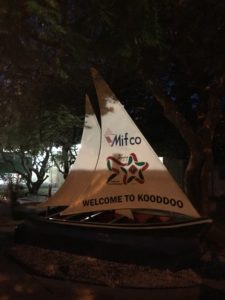 Our guide, along with other boat-hands, took our luggage to the boat as we boarded.  The speedboat was enclosed to protect from the water as we pulled out of the harbor and began the 30-40 minute ride over to the resort.  Our captain explained that during rough seas they typically traveled at a slower rate, meaning the ride would be stretched out to the longer end. While bumpy, neither Kim or I had any problems with sea-sickness.  Though I've more recently had problems on boats traversing similar roughness.  We were offered water as we cruised into the darkness.
Calm took over as Kooddoo disappeared out of sight, and in no time at all we could spot the Park Hyatt Maldives approaching.
Overall, our transition from the Park Hyatt Dubai to the Park Hyatt Maldives was comfortable but economical.  While we could've splurged on an upgrade to business class on Emirates, we left it for another day. (Kim has since had the opportunity)
Certainly those who suffer sea-sickness might have difficulties with the boat ride over to the Park Hyatt, but it seems but a small price to pay for the luxury we soon encountered.
Next up: -Days Thirteen through Sixteen Part 1: Park Hyatt Maldives Hadahaa Review
Please follow and like us: