When we arrived at the Park Hyatt Abu Dhabi at around 10:30 in the morning, we were exhausted. But there was still a ton on our plate of things to do. Our plan included getting over to Ferrari World, the Grand Mosque, and the Emirates Palace for tea.  As you may know from the previous post, we didn't quite accomplish everything on the list.
-The Big One! Introduction/Giveaway
-Day One: Hyatt Regency San Francisco Airport Review
-Day Two: United First Class B737-800 SFO-IAD summary
-Days Three through Six: D.C Area recommendations: Smithsonian, National Harbor, Baltimore Aquarium
-Day Seven: Lufthansa Business Class Lounge IAD summary, Lufthansa First Class A330-300 IAD-MUC Summary
-Day Eight Part 1: Six hours in downtown Munich, Lufthansa First Class Lounge Munich Summary
-Day Eight Part 2: Lufthansa First Class A330-300 MUC-DXB Summary
-Day Nine Part 1: Dubai Exotic Limo brief review part 1 & Abu Dhabi recommendations: Ferrari World, the Grand Mosque
-Day Nine Part 2: Park Hyatt Abu Dhabi Review
-Days Ten through Twelve Part 1: Park Hyatt Dubai Review
-Days Ten through Twelve Part 2: Dubai Exotic Limo brief review part 2 & Dubai recommendations:  Burj Khalifa Sky
-Days Ten through Twelve Part 3: Dubai Recommendations: Tea at the Ritz Carlton Jumeirah Beach, Atlantis Monorail, Dubai Mall
-Days Ten through Twelve Part 4: Dubai recommendations: Platinum-Heritage Falconry Heritage Tour.  The Dubai Museum
-Day Thirteen: Emirates 777-300 DXB-MLE summary, Moonima Lounge MLE summary, Park Hyatt Maldives transfer summary
-Days Thirteen through Sixteen Part 1: Park Hyatt Maldives Hadahaa Review
-Days Thirteen through Sixteen Part 2: What to do at the Park Hyatt Maldives Hadahaa
-Day Seventeen: Maldivian Dash-8/Boat Transfer Park Hyatt-MLE summary, Conrad Rangali MLE Lounge summary, Trans-Maldivian Twin Otter transfer MLE-Conrad Rangali Island
-Days Seventeen through Twenty-One Part 1: Conrad Maldives Rangali Island Review
-Days Seventeen through Twenty-One Part 2: What to do at the Conrad Maldives Rangali Island Resort
-Day Twenty-Two Part 1: Trans-Maldivian Twin Otter Conrad Rangali Island-MLE summary, Conrad Lounge MLE summary, Leeli Lounge MLE summary
-Day Twenty-Two Part 2: Turkish Airlines Business Class A330-300 MLE-IST summary.
-Day Twenty-Three Part 1: Turkish Airlines IST Lounge Summary, six hours in Istanbul
-Day Twenty-Three Part 2: Turkish Airlines Business Class B777-300  IST-SFO summary
-Day Twenty-Four: Hyatt Regency San Francisco Embarcadero Review
-Trip Summary/The Numbers
-The BIG Question: Park Hyatt Maldives Hadahaa or Conrad Maldives Rangali?

Our original booking at the Park Hyatt involved us staying for two nights, but when we made our last minute flight change it meant we wouldn't arrive until the morning of April 6th instead of the night of the 5th.  We were able to change it with more than 24 hours notice, so we incurred no additional fees.  We booked the hotel using a combination of points and cash and a Diamond Suite Upgrade.  The Park Hyatt Abu Dhabi is a category 5 hotel, and required 10,000 points and $125 cash.  For reference, a night in a Park Suite for April 6th of 2017 sells for $900. If you pay in advance for their non-refundable advance rate, the suite can be had for $764.
Of course, given how early we were we had no idea whether to expect our room or a wait.  Our experience as Diamond members has been that if our booked room is not available when we arrive-- no matter how early-- we are assigned a lesser category room to relax in until our booked room is ready.  That is exactly what happened.  Ashutash got us situated with information about breakfast times, currency exchanges, hotel check-out time, our hotel sedan that would be taking us to the Park Hyatt Dubai, and the grounds.  He informed us that we could use a Park King room until our Park Suite was ready.  The bellhop took our luggage and guided us down a hall to the Park King room, room 263.  We promptly set the luggage on the floor and proceeded to pass out.
When the phone rang at 2:00, I quickly realized I would have to sacrifice some of our days plans.  We prepared in a hurry and shortly after the phone call a bellhop arrived to bring us to our Park Suite.
We left our humble abode and were led through a hall, up an elevator, and down another long hall to our suite.  Our room was incredibly spacious.  It featured a living area, two balconies with views of the Gulf, an over-sized bedroom and a luxurious bathroom.
As Diamond members, we were given fruits, strawberry smoothies, nuts, and red wine.  I did end up missing out on the famed Macarons, but given how tired I was and how much I had to do, I didn't even notice at the time.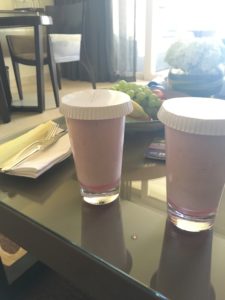 The smoothie was fantastic, but we decided to save the wine and bring it home to family.  After some pictures it was off to Ferrari World and the Grand Mosque. (See previous post for things to do in Abu Dhabi).
On our way out, we stopped at the front desk to exchange some currency.  The exchange rate was rather high (don't remember the exact amount), but I needed a lot more than I had, so I sucked it up.  The front desk took most of my cash but would not exchange some of the older $100 bills I had with me.  Apparently it is standard in Dubai and Abu Dhabi to accept only newer bills with more security features.
The valet hailed a cab for us, then we were off.
By the time we got back, there was nothing left to do but pass out.  And pass out we did, until early in the morning when I woke up in a massive sweat.  Despite a generally cool room, the blankets turned out to be way too much for me, and this trend continued into Dubai and the Maldives (where I finally got a thinner blanket).
I managed to get back to sleep, and when Kim and I did wake up around 7, opened the curtains to a fantastic and serene view: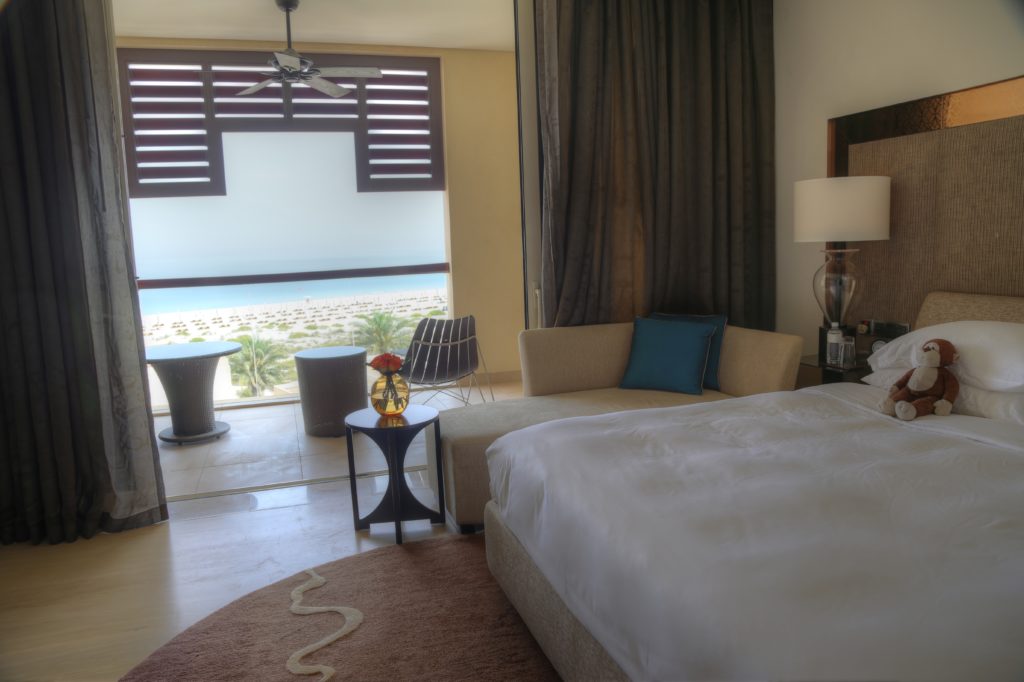 Next, we took off downstairs to view the property and visit the beach:
We found a few pools, hammocks, and plenty of seating areas on the beach, near the pool and out on a patio.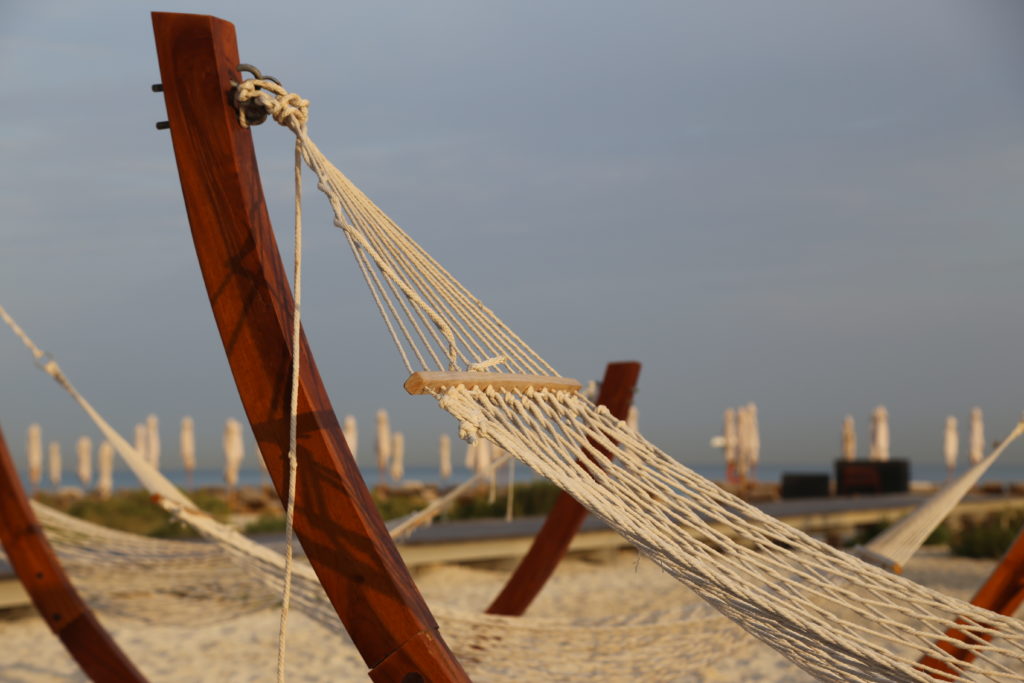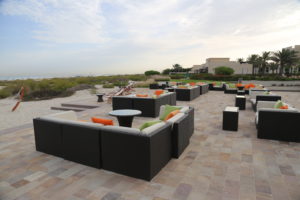 We didn't trek very far west before turning back.  Close to the Hyatt a construction project was ongoing, presumably on a new hotel.  This will be a bit of a shame given the Hyatt's location is somewhat isolated from other buildings, and what little view of the city it offers may soon be obstructed.  But it didn't impact our stay, and soon we were back on the property for breakfast.
Breakfast consists of an international buffet.  It was by far the most extensive buffet I had experienced (beaten out not long after at the Conrad in the Maldives).  The first hint of extravagance was a honeycomb dripping into a bowl for guests to indulge in.  We took seats close to a window and then navigated through a maze of offerings.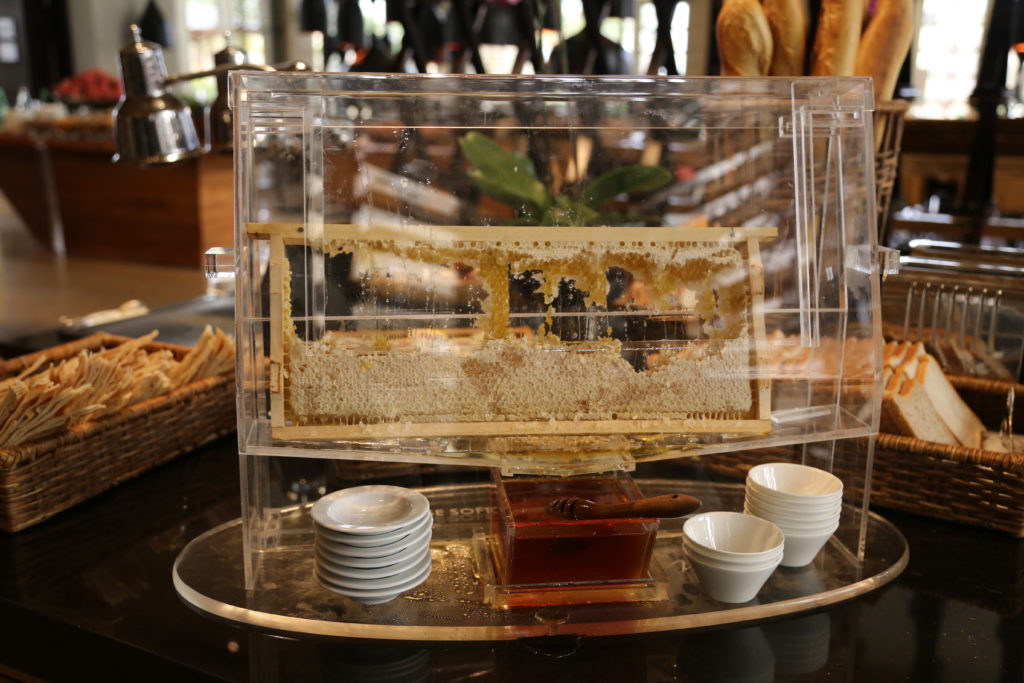 There were pastries galore, a sumptuous variety of cereals, yogurts, fruits, preserves and more!  There was a variety of international dishes, but I consumed loads of drinkable yogurt and half a dozen or so creampuffs--- because I have class! 😉
On our way back to the room, I stopped to snap this photo from one of the windows on our floor.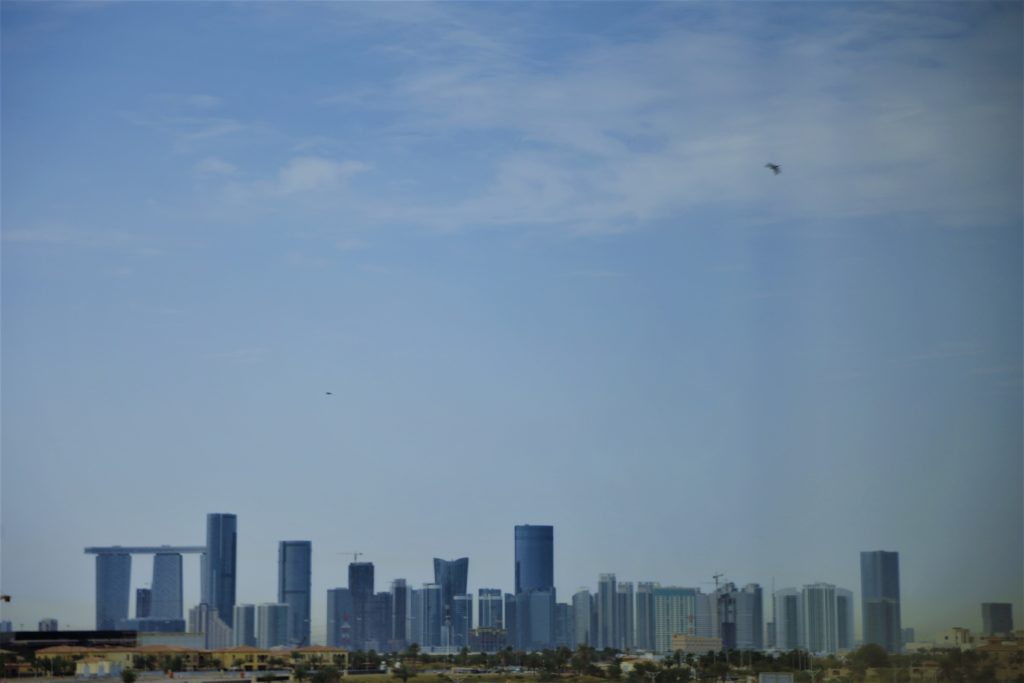 It certainly looks like an OK view when zoomed, angled, color adjusted and framed properly.  But if I'm going to be honest...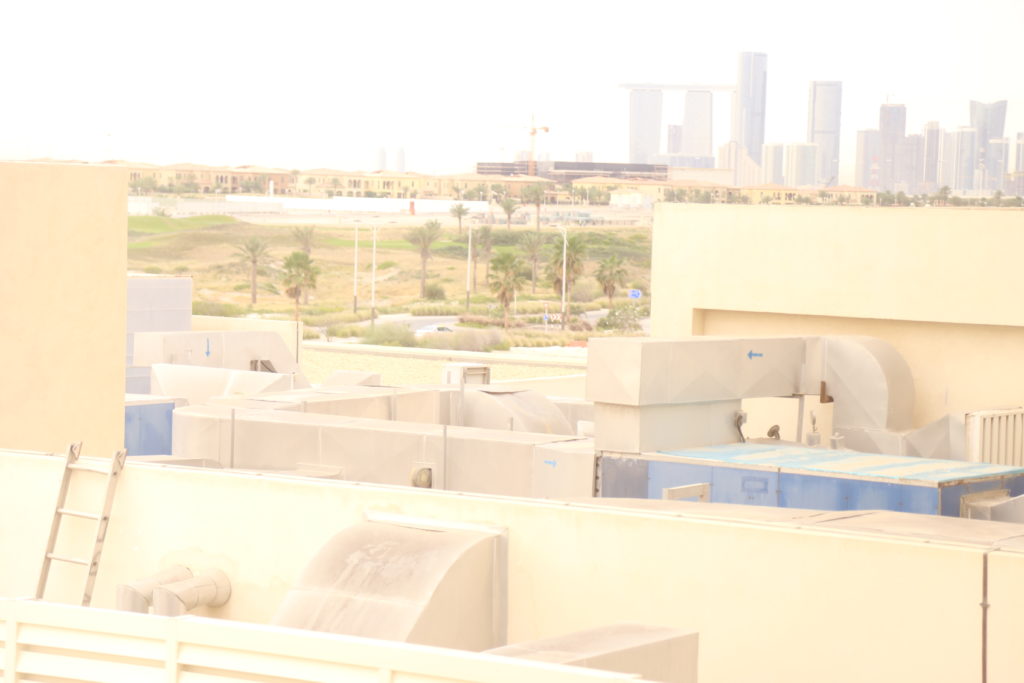 The second photo is more representative of what you'll see from the halls in the hotel.
Before packing up for our trip down to Dubai, I explored the room a little more extensively:
The bathroom featured a nice sized shower with a rainfall head and a built-in nook for the Bergamonte 22 body lotion, shampoo, and conditioner.  There was also a large soaking tub set in front of a gorgeous rock facade. It also featured a table that spanned its width and could be used to hold the salts, a facial bar, and bath soap. A frosted glass door separated the toilet and bidet from the rest of the room.
Beyond the tub was an oversized closet that double-functioned as a pass-through to the living area.
Off the living room was a half-bath.
The living room itself featured a good-sized couch, a coffee table, a workstation, and a balcony.
Off the living room was a half bath and a pass-through closet leading to the master bath.
Both the living room and the bedroom featured 42" LCD TVs.  Next to the King Bed in the bedroom was a second balcony.
We packed our things and called for a bellhop, who showed up promptly to help us to the front desk.
We had originally arranged for a 9:00 departure but had requested a delay until 10:00, which they gladly accommodated.
We utilized the hotel limo, which was a BMW 7 Series, to take us the hour and a half drive down to the Park Hyatt Dubai.  It wasn't the cheapest option at 750AED, but it was certainly comfortable.
Ultimately:
In the end our room was great, breakfast was magnificent, but our stay here was far too short.  I would've liked to have more opportunity to view the grounds, dine, and enjoy the pool, but we traded an extra night here for an opportunity to fly first class on Lufthansa, and I'm glad we did.  Eventually I hope to return.  I hope you'll take a minute to enjoy the following short video featuring clips from around the resort and our trip in the BMW:
Next Up- Days Ten through Twelve Part 1: Park Hyatt Dubai Review
Please follow and like us: