After dropping our belongings off at our new room, I anxiously made my way back to the lobby with Kim. I was concerned that our plans may not come to fruition, and that the limo company might have bailed given that we were 5-10 minutes late. I scanned the driveway at the lobby entrance, and though I noticed a few Cadillac Escalades, none matched the appearance of what I specifically ordered: https://www.dubaiexoticlimo.com/escalade_sedan.html
We stepped back into the lobby, hoping that they were just running late. Soon after, our phone buzzed. It was the limo company informing us that our driver was outside looking for us. We took the short walk back outside and found him. Our relief was short lived. He guided us over to one of the standard-equipped escalades that I had already seen. Given that the cost for the ride was a steep 3500AED for the 7 hours, I was not willing to pay full price for a lesser ride. After confirming that the Escalade in the photo was not available, the driver offered to negotiate. I made him an offer several hundred AED lower, and he accepted.
I am still convinced we paid far more than necessary, but we enjoyed the drivers company, and he acted as our guide as well as our driver. As the pictured Escalade divides the passengers from the driver, the lesser model proved a better option for our tour.
-The Big One! Introduction/Giveaway
-Day One: Hyatt Regency San Francisco Airport Review
-Day Two: United First Class B737-800 SFO-IAD summary
-Days Three through Six: D.C Area recommendations: Smithsonian, National Harbor, Baltimore Aquarium
-Day Seven: Lufthansa Business Class Lounge IAD summary, Lufthansa First Class A330-300 IAD-MUC Summary
-Day Eight Part 1: Six hours in downtown Munich, Lufthansa First Class Lounge Munich Summary
-Day Eight Part 2: Lufthansa First Class A330-300 MUC-DXB Summary
-Day Nine Part 1: Dubai Exotic Limo brief review part 1 & Abu Dhabi recommendations: Ferrari World, the Grand Mosque
-Day Nine Part 2: Park Hyatt Abu Dhabi Review
-Days Ten through Twelve Part 1: Park Hyatt Dubai Review
-Days Ten through Twelve Part 2: Dubai Exotic Limo brief review part 2 & Dubai recommendations:  Burj Khalifa Sky
-Days Ten through Twelve Part 3: Dubai Recommendations: Tea at the Ritz Carlton Jumeirah Beach, Atlantis Monorail, Dubai Mall
-Days Ten through Twelve Part 4: Dubai recommendations: Platinum-Heritage Falconry Heritage Tour.  The Dubai Museum
-Day Thirteen: Emirates 777-300 DXB-MLE summary, Moonima Lounge MLE summary, Park Hyatt Maldives transfer summary
-Days Thirteen through Sixteen Part 1: Park Hyatt Maldives Hadahaa Review
-Days Thirteen through Sixteen Part 2: What to do at the Park Hyatt Maldives Hadahaa
-Day Seventeen: Maldivian Dash-8/Boat Transfer Park Hyatt-MLE summary, Conrad Rangali MLE Lounge summary, Trans-Maldivian Twin Otter transfer MLE-Conrad Rangali Island
-Days Seventeen through Twenty-One Part 1: Conrad Maldives Rangali Island Review
-Days Seventeen through Twenty-One Part 2: What to do at the Conrad Maldives Rangali Island Resort
-Day Twenty-Two Part 1: Trans-Maldivian Twin Otter Conrad Rangali Island-MLE summary, Conrad Lounge MLE summary, Leeli Lounge MLE summary
-Day Twenty-Two Part 2: Turkish Airlines Business Class A330-300 MLE-IST summary.
-Day Twenty-Three Part 1: Turkish Airlines IST Lounge Summary, six hours in Istanbul
-Day Twenty-Three Part 2: Turkish Airlines Business Class B777-300  IST-SFO summary
-Day Twenty-Four: Hyatt Regency San Francisco Embarcadero Review
-Trip Summary/The Numbers
-The BIG Question: Park Hyatt Maldives Hadahaa or Conrad Maldives Rangali?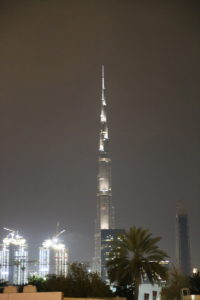 Before anything else, we had to make a pit stop at the Dubai International airport.  As I explained in my post Lufthansa First Class MUC-DXB, after reaching the curb in Dubai, we realized we forgot our 3 hats.  But there was nothing more to be done at the time, since the plane had yet to be cleaned out.
The guide who led us from the gate to the curb (a first class service), called us in Abu Dhabi to confirm that our hats would be waiting for us in lost and found, so I had our driver take us there.  Fortunately I had already visited the lost and found the day we arrived to check for our hats, so I knew exactly where to go.  I picked them up, disappointed that they had been folded to fit in a square cubby, but happy to have them back nonetheless.
The pit stop took about 15-20 minutes. Then, as we weren't entirely certain what we wanted to do, our driver suggested the Burj Khalifa to start. We decided that was our best bet, so he took us the 20 minute drive over.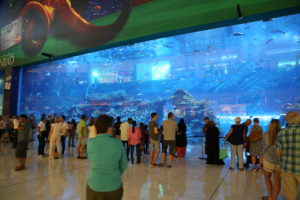 He dropped us off at the front of the Dubai mall and told us to call him when we were done. We then began the process of navigating the worlds largest mall and most visited leisure destination in order to find the entrance to the Burj Khalifa. On our entrance we immediately were drawn to the gigantic acrylic panel housing an aquarium. We decided against purchasing tickets but couldn't help but gape at the massive structure... in a mall, no less.
We continued meandering and searching for signage for 10-20 minutes until we finally found the ticket center for the Burj Khalifa.
There are two ticket options to visit the top of the Burj Khalifa: At the Top, and At the Top: Sky.  The standard option was sold out for the next couple hours, so we purchased the premium ticket for At the Top: Sky.  The ticket was more than double the cost of the standard ticket during "At the Top" prime hours (quadruple the cost during non-prime hours).  It was nearly $150 per person, or 500AED pp.
After purchasing our tickets we wandered for another few minutes, window shopping.  Then it was time to gather for our 3:30 tour.  We had about 20 minutes until 3:30, and in the meantime the group gathered in a small waiting area designed for the premium ticket-holders.  While the normal group waited in a line, we had seats and were offered coffee and dates.  It was off to an okay start, but I immediately second guessed my decision to splurge.  Coffee and dates were not appealing to me.  After 5 or so minutes, we were led out of the room into the main waiting area.  After a couple minutes in the line, wherein we had a chance to view an interactive display of the world's tallest buildings, we were led down a hall.  Kim wanted a few extra minutes to play with the display, but it was not to be.  We followed our guide onward to the base of the building where our elevator awaited us.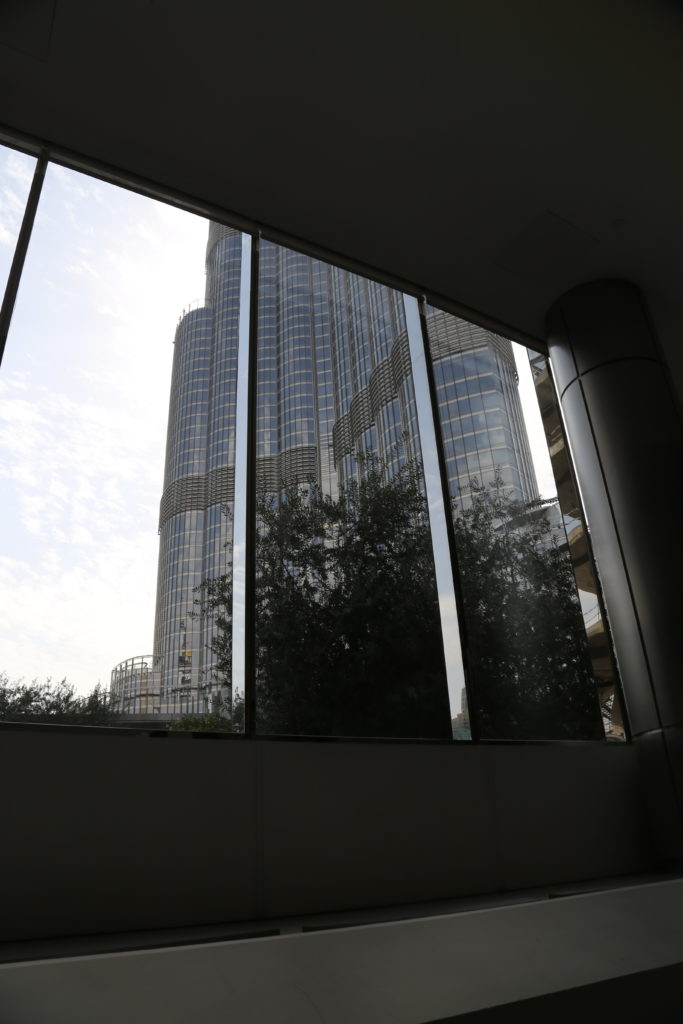 The ride up was swift.  While the elevator projected a simulation of the construction of the Burj Khalifa all around us, I shot video of the climb up.
Some clips from around the province. Featuring sprawling landscapes, twisty buildings, and a calm harbor.
Sections between 0:15-1:55 and 3:00-3:45 are solely of the elevator ride at Burj Khalifa
We stopped on floor 125 to exit the elevator and join another elevator for the ride to floor 148.  It was upon exiting the elevator on 148 that I felt better about splurging.  The room around us was extravagant and relaxing.  The noise was minimal.  Staff waited on us, offering us juice and treats.  Seating was plentiful.
Floor 148 consisted of the main seating area, with sweeping views of downtown Dubai.  There was a small gift shop. There was a room with a giant interactive screen showing off the many facets of the City.  There was an outdoor viewing area.  We relaxed on some couches while waiting for some of the seating closer to the windows to open up.  When we took our seats by the window, staff offered to snap photos of us, which we accepted.
We spent about 45 minutes taking in the views before riding the elevator down to floor 125.
As opposed to the luxury of 148, the lower level viewing area was significantly more crowded. There was no seating, no snacks, and versus staff offering to snap photos of you, there were photographers selling photos.  Given the visual beauty of the 148th floor, and the simpleness of 125, we were satisfied that we purchased the premium tickets.
The views were certainly still incredible, but it was a vastly different world on the lower levels.  After exploring 125 and taking a spiral staircase to the outdoor viewing area on 124, we made our way back to the elevator for the ride down.  On our way back out front, we dialed our Chauffeur, who arrived at the front shortly after to continue our tour.
While on the freeway, our guide pointed out various sites.  It was during this that we were sideswiped by another vehicle.  While the impact was soft, it still needed to be resolved.  Instead, the minivan sped forward. Our driver committed to following them.  They veered off the road and over a curb to evade us, but we soon were caught up once more.  Now they were on the offensive, pulling in front of us, slamming on their brakes (causing our driver to do the same), then speeding forward again.  Finally they pulled over.
Honestly, for the first time being so far away from the U.S, I had no clue what to expect.  We had just been hit by some blatantly disturbed individuals, and now we were going to confront them face to face.  The only question that was wandering into my brain--- did they have Uzi's?
After a shouting match between our driver and the young, arrogant tools, we continued on our way.  There seemed to be no specific resolution to the issue, so we let it go.  It was soon forgotten as our driver pulled into a parking garage at the Dubai Marina Mall.  We had not heard of the mall, but the driver strongly recommended it, saying that so few people visited.  He said that it was a pretty view, and to bring our cameras.
After a restroom break, we walked along the outside of the mall, and just enjoyed the afternoon ambience.  On our way back to the car, we smiled at the various fast-food delivery bikes.  Only a matter of time before those hit the states.
Next, I requested our driver take us up close to a building I had admired from the freeway.  He obliged, and found the perfect spot across another waterway.
Next up, we requested to be brought to a good spot to see the Burj Al Arab.  On our way over I snapped a couple more various shots: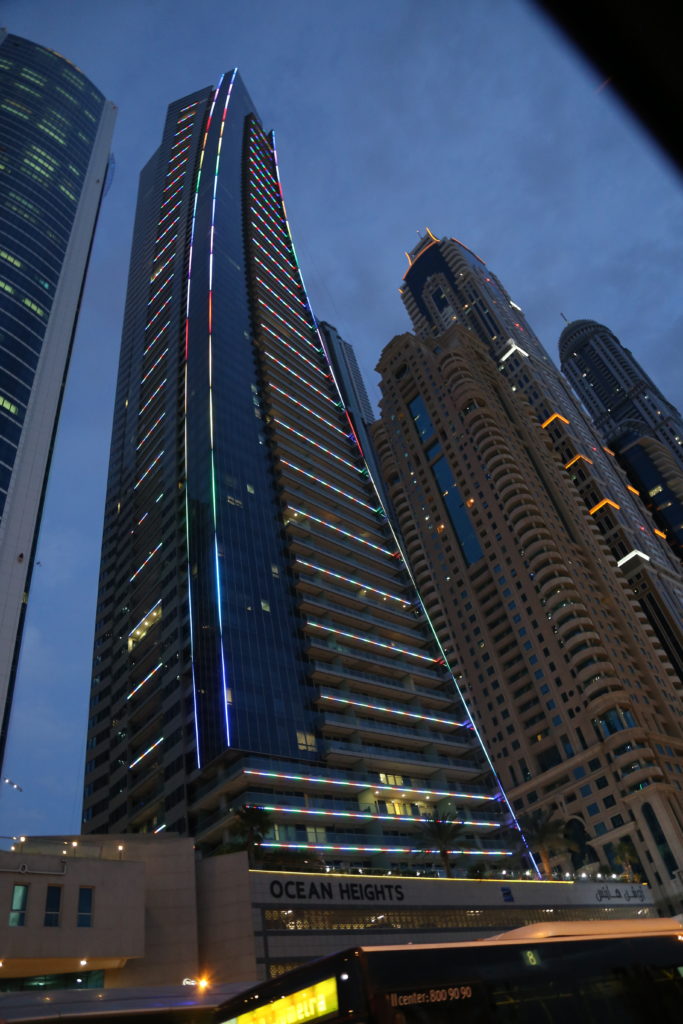 Our driver took us to the Jumeriah Public Beach, where we collected another sand sample and took in the evening air.  A little down the way a nightclub titled "360" called to us, but our time with our chauffeur was running out.  It did make for some good photography though:
It was closing in on 7:30, and we had the driver until 8:00, it was time to head back.  On our way, the driver pointed out the world's tallest hotel, the JW Marriott Marquis Dubai. We also passed the Emirates Towers and the Dubai Garden Glow.
Finally, we arrived back at the hotel around 8:00.
It was nice to have a guide for our trip, but ultimately I can't recommend spending a large sum on having a driver for the day.  Part of the reason for booking was the type of vehicle (of which I've never seen such a configuration), and while it was for the best that we didn't get said configuration, it was certainly less cost effective than taking cabs wherever we wanted.  The driver was great, and other than mentioning the wrong type of car for the second round with Dubai Exotic Limo, I have nothing bad to say about them.  You might indeed have a better experience than I.
As far as the Burj Khalifa is concerned: some people will consider it a tourist trap.  Indeed I just read an article advising against tall buildings in any city for their touristy aspects.  But I enjoyed the sights, taking photos, and kicking back a bit.  I wouldn't advise the premier ticket over the standard just for the comfort and food, but if you really want the absolute best view you can get, shoot for the Sky. -see what I did there 😉
Next up: Tea at the Ritz Carlton Jumeirah Beach, Atlantis Monorail, Dubai Mall.
Please follow and like us: