A Fantastic End to the Dubai Journey
After our short stint of sleep, we were up again at 6:00 to prepare for our day in the desert. The decision to book a desert safari stemmed from Points MD's blog post on his desert safari in Abu Dhabi.  We knew we wouldn't have time to complete the safari while in Abu Dhabi, so we booked with Platinum-Heritage Dubai. Platinum-Heritage offers a variety of tours and safaris from the modest desert safari to a luxurious overnight-safari and hot-air balloon ride, to an exotic Bentley tour of the city.  Kim and I settled on the Heritage Falconry and Wildlife Morning Desert Safari.
Our first task for the morning: to put on our protective gear and to lather every exposed inch of skin in sunscreen.
Our guide Paulo met us in the lobby of the hotel at just past 6:45.  Paulo was in his early twenties, fun, friendly, and knowledgeable.  We loaded up in the SUV and took off towards the desert preserve, but not before stopping at the nearby Hyatt Regency to pick up another passenger (who happened to work for Hyatt IT).
-The Big One! Introduction/Giveaway
-Day One: Hyatt Regency San Francisco Airport Review
-Day Two: United First Class B737-800 SFO-IAD summary
-Days Three through Six: D.C Area recommendations: Smithsonian, National Harbor, Baltimore Aquarium
-Day Seven: Lufthansa Business Class Lounge IAD summary, Lufthansa First Class A330-300 IAD-MUC Summary
-Day Eight Part 1: Six hours in downtown Munich, Lufthansa First Class Lounge Munich Summary
-Day Eight Part 2: Lufthansa First Class A330-300 MUC-DXB Summary
-Day Nine Part 1: Dubai Exotic Limo brief review part 1 & Abu Dhabi recommendations: Ferrari World, the Grand Mosque
-Day Nine Part 2: Park Hyatt Abu Dhabi Review
-Days Ten through Twelve Part 1: Park Hyatt Dubai Review
-Days Ten through Twelve Part 2: Dubai Exotic Limo brief review part 2 & Dubai recommendations:  Burj Khalifa Sky
-Days Ten through Twelve Part 3: Dubai Recommendations: Tea at the Ritz Carlton Jumeirah Beach, Atlantis Monorail, Dubai Mall
-Days Ten through Twelve Part 4: Dubai recommendations: Platinum-Heritage Falconry Heritage Tour.  The Dubai Museum
-Day Thirteen: Emirates 777-300 DXB-MLE summary, Moonima Lounge MLE summary, Park Hyatt Maldives transfer summary
-Days Thirteen through Sixteen Part 1: Park Hyatt Maldives Hadahaa Review
-Days Thirteen through Sixteen Part 2: What to do at the Park Hyatt Maldives Hadahaa
-Day Seventeen: Maldivian Dash-8/Boat Transfer Park Hyatt-MLE summary, Conrad Rangali MLE Lounge summary, Trans-Maldivian Twin Otter transfer MLE-Conrad Rangali Island
-Days Seventeen through Twenty-One Part 1: Conrad Maldives Rangali Island Review
-Days Seventeen through Twenty-One Part 2: What to do at the Conrad Maldives Rangali Island Resort
-Day Twenty-Two Part 1: Trans-Maldivian Twin Otter Conrad Rangali Island-MLE summary, Conrad Lounge MLE summary, Leeli Lounge MLE summary
-Day Twenty-Two Part 2: Turkish Airlines Business Class A330-300 MLE-IST summary.
-Day Twenty-Three Part 1: Turkish Airlines IST Lounge Summary, six hours in Istanbul
-Day Twenty-Three Part 2: Turkish Airlines Business Class B777-300  IST-SFO summary
-Day Twenty-Four: Hyatt Regency San Francisco Embarcadero Review
-Trip Summary/The Numbers
-The BIG Question: Park Hyatt Maldives Hadahaa or Conrad Maldives Rangali?

The drive from the hotel to the Reserve would take an hour, but after 35 minutes of driving through the desert and camel spotting, we noticed a raceway to our right.  We inquired of our guide and he wanted to show us what it was for.  We pulled into the Dubai Camel Racing Club and began a slow crawl around the parking lot.  All around us were groups of men leading camels along sandy pathways.  We noticed some small packs mounted on some of the camels, and Paulo explained that they used to use children for camel racing, but that was extremely dangerous.  Now they used robots. Paulo also gave us some info on Camels costing hundreds of thousands of dollars that belonged to Dubai Royalty.
After driving around for 10-15 minutes in the lot, we continued onwards for another 20 minutes or so until we arrived at the gate to the Dubai Desert Reserve, a Reserve which spanned four country borders. We got out of the car and stretched our legs.  We also reapplied sunscreen as needed.  Paulo opened the gate and led us to where we'd continue our tour: on 1950's vintage Land-Rovers.
Paulo gave us all head-protection: Keffiyehs for the men and Hijabs for the women. Then our group of five loaded up and we took off across the Dunes.  It was an exhilarating 5 minute drive to the presentation site, and we drifted and bounced the whole way over, taking in the warm morning air.
We arrived at a flat portion of desert, where a rug and pillows had been set out for our comfort.  As we waited for our presenter to set up, we all posed for a group photo: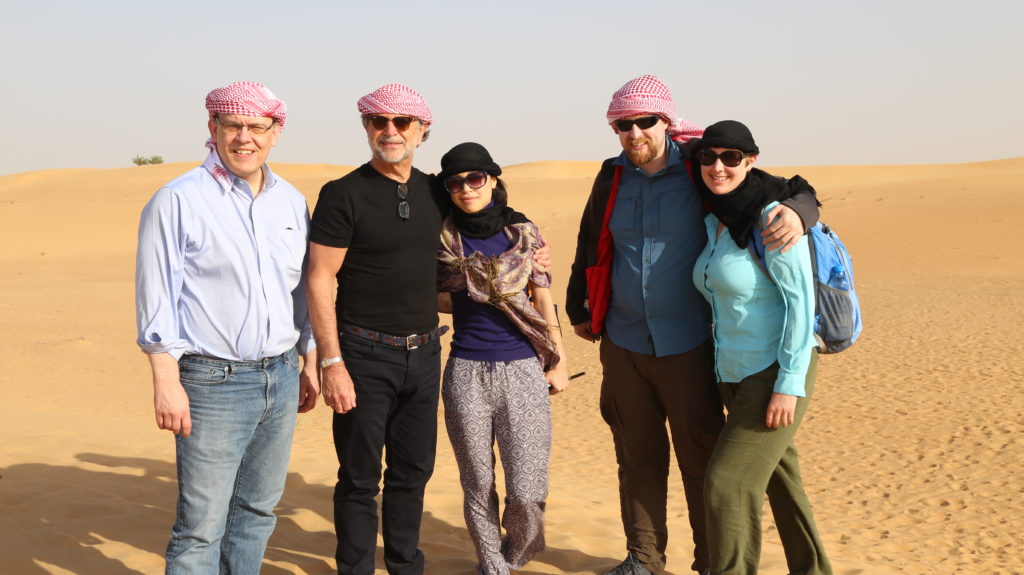 We took our seats for the falconry presentation shortly after 8:00. The presentation lasted a little more than an hour.  It was entertaining, informational, and by no means overstretched.  Even with the small amount of sleep we had we were able to stay alert through the whole thing.  Our presenter demonstrated lure swinging, wherin she swung a tether with food attached and the falcon attempted to snatch the food mid-air.  She explained the long process of training falcons and spoke of their habits, habitat, and diet.
We had a chance to see a Gyrfalcon, a Barbary Falcon, a Desert Eagle Owl, and a Kestrel. We interacted with both the Desert Eagle owl and the Gyrfalcon, while the Kestrel was allowed to freely roam our heads.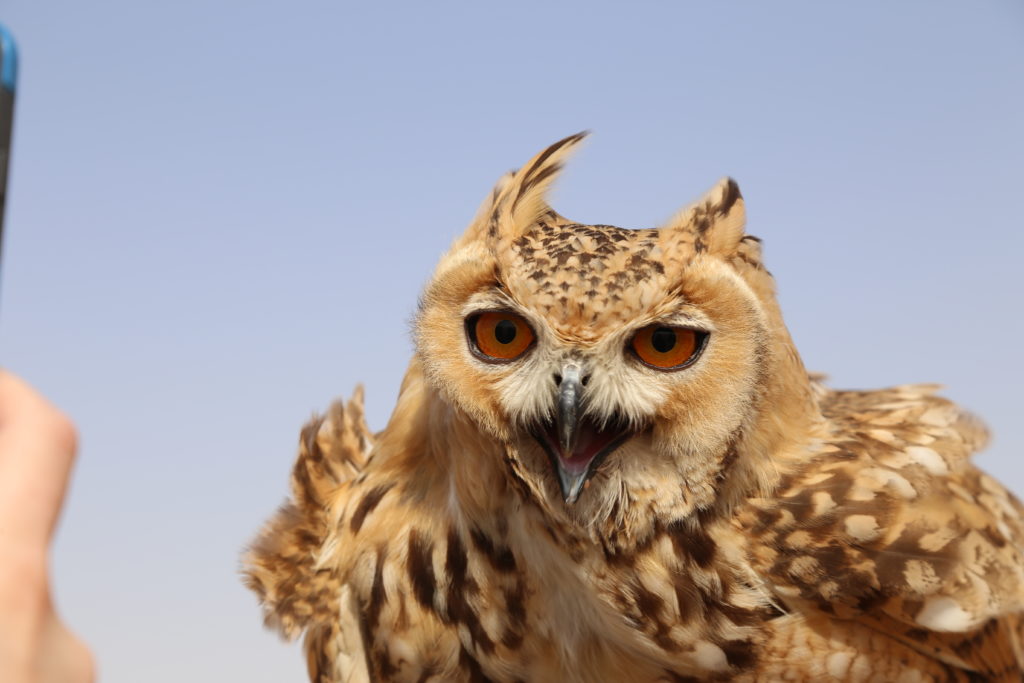 The presentation wrapped up, and the safari team began to pack up. Before jumping back into the Land-Rovers, we grabbed a sand sample from a nearby dune.  Then it was a five minute drive over to the main camp, where we'd take a 5 minute camel ride before breakfast.
Our camel took a liking to Kim after she scratched its neck.  We snapped some photos and continued into the main camp to use the restroom and enjoy our morning meal.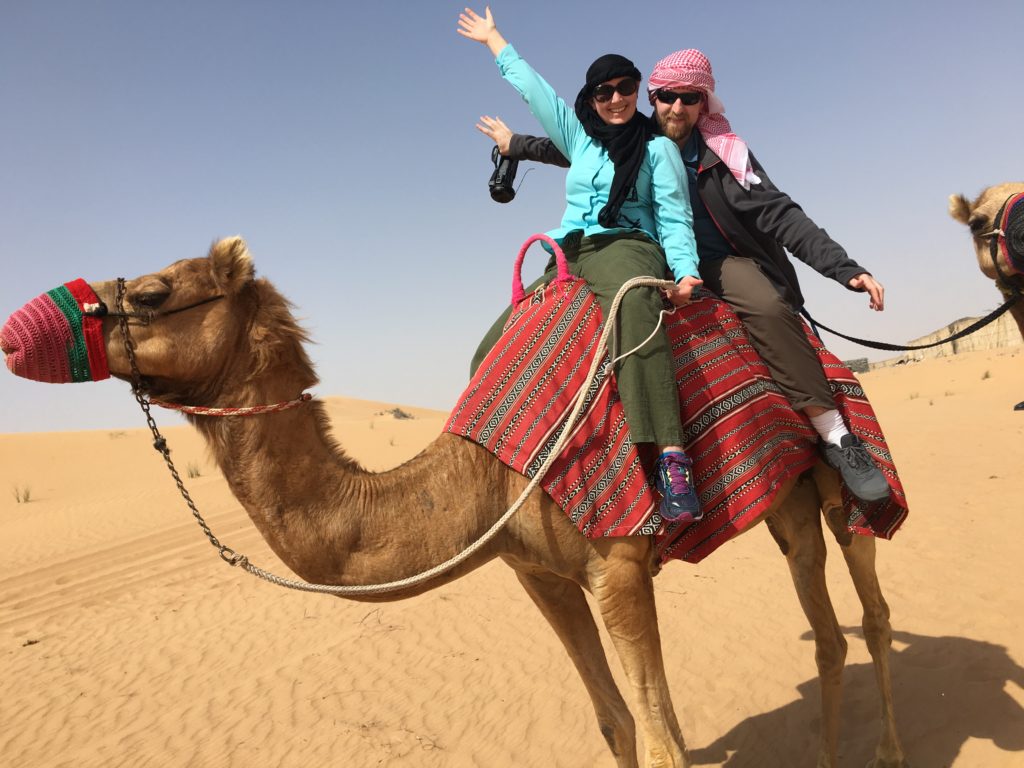 As we entered the main camp, we were offered Arabic coffee, as was tradition.  We took our seats at some benches and were served a traditional Arabic breakfast: an Emirati khameer bread.
Next was the wildlife spotting.  We shoved our belongings under the seats of the Land-Rovers and were off once more, struggling to keep our head-protection on in the wind. We passed by a sign for the Al-Maha resort, situated on part of the Reserve.  Then we spotted the wildlife: Arabian Oryx.  There were several groups of Oryx across the Reserve, and a few Arabian Gazelle as well.  Paulo noted that the Oryx thrived in the preserved, but were critically endangered in the wild. We snapped some photos here and there, and also stopped the Land-Rover underneath a tree so we could climb an overlook, giving us a view of a mountain range in neighboring Oman.
We made one last stop for more photos where the Oryx were resting by some foliage, then set out to the main gate.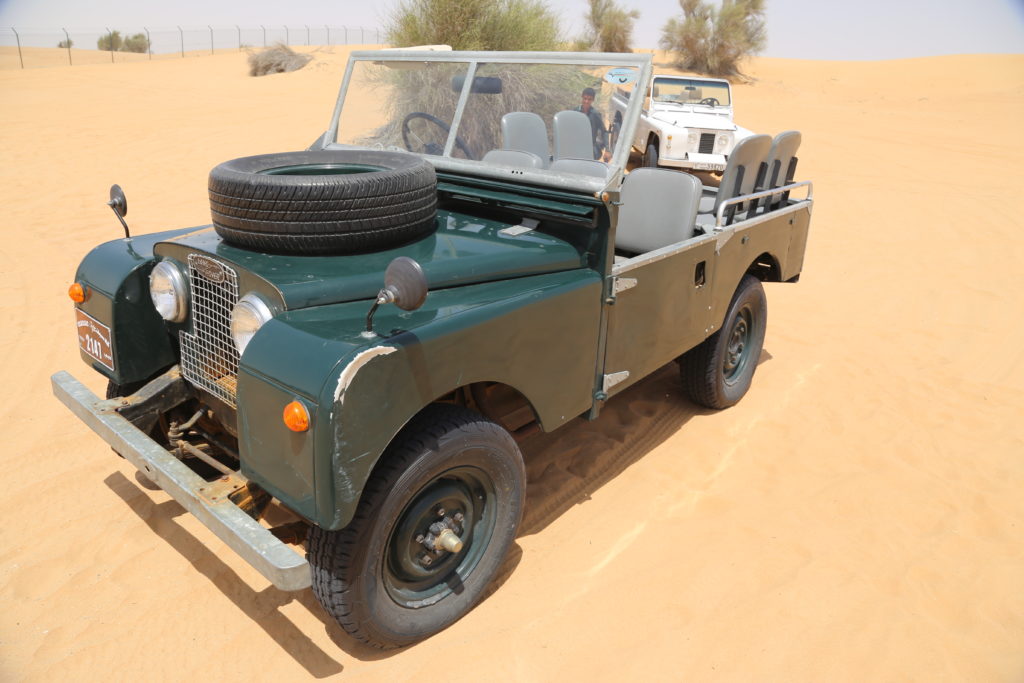 After our long day out, it was time to head back to the hotel.  We transfered from the Land-Rovers into an SUV and started out of the reserve around 11:20.  With a short stop to drop off a guest at the Hyatt Regency, we arrived back at the Park Hyatt around 12:15.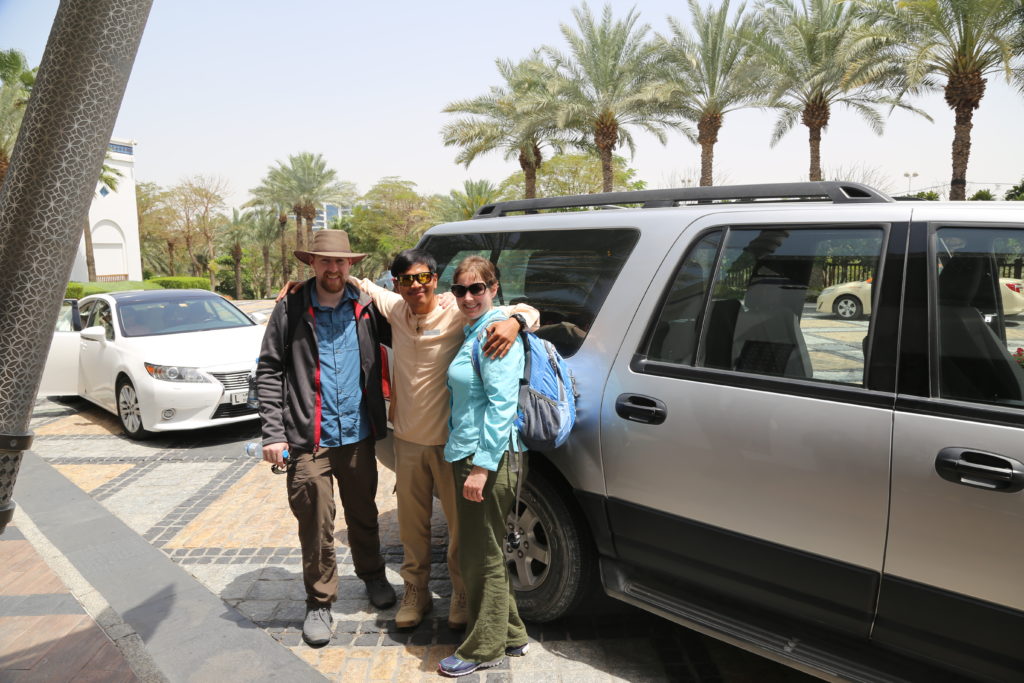 We said farewell to Paulo and went back to our room to drop off our things and to change our sand-drenched socks.
I took a ton of video during our Safari, and have compressed it all down into 2 videos.  The three videos below are a 2D High-Quality version, a 3D Okay-Quality Version, and a 2D Presentation of the 3D Okay-Quality Version (complicated, huh?)
Our recuperation from the morning was short-lived.  Soon we went back to the lobby to get a cab to Old-Town Dubai.
The driver took us to where we presumed we wanted to go, though really we were uncertain exactly where it was we wanted to go.  Our chauffeur from two days earlier had mentioned a spice-market, and that is what Kim had her hopes on finding.  But such a place was nowhere in sight. Instead, we had our driver drop us in front of the Dubai Museum- a fort that was seemingly at odds with the nearby residences and businesses.
The museum was the largest conundrum we faced on our journey.  We arrived at a place we hadn't expected to visit.  But at the entrance we found that admission was less than $1. So we paid it.
We walked around visiting various rooms at the top of what we learned was the Dubai Fort, and after 10 or so minutes, I figured we were done.  But then we found the stairs.  The stairs took us down into a subterranean level, where a maze of hallways took us through an extensive history of Dubai.  A mixture of artifacts, exhibits and taxidermy were entombed in this labyrinth.  The taxidermy was either poorly executed, poorly kept, or just plain old.  The rest of the displays were informative.
For $1, this offered more than an hour trip through history, even if the whole thing seemed out of place and bazaar.
After our visit, we continued our search for the fabled spice market.  What we found instead were several vendors selling clothing, fabrics, foods, and a variety of knock-off products... among other things.
We journeyed as far as we could, sometimes searching back-alleys to see what kind of fabrics were being sold, occasionally passing the same vendor twice.  When the sun threatened to make its mark on me, we started a search for a cab, but is was another 15-25 minutes before we truly put in the effort needed to hail one.
Our ride was the single time we felt ill at-ease, with a driver a bit too aggressive for my tastes. Regardless, we arrived at the hotel unscathed, and our Dubai journey came to a close.
Ultimately:
Between a trip to floor 148 on the worlds tallest building, to a desert safari, to high Tea at the Ritz, our Dubai adventure was both exciting and exhausting.  I'd recommend several of our activities to anyone who asked, and there were hundreds more we had not the time to partake in (indoor skiing, anyone?).  I'm certainly inclined to return to this country of extremes one day, hopefully not to distant from now.
Please follow and like us: