Given all we had planned for the day, it was nice to feel well rested after an overnight flight on Turkish Business class.  Almost as nice was that we'd be able to drop off unneeded luggage at the Business Class lounge between flights so we could go tour the city.
-The Big One! Introduction/Giveaway
-Day One: Hyatt Regency San Francisco Airport Review
-Day Two: United First Class B737-800 SFO-IAD summary
-Days Three through Six: D.C Area recommendations: Smithsonian, National Harbor, Baltimore Aquarium
-Day Seven: Lufthansa Business Class Lounge IAD summary, Lufthansa First Class A330-300 IAD-MUC Summary
-Day Eight Part 1: Six hours in downtown Munich, Lufthansa First Class Lounge Munich Summary
-Day Eight Part 2: Lufthansa First Class A330-300 MUC-DXB Summary
-Day Nine Part 1: Dubai Exotic Limo brief review part 1 & Abu Dhabi recommendations: Ferrari World, the Grand Mosque
-Day Nine Part 2: Park Hyatt Abu Dhabi Review
-Days Ten through Twelve Part 1: Park Hyatt Dubai Review
-Days Ten through Twelve Part 2: Dubai Exotic Limo brief review part 2 & Dubai recommendations:  Burj Khalifa Sky
-Days Ten through Twelve Part 3: Dubai Recommendations: Tea at the Ritz Carlton Jumeirah Beach, Atlantis Monorail, Dubai Mall
-Days Ten through Twelve Part 4: Dubai recommendations: Platinum-Heritage Falconry Heritage Tour.  The Dubai Museum
-Day Thirteen: Emirates 777-300 DXB-MLE summary, Moonima Lounge MLE summary, Park Hyatt Maldives transfer summary
-Days Thirteen through Sixteen Part 1: Park Hyatt Maldives Hadahaa Review
-Days Thirteen through Sixteen Part 2: What to do at the Park Hyatt Maldives Hadahaa
-Day Seventeen: Maldivian Dash-8/Boat Transfer Park Hyatt-MLE summary, Conrad Rangali MLE Lounge summary, Trans-Maldivian Twin Otter transfer MLE-Conrad Rangali Island
-Days Seventeen through Twenty-One Part 1: Conrad Maldives Rangali Island Review
-Days Seventeen through Twenty-One Part 2: What to do at the Conrad Maldives Rangali Island Resort
-Day Twenty-Two Part 1: Trans-Maldivian Twin Otter Conrad Rangali Island-MLE summary, Conrad Lounge MLE summary, Leeli Lounge MLE summary
-Day Twenty-Two Part 2: Turkish Airlines Business Class A330-300 MLE-IST summary.
-Day Twenty-Three Part 1: Turkish Airlines IST Lounge Summary, six hours in Istanbul
-Day Twenty-Three Part 2: Turkish Airlines Business Class B777-300  IST-SFO summary
-Day Twenty-Four: Hyatt Regency San Francisco Embarcadero Review
-Trip Summary/The Numbers
-The BIG Question: Park Hyatt Maldives Hadahaa or Conrad Maldives Rangali?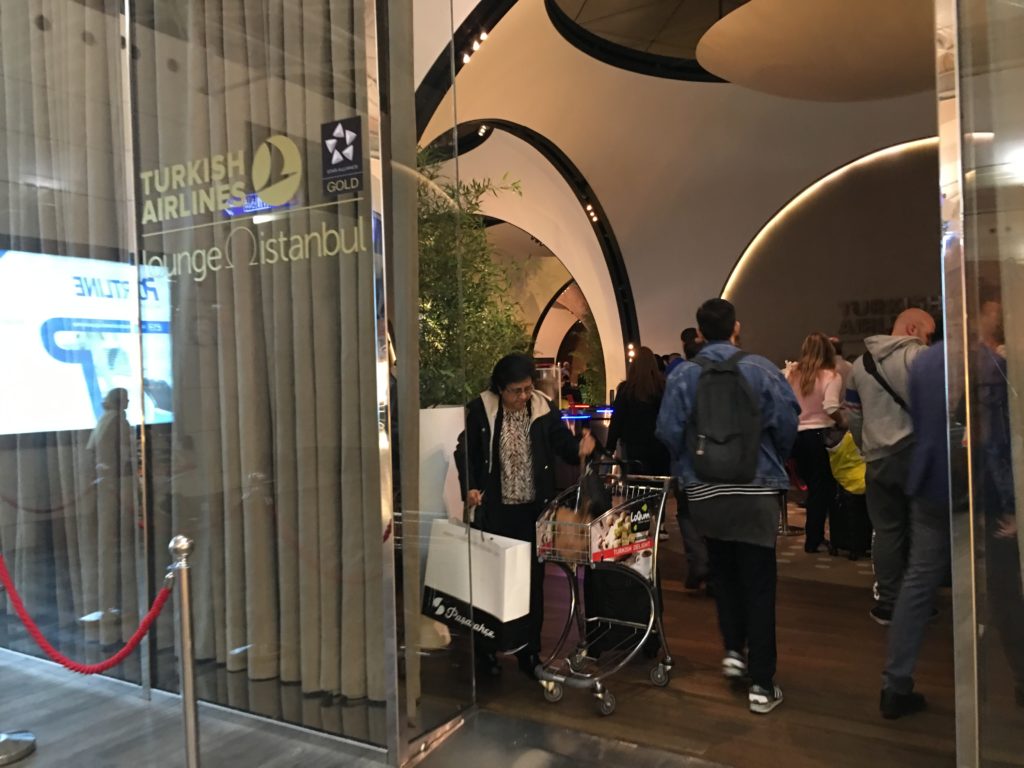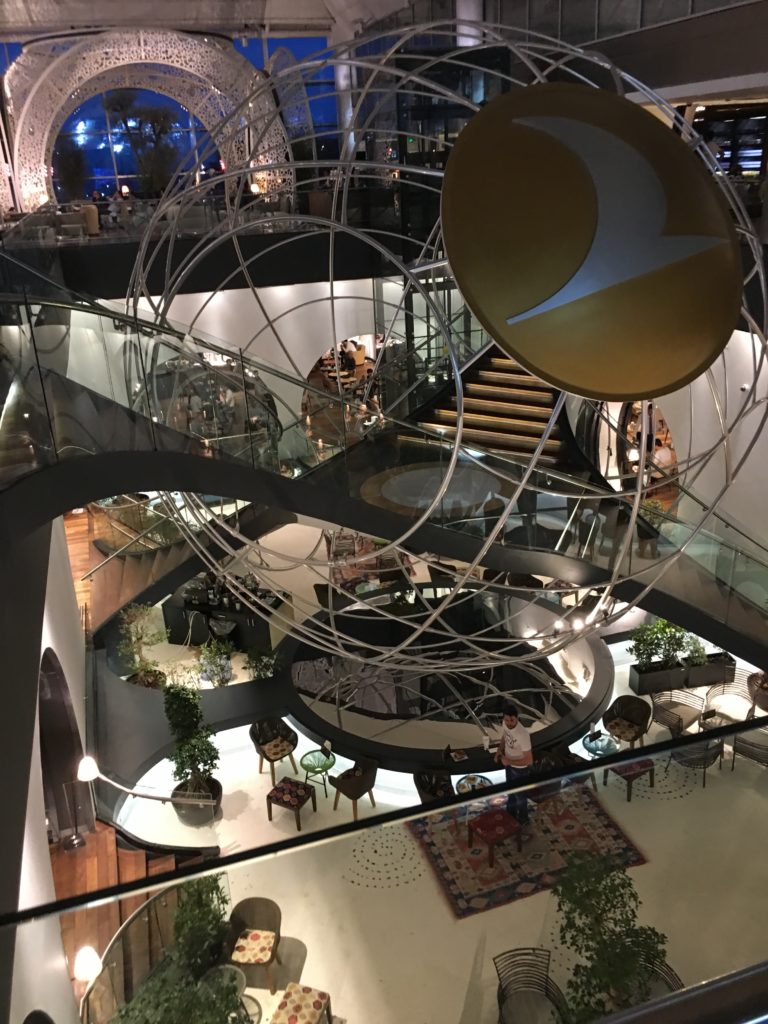 After navigating our way through the terminal in what was the simplest task while in Istanbul, we found the Business class lounge. We entered using our boarding passes and found ourselves amidst an incredible array of amenities.
The Turkish Airlines Business class lounge in Istanbul is widely considered to be the best business class lounge in the world.  It's easy to see why after discovering nap rooms, lockers, loads and loads of Turkish desserts and entrees, play areas for kids (including a RC-racing track), even a library with a pool table!
We offloaded our bags and stored them in one of the many acrylic lockers situated adjacent to the entrance.  After grabbing some food and snapping some photos we left in search of an ATM to withdrawal some cash and of the exit to the ground floor.
This proved to be much more difficult than I had hoped.  A couple of security guards offered general directions on how to exit but we either didn't disseminate the instructions well enough or they just weren't clear.  We did manage to find a way downstairs, but were blocked off by walls every which way we looked.  After a few ups-and downs from the ground floor up to the departure floor and back, we finally got it figured out (I apologize for not having a diagram, it'd be useful!).
Apparently exiting the departures for a day-trip during a layover isn't a common activity, as there were really no formal signs directing us.  We finally escaped and passed through lower level customs with our passports and visas so that we could spend the day out and about.
One of my uncles worked at a tourist company in Istanbul for a few years and is a Turk himself.  He had been in touch with a friend who agreed to give me and Kim a tour of the city for $100.  While Turkish Airlines itself offers complimentary tours to Business class passengers, those tours occur within a specific timeframe, and our flight to San Francisco was scheduled to depart at 1:30, so we would be unable to partake.  Instead we agreed to meet at 7:00 for an early-departure adventure.
It was fairly easy to find our guide once out of customs. He introduced himself and had us follow him outside of the arrivals level to the curb.  A van approached and we got in (sounds safe, eh 😉 ).  Our driver smiled at us, but spoke little to no English.  At this point our guide explained to us that he had something come up and that he would be unable to join us.  We conveyed what we wanted to do to him and he translated to the driver.  On our wish-list was the advice from my Aunt- the Hagia Sophia, the Blue Mosque, and the Arasta Bazaar.  We were warned that anything beyond that might be too time consuming.
As we drove along the freeway, we pulled over to what appeared to be a bus stop, where our guide bid us adieu.  Then we continued along and we arrived in a small alley at around 7:30.
We stretched our legs upon exiting the van.  We were in front of what must have been the travel agency my uncle worked for, and next door was a Turkish Home Cooking restaurant: Meydan Borek.  We tried to give our driver some cash for the food, but he shook his head, he treated it as part of the service.  It was pretty much "point-at-what-you-want".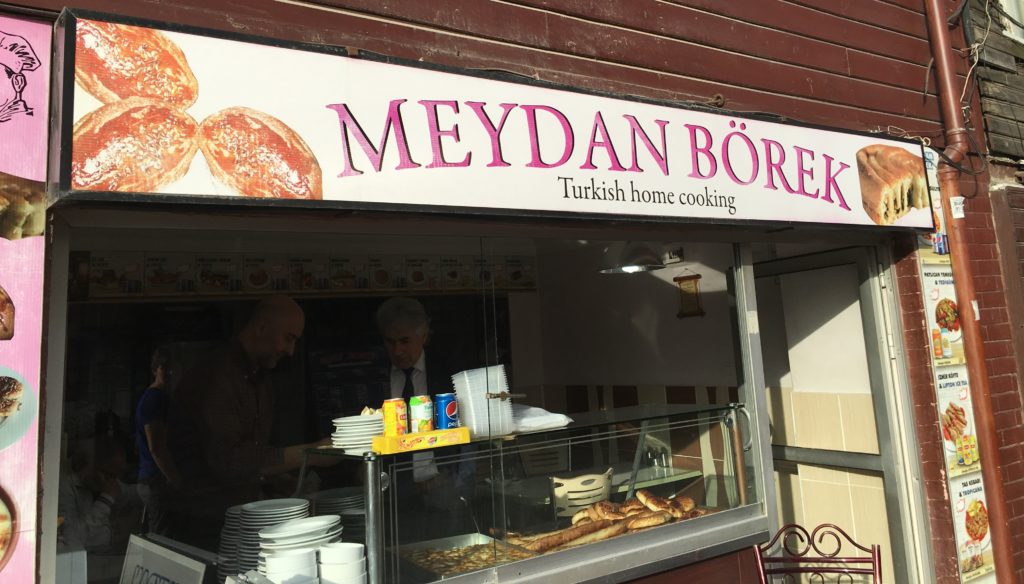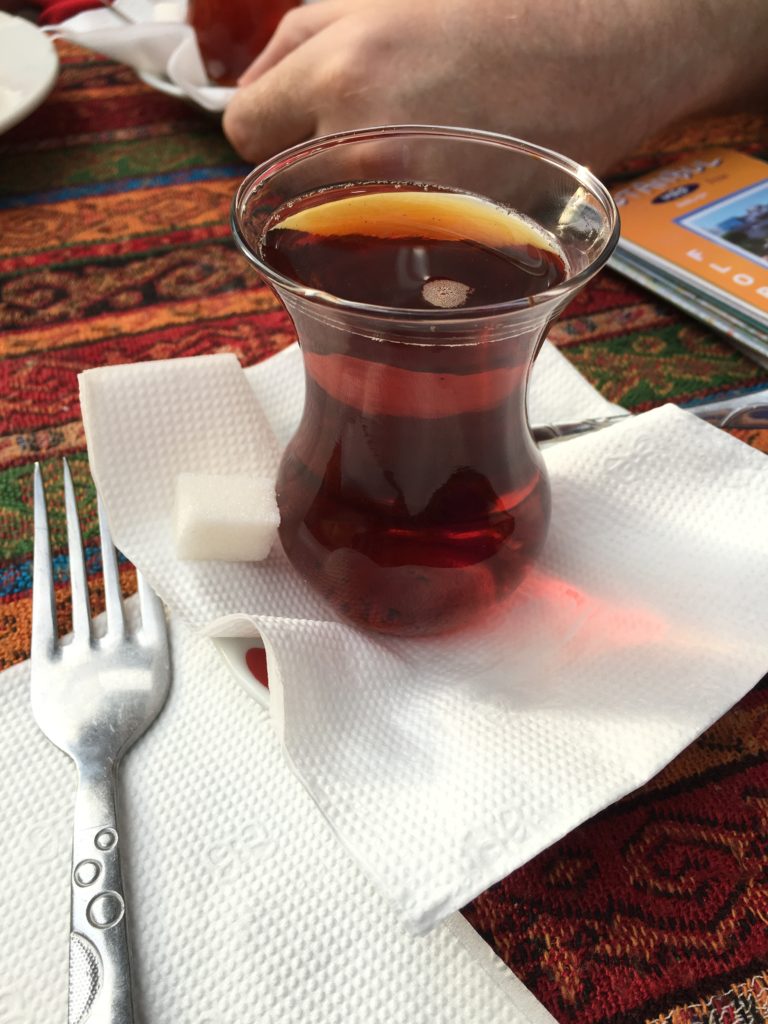 We were presented with hot tea and cube sugar along with a delicious looking cheese strudel, which we promptly scarfed up.
Our driver then guided us through the alleyways in what was probably the second most nerve-wracking several minutes of our overseas trip. (The first being my fear that we were going to be Uzi-ed down by Saudi youth during the road rage incident in Dubai).  I had no clue where we were, and expected to be kidnapped at any moment.  Irrational to be sure, but we were getting some funny looks, and the country had a fair share of radical activity in the past (we visited just two months before the attack at the airport).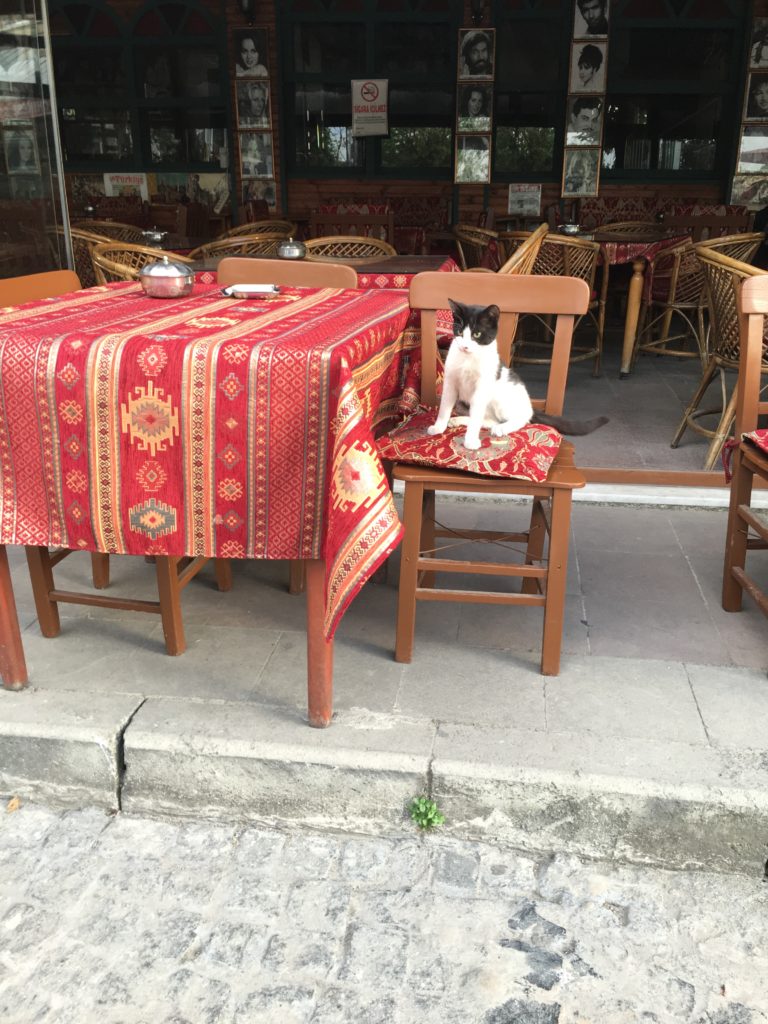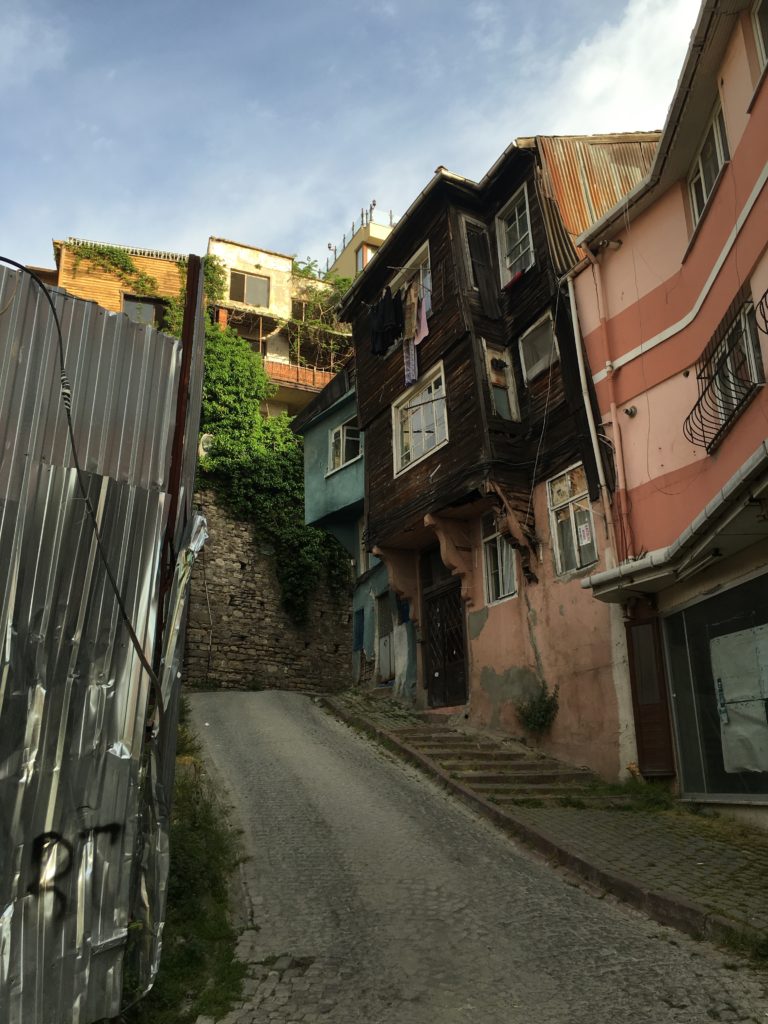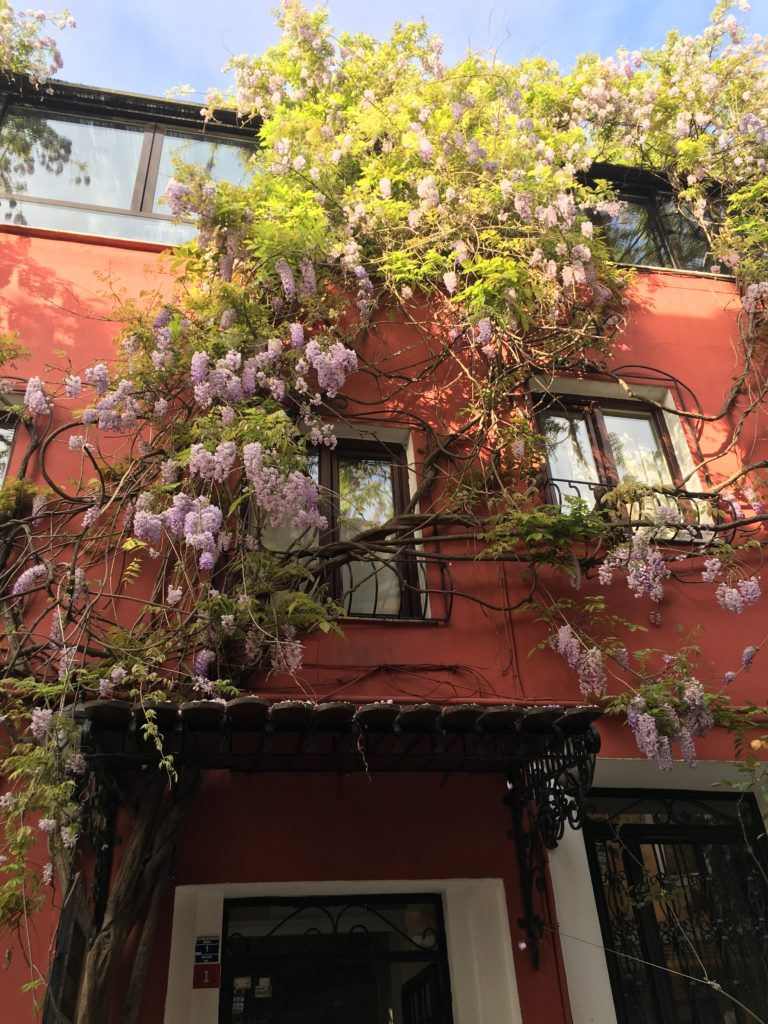 But much to my surprise, we had not been led to the middle of nowhere, we emerged onto the major tourist zone of Istanbul, right at the Hagia Sofia.
It was still early and the museum was not yet open, so we strolled towards the Blue Mosque.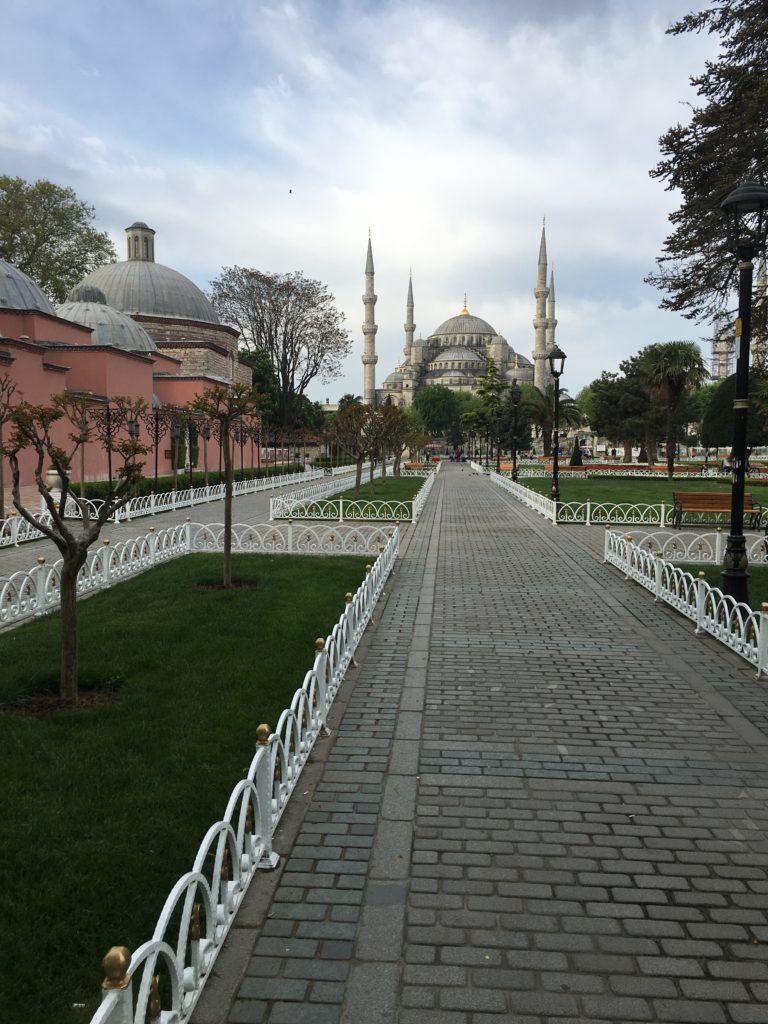 On our way over, we admired fountains and the general landscape, and were accosted by some hungry dogs.  They appeared to be known amongst the vendors in the area and were friendly with us.
Our driver-turned guide basically walked at a slow pace while we followed him towards the massive structure.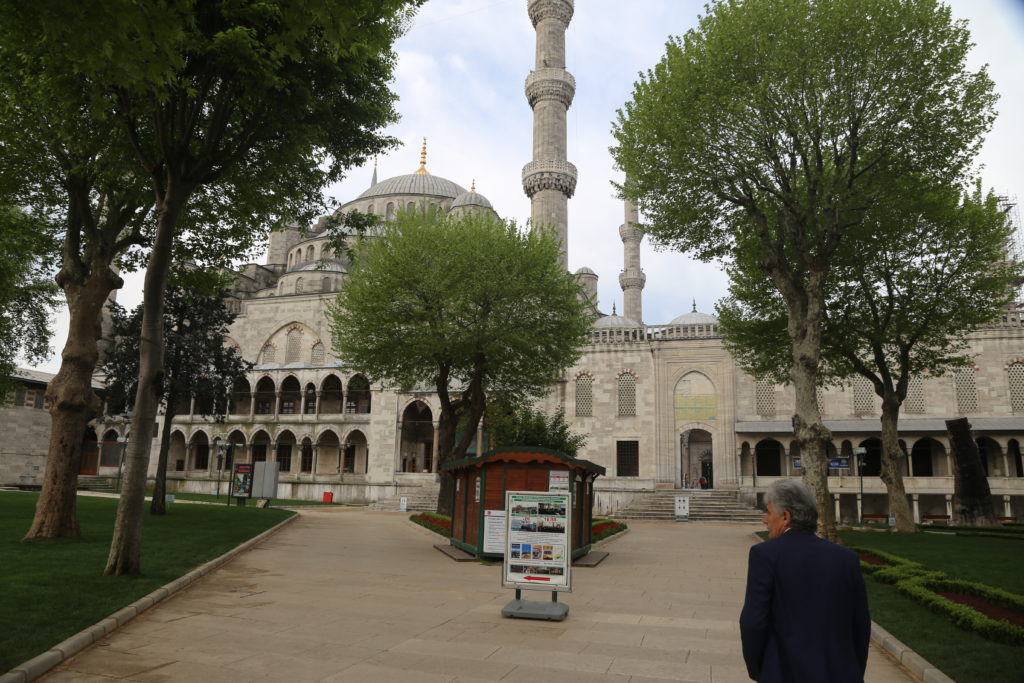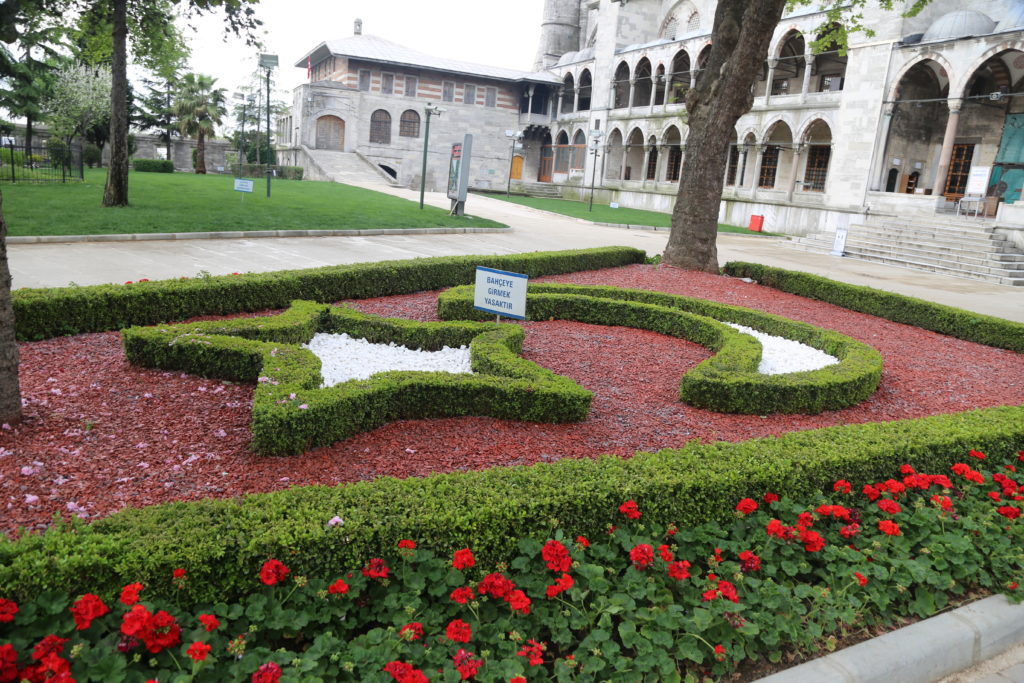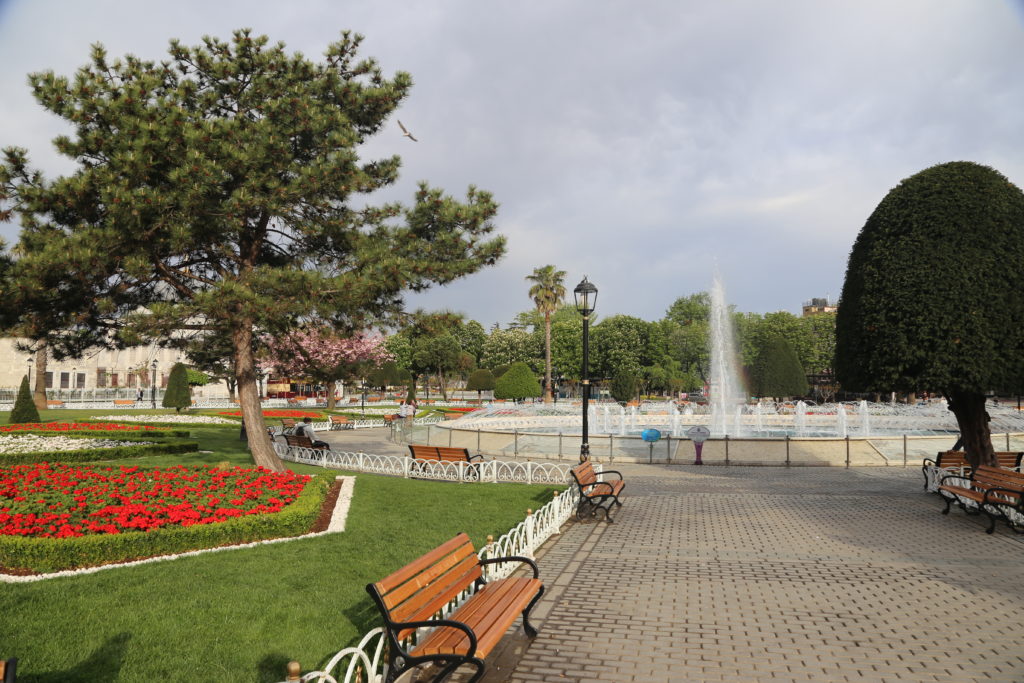 We entered into a courtyard and stuck around for a little bit admiring the architecture.  It was still a little to early to go into the mosque, as they were finishing morning prayers.
As the morning prayers ended, we found our way around to the entrance of the interior. We also spotted a restroom for Kim.
I loitered around for a bit and then went back to find her heading my way. Apparently our guide had stepped in with some change to cover the small fee for the restroom. On entering there were no observed attendants, but they had evidently shown up mid-way through. We smiled at our driver for taking care of it, then continued to the entrance.
Our clothing was conservative enough that all that was required was that Kim put on a headscarf (provided for free) and that we remove our shoes and place them in a bag while inside.
.
The Blue Mosque is certainly a grand sight. The main prayer room featured hundreds of hanging lights which formed a chandelier.
It had an old-world feel to it, a stark contrast from our visit to the Grand Mosque in Abu Dhabi two weeks prior.
While you could certainly spend a bit of time standing around and admiring it, there wasn't much beyond that one major room. When we were done it was basically straight out the door into the courtyard.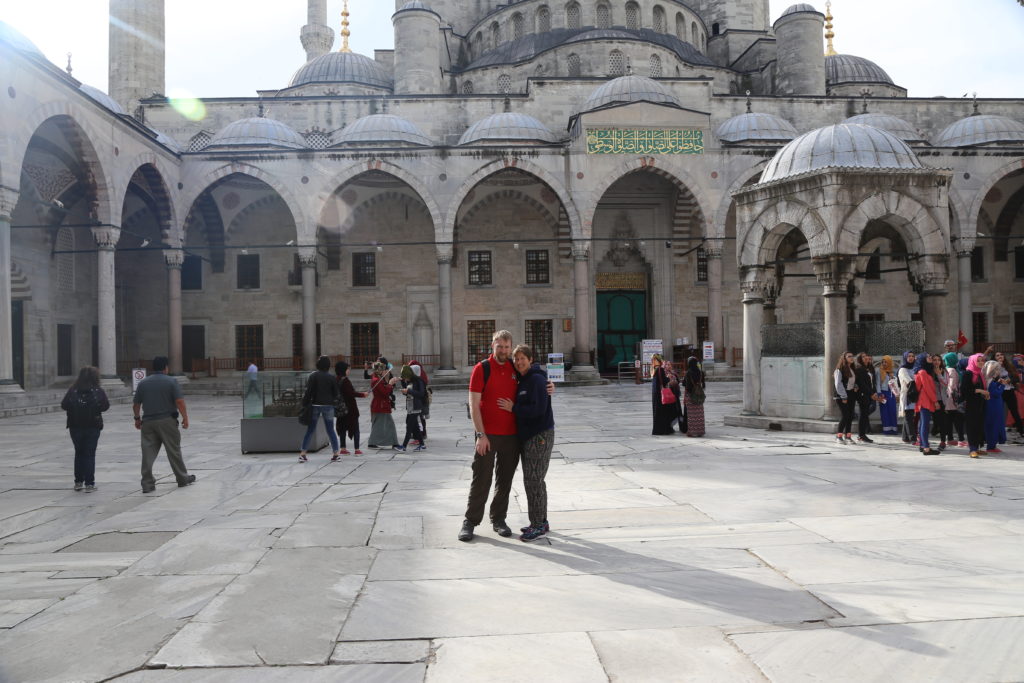 After returning Kims head-scarf and putting our shoes back on, we followed our guide to the Hagia Sophia, we arrived at the entrance a few minutes before opening at 9:00.
The entry fee for the Hagia Sophia is 40TL per person, or about ~$12. For that amount, you get a ton of value.  We ignored the half-dozen or so men who were trying to offer a "free-guide" service, in an attempt to sell various items.
The Hagia Sophia was gigantic, and indeed by the end we were scurrying to take as much in as we could and still make it to the Bazaar.
We entered through giant doors and started reading through the history of the place. We peeked into the main atrium but didn't yet venture in.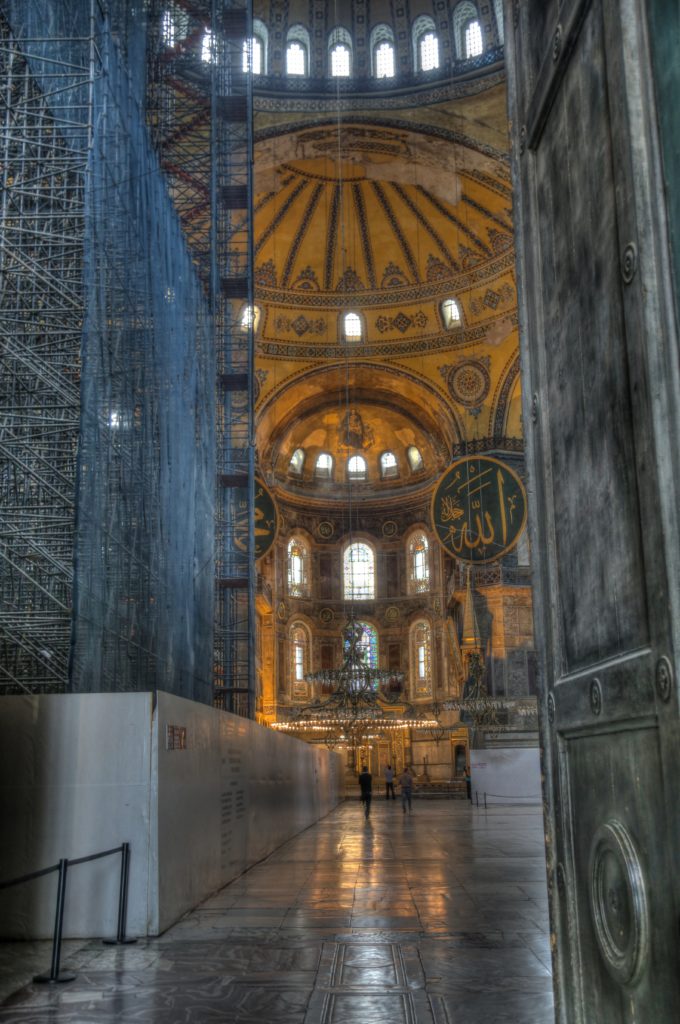 Instead we were drawn to a ramp at the end of the hall that appeared almost conpicuous enough to be considered a "secret" passage.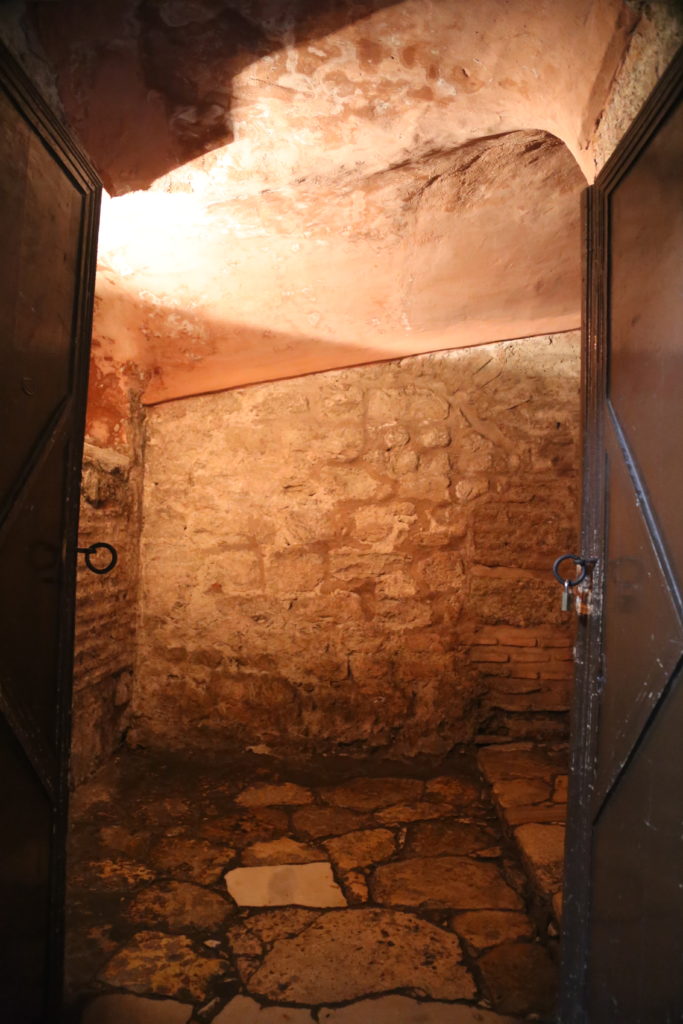 Kim and I followed the path as it spiraled up and up and up.
Neither of us could suspect that we would exit into an overlook of the stunning, cathredral-like building.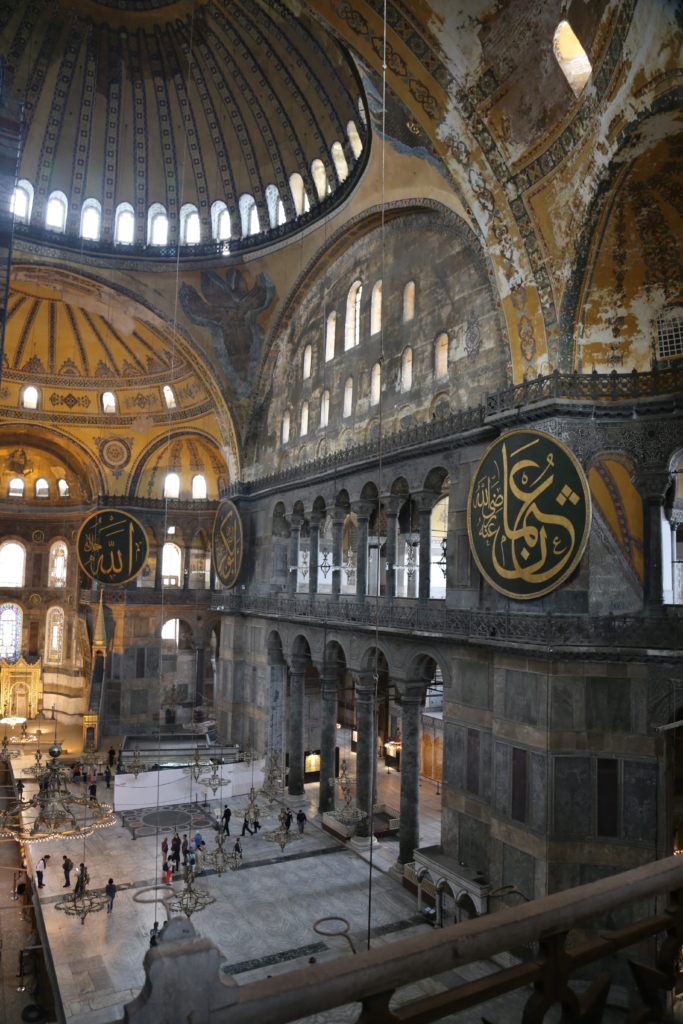 The constant work to repair and to preserve and the many earthquakes that damage the structure meant a ton of scaffolding throughout the museum, distracting from some of the other extravagant beauty.  But between centuries old mosaics, stonework, and the history of it all the overall visit was incredible.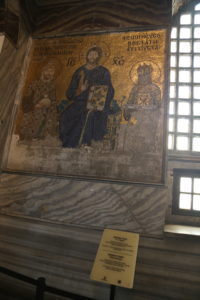 There were few if any people at the top of it with us, and we found the only way out was the same way we came in.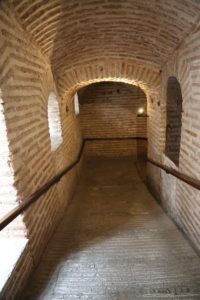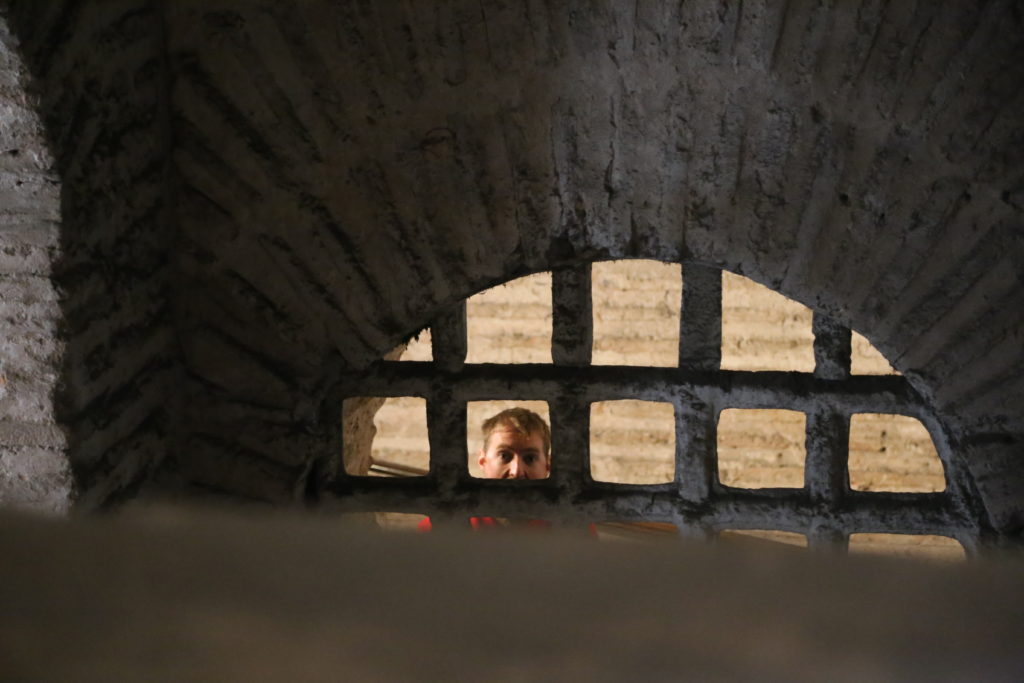 Upon reaching the bottom, we explored a little more in the main hall, where the crowd became a bit thicker.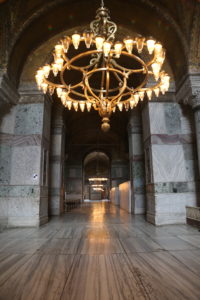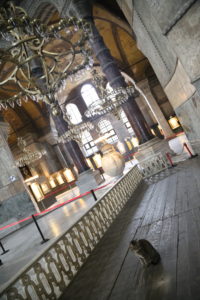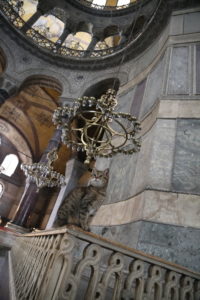 We visited the massive altar and read up on some of the history, then spent some time admiring the grandness of it all: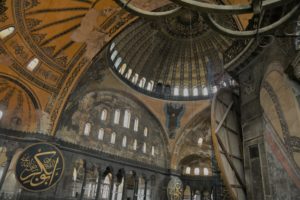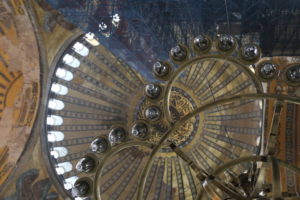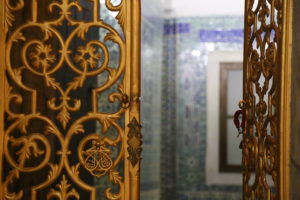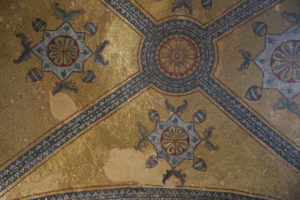 We still found ourselves amazed by more stonework even as we exited.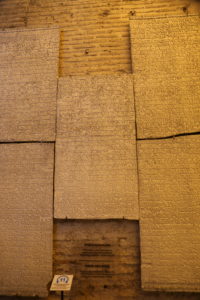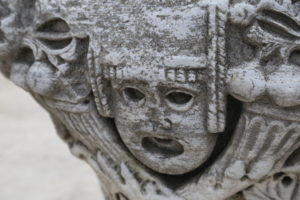 We had one final place to visit before heading home: The Arasta Bazaar.
While the Grand Bazaar is really the bigger highlight in Istanbul, we hadn't the time to peruse it.  Instead our guide led us just a few minutes away down a set of stairs into an alley of shops filled with rugs, spices, sculptures and more.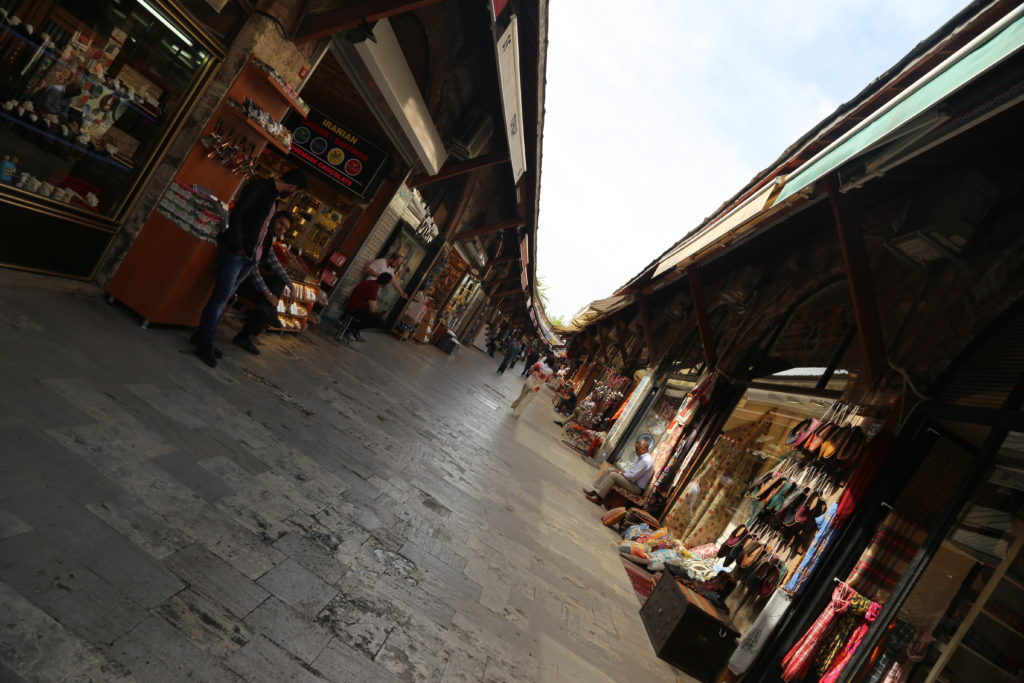 We managed to escape without any purchases, despite there being a few appealing items around and about.
As we started our walk back towards the van, our driver suggested we stop at Topkapi Palace, an expansive place just beyond the Hagia Sophia.  We insisted that we depart as our flight was coming up quick.  It was approaching 10:30 and our flight was scheduled to depart at 1:00.
We took the same path down to the van and loaded up.  Within 45 minutes we were back at the entrance to our terminal.  We thanked our driver and walked up to security.
 Ultimately
We packed as much as we could in during our 7 and a half hours in Istanbul.  While the security situation was a tad tense, and even moreso now, the city offered a rich history that we enjoyed taking in.  I would strongly advise you take a trip downtown if you're able. But good luck navigating the airport! 😉
Next Up: Turkish Airlines Business Class B777-300 IST-SFO summary.
Please follow and like us: