One of the great aspects of our trip to the Maldives was that leaving our first resort didn't mean leaving the country.  I felt kind of giddy when the Hyatt e-mailed me requesting our international itinerary and I got to inform them that instead we'd be transferring to the Conrad Maldives.
Sadly, there is no economical way to transfer between the two resorts (I looked into yacht rentals, but way out of my league).  So we were left to the whims of a normal transfer routine.  Not that it wasn't enjoyable.  Instead, our adventure continued just a short time after waving goodbye to the Hyatt.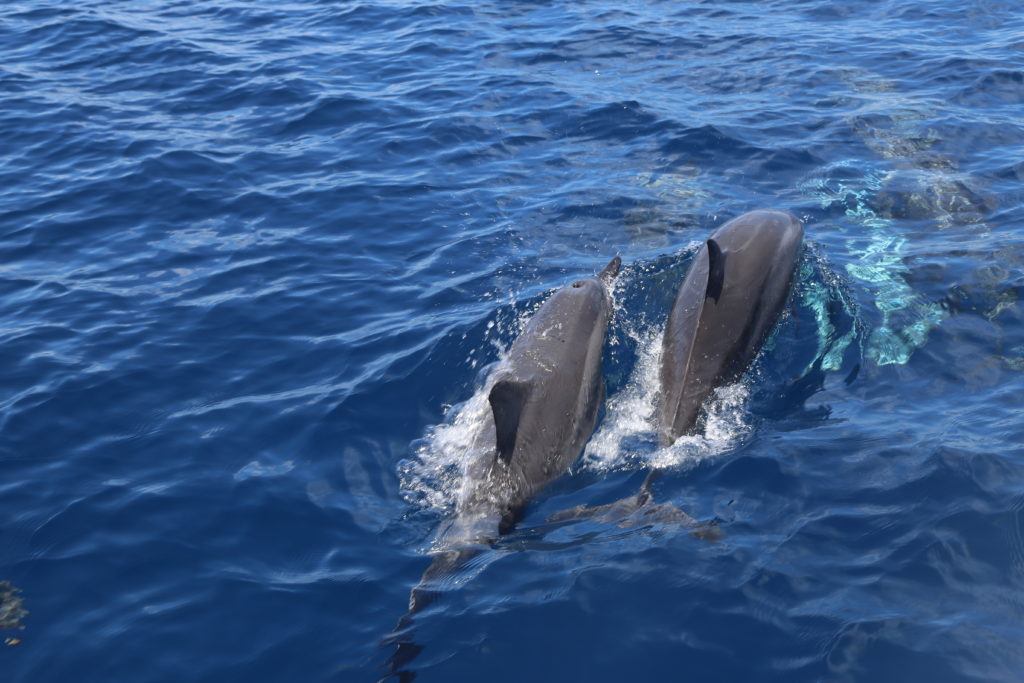 -The Big One! Introduction/Giveaway
-Day One: Hyatt Regency San Francisco Airport Review
-Day Two: United First Class B737-800 SFO-IAD summary
-Days Three through Six: D.C Area recommendations: Smithsonian, National Harbor, Baltimore Aquarium
-Day Seven: Lufthansa Business Class Lounge IAD summary, Lufthansa First Class A330-300 IAD-MUC Summary
-Day Eight Part 1: Six hours in downtown Munich, Lufthansa First Class Lounge Munich Summary
-Day Eight Part 2: Lufthansa First Class A330-300 MUC-DXB Summary
-Day Nine Part 1: Dubai Exotic Limo brief review part 1 & Abu Dhabi recommendations: Ferrari World, the Grand Mosque
-Day Nine Part 2: Park Hyatt Abu Dhabi Review
-Days Ten through Twelve Part 1: Park Hyatt Dubai Review
-Days Ten through Twelve Part 2: Dubai Exotic Limo brief review part 2 & Dubai recommendations:  Burj Khalifa Sky
-Days Ten through Twelve Part 3: Dubai Recommendations: Tea at the Ritz Carlton Jumeirah Beach, Atlantis Monorail, Dubai Mall
-Days Ten through Twelve Part 4: Dubai recommendations: Platinum-Heritage Falconry Heritage Tour.  The Dubai Museum
-Day Thirteen: Emirates 777-300 DXB-MLE summary, Moonima Lounge MLE summary, Park Hyatt Maldives transfer summary
-Days Thirteen through Sixteen Part 1: Park Hyatt Maldives Hadahaa Review
-Days Thirteen through Sixteen Part 2: What to do at the Park Hyatt Maldives Hadahaa
-Day Seventeen: Maldivian Dash-8/Boat Transfer Park Hyatt-MLE summary, Conrad Rangali MLE Lounge summary, Trans-Maldivian Twin Otter transfer MLE-Conrad Rangali Island
-Days Seventeen through Twenty-One Part 1: Conrad Maldives Rangali Island Review
-Days Seventeen through Twenty-One Part 2: What to do at the Conrad Maldives Rangali Island Resort
-Day Twenty-Two Part 1: Trans-Maldivian Twin Otter Conrad Rangali Island-MLE summary, Conrad Lounge MLE summary, Leeli Lounge MLE summary
-Day Twenty-Two Part 2: Turkish Airlines Business Class A330-300 MLE-IST summary.
-Day Twenty-Three Part 1: Turkish Airlines IST Lounge Summary, six hours in Istanbul
-Day Twenty-Three Part 2: Turkish Airlines Business Class B777-300  IST-SFO summary
-Day Twenty-Four: Hyatt Regency San Francisco Embarcadero Review
-Trip Summary/The Numbers
-The BIG Question: Park Hyatt Maldives Hadahaa or Conrad Maldives Rangali?
As we pulled away from the Park Hyatt a few of the staff including the General Manager waved goodbye to us from the jetty.  I suppose it would've been more bitter-sweet if we didn't have another week of adventure still ahead of us.  Soon I turned around and let the Hyatt disappear behind us.
With calmer waters than on our way in, the boat-ride back to Kooddoo was scheduled to take about 30 minutes.  But 20 minutes into the trip, as we approached The Residence Maldives, we spotted a massive group of dolphins and the crew slowed down to allow us to watch.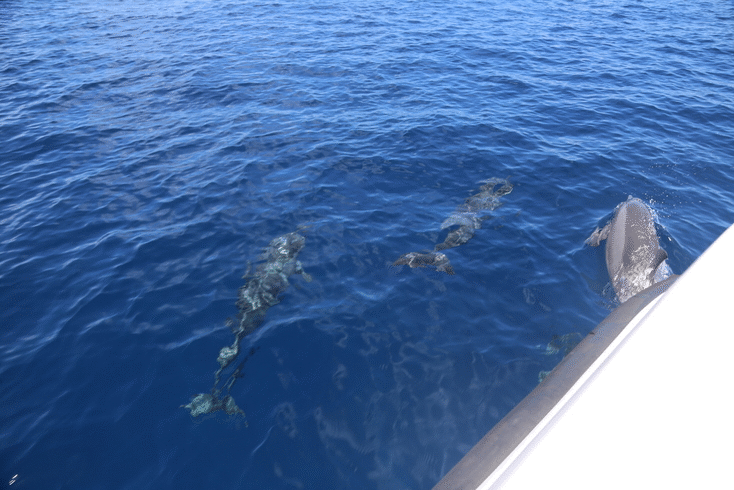 There were hundreds of them, the most we would see throughout our entire Maldives stay.  Babies jumped out of the water near their moms, and the school expanded across the whole horizon.  We were lucky to have a bit of time on our hands to enjoy cruising in the area with many of the dolphins at the foot of the boat, but eventually the crew continued on course- we had a flight to catch.
(A video featuring more of the dolphins we saw can be found two posts back under the Park Hyatt Maldives Hadahaa review)
Like on the way in, our arrival at Kooddoo was met with a buggy to take us from the docks to the airport.  The Hyatt staff waited for us to clear security before departing, to ensure there were no snafus. The security at the tiny island was quite thorough, asking to examine my timelapse equipment and even questioning what appeared to the guard to be a wrapped cigarette belonging to Kim.  The guard turned to his colleague, who also was unaware of what the item was.  But there was no more questioning on their part, and they let us through.
We only had a short wait before our 1:00 departure, and our takeoff was much less nerve-wracking than our approach days earlier.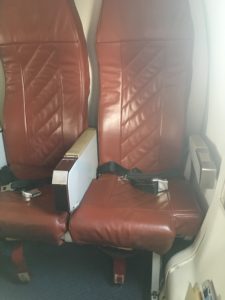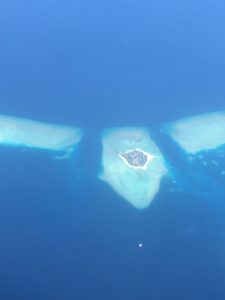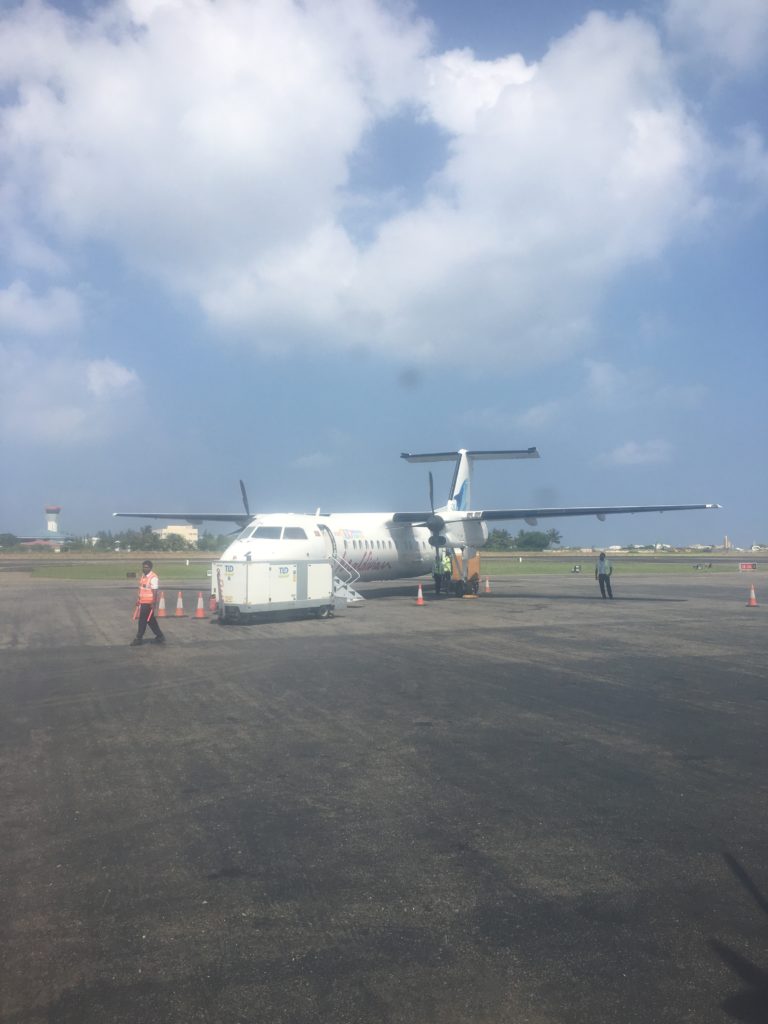 The ride back to Male was uneventful and practically the same service-wise as our inbound journey.  Soon we found ourselves back at the terminal, meeting our Hyatt departure guide and our Conrad arrival guide in the same place.  It was somewhat humorous to me to have such catering.  The Hyatt guide didn't have much to do, so he said farewell and departed.
Thus officially ended our Hyatt journey and began our Conrad one.
Our Hyatt guide (closest) transferring us to our Conrad guide and van driver.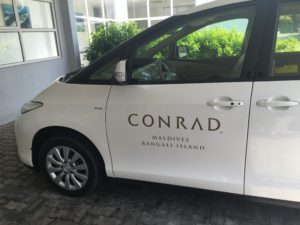 Our Conrad guide and van driver took our baggage and loaded it into the trunk of their van.  We got in and relaxed as we started over to a large luggage area where our baggage was to be weighed, inspected and checked in.  Though all our bags had to be weighed, they let us keep a couple carry-ons with us while we parted with the bigger stuff.  We were told that some of our luggage was overweight, which we knew, and we were subjected to an overweight fee of $125.  This was only a mild disappointment given that we had so far avoided all overweight fees from Dubai to Male and from Male to the Park Hyatt and back, despite knowing we had over-packed for all said flights.
Our van driver then took us around the perimeter of the airport to the Conrad lounge, which rested alongside the sea-plane terminal.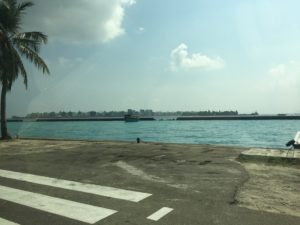 The driver had us check in at the sea-plane terminal, and then led us away.
J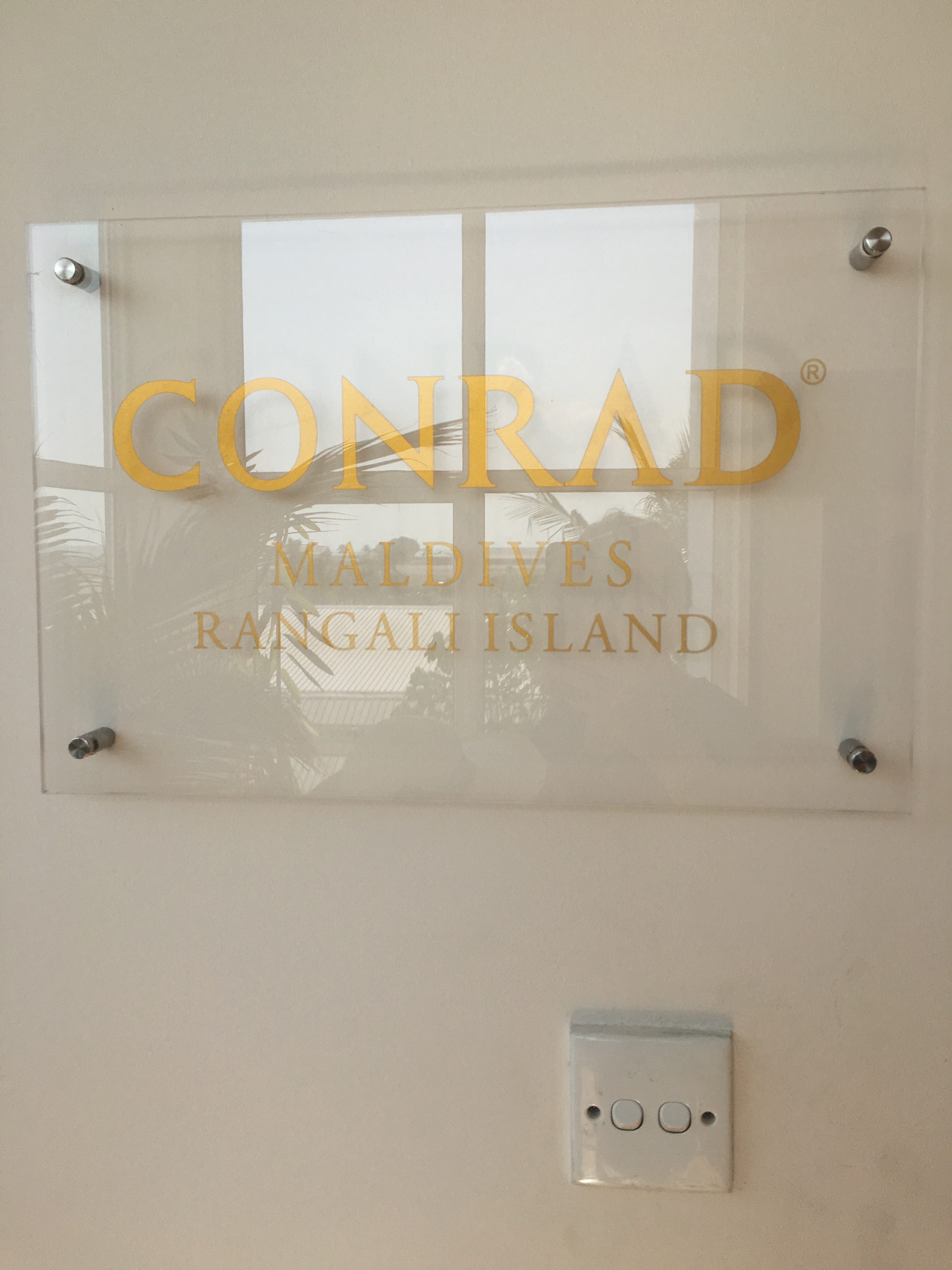 ust twenty minutes after saying goodbye to our Hyatt assistant, our Conrad guide took us up an elevator to the lounge, and we were immediately impressed.
While the lounge we used while waiting for our flight to the Park Hyatt was stuffy and crowded, the Conrad Lounge was spaced out, comfortable, and had much more of a relaxing feel overall.  In fairness, the lounge we used for Hyatt was not a Hyatt lounge, so it was not exclusive to that hotel.  Either way, the Conrad was a clear winner in this regard.
It made sense that we were the only ones in th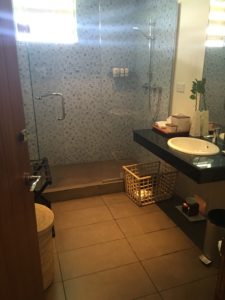 e lounge when we arrived, as nobody else would be coming in on the same flight.  We chose a place to sit and plopped down our bags.
Since we were the only ones around, we decided to freely explore the place.
Aside from the lounging area, there was a kitchen with hot and cold snacks, mens and womens restrooms with a shower, and a kids play area with a PlayStation 3 available to use.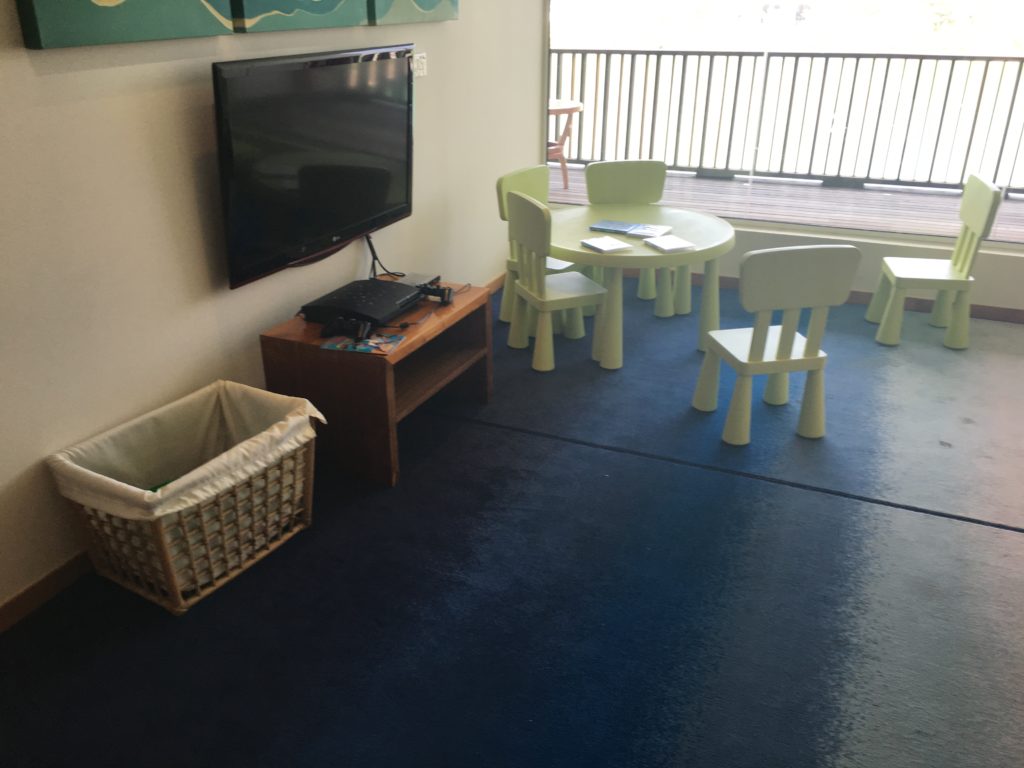 At the front desk, we inquired about the option for a free 10 minute massage, available to all Conrad guests.
Turns out our "free" massage came at a cost, for we ended up booking TWO spa treatments for our stay. One at the Retreat Spa and one at the Overwater Spa... you know, for comparisons sake 😉
While we weren't certain the times would work out, we booked the "Tour de Spa," which included lunch at Mandhoo restaurant and scheduled the lunch for 1:30 on our second full day (Saturday), with our Retreat Spa Treatment at 7:00 on Sunday and our Water Spa Treatment 7:00 on Monday.
I actually took a pass on the free massage and let Kim enjoy hers while I took some photos and video around the lounge.  I also had a chance to take in the view of the seaplane terminal, visible from any of a dozen seats in the lounge or an outside balcony.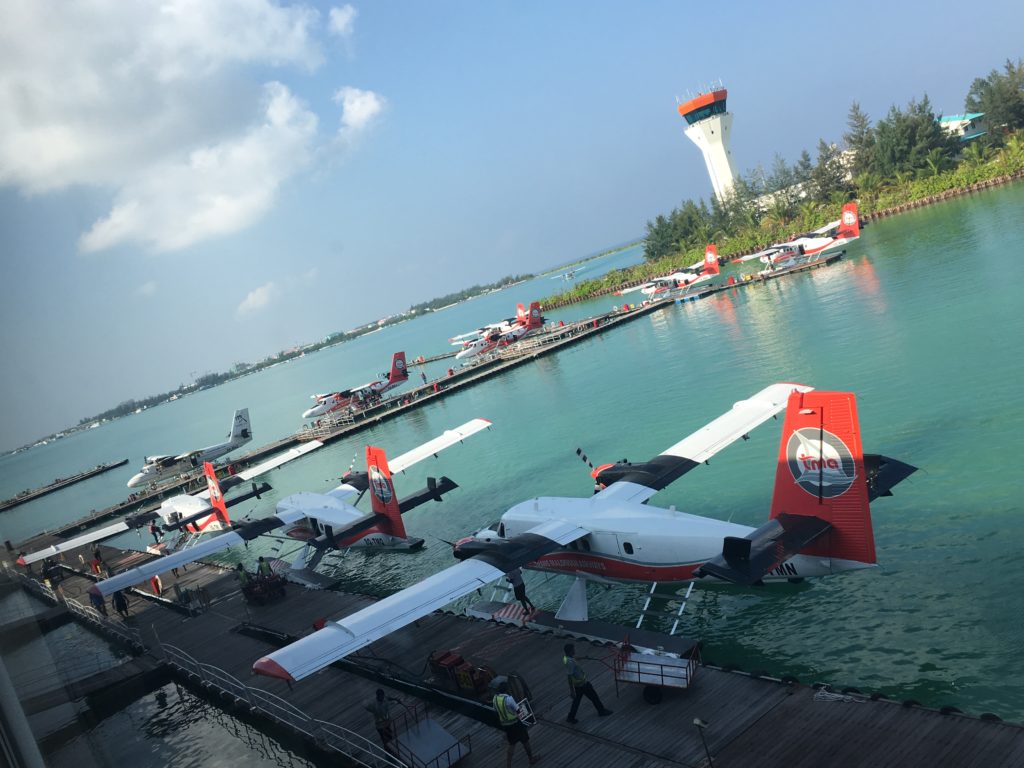 We had an entire hour and a half to lounge around before our 4:30 flight.  It might very well have been the most relaxing part of our entire trip.
But certainly not the most exciting.
We were led out of the lounge minutes before our flight was scheduled to depart.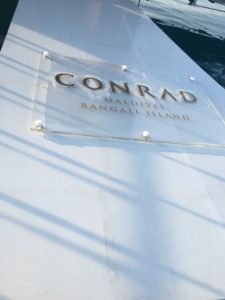 Our flight was a little under 45 minutes long.  The seaplane was a bit cramped and a bit hot, but nothing we couldn't handle.  The views more than made up for our discomfort as we zoomed across the water and into the air.  We had a great view of the flight deck, and our two pilots, who were barefoot!
About 30 minutes in we descended for a stop at a neighboring resort to drop off a few passengers, within minutes we took off again, and it was only another 5-10 minutes before we dropped back down to land at the Conrad.
An epic, relatively comfortable transfer from the Hyatt to the Conrad was complete at around 4:15 in the late afternoon.  Yes, like the Hyatt, the Conrad operated an hour ahead of Male time, so we actually arrived slightly earlier in the day than when we left Male.
We exited the seaplane and were greeted by our personal host and the Conrad team.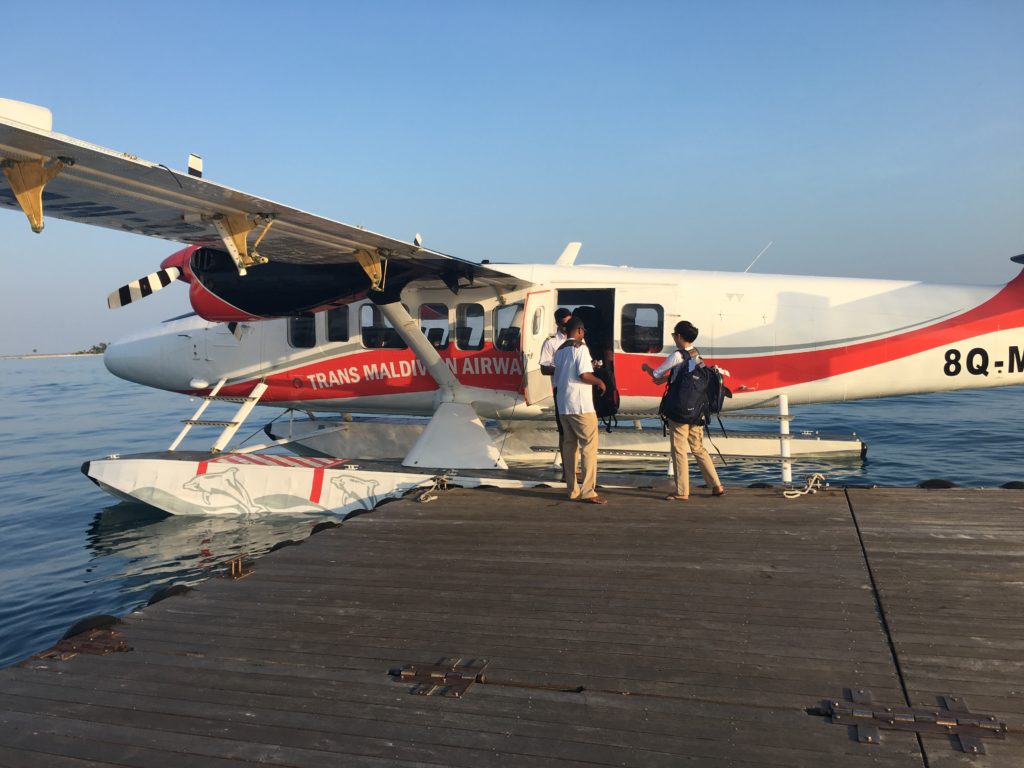 Ultimately:
The amazingness of the Conrad lounge was only minutely overshadowed by the dolphins that rode alongside our boat at the Hyatt.  But I couldn't have hoped for a more seamless transfer and a more relaxing afternoon than the one we got from the Park Hyatt to the Conrad.
Please follow and like us: