Can you feel more cultured?
After some early afternoon R&R, we grabbed another hotel town car for our trip to the Ritz Carlton.  On this lovely Friday afternoon, we arrived to a rather quiet hotel lobby.  It took us a few minutes to figure out exactly where tea would occur, and finally we found someone to assist us.  The host asked us if we'd prefer to dine indoors or out, and given the darkness inside, and the great temperature outside, we decided to eat on the terrace. The host led us to our table, and we were handed our menus.
-The Big One! Introduction/Giveaway
-Day One: Hyatt Regency San Francisco Airport Review
-Day Two: United First Class B737-800 SFO-IAD summary
-Days Three through Six: D.C Area recommendations: Smithsonian, National Harbor, Baltimore Aquarium
-Day Seven: Lufthansa Business Class Lounge IAD summary, Lufthansa First Class A330-300 IAD-MUC Summary
-Day Eight Part 1: Six hours in downtown Munich, Lufthansa First Class Lounge Munich Summary
-Day Eight Part 2: Lufthansa First Class A330-300 MUC-DXB Summary
-Day Nine Part 1: Dubai Exotic Limo brief review part 1 & Abu Dhabi recommendations: Ferrari World, the Grand Mosque
-Day Nine Part 2: Park Hyatt Abu Dhabi Review
-Days Ten through Twelve Part 1: Park Hyatt Dubai Review
-Days Ten through Twelve Part 2: Dubai Exotic Limo brief review part 2 & Dubai recommendations:  Burj Khalifa Sky
-Days Ten through Twelve Part 3: Dubai Recommendations: Tea at the Ritz Carlton Jumeirah Beach, Atlantis Monorail, Dubai Mall
-Days Ten through Twelve Part 4: Dubai recommendations: Platinum-Heritage Falconry Heritage Tour.  The Dubai Museum
-Day Thirteen: Emirates 777-300 DXB-MLE summary, Moonima Lounge MLE summary, Park Hyatt Maldives transfer summary
-Days Thirteen through Sixteen Part 1: Park Hyatt Maldives Hadahaa Review
-Days Thirteen through Sixteen Part 2: What to do at the Park Hyatt Maldives Hadahaa
-Day Seventeen: Maldivian Dash-8/Boat Transfer Park Hyatt-MLE summary, Conrad Rangali MLE Lounge summary, Trans-Maldivian Twin Otter transfer MLE-Conrad Rangali Island
-Days Seventeen through Twenty-One Part 1: Conrad Maldives Rangali Island Review
-Days Seventeen through Twenty-One Part 2: What to do at the Conrad Maldives Rangali Island Resort
-Day Twenty-Two Part 1: Trans-Maldivian Twin Otter Conrad Rangali Island-MLE summary, Conrad Lounge MLE summary, Leeli Lounge MLE summary
-Day Twenty-Two Part 2: Turkish Airlines Business Class A330-300 MLE-IST summary.
-Day Twenty-Three Part 1: Turkish Airlines IST Lounge Summary, six hours in Istanbul
-Day Twenty-Three Part 2: Turkish Airlines Business Class B777-300  IST-SFO summary
-Day Twenty-Four: Hyatt Regency San Francisco Embarcadero Review
-Trip Summary/The Numbers
-The BIG Question: Park Hyatt Maldives Hadahaa or Conrad Maldives Rangali?
The options were pretty straightforward: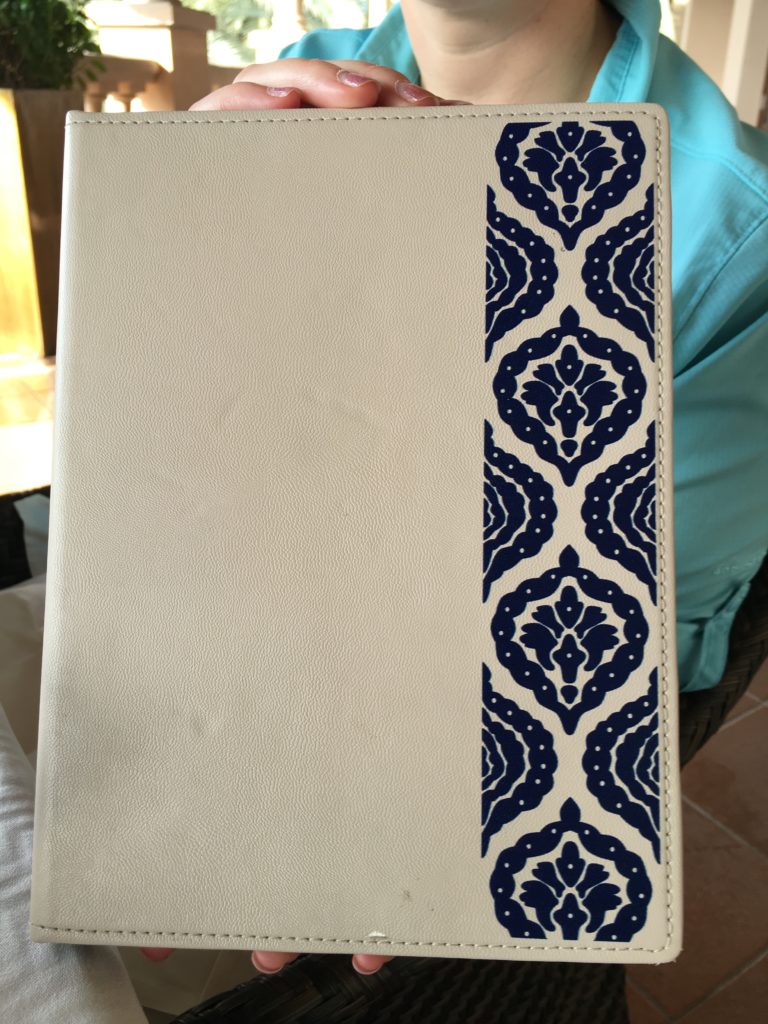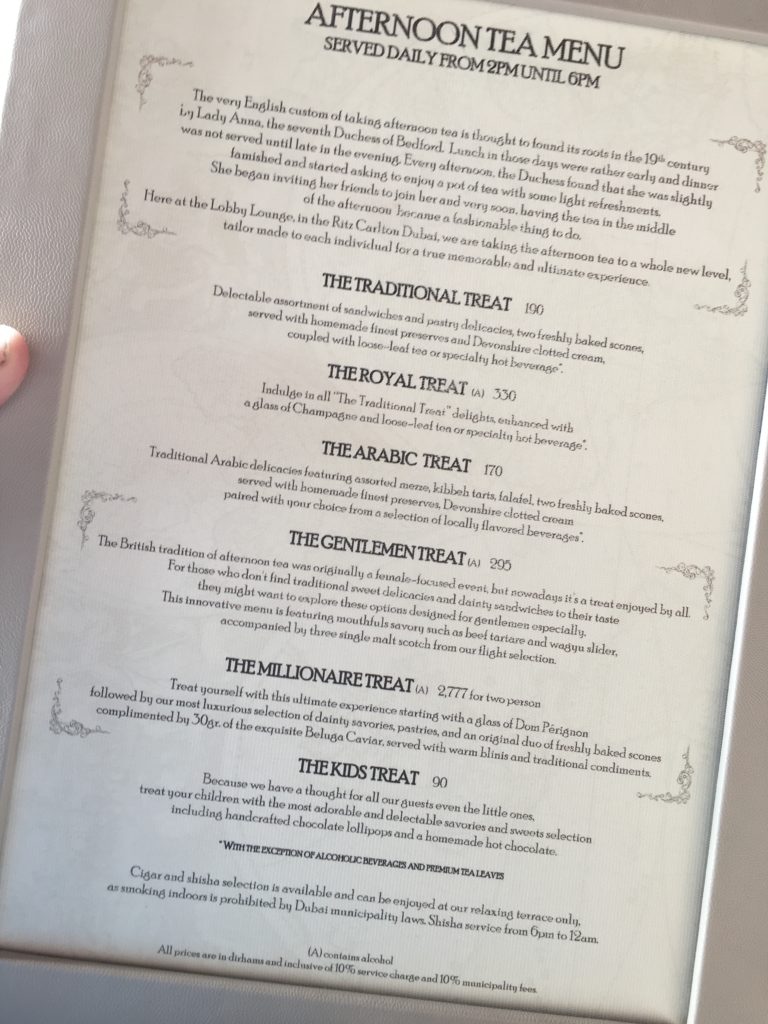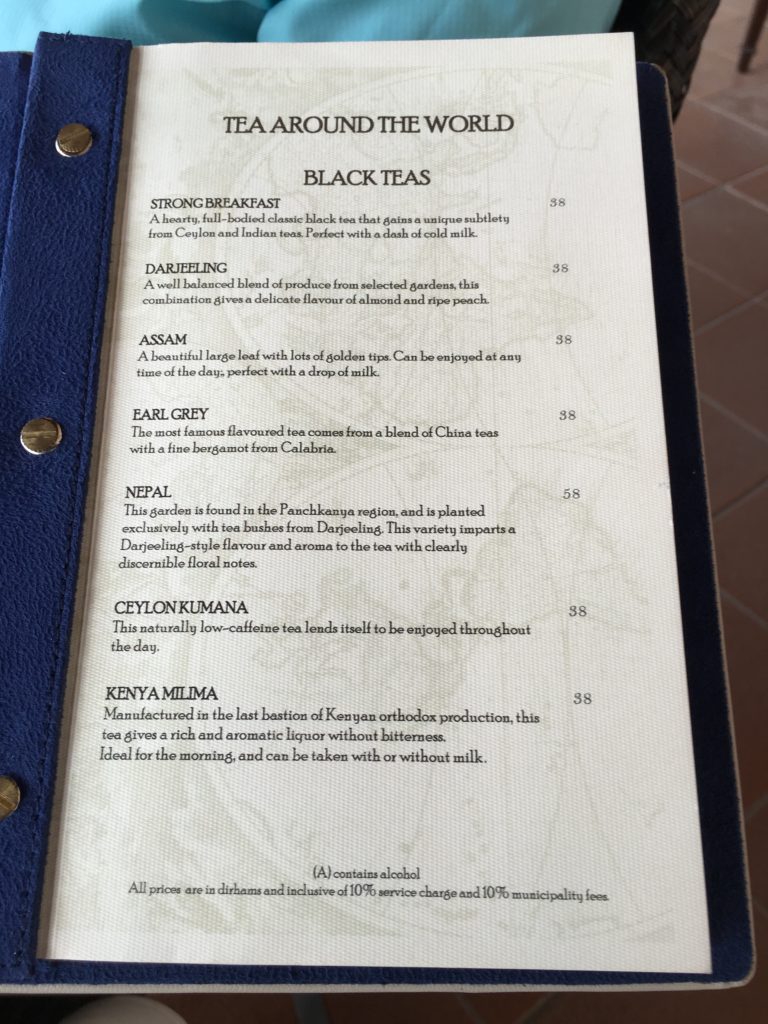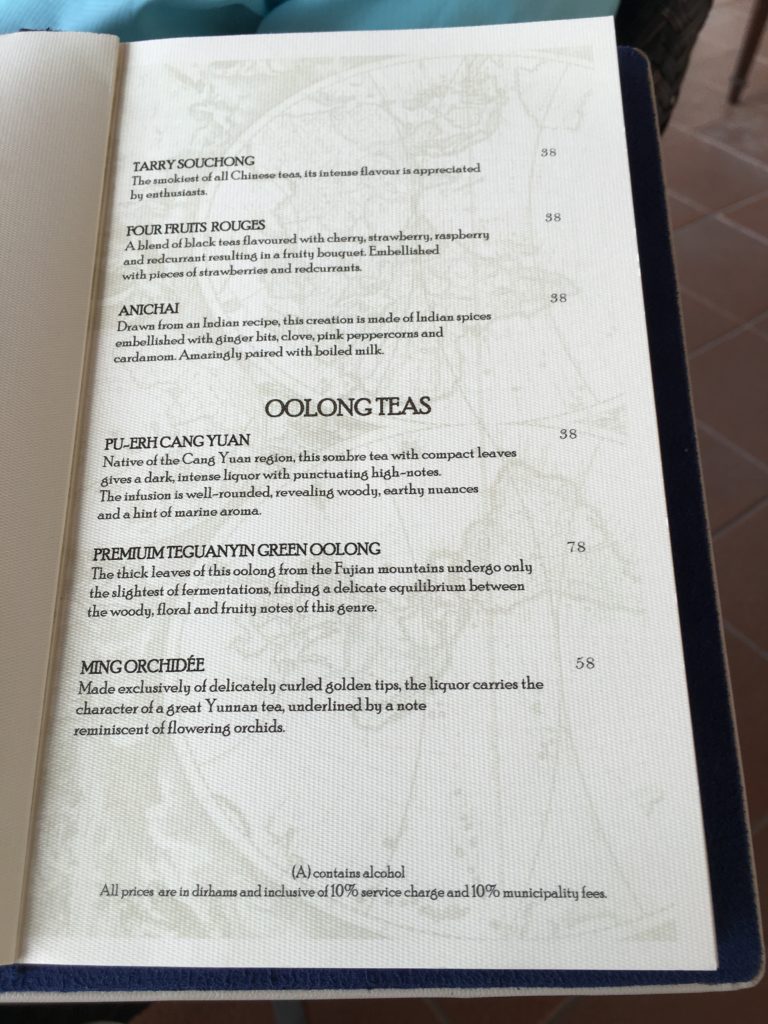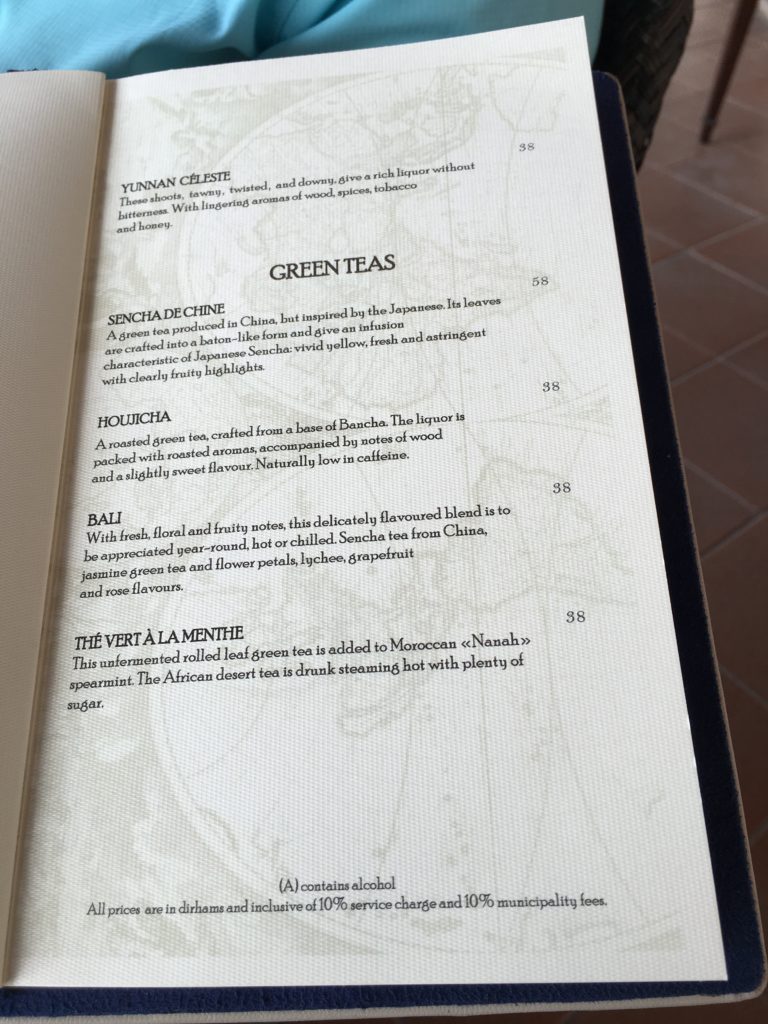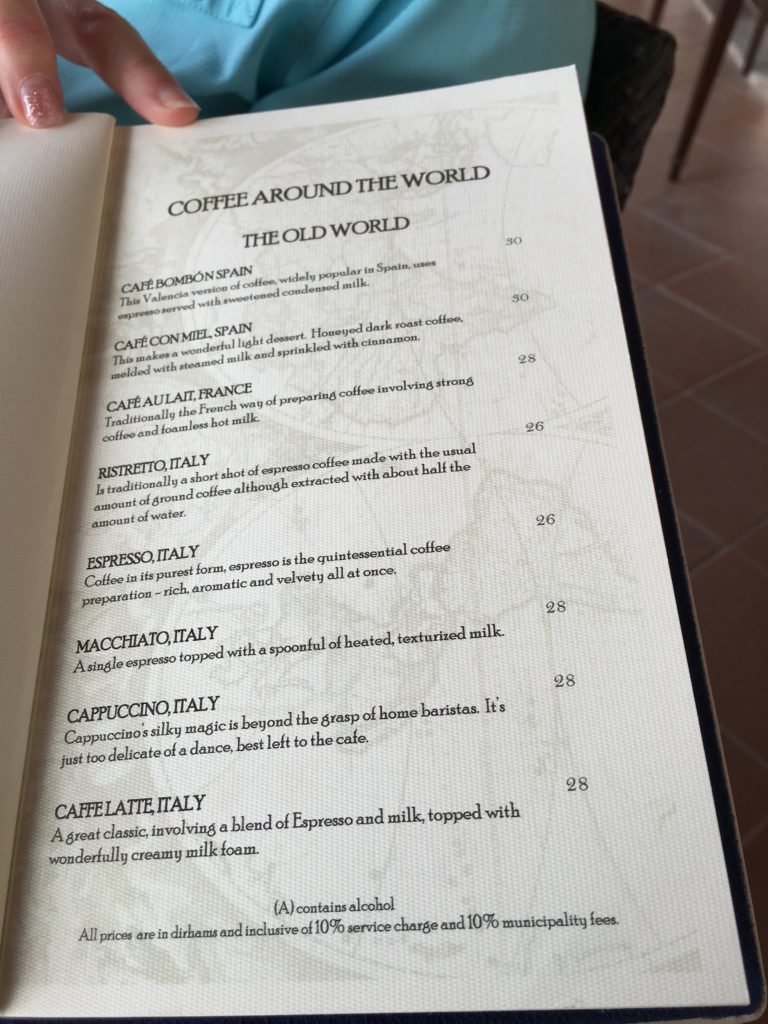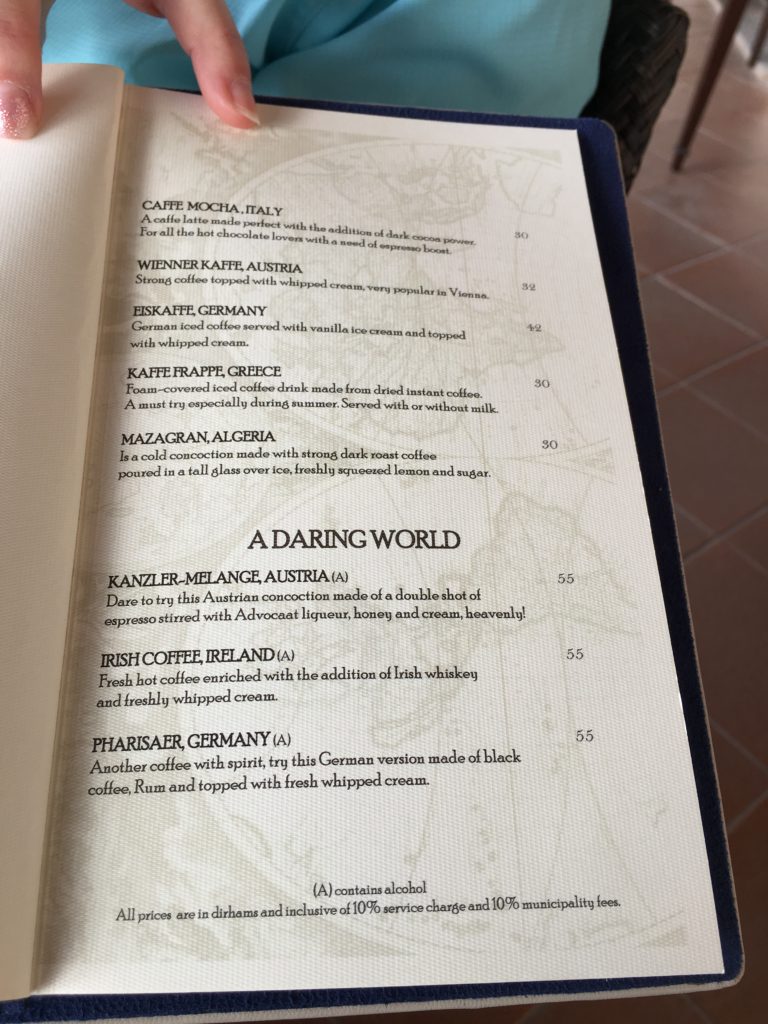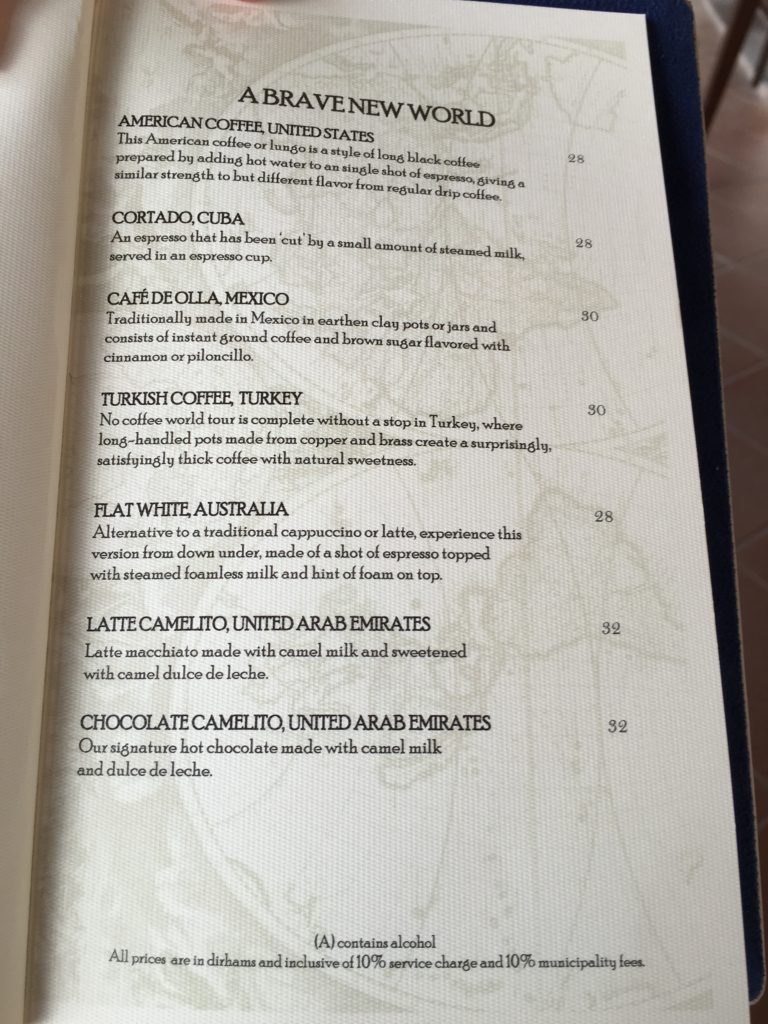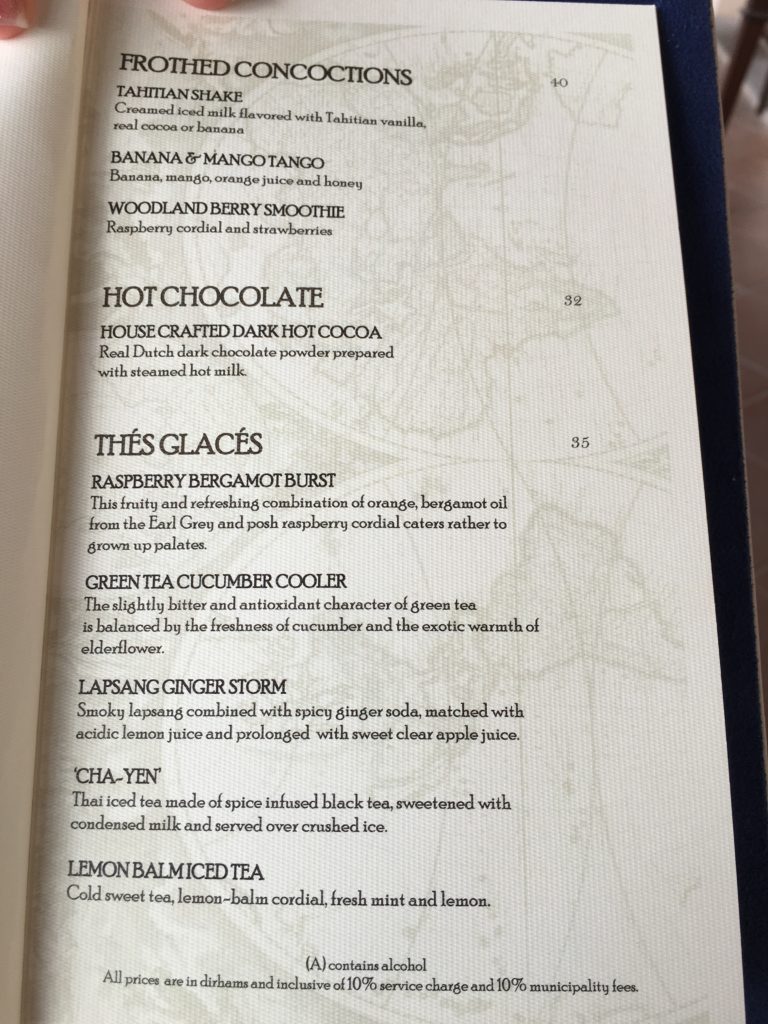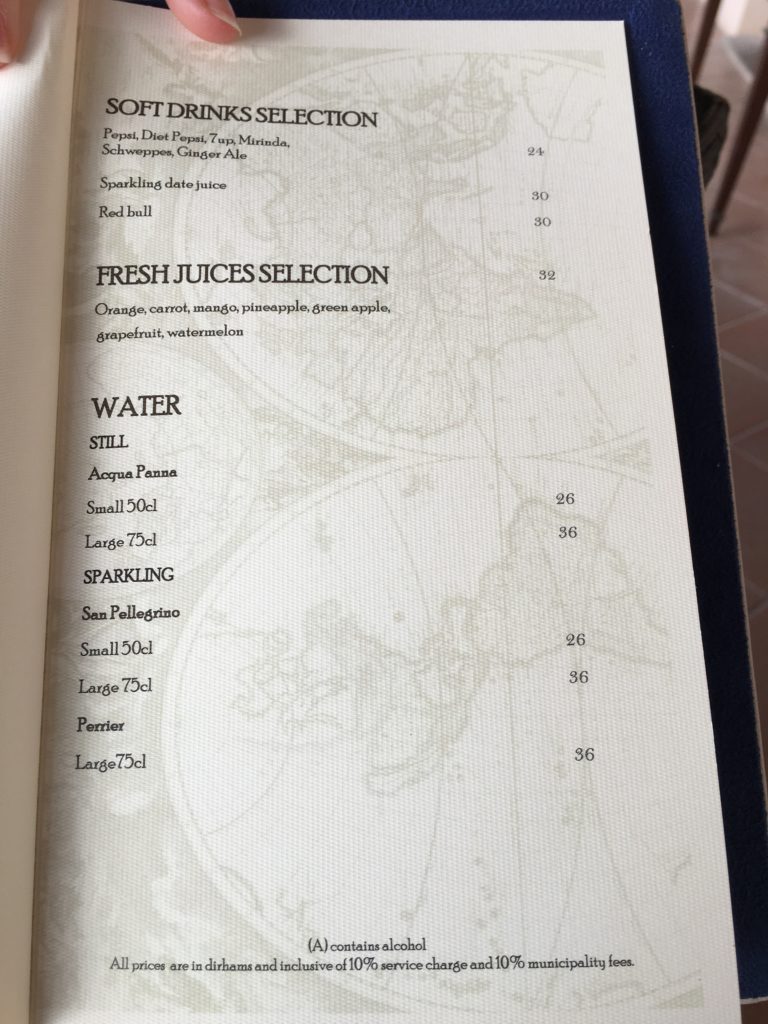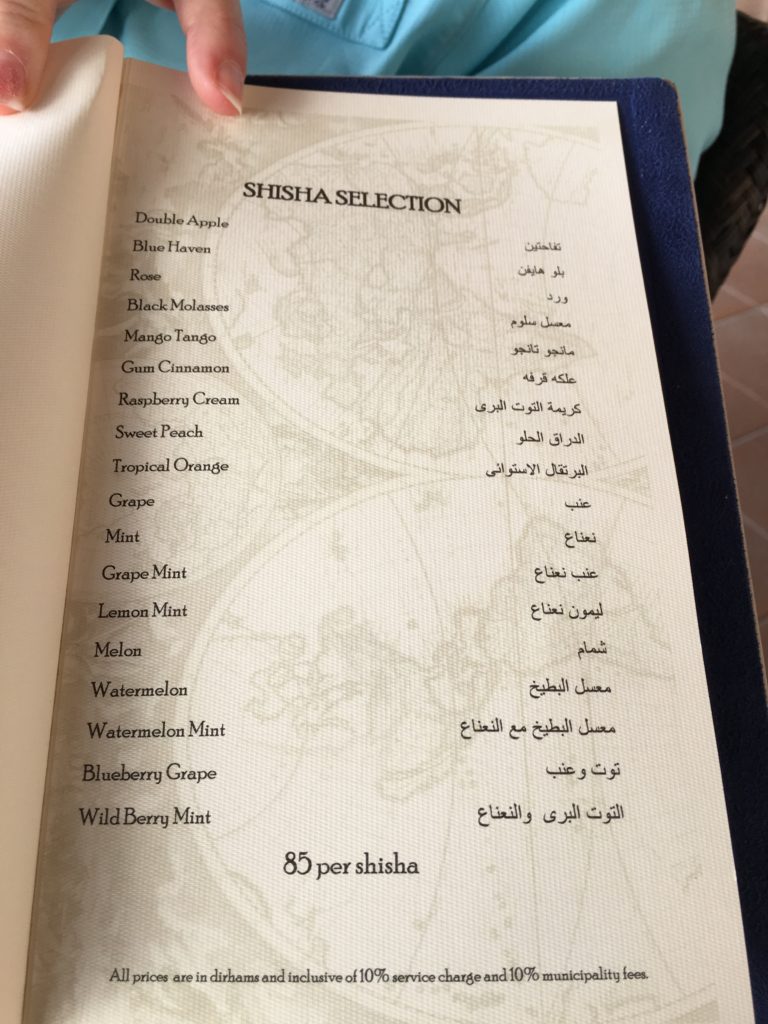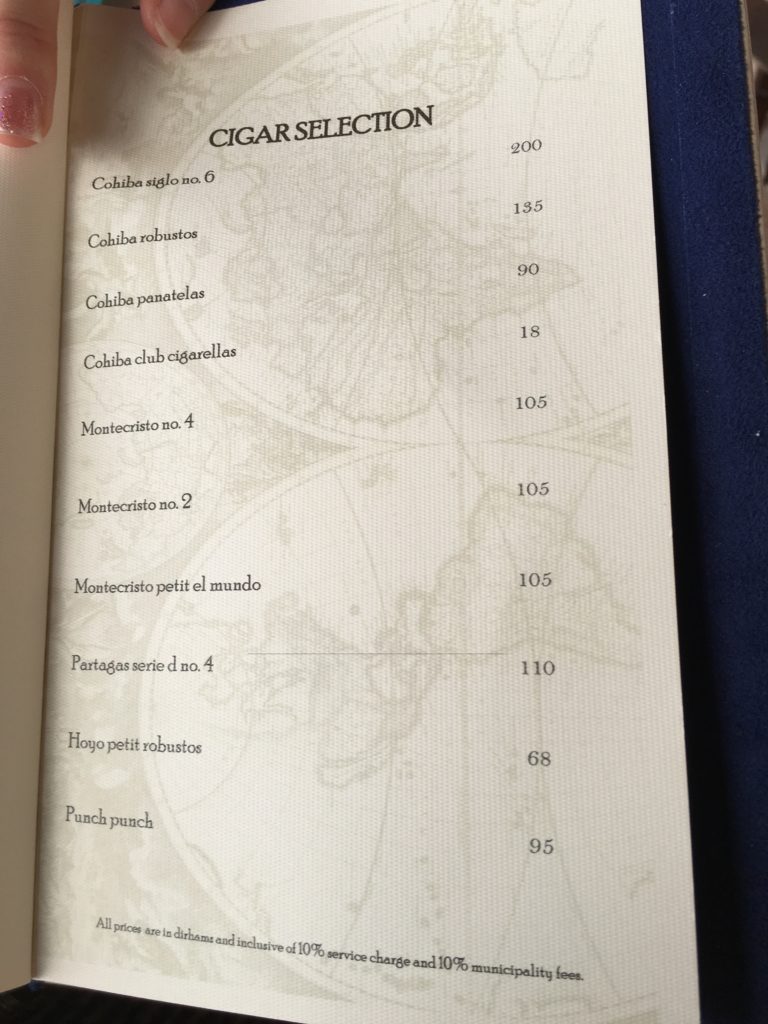 We decided quickly on the modest Traditional Treat, and kicked back on the beautiful terrace to await our delicacies. We took the time to view the menu in its entirety to find they offered smoothies, hot chocolate, various juices and even cigars!
In the meantime we enjoyed the view of the grounds, with the sea in the distance, just beyond the hotel beach. Families played croquet on the lawn of the resort, and at one point we noticed skydivers nearby- though we did not perceive just how close their base of operations was to us. (See google maps- Ritz Carlton Dubai, to discover what I mean)
We also spent some time admiring the china, until the waiter brought us water and the tea we requested.  I opted for a Nuit D'Ete tea, which the menu described as a "Blend of hibiscus flowers, apple bits, rosehip peels flavoured with raspberry, strawberry and cream flavours."  It was satisfactory, but failed to convert me to a "tea person".
Kim chose the Rooibos Caramel Toffee, listed as "A sweet blend of South African rooisbos with toffee caramel flavour and sunflowers, to deliver a rich, comforting drink to rival any scrumptious dessert.  Caffeine free."
Soon our food arrived:
We took our time enjoying our treats and tea.  We split all the food items in half so we could both try a little of everything.  As the time passed, the sun came in and we were obliged to move on, so as not to be burnt to a crisp.
On our way out we asked a bellhop how to get to the local tram station, and he pointed us in the right direction.  After a short walk, we found the tram, figured out the ticketing instructions and were on our way to the monorail connection station.
It was while on the tram that a station agent duly informed me that I was sitting in an area for women and children only, and that I would need to move.  I quickly obliged, and found a spot to stand during the short trip.
We exited the tram near the monorail station, and traversed our way around, navigating through a bunch of construction.  We made our way through a parking garage and followed signs to the monorail.
We purchased our round-trip monorail tickets and got on-board for the ride to the Atlantis Dubai.
The monorail took us past numerous shopping centers, affluent suburbs, and perpetual construction situated on the man-made behemoth called the Palm Jumeriah.  After a few short stops, we approached the Atlantis Dubai:
Here we spent some time traversing the oceanfront road and exploring some of the shops and restaurants of the massive resorts.  Had the evening not been closing in on us, we would have also considered a venture to their massive next-door waterpark- which, like their counterpart in the Bahamas, features a water slide that travels through a shark tank.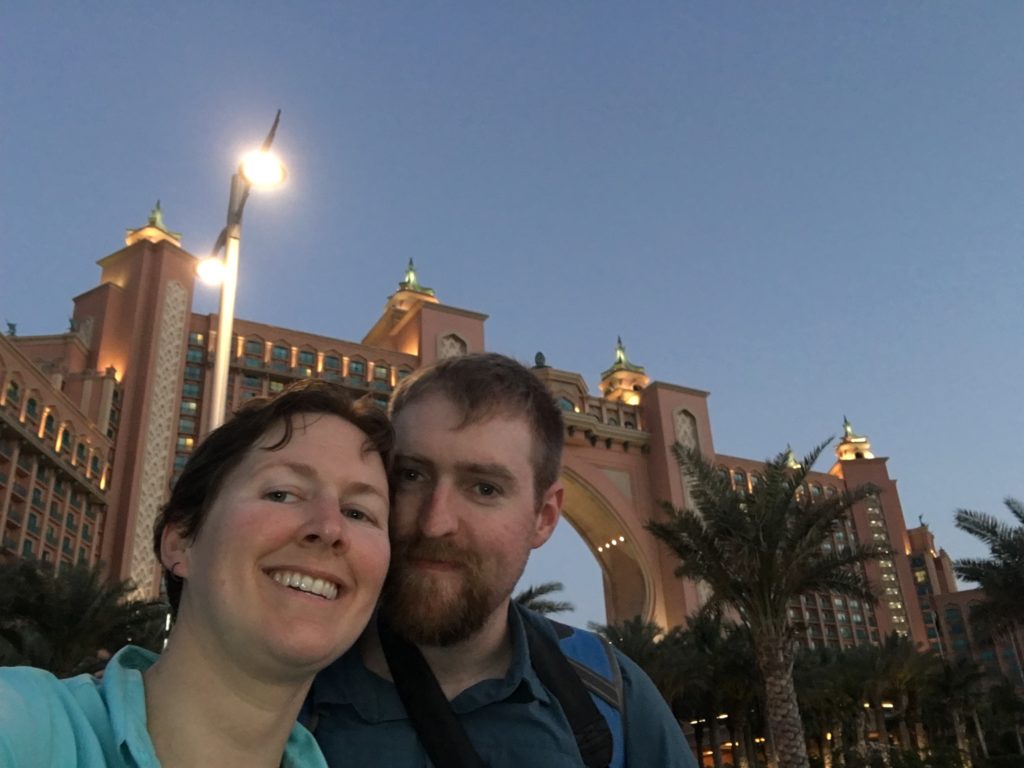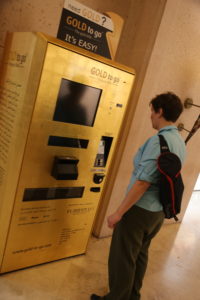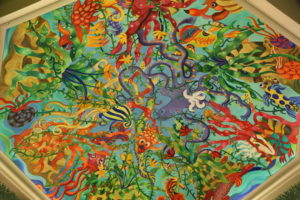 As the sun set, we made time for some selfies in front of the hotel, then we made our way into the resort.  We kept our stay relatively short, as we still wanted to make it to the Dubai Mall to do some more wandering and to see if we could find a shop that had piqued Kim's interest on our first visit.  So after observing the Gold ATM, (broken down), and slithering through various restaurants (nothing that called loud to us), we wandered for about 30 minutes in the labyrinth of hallways and then caught the monorail back.
We made it back to the main station a short while later, and followed signs downstairs to waiting taxis.  Some like-minded tourists followed us (we looked like we had a clue, anyways) and others inquired about where the taxis were, and we invited those people to follow us.  We and our troops landed in the parking garage, where taxis and town-cars awaited unsuspecting folk such as ourselves.  The ride in the town car turned out to cost us double what we were charged on our way over, despite our destination being only two-thirds the distance.  Fortunately we had split the ride with a couple from Holland, and so the damage was slightly less humiliating.  The driver let us off at the Dubai Mall, where we continued our day's adventures.
The ride from the monorail to the mall took about 20 or so minutes, and we arrived there at approximately 8 P.M.
We had to find our bearings upon being dropped off in the parking garage.  Upon walking into the mall, we seemed to be at the entrance to a movie theater.  But we weren't sure how to access the main part of the mall.  After walking around and travelling up and down seemingly random escalators, and in the process passing by a Sega Arcade (which we were blissfully unaware was part of an entire indoor theme park), we finally got back into the main mall.  In our exploration we found a section dedicated to comic-book type stores, a hall full of suspended umbrellas (only from the top, we could not find the path to go underneath them), and a multi-story fountain.
After wandering for more than an hour, searching for the store that Kim wanted to find (we never did find it), I grabbed a snack from Angelina's while Kim used the restroom.
 The snack I found was called "Babylone", and while it looked great on the outside, the inside stunned even more.
The snack was approximately $12 U.S, which certainly seemed high on first glance.  The item is essentially a mini-cake.  Except inside the velvety red exterior was a vanilla mousse filling.  And inside of the filling was a strawberry core.  Despite what may appear to be a crazy price tag, I couldn't help but finding myself return here after dinner to pick up another. Of course, if such a delicacy is not to your liking, they had plenty of other treats ready to go.
After the snack we followed the crowds to view the Dubai Mall Fountains.  Essentially the Bellagio display on steroids, this spectacle did not disappoint.  We arrived outside as one show was ending, so we stuck around for the next one to start (shows play in 30 minute intervals).
The interval gave us time to set up some camera equipment (tip: we found out we weren't supposed to).
The show we caught the end of was a remix of Diana Ross' "Ain't no Mountain High Enough".  After waiting around for 20 minutes or so, a rendition of "Mon Amour" by Shiraz was up. We enjoyed the entertainment: a five minute show, and then started our search for dinner.
Video of "Mon Amour", for tablets and phones.  Use rotation lock to watch vertically.
It didn't take long, and I began to laugh as we saw a restaurant my cousin had worked at in L.A: Katana.  With a perfect view of the Burj Khalifa and a perfect temperature for the evening, we approached the hostess and asked to be seated outside.  We were informed that we would not be able to drink on the patio, which was fine by us.
As we took our seats, I placed a phone call to my cousin in L.A.  I informed him that the restaurant he expected to help open had indeed opened.  He was shocked at the revelation.  Being that the restaurant was on the backside of the Address Hotel, which caught fire on New Years Eve leading into 2016, the restaurant had suffered a delayed opening.
After placing our order, a manager approached us and let us know that he had spoken to my cousin, and that if we needed anything to let him know.  We talked about the restaurant and how empty it was.  Of course, it was approaching 10:30 P.M, but the next door restaurant was bustling.  The manager explained that their official "Grand Opening" was slated for a week or two from then, and they were currently going through their "soft opening".  In fact, if you visit their website you'll see that their menu PDF is titled April 2nd, 2016, and we dined on April 8th.
We talked with the manager about the hotel fire and our L.A Katana experience (good).
Our food came in due time, a noodle appetizer and a few sushi rolls for our entrée.
Clockwise from top left: Ebi Yakisoba (Panfried Noodles with Jumbo Prawns), Sushi Platters, Green tea cake with Carmel, coconut ice cream, Matcha Green Tea Fondue
While we ate, Michael Jackson's thriller played in the background during another fountain show at 10:30.  The final show played at around 11:00, and then the tower stopped sharing it's magical lighting and went plain.  We finished our meal and were then visited by the chef, who was insistent that we try a specialty dessert of his creation and asked for our thoughts. (Good, but not my typical dessert choice).  We also discovered that similar to our dining experience at the hotel restaurant, servers had to be summoned in order to get the bill.  The crew at Katana was fantastic, and the food was enjoyable enough.   But the view can not be beat.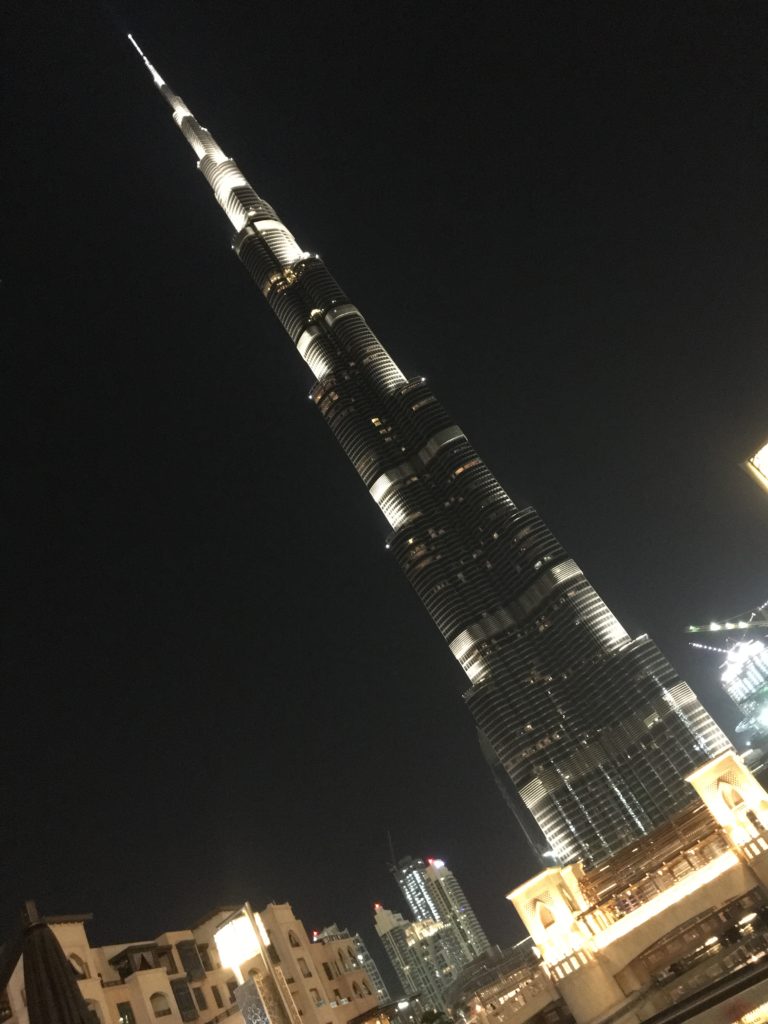 View from our table.
We left the restaurant at just about midnight, right as they were closing up for the evening.  Despite already indulging in desert, I decided we had to bring some more of Angelina's pastries back to our room.  So on our way back through the mall at 12:30 A.M we picked up another Babylone and one of their specialty pastries with a chocolate fondant topping. (We both agreed the Babylone was the better of them)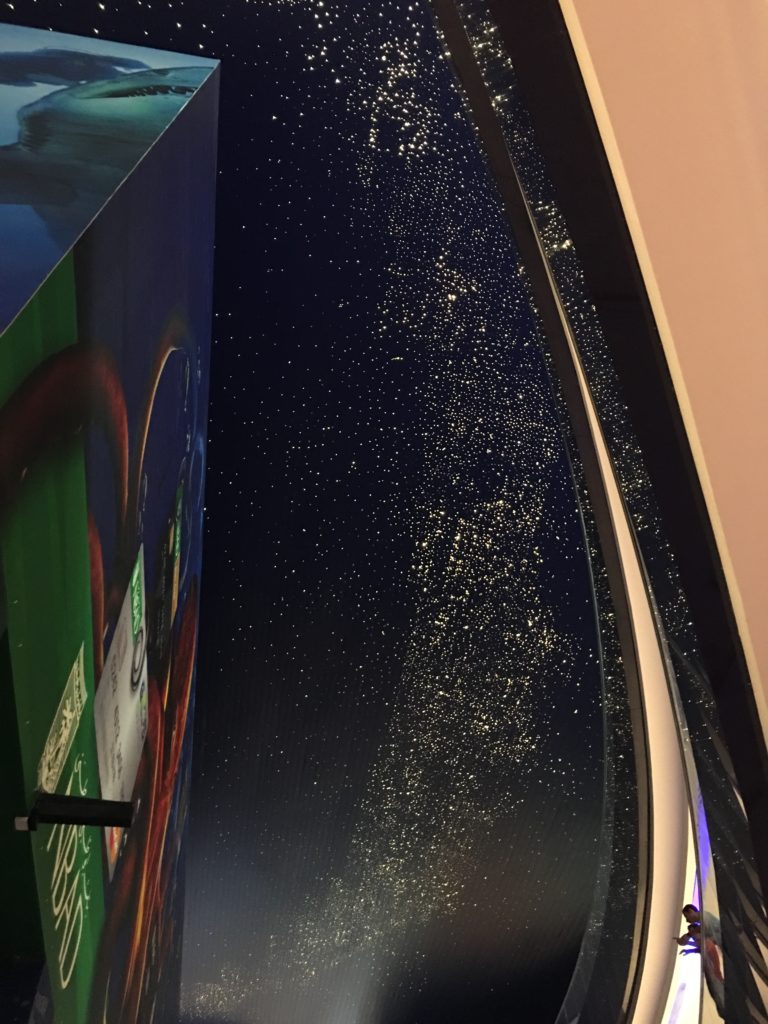 While the bakery was still open,
most of the mall had shut down at midnight, and now Kim and I wandered the mostly desolate halls of the building.  We navigated to where we had been dropped off the day before, knowing there would be cabs available to us.  We passed in front of the massive aquarium tank, and that's when Kim pointed out the ceiling to me: fiber-optic stars lit up the night above us.
We then walked by the information booth and I snapped a photo of the massive directory.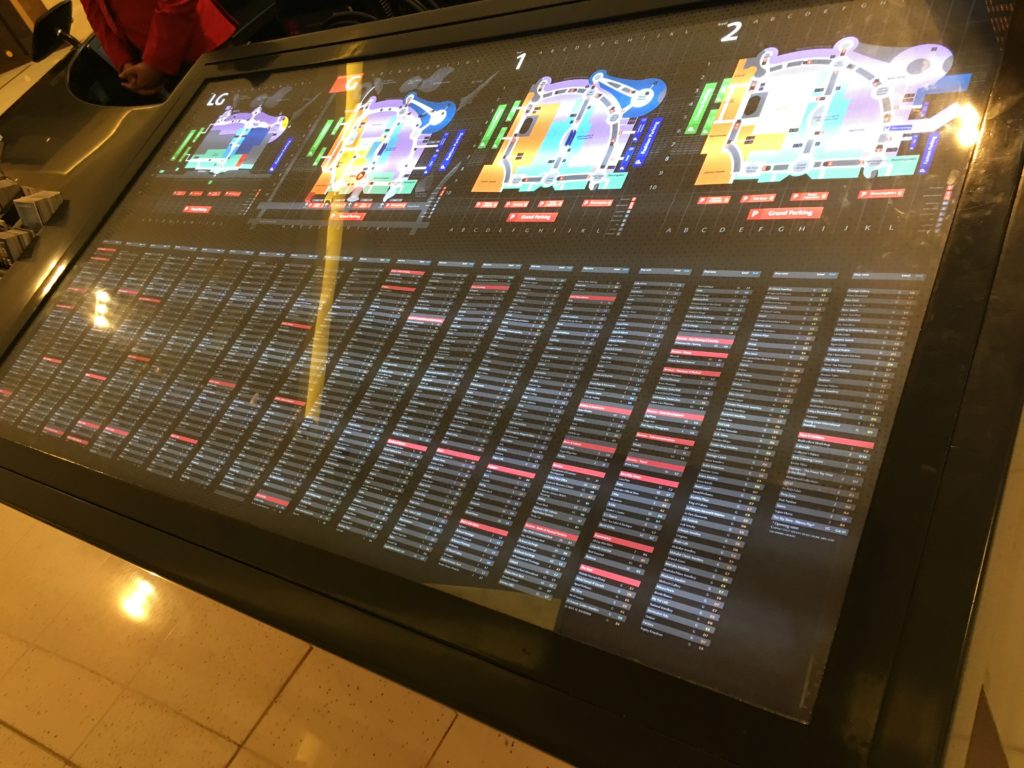 It was nearly 1 A.M when our taxi pulled out of the front of the mall and passed the Burj Khalifa, and our morning desert safari was scheduled to pick us up at around 6:30.  It would be a tiring but enjoyable day ahead.
Check out the following video for clips from the monorail to Atlantis (and a penny crusher at Atlantis), the indoor waterfalls at the Dubai Mall, some of the fancy lighting at the Burj Khalifa, and a preview of the fountain shows "Ain't No Mountain High Enough" and "Thriller":
Please follow and like us: