As the end of the year approaches, we've made the decision to mattress run for Explorist Status with Hyatt.  This will get us 4 passes for club lounge access which we can use over the course of next year.
We already had 7 qualifying nights with Hyatt this year, and only need 3 more to reach Explorist as part of a promotion they rolled out earlier this year.  We also decided to aim to qualify for the "Brand Explorer" benefit, wherin if you stay at 5 different Hyatt brands you receive one free category 1-4 night.
Given we've already stayed at Hyatt Regency and Grand Hyatt to reach the latter benefit, this left Hyatt House, Hyatt Place, and Hyatt Centric as available options.  For our first night, we booked the Hyatt Centric Fisherman's Wharf in San Francisco.
We stayed here many years ago when the hotel was still branded a Hyatt Regency.  While we didn't find anything wrong with the hotel per se, it certainly didn't have much appeal to it.
And that's what we found this time around as well.
We arrived around 10:45, after a night out in the north bay viewing extravagant residential Christmas light displays.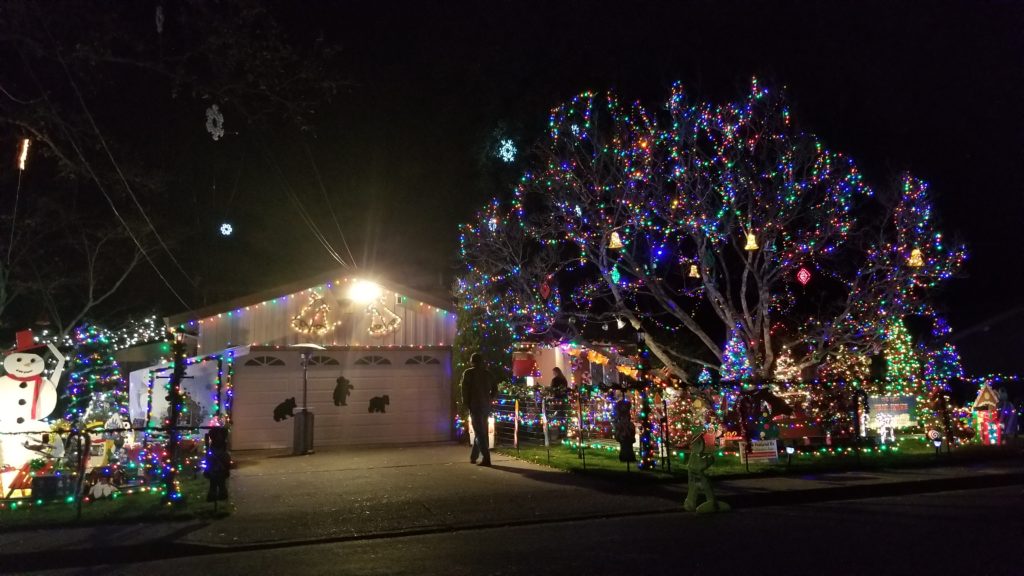 We discovered that parking was $65 for the overnight valet, though we found a spot directly in front of the hotel with free overnight parking, the only caveat being we'd have to move the car or pay beginning at 9:00 A.M.
We decided to leave the car at the meter and check-in.
We were greeted at the front desk and checked-in.  We were told that our breakfast would be served at the attached Wardroom Restaurant, complimentary as part of our Hyatt Globalist benefits. We were given our cards to the fourth story room, and I inquired about hourly parking the following morning.  We were told that the hourly parking rate didn't apply to hotel guests, and that the only option was valet.  However, the agent kindly offered us free parking for being Globalist members, and so we went to retrieve the car and pass it to the valet.
We entered our room to discover that we had been given a courtyard-view as opposed to the City view that I booked.  It was no biggie, as we were going to bed anyways, but might have been a bigger deal to some.
The room itself was fairly spacious, decently decorated, and plenty comfortable.
The King bed featured a wood headboard, and the wall behind was painted to mimic the ocean.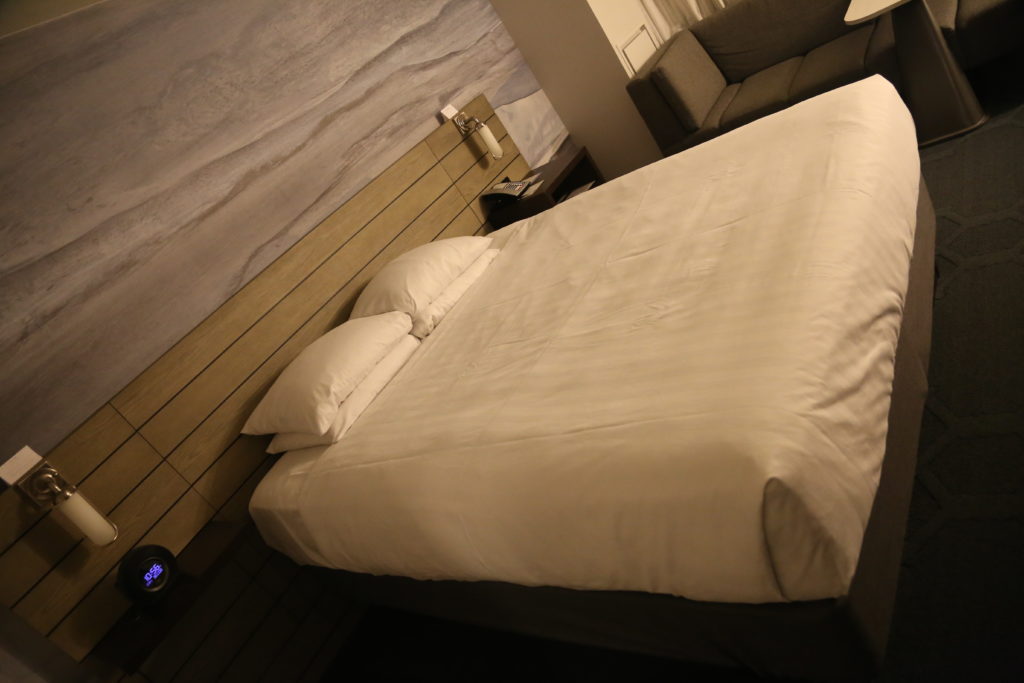 Beyond that a small couch and table sat against the back window, which offered a view of the courtyard pool and hot tub.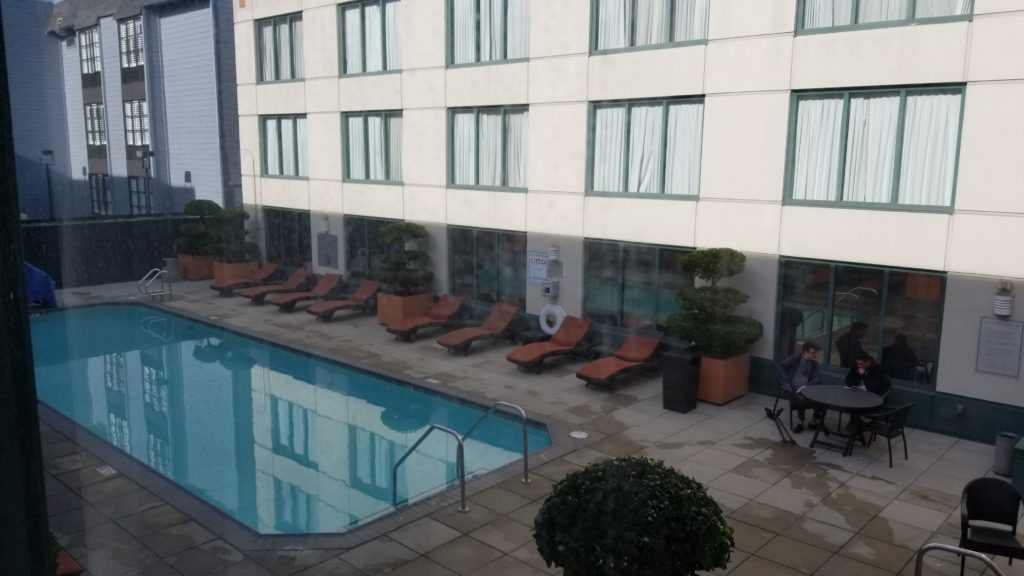 Across from the bed, cabinets held a mini-fridge and a safe, and above that was a decently sized flat-screen TV.
A small closet and drawers at the front of the room would hold a business traveler's luggage, but maybe not suited for a long vacation.  An oversized shower featured a very undersized shower-head built into the ceiling.
We went to bed soon after arriving, only to start hearing the loud musings of rambunctious young adults in some neighboring rooms.  We would realize the following morning that it was the weekend of Santa-Con, a time when college students would dress up in red and white and drink to their heart's content.  Fortunately the noise didn't last too long, and we were able to get a good night's rest.
We woke up around 10:00 to grab breakfast at the Wardroom.
The first time we visited the hotel we only had Platinum status with Hyatt and were not entitled to free breakfast.  Though we did explore options at the time, it simply felt like too much to pay for the morning meal.
It seems the restaurant had either undergone a remodel or complete change since we had seen it last, and in honesty the menu prices didn't appear to be as outrageous as we thought they were on our previous visit.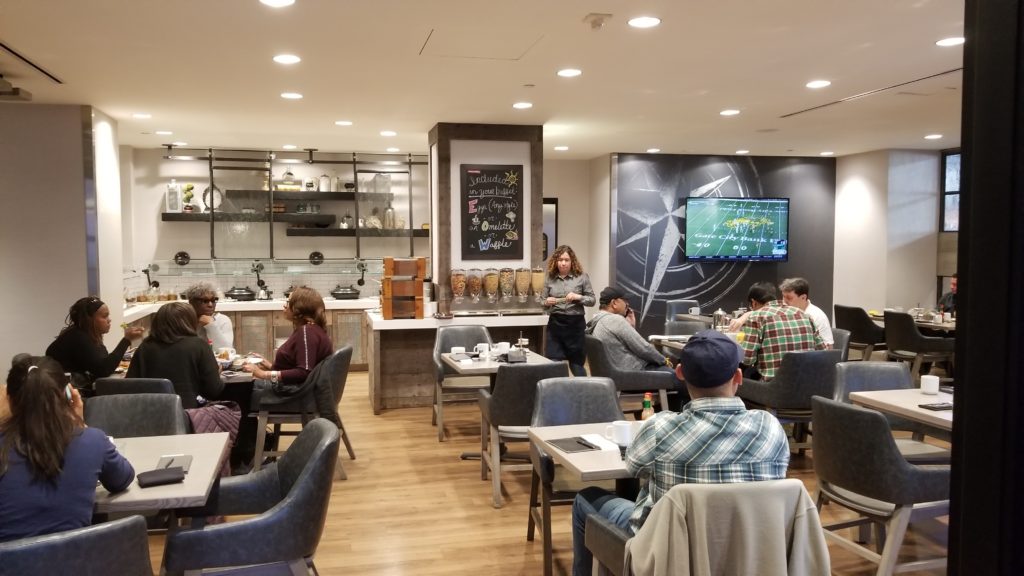 I ordered an Orange Juice and a Dungeness Crab Omelet, while Kim had Hot Chocolate and Chocolate Chip Waffles.
The waffles were— well, just waffles.  But the Dungeness Crab Omelet was almost on par with the Lobster Omelet Scramble I enjoyed at the Park Hyatt New York.  I mean, it wasn't lobster, but it was darn good.
Our breakfast would have come out to $57 with tax and tip included, so we got a lot of value from being top-tier status holders.  Honestly the Crab Omelet was priced pretty fairly at $19, though I'd still be inclined to find cheaper food if I had to pay.
We had pre-arranged a 4 P.M checkout, so we snatched an Uber to the Westfield Mall off Market Street.  After a day of browsing and gift-hunting, we headed back to checkout just before 4.
We inquired if there was any price difference between the Courtyard and City-View rooms and were told there was none, so didn't press that issue any further.  Our total bill came out to just around ~$220 inclusive of taxes and fees.  We had the front desk call the valet to get our car, and left for Napa.
Ultimately:
Of the three major downtown Hyatt hotels, this is my least favorite.  Not that there is anything particularly wrong with the hotel, but even after the remodel there is nothing about the place that stands out or really offers much appeal.  Fisherman's Wharf isn't necessarily a bad place to stay when in San Francisco, and it's particularly convenient for those who want to visit Pier 39 or Ghirardelli Square, but I'd still pick the Regency Embarcadero for its views and proximity to Embarcadero center, or the Grand Hyatt for a bit more elegance and its spot next to fantastic shopping options and Union Square.
Please follow and like us: