Last year we started our international adventures with a bang, spanning four countries over two weeks and enjoying lavish accommodations at two resorts in the Maldives.  We explored incredible museums in Washington D.C, we kicked back in first class with Lufthansa, and spread out in our suites at Park Hyatt Hotels in Dubai and Abu Dhabi. So how could we top that for our honeymoon?
I'll tell you how: with a three week world adventure that would see us circumnavigate the globe! With spend nights in New York, Seychelles, Madagascar, South Africa and Singapore, and flights of renowned comfort in the suites-class of Singapore Airlines.  Our journey would touch in India for an overnight layover, and we'd also have an extra 12 hours to explore Singapore on our outbound flights. We would cover a total of more than 33615 MILES!!!
So how could we pull this trip off?
While our Safari in Madagascar and South Africa and our economy leg flights from India to Seychelles to Madagascar to South Africa were impractical to book using points or miles, we did use a whole bunch of Citi Thank You, SPG, and Ultimate Rewards to cover some of the higher-end travel.
So to start, let's run over initial numbers:
United SMF-EWR Economy: We paid $600 after taxes and fees for the two of us on this 6 hour economy flight with a 2 hour layover in Denver.
Park Hyatt New York: Due to the Hyatt transition from Gold Passport to World of Hyatt, I received a Category 1-7 free night award. I utilized this along with 60,000 Hyatt points and applied a Suite Upgrade award to get a total of three nights in a Park Suite King Room: at time of writing, those three nights would cost a total of $3825+ taxes and fees.
Singapore Airlines Suites Class JFK-BOM: More than 3 years after I initially read about these amazing accommodations on Singapore's A380, we booked our flight to Mumbai for a grand total of 225350 miles and $850 cash. We transfered 113,000 Chase Ultimate Rewards Points and 113,000 Citi Thank You points that we earned via sign-up bonuses for the Chase Sapphire Reserve (100,000 at the time, 50K current offer), the Citi Thank You Prestige (50,000 at the time, 40K current offer) and the Citi Thank You Premier card (50,000 at the time, 30K current bonus). Those points along with the points we earned for our spending and a long ago earned sign-up bonus for the Citi Thank You Preferred (20,000 at the time, 15K current bonus) netted us this extravagant ticket.
Our flight departs mid-evening from JFK and stops in Frankfurt, Germany. After a two hour layover, the plane continues to Singapore and lands in the morning. The total flying time for the JFK-SIN leg is just over 20 hours.
On arrival into Singapore we will have a 12 hour layover and get a chance to explore the city. We'll also have access to Singapore Airline's elite lounge: The Private Room.
From there we depart to Mumbai on another 5.5 hour leg, where the extravagance will give way to an overnight layover and a morning connection to Seychelles.
As of time of writing, the per person cost for a one-way flight is $11,950 (A round trip would run about $13,625)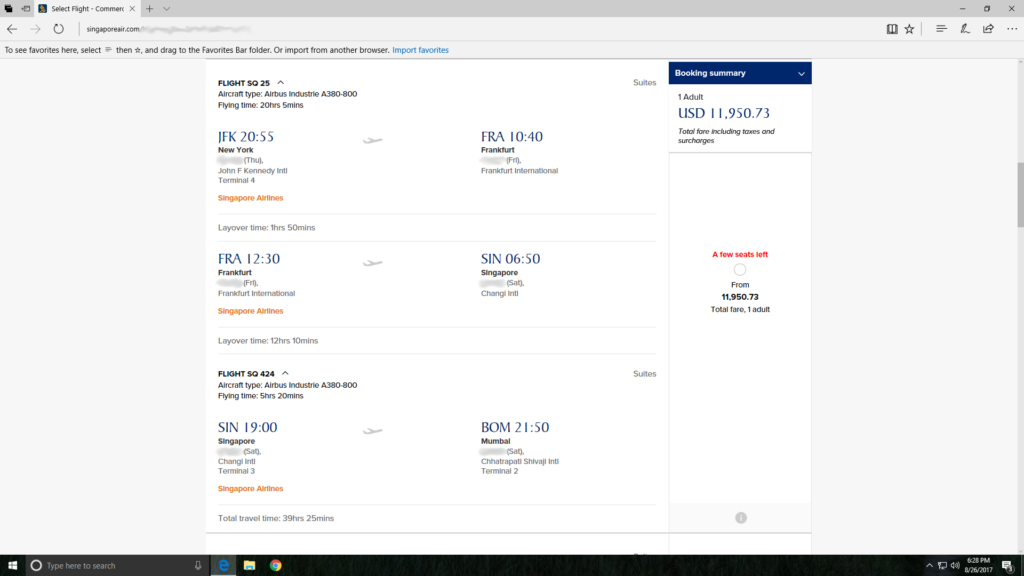 Air Seychelles Economy BOM-SEZ: We booked this 5:00 A.M departure to Seychelles at a cost of $625 for the two of us.  Our flight time on this leg is 4 hours and 30 minutes.
Le Meridian Fisherman's Cove Seychelles: We used 36,000 Starwood Points earned via an increased sign-up bonus on the Amex SPG card. As of time of writing, those nights would cost $1125.
Air Seychelles Economy SEZ-TNR: Our departure from Seychelles to Madagascar ran a total of $875 for the two of us on a 2 Hour, 45 Minute journey in economy.
African Budget Safaris: We booked an 8 day safari out of Antananarivo Madagascar and a 4 night South Africa Safari at the Kruger Preserve at a cost of $6700 for the two of us.  We used our Chase Sapphire Reserve Card on $6150 of the charges, netting us 18450 Ultimate Rewards Points.  The remaining $550 we put on our Barclaycard Arrival+ MasterCard, and utilized our sign-up bonus to negate the charge.
South African Airways Economy TNR-JNB: Our departure from Madagascar to South Africa ran a total of $1300 for the two of us on a 3 Hour, 45 Minute journey in economy. These flights are occasionally available via United Saver Award at 17,500 miles and $150 in cash, but we didn't want to chance not having our flight available when we needed it.
Marriott's African Pride Melrose Arch Hotel: We booked this hotel for the night we arrive in South Africa and the night before our flight out utilizing a government rate at a total cost of $325+ Taxes and Fees.
Singapore Airlines Business Class JNB-SIN-SFO with Stopover: As much as I'd like to fly First Class all the way back home, Singapore Airlines only offers business class on their A350 from Johannesburg to Changi.
We booked this early afternoon flight at a cost of 161,500 miles and $1,050. We paid an additional $200 ($100 per person) for a one day stopover in Singapore. We utilized 119,000 Citi Thank You Points and 43,000 Chase Ultimate Rewards points, earned via the same methods discussed above under our JFK-BOM leg. (Involved both of us signing up for some cards).
Our first leg arrives early morning in Singapore ten and a half hours after leaving Johannesburg.
Our flight from Singapore to San Francisco departs in the early evening and lands in Hong Kong for a 1.5 hour layover.  We depart again and land in SFO in the early evening. The total flight time for that leg is 15 hours and 45 minutes.
While you can not book a ticket straight through from Johannesburg to San Francisco via cash, as of time of writing the business class ticket from Johannesburg to Singapore runs $2150 per person.  While the flight from Singapore to San Francisco in business class runs $4500 per person.
Grand Hyatt Singapore: We booked a single night at this hotel for our 1 day stopover on our return trip. We used a points+cash rate, which cost 10,000 Hyatt points and $150 cash. At time of writing, a night in this room would run $300.
Totals…
Cash: We are paying a total of $12,125 for our hotels, airfare, and safari.
Points: We used a total of 494,000 points broken down into 232,000 Citi Thank You Points, 156,000 Chase Ultimate Rewards Points, 70,000 World of Hyatt Points, and 36,000 Starwood Preferred Guest Points. We also utilized one Hyatt Free Night Award.
Value: factoring that our first class flight would run a minimum of ~$12,000 per person and conservatively estimating our business class at $5000 per person, the value of the trip (cost it would take in cash) is over $48,000. That means as a whole, our points averaged us 7 cents apiece- not bad considering they were all earned via spend we would've done anyways. Also, using some strategies, a good portion of those points were earned at a 5% rate, meaning many of my everyday purchases returned around 30-35% in value.
Please follow and like us: