One of the things I'm always in the market for are great hotel rooms during various fireworks displays.  Be it the Fourth of July in a corner-lakeview room at the Coeur D'Alene resort or a Balcony Suite at the Hyatt Regency San Francisco, these are premium spots and are often underpriced.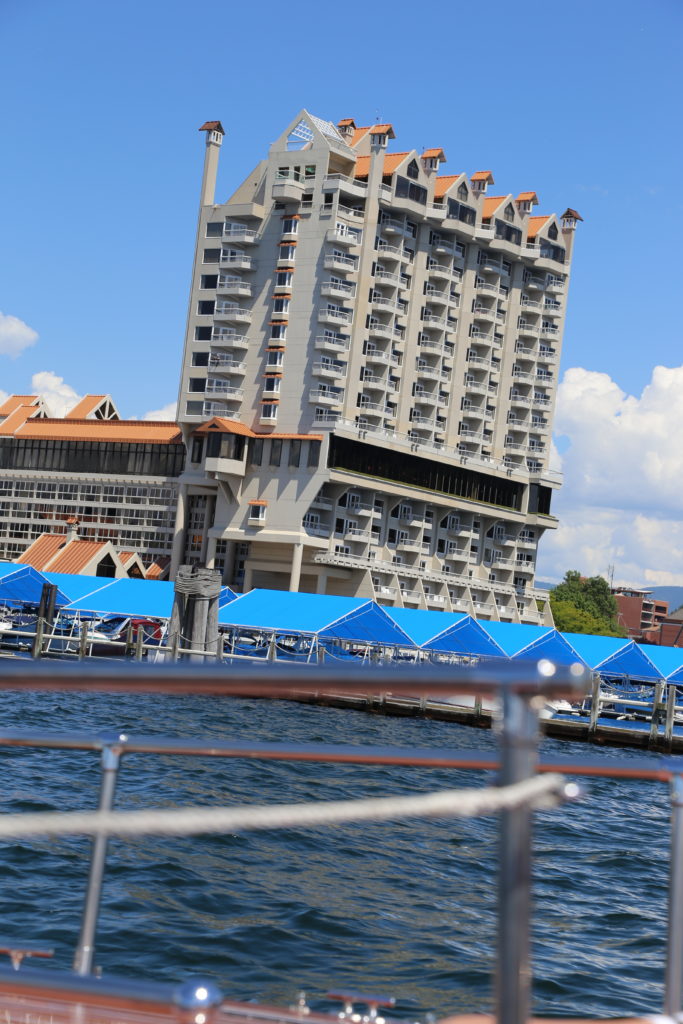 So in my search for this coming New Years I decided to browse Vegas.  There's a particular suite I've been eyeing and over the last week I've been looking every day for availability to open up.
The one thing I hadn't done is to check availability while signed in to my MLife account.  I have a platinum tier status with M-Life as part of their match to my Hyatt Globalist Status.   As I understand the M-Life program, the only tier higher than Platinum is the invitation only "Noir" tier.
It's because of my status that upon signing in, I was able to see availability for every M-Life hotel in Vegas over New Years eve.
Of course, it isn't cheap.
The Mirage already shows availability regardless of being signed in… starting at $303 per night as part of a bi-annual sale, or $212 a night for my M-Life discounted rate.
But signing in also enabled me to view rates at the Bellagio, MGM Grand, Excalibur, and more.
The Excalibur seems to be priced like it might be during an event: $599 for an entry level room.  Same goes for the Bellagio, Aria, Luxor, and Mandalay Bay.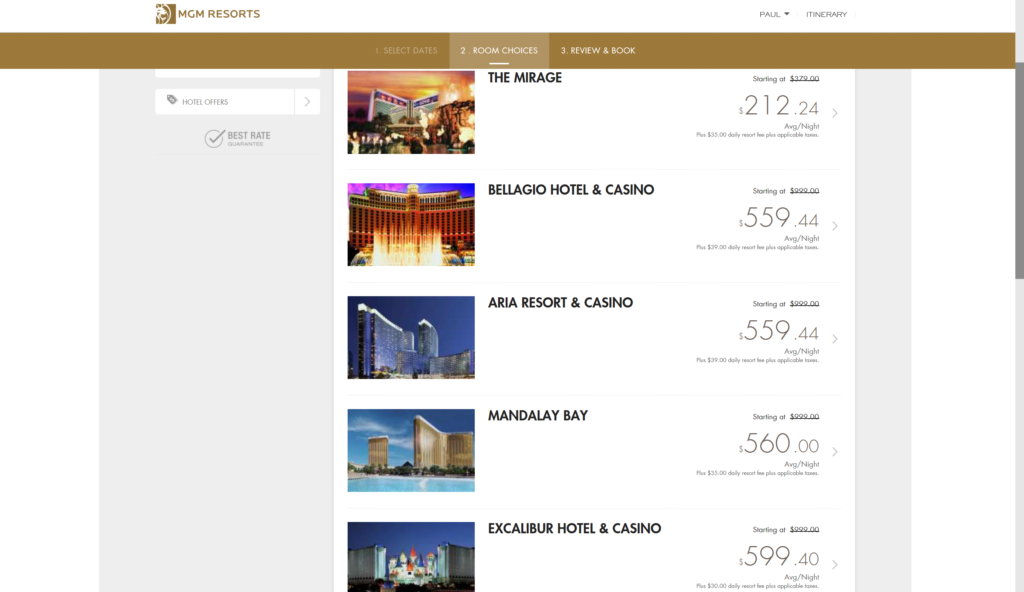 But the rates skyrocket for the rest of them, starting at an insane $5600.00 for the Delano.  The same price applies to the MGM Grand, Vdara, and New York New York.
The Monte Carlo distinguishes itself with a rate of $6000 per night.
But the crème-de-le-crème is most obviously the Signature at the MGM Grand, starting at $55439.99 for the night.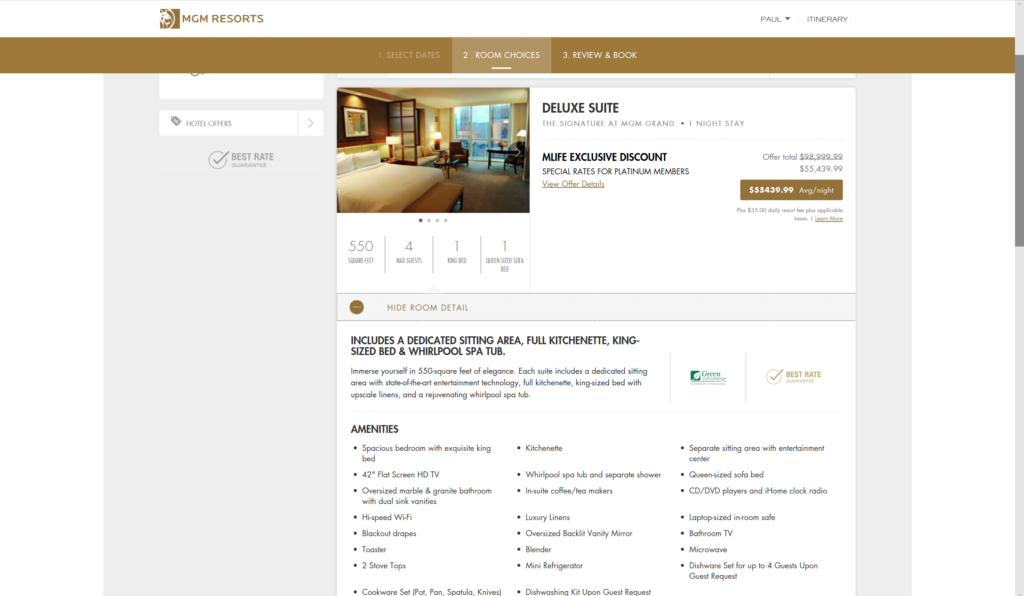 What does this luxury-car-cost get you in this case? Well, you'll be lucky enough to stay in their "Deluxe Suite".  A 550-Square Foot room with a King Bed and a Queen Sofa bed, fitting a maximum of 4 Guests.  You will not be able to take the bed or sofa home with you.  You'll have a whirlpool tub and separate shower in the bathroom, but the toilet is not made of solid gold.  The bedroom also holds a 42″ flat screen TV. Sadly you will not be able to take this home with you, either. At least, if you can, it's not specified.
While all this may sound quite dandy to some, your money unfortunately will not afford you VIP Check-In ($75 Extra) a high-floor upgrade ($10-$20 extra) or a late check-out ($30 extra).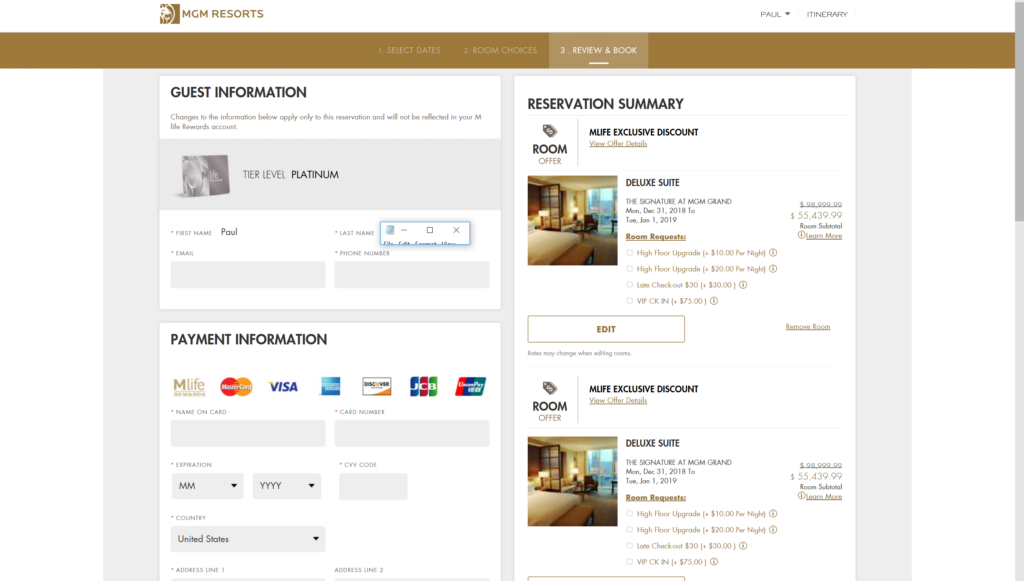 In all seriousness, this is likely just an oversight on the part of the hotel, and most of these rooms should drop to a down-to-earth price in the next few days or weeks.  But if you do snag this room for 55 G's, let us know if they throw in a private-jet.
Please follow and like us: