While I've been eyeing the Andaz Napa for quite sometime, I could never quite justify it for a stay.  Reviews on the property have been lackluster, and rates typically high.  I decided to pull the trigger over a holiday weekend because a Points+Cash rate was available, and I had booked a mini-safari at the Safari West park in Santa Rosa an hour north.  I paid 10,000 points and $125, and utilized a Diamond Suite Upgrade award to book us into an Andaz Loft.  In retrospect this Suite Upgrade was not well utilized, as the price difference between a standard room and an Andaz Loft is only ~$40.  Nevertheless, I was only paying $125 and some points for a ~$350 room.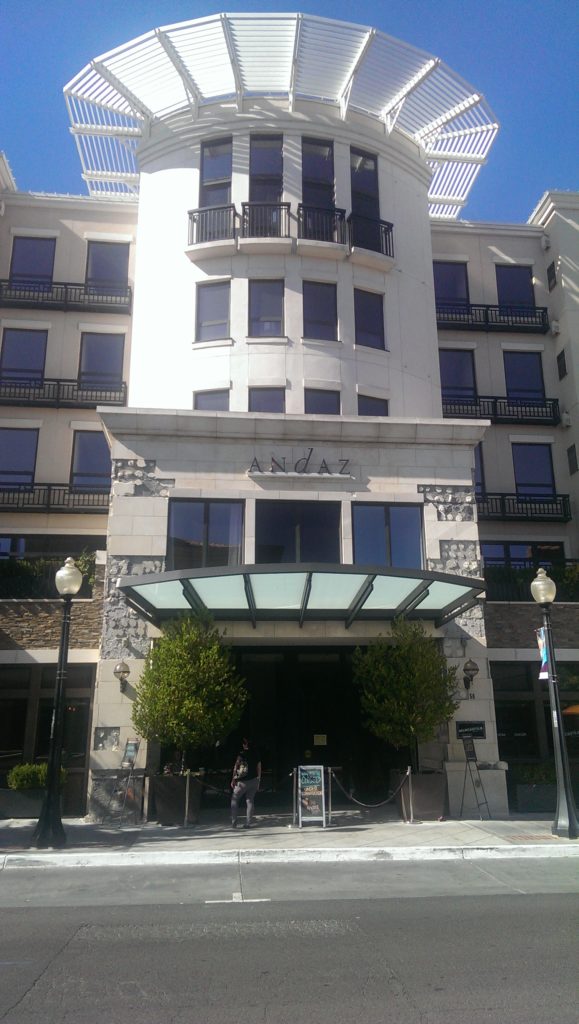 We arrived at the hotel around 6:15 in the evening.  We pulled up to the valet and were informed that valet ran $25 per night, where-as self parking was free.  The valet directed us to the parking garage behind the hotel, and we had no problem finding a spot.
Inconveniently there was no back-side access to the hotel, so after descending the stairs to the garage we had to walk alongside the hotel and wrap around to the front.  Not a huge deal, but even after a short trot in the rain while carrying umbrellas we arrived in the lobby a bit damp.
Upon entering we scanned for the check-in area.  On the right was a bar and a makeshift check-in zone for a convention that was taking place.  On the left was the concierge and a couple of laptops set up on counters.  After a very short wander, we determined check-in was the two laptops, and found an agent. It was certainly a bizarre setup. While I'm familiar with the modern check-in style of the Andaz, this may have been a bit too integrated for its own good.
Kayla checked us in and informed us that our Diamond Suite Upgrade to an Andaz Loft had been further upgraded to an Andaz Large Loft Terrace.  This was a several category upgrade from the Loft, to the Loft Terrace, to the Large Loft, then to the Large Loft Terrace.  Ultimately I would hope for nothing less at this hotel, given how small all the lofts are, even the large ones.
Kayla also offered us our Diamond amenity: a choice of 1000 points, a fruit and cheese platter, or a Strawberry/Rocky Road plate, along with a choice of red, white, or sparkling wine.  In addition, she offered us a choice of wine for check-in, and a coupon for two complimentary glasses of Sparkling wine from the on-site bar.  We chose the Strawberry/Rocky Road plate as our amenity.
She told us that breakfast would be from 7:00-11:00, and gave us a voucher for our free Diamond breakfast, which was valid for up to 3 people.
We took the short stroll to the elevator and went to the second floor, finding our room: 214
I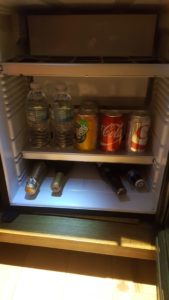 nside was a cozy but elegant setup.  A minibar greeted us directly to the left of the door, and ahead was a sitting area with a couch, coffee table and flat-screen.
Above the mini-bar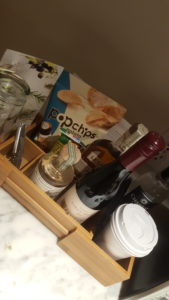 was an espresso machine and snacks.  One of the cool things about Andaz hotels is that many of the snacks and mini-bar items are included in the cost of the stay. This selection was decent, but maybe slightly lesser than our choices at the Andaz San Diego.
Beyond the couch was the terrace, which was a decent sized space with a table and four chairs and decorative hedges about.  We spent virtually no time on the terrace given that it was raining throughout most of our stay, however it did offer a nice overlook of 1st street.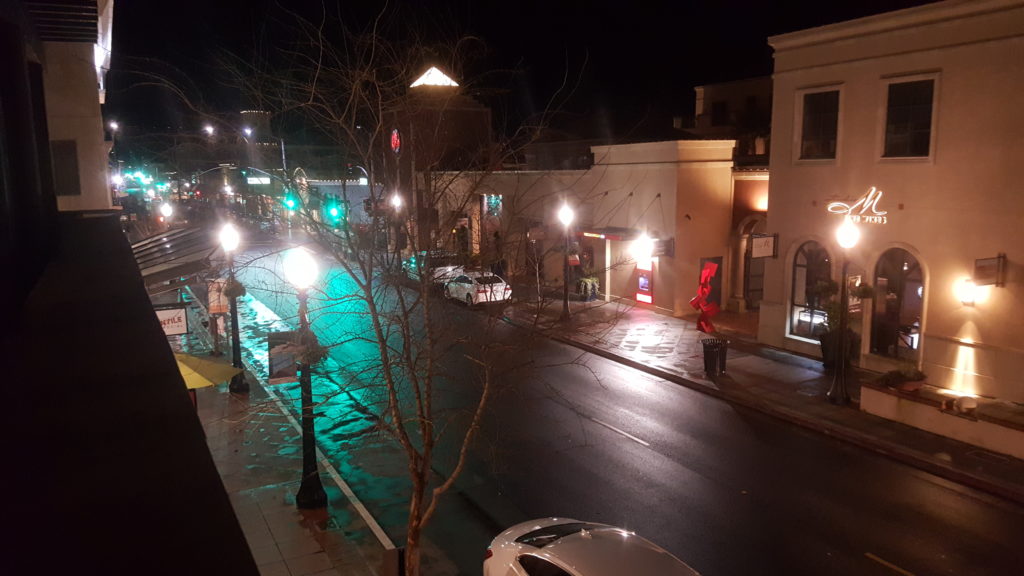 To the left of the main entry was the bedroom.  A two-sided fireplace graced the edge of the wall leading from the living to bedroom areas, and the bedroom welcomed us with a King sized bed and a large tub.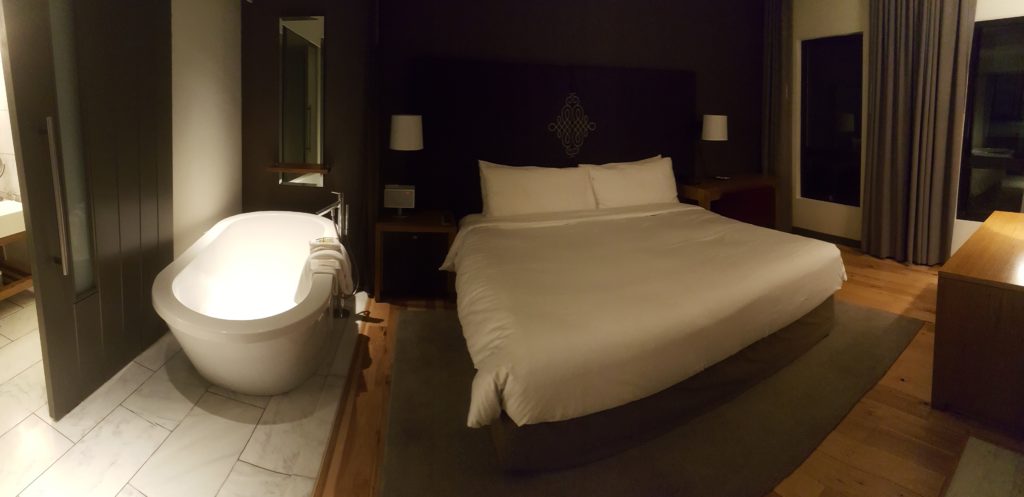 There was an additional wall-mounted TV, a bedside stereo, a large dresser, and two nightstands with lamps. There was also a good-sized closet.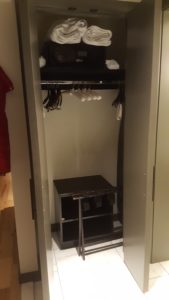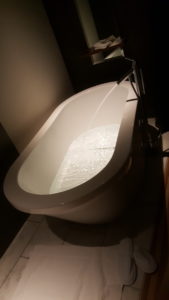 A single sliding barn door separated the bathroom, which featured a dual vanity, shower with rain-head, and a water-closet.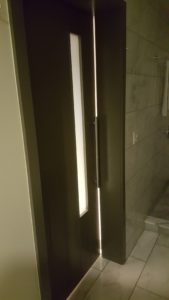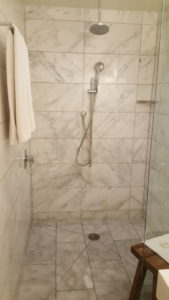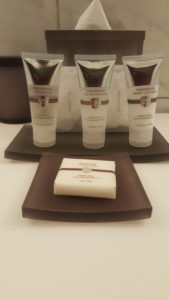 After settling in and enjoying our complimentary wine (as much as two non-wine-drinkers can!) we left for a short walk over to Velo Pizzeria for dinner.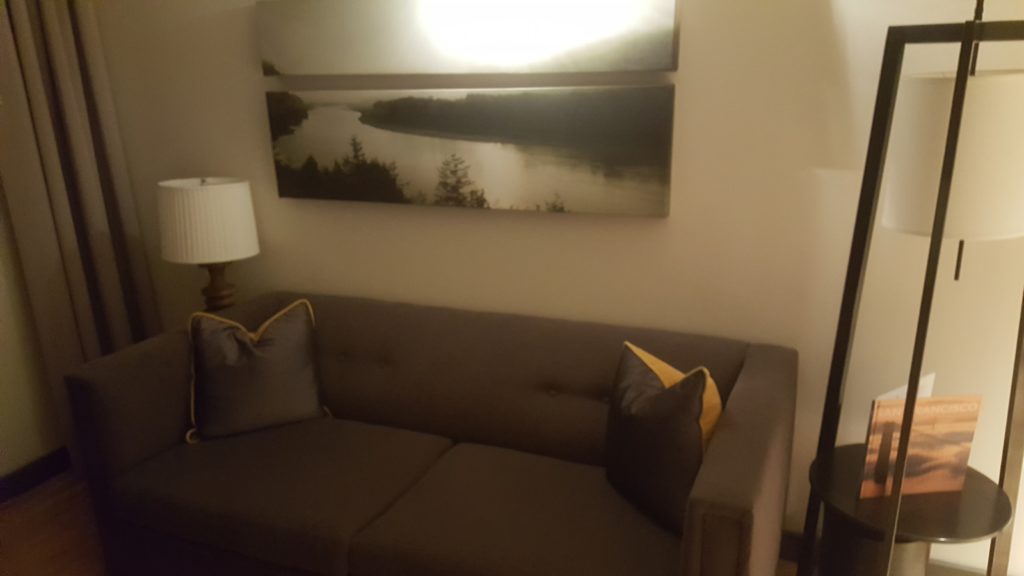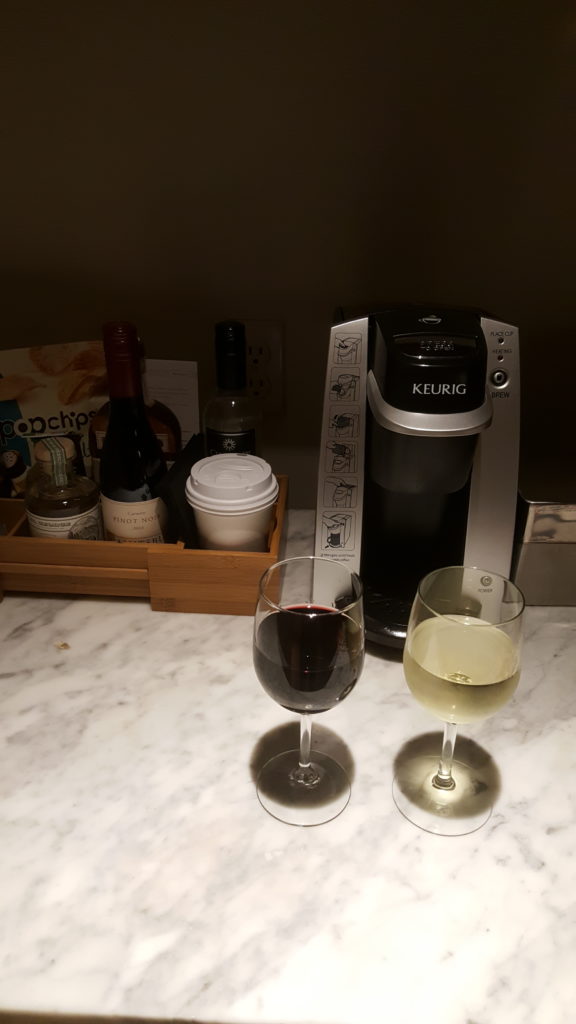 When we returned we found seats near the bustling bar and ordered a variety of apertifs to bring back to the room.  It took quite some time to place our order and get our drinks, and I was quick to whip out payment when the bill came so we wouldn't get stuck waiting for someone to come collect.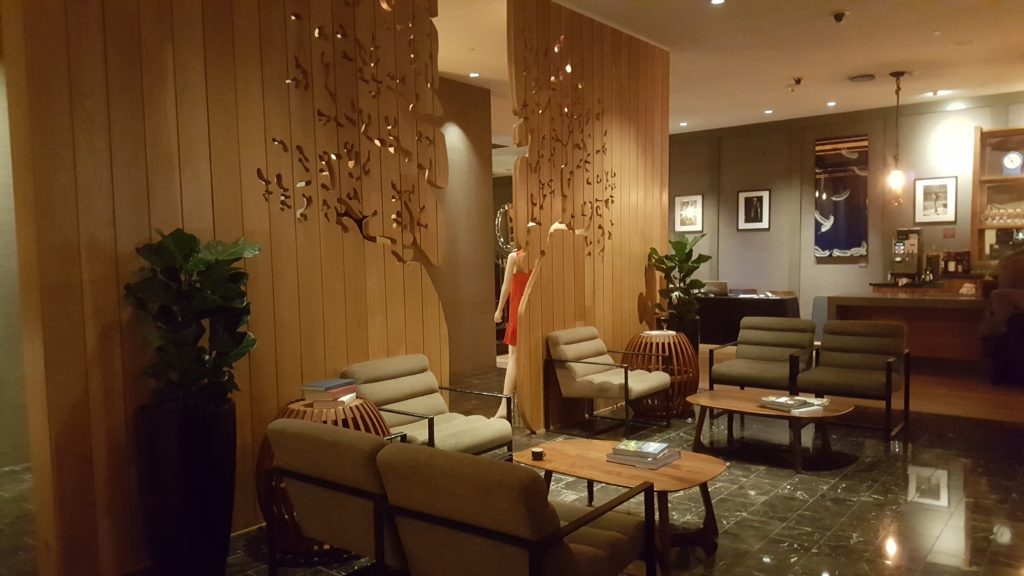 Back at the room we noted our diamond amenity hadn't arrived, but didn't bother to call for the status.  We had our drinks while watching the tele, and had a chance to use the tub.  Then it was off to bed, the fireplace giving us some extra heat while the rain continued outside.
The following morning we woke as late as feasible without missing breakfast.  On arrival we were told that this Sunday morning breakfast would be different than on weekdays.  I didn't know whether that was a good thing or not.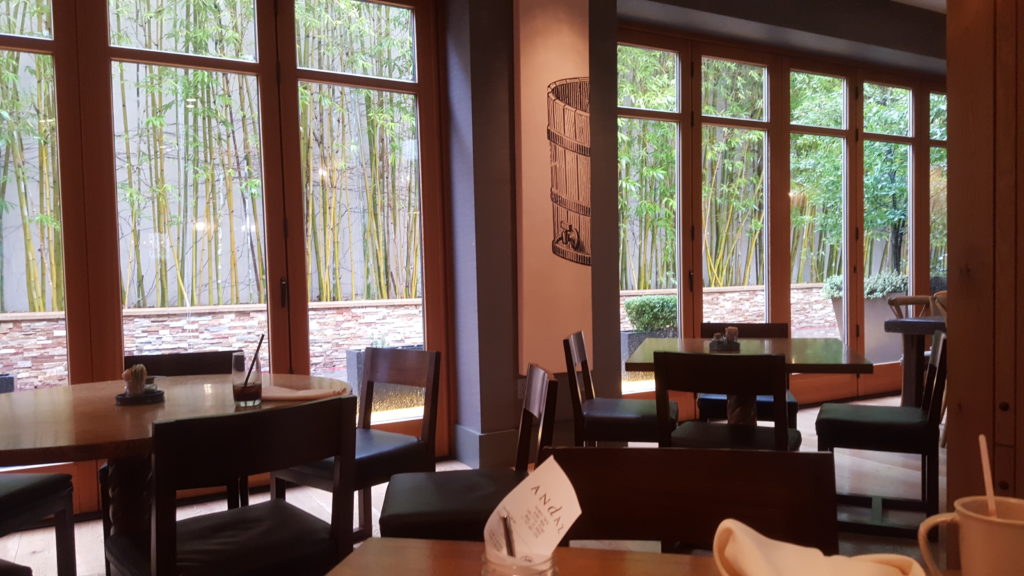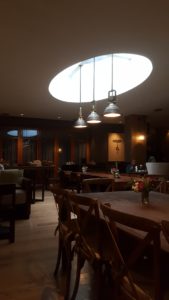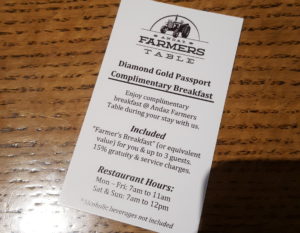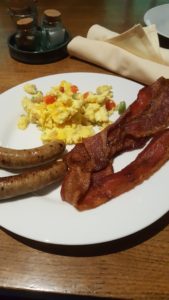 We took a seat but briefly before a waitress explained the buffet option.  There was no menu to choose from, just the buffet.
The hot food options were: scrambled eggs with pepper, onions, and cheddar. Southern style beans and rice. Bacon, chicken sausage, and roasted poblano potatoes.
On the other side of the room there was yogurt, oatmeal, pastries and bread, and fruit, along with orange and apple juice.
Despite what appears to be a good variety of options up front, we were a little disappointed with a lack of menu.  Versus our lower-category getaway at the Hyatt Regency in Monterey the offerings seemed a bit on the slim side.  But ultimately they satisfied our morning need. At $25 per person though, we never would have exercised this option was it not included with our membership status.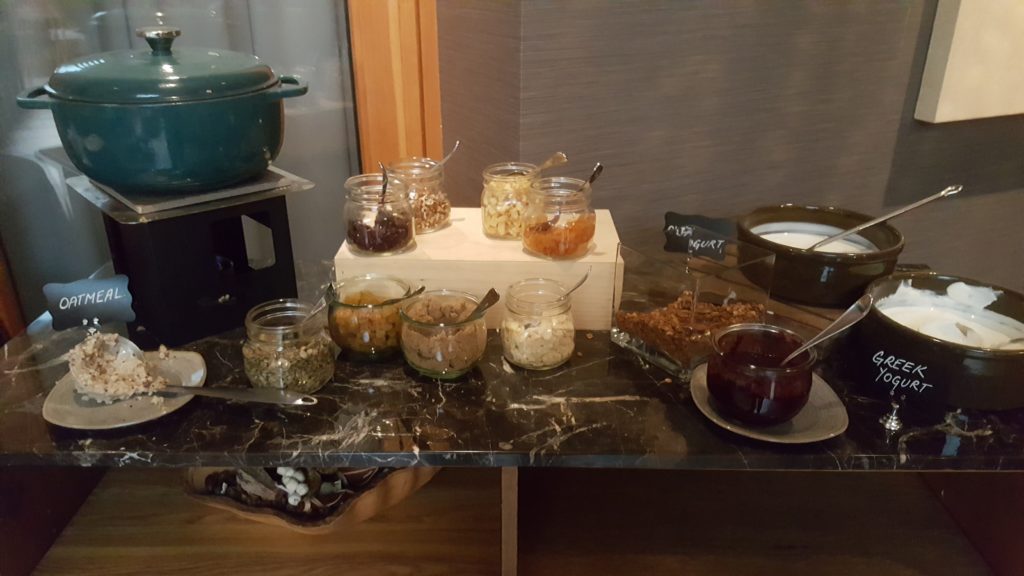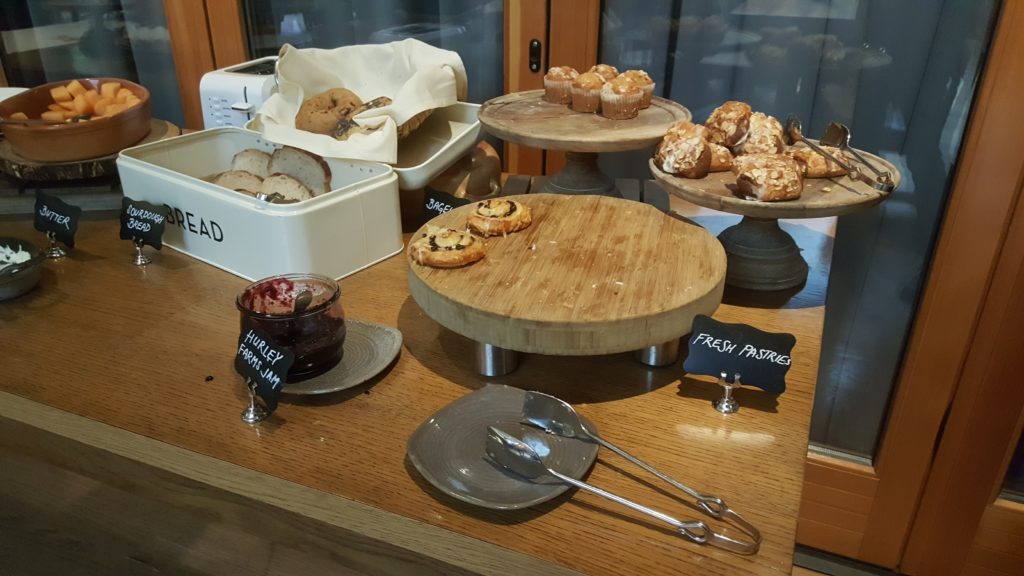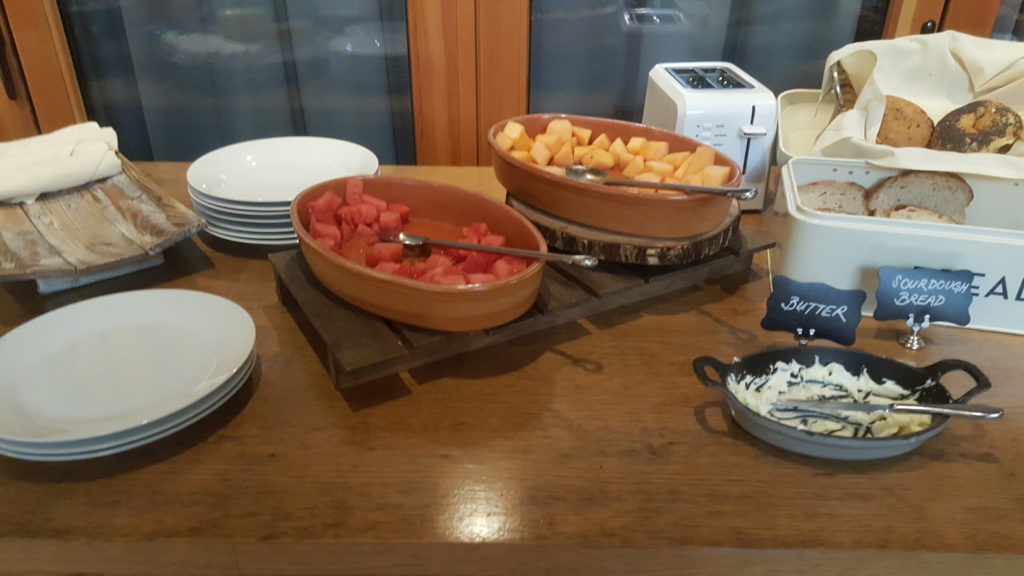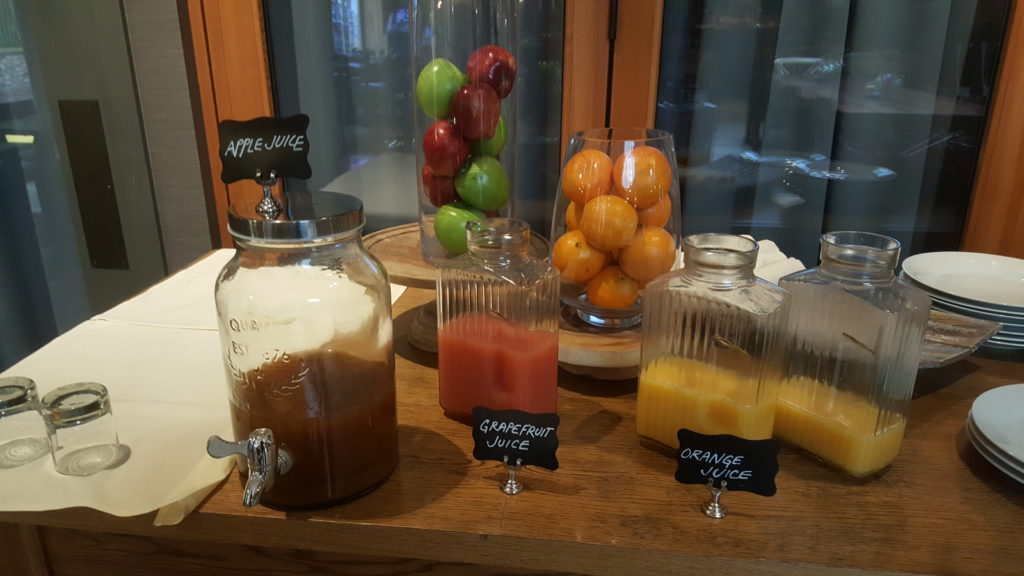 With a late-checkout pre-arranged, we had plenty of time to enjoy our day in Napa.  We walked across the street to Annettes chocolates, a store we visit during most of our trips to Napa.  There we picked up some chocolates to munch on for the day, and KimPro ordered some drinking chocolate.  Then we went back to the room.
After trying to come up with activity ideas, we opted just to try out a movie, given how rainy it was.  As we went through the lobby I stopped to ask if we could tour the larger suites: either the Vintner or the Harvest.  I'm always looking for the best rooms in hotels and the agent was happy to assist.  Unfortunately both suites were occupied so we were unable to visit.  I was told that normal rates for the Harvest Suites go from $500/night up (depending on time of year) while the Vintner Suites sell for over $700/night.
We took the path around the side of the hotel back to the garage to pick up our car and drive the few miles to the Century Theaters. Sadly on arrival the Lego Batman Movie was sold out, so we begrudgingly went back to the car, determined just to go back to the room to kick back by the fireplace.
It was then that our day took a great turn, as right outside and beside the theater was our favorite Food Truck: Cousins Maine Lobster!  We ordered ourselves some lobster grilled cheese, lobster quesadilla, and lobster bisque to go and traveled back to the room to watch TV and nibble.
When it was time to check-out, we noted to the front desk that our Diamond Amenity had never arrived at our room.  Instead of offering us points, Miles proactively took our drinks off the bill.  Given we had spent $60+ on the alcohol, this was worth plenty more than the points, and it made missing the Rocky Road worthwhile.
After checking out around 4 and loading the car, we walked along 1st and Main streets window shopping, and ended up eating at Morimoto's (highly expensive, highly recommend).
Ultimately
Our single night in Napa was a great getaway to wine country.  Of course we weren't there for the wines, but it was a convenient and comfortable spot to crash after our wildlife safari.  The upgrade to a large loft terrace was nice, and we are certainly happy we didn't get anything less (though we weren't entitled to the additional upgrade). While breakfast was underwhelming for being an upscale hotel in Napa, it was still enjoyable enough. Lastly, the failure to bring us our Diamond amenity was more than made up for with $60 in free drinks.  I can't say I'm inclined to pay a premium to stay here, but when in Napa, it's a hip place to stay.
Please follow and like us: