My first experience with Hyatt Globalist Status was an unexpected trip to the Hyatt Regency Monterey.  We utilized our Hyatt Visa annual free night on this same-day booking.  We pay an annual fee for that card of $75, but on this particular night, the rate for the Hyatt Regency Monterey was $209+ tax and fees for the King Bed room that we booked.
We pulled up to the front of the hotel around 5:45.  The valet approached us and asked if we were checking in, to which I answered that we were.  I walked into the lobby and found that while there were a couple guests being helped, there was no line to check-in.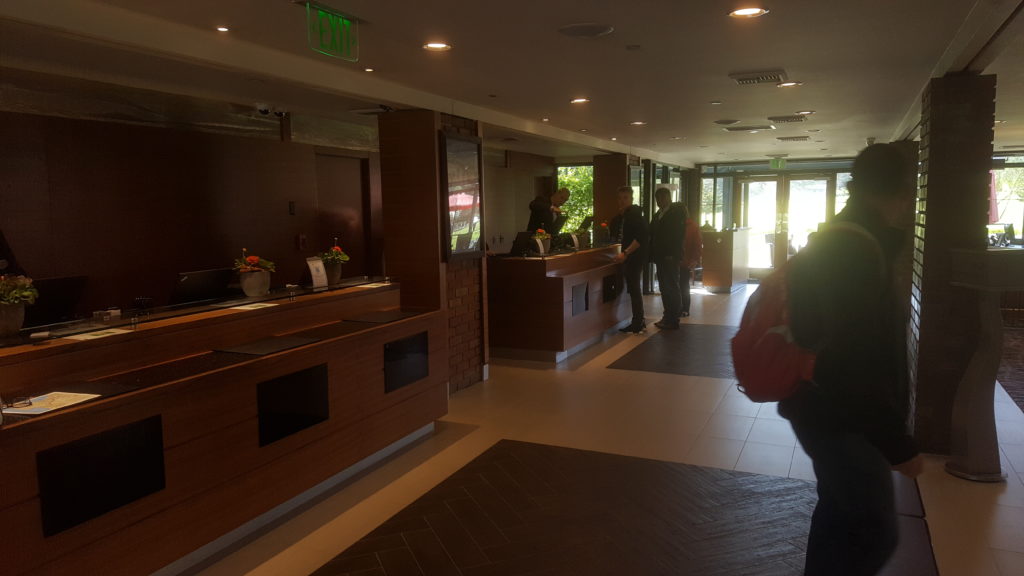 When I was up, it was Kyle who checked me in.  Kyle appeared to be a new employee, his tag indicated he was fairly new, being with Hyatt since 2017.  He took my I.D and credit card and confirmed that we had booked a King bed room.  This was indeed the case, though we had added a guest to our party and a single king bed in the room would no longer suffice.  As he checked us in, I inquired about suite availability.  While Kyle checked, I noted that the website showed a suite was available, but that I was aware the website is not always up-to-date.  Kyle affirmed that they had both Monterey Suites and Hospitality Suites available, and I asked if they would be able to upgrade me.  He left to check with a manager, and came back shortly to advise that it would be no problem.  I asked if we could have a hospitality suite, given that I've stayed in the Monterey suites before, but had not had a chance to see the hospitality suite.  Kyle said that it was unavailable, but then clarified he had been told he could only upgrade me to a Monterey suite.  While a tad disappointed, I understood.  And despite my slight disappointment, I was happy to be getting an extra $125 in value for the suite upgrade, as the going rate was $334 for the night.
I then asked Kyle to clarify their free breakfast policy for Globalist members.  He texted his manager to figure it out, and I noted that the new terms appeared to entitle me to a 2-adult, 2-child free breakfast.  His manager replied to him that breakfast would be free for up to 4 adults, which was perfect.  I also noted that we may need a cot since we had added an extra guest to our reservation.  Kyle told us that the suite included a pull-out couch, but that he could send a cot as well if we wanted.  I told him we would let him know if the pull-out would be insufficient.
He offered me some bottled water, which I took, and showed me on a map where our room was.
The Hyatt Regency Monterey is split into many buildings, and while a few of them are attached via covered walkways, they are all spread out from the lobby.  Our room was in building 5, next door to the lobby.  We drove over to the front of the building and were able to find a spot fairly close by to building 4.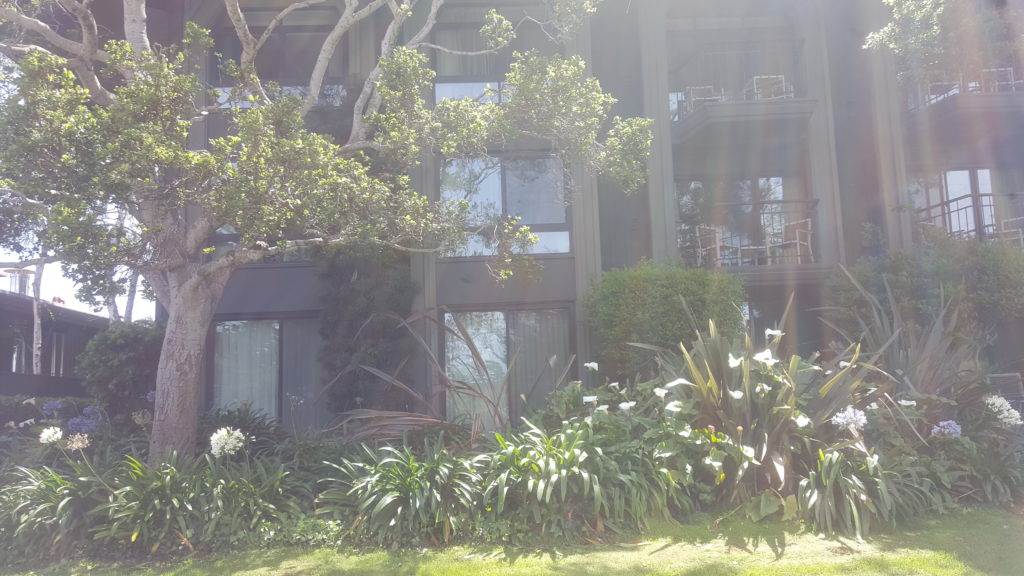 We carried our luggage up to the building, walked along the other side of building 4 along the pool, and found our building next-door.  We went down the hallway of our building and up the stairs.  I had forgotten what Kyle told me about our floor, so I presumed our room would be on the 3rd floor (given the number 533).  On arriving at the base of the 3rd floor, we realized this was not our level, room numbers going from 550 and above.  We walked back to level 2, and found our room almost immediately across from the stairwell.
Our room 533 was a King suite unlike others we had experienced.  While in general the suites are simply double the size of a normal room, this room in particular seemed to be a simple combination of two rooms. On entry, we found a living room with a couch, television, mini-fridge, a couple of chairs and a table.  At the end of the room to the right was an open door that connected to a second room, where our king-sized bed was.  To the left was a closed door, indicating that the living area could be connected to a third room.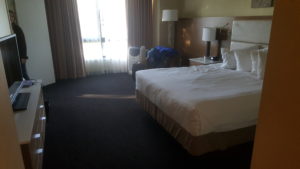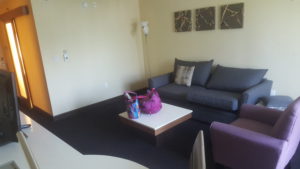 Each room featured its own full bathroom: ours with a shower, and the living room bathroom with a tub.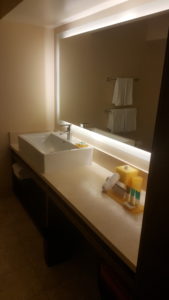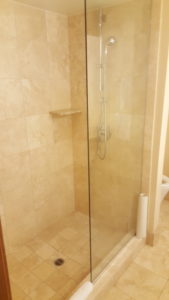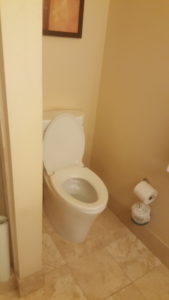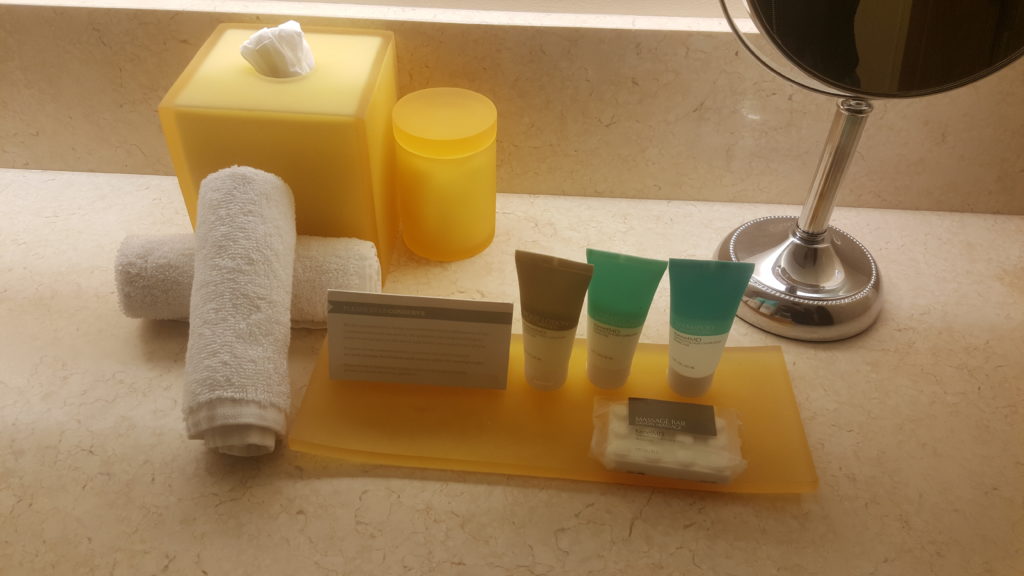 And as is typical with all rooms at the Hyatt Regency Monterey, a standalone A/C unit stood in both the living and the bedroom.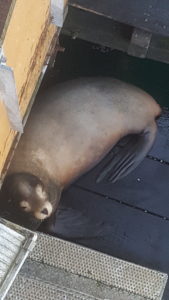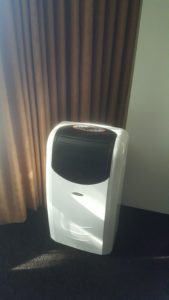 On this particular trip, the way the room was connected was more suitable, given that we had a third person in our group, but as a suite in general we would be disappointed.  It was blatant that both rooms were meant to be standard rooms, but instead of a bed in one, there was a living area.  We generally prefer a room designed to be a living area.  As opposed to a sliding door to separate the living room and bedroom it was but a simple room-splitting door.While still in the room we called to the front desk to inquire about a late checkout, and were granted a 2:00 departure time.
We unloaded our things and left for dinner at fisherman's wharf, just a couple miles away.
On our return we decided to try our hand at the lounge for cocktails.  We walked over to the lobby, observing how crowded the hotel was.  The pool, spa, and game area were all occupied even in the dark of the evening.  It was already 8:30, but there was no sign of calming.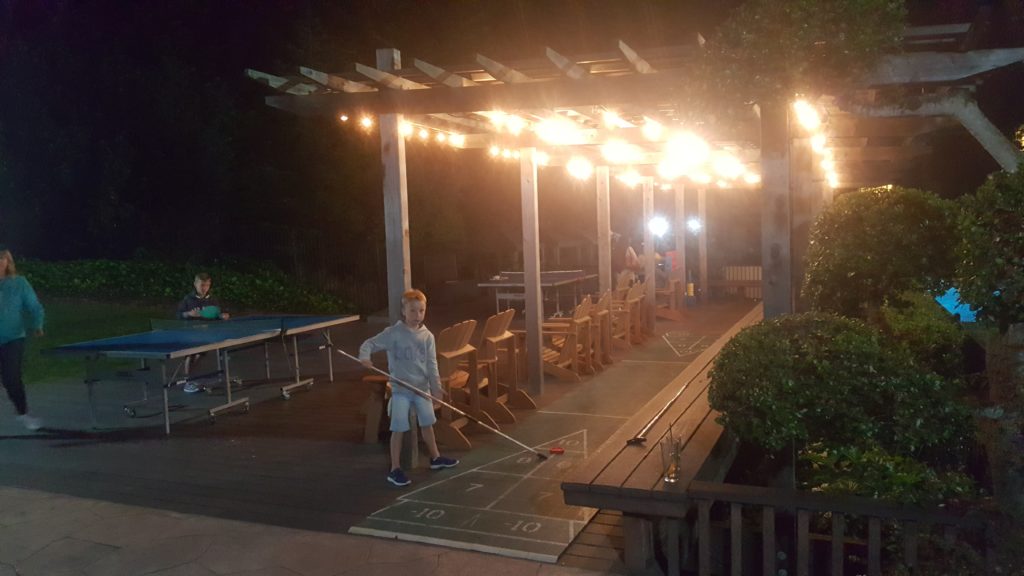 Kim and I entered the lobby to find a jam packed lounge, with live-music and chatter livening up the evening.  We managed to find a seat, but it was 15 minutes before we were even approached by a waitress.  It was apparent the lounge was over-crowded and under-staffed.  We ordered a hot-chocolate and a Strawberry Mojito.  Perusing the menu, we determined that we could have skipped dinner at the wharf (unimpressed at Crab Louie's) and enjoyed a cheaper meal at the lounge.  In fact I have previously enjoyed a couple entrees at the lounge that were quite satisfactory.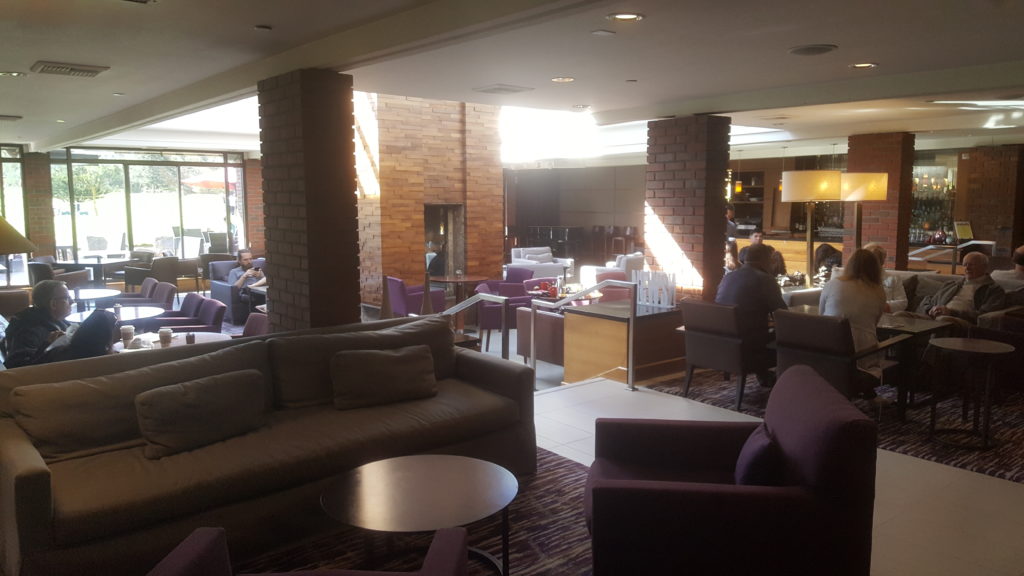 Our drinks didn't take too long to come out, but we were disappointed when the hot-chocolate was barely chocolaty and the Mojito had practically no sweetness at all to it.  After a few minutes without being checked on, Kim took it upon herself to bring some sugar and sweetener to add to my Mojito, which improved it enough to enjoy.  Soon after I brought up the hot chocolate to the bar, and the bartender was happy to add more chocolate syrup, again bringing the drink up to par.
After returning to my seat, the waitress finally checked on us, at which point we had already enjoyed our drinks to completion.  It was another 10 minutes though before she brought us our check, and we were long ago ready to leave.  Before departing, we spent a few minutes on the dance floor, where I embarrassed myself with simple two-step but enjoyed the company of my dearest.  Then it was back to the room to sleep.
It was 6 in the morning when stomping above us woke me and Kim.  Fortunately we were able to pass out once more, but when we woke again at 9 the noisiness above persisted.  Some energetic children were prancing about, and after getting dressed and stepping out in the hall to go to breakfast, we heard even more childish screaming down in some other rooms on our floor.  It occurred to Kim that it was the Easter weekend, and so it made sense that the crowds and kids were in full-force.
Our guest followed us down to the restaurant, despite having already eaten.  The TosCA restaurant was more packed than we've ever seen it, and it was no surprise that there was a 20 minute wait- the first time in our half-dozen stays.  This gave me a little time to walk around and snap some photos, and in no time at all our seat was ready.
A lighter alternative than restaurant breakfast
Our waiter brought out orange-juice and water, and Kim ordered hot-chocolate and tea.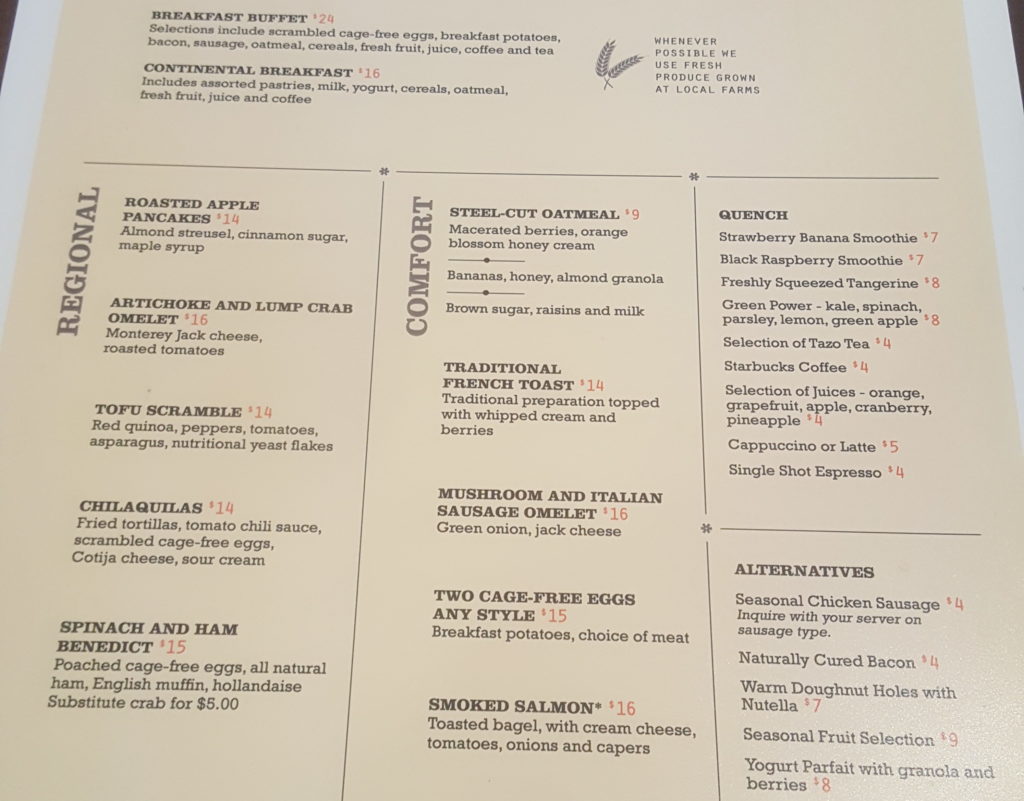 I decided on the Lump-Crab and Artichoke omelette, while Kim had the spinach and ham Benedict.  While I was mildly satisfied with my meal, Kim felt there was insufficient portion of eggs in her Benedict, and that her ham was over-done.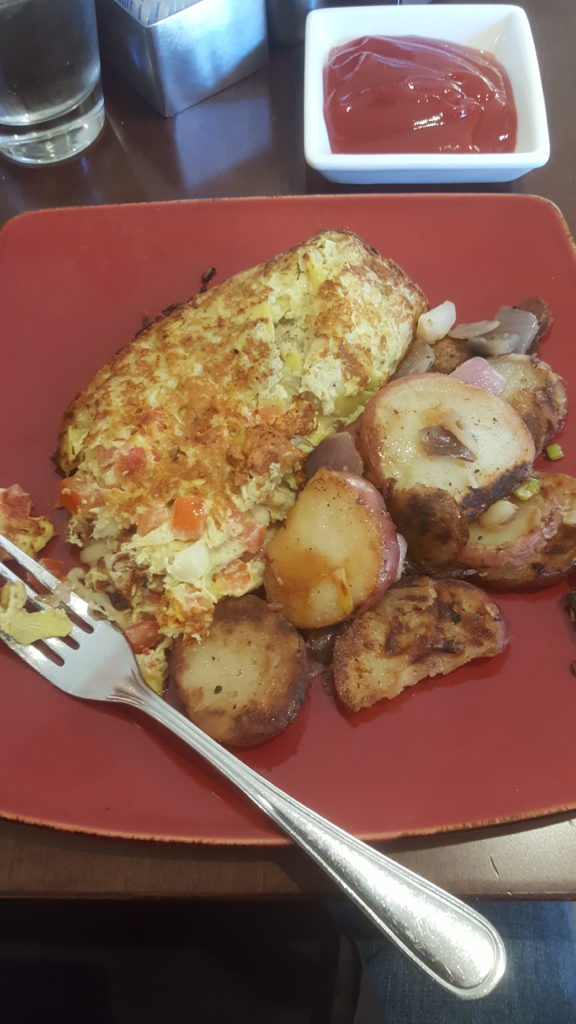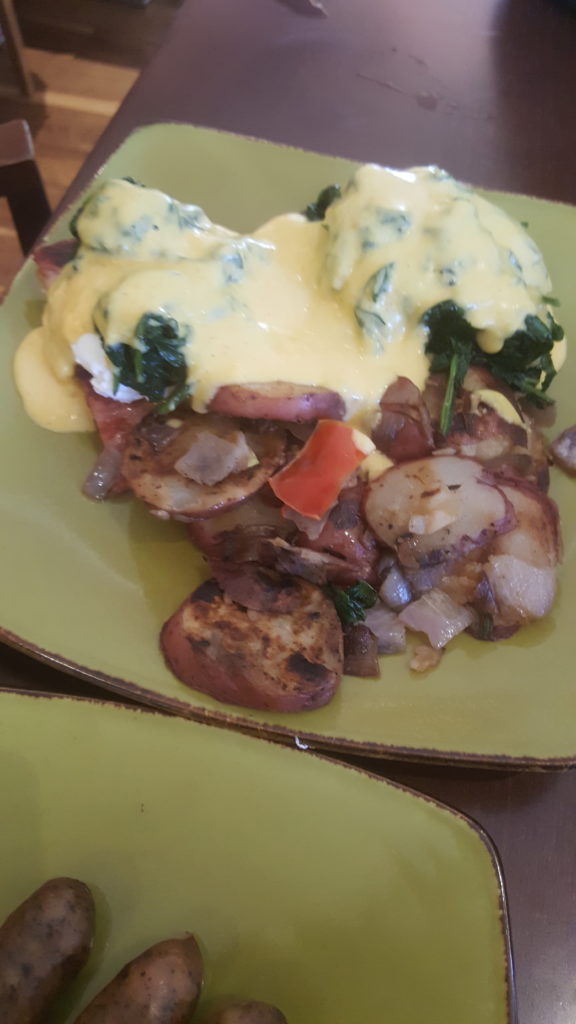 I've certainly had better meals there in the past, and feel that worse-comes-to-worse their buffet offers a good variety of options.  We were certainly happy that breakfast was free as part of our Globalist membership, as it would not have been pleasant paying the $60 bill for the two of us.
Service in the restaurant was on point, and the atmosphere was a-okay.
After breakfast we took the 15 minute walk to the beach, where we continued almost all the way to fisherman's wharf.  We took some time to relax on the sand, but couldn't overindulge given our 2:00 check-out so we started our walk back.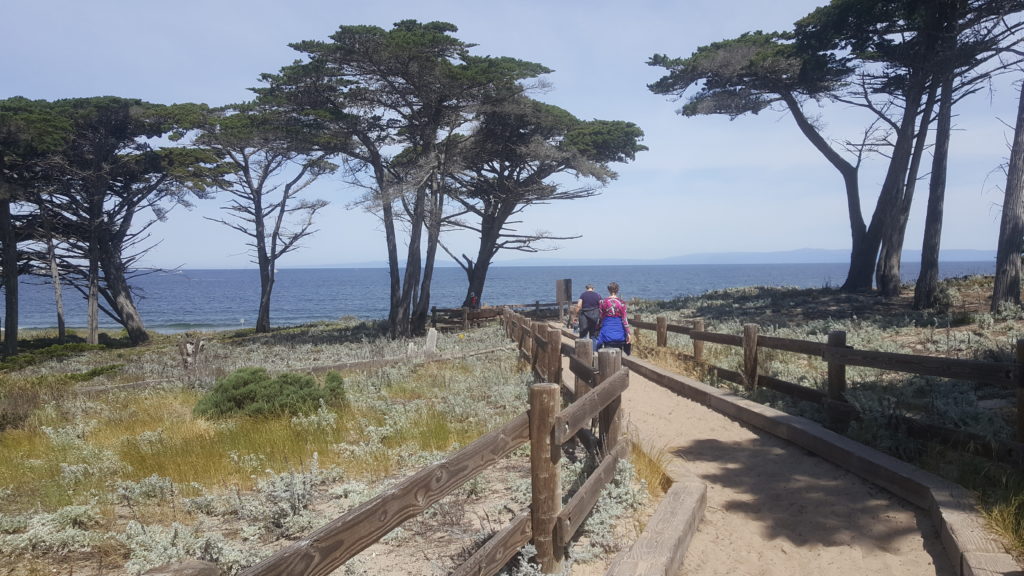 We returned to the hotel and packed our things.  We pulled up to the valet so I could check out.
At the front desk I asked if I'd be able to tour the Hospitality Suite, and the agent found someone to take us via cart over to the room.
It was the first time in many stays that we ventured to that side of the hotel, discovering a massive patio area between buildings, a second fire-pit and a second pool!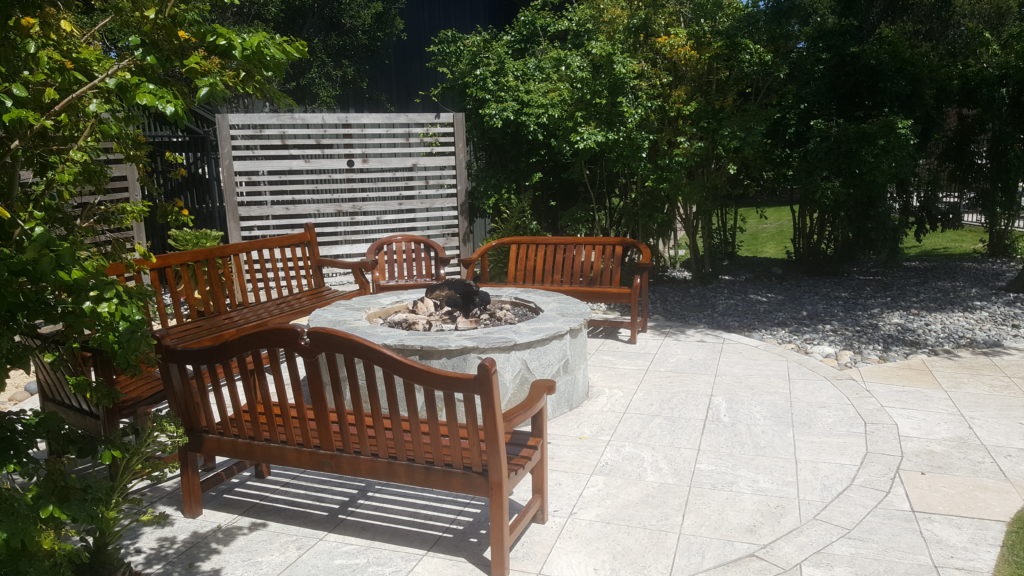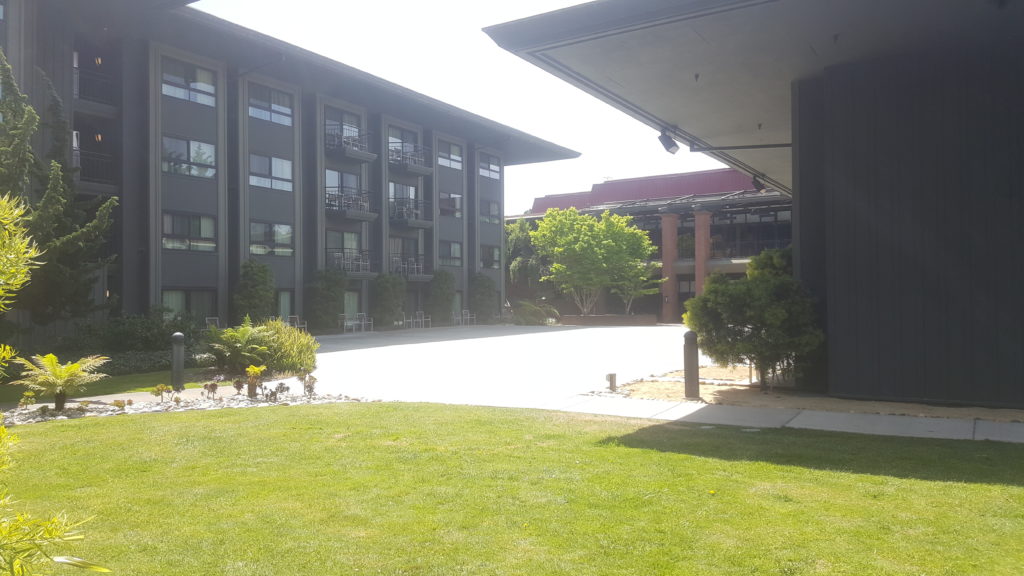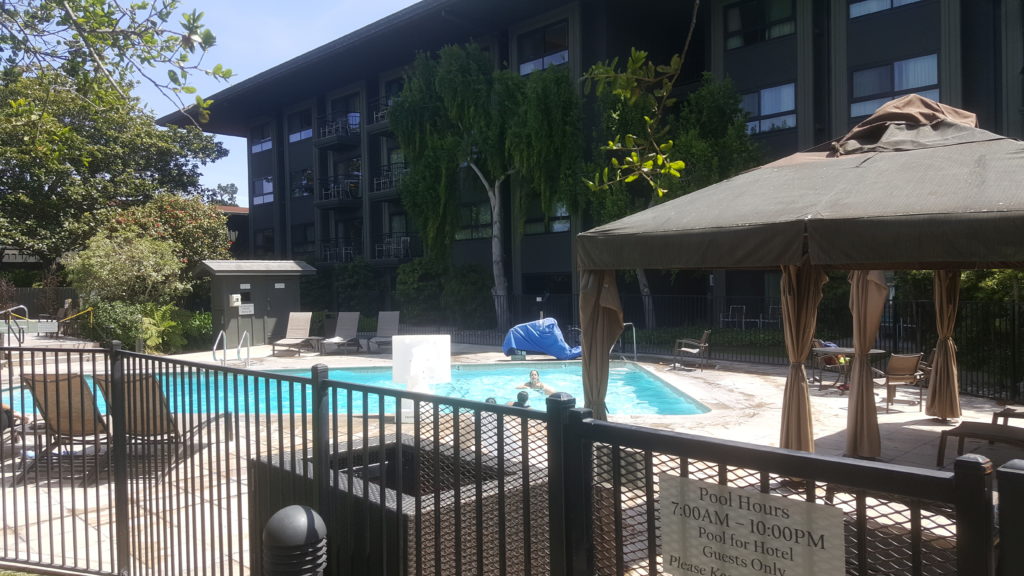 We went through the Hospitality suite fairly quickly, and were a tad less than impressed with what it offered.  Essentially equipped with an over-sized living area and a dining nook, this room was otherwise pretty much a run-of-the mill suite.  In addition, taking advantage of the extra space would mean sacrificing location, as this side of the hotel was not centrally located.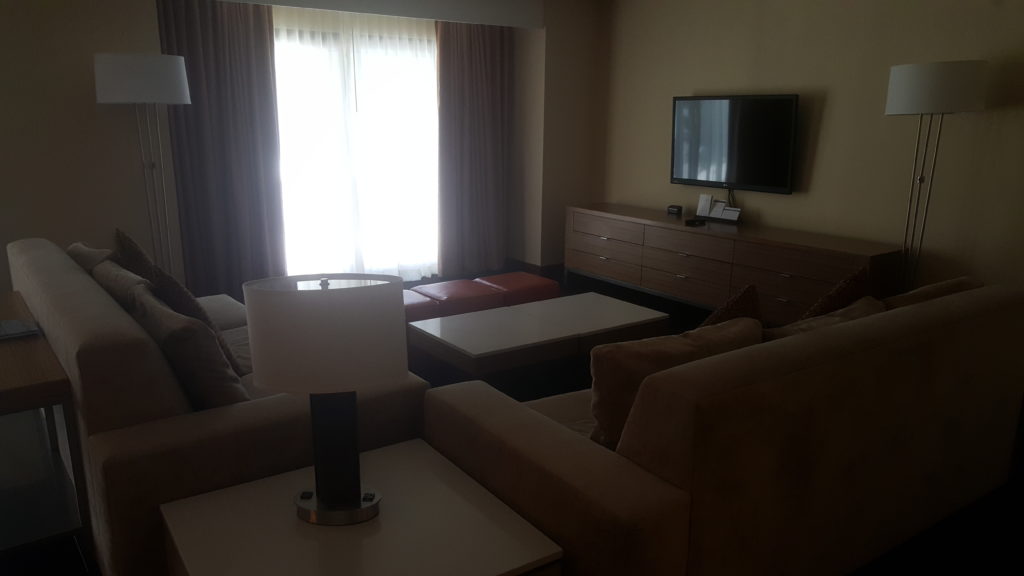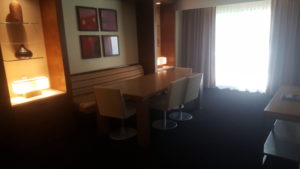 We thanked our guide for showing it to us and he drove us back to our car at the valet.
Ultimately
Between an exceptionally long wait in the lobby lounge for our food, sub-par beverages, sub-par breakfast (for at least one of us), and children stomping above us (albeit out of the hotel's control) this was the most mediocre stay we've had here.  Don't get me wrong, I will choose this hotel the nearby Carmel Highlands Inn nearly any day of the week, and I intend on returning again.  We just felt this experience wasn't up to the task when comparing it with previous stays here.
Please follow and like us: