After checking out of the Hyatt Carmel Highlands in the morning and spending the day at the Monterey Bay aquarium, we drove 3 miles down the road to the Hyatt Regency Monterey Hotel and Spa.  Kim and I had stayed here a year ago when I was platinum status and at that time booked a king bed room rate that included tickets to the aquarium and breakfast for two.  Because I had eaten breakfast in the hotel's restaurant before, I was under a misguided impression this time around that there was no Regency club and that I'd receive a breakfast voucher.
Tyler greeted us at the front desk, welcoming us and thanking me for being a Diamond member, he offered us our amenity or bonus points, and because we didn't know there was a club, we ordered two bottles of Pepsi and a cheese platter.
He then asked us if we wanted a 4 P.M late check out the following day, which I agreed to since we figured our day might run into the afternoon.  After a quick check of his computer, he offered us a golf-course view room with a 4 P.M check out or a Monterey Suite with a King Bed with a 2 P.M check out.  I eagerly took the suite upgrade, happy I didn't use one of my four annual suite upgrades for my one night stay.  He handed me a Diamond Member welcome letter and showed me on the map where our room was along with where the Regency Club was.  Upon being told there was a Regency Club, we changed our amenity to the 1,000 bonus points.
Tyler offered to get someone to assist with bags, which we declined since we only had two, then we headed out for a drive over to the building our room was in.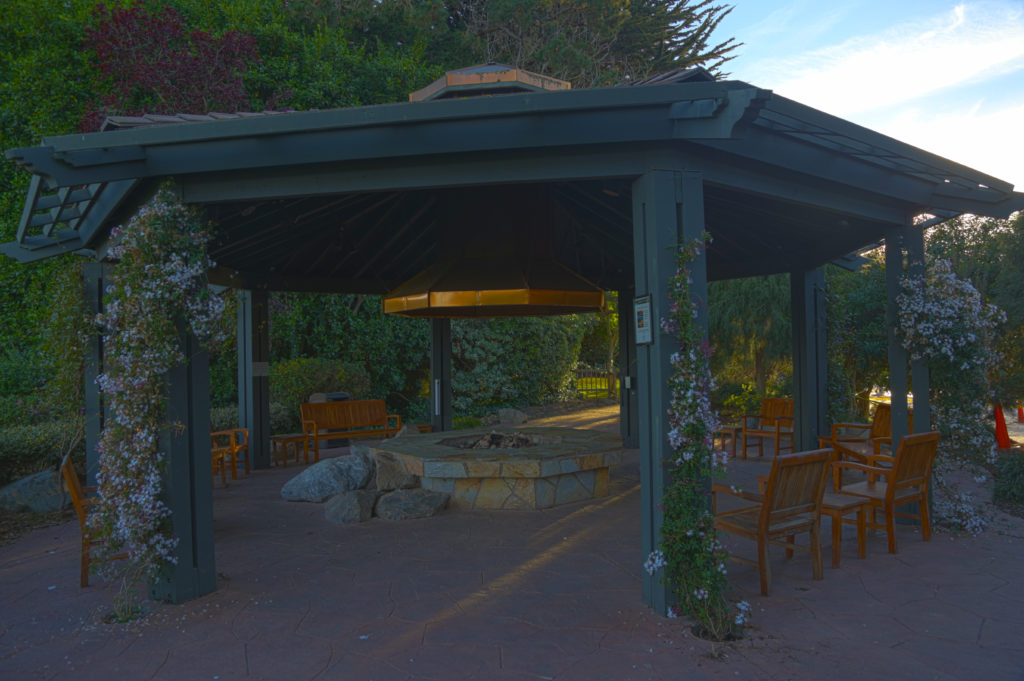 The Hyatt Regency Monterey is divided into several buildings throughout the property.  A few are by the conference center and a small pool, a few others are on the east side of the driveway alongside the golf course and a pool with a small waterfall near it.  The hotel also features a giant Connect Four set, a giant Checkers Board, ping pong tables, board games that guests can check out, and a gazebo with a giant fire pit.  Some people don't like the separation of buildings because it means going outside to get to any other building.  I didn't feel it was an inconvenience, most buildings were just across from one another and had covered walkways.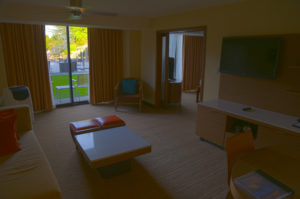 Our room was at the far back corner of building 3, room #304.  When we opened the door we were both instantly impressed with the size of the room.  Not the largest suite we had stayed in by far, but certainly roomy and comfortable.  To our immediate right was a half-bathroom, and to our left a large closet.  Ahead was the living room, which held a single-armed sofa, flat screen TV, ottomans and a work table.  Behind the curtains was a view of the pool, and to the right of that double sliding doors opened to the bedroom.
The bedroom was fairly typical with a Hyatt Grand Bed, Ihome radio, and flat screen TV.  The one added feature that was really useful was an Insignia brand outlet adapter with two outlets and two USB ports for charging.  To the right was the master bath with an oversized shower and rain-head faucet.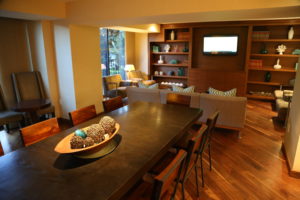 After settling in, we made our way to the Regency club for some evening Hors D'oeuvres.
Amidst many other snacks, we found delectable bacon wrapped scallops.  The offerings were relatively decent, but not one of their best clubs.
Despite that, Bryan at the club was incredibly helpful, ensuring guests had everything they needed and keeping the place clean.  He told us that the club would be shutting down at the beginning of April and that they had plans to move the club to a larger area.
We finished our food and headed outside for some evening fun.  While other guests played ping pong, Kim and I exercised our minds with a few games of Connect Four (as much as one can exercise their mind with such a game).  I was incredibly disappointed that the game didn't come with the trademark red and blue pieces, instead we were supplied with donut shaped green and yellow pieces.  It will be quite some time before I recover from that disappointment.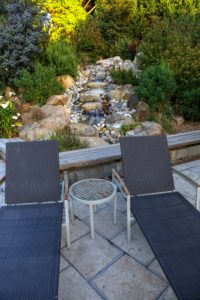 As the sun was going down, we went back to the Regency club to pick up some desserts and soda, then made our way back to the room.  We brought back apple pie and some cake-batter brownies.  We watched TV for awhile, then went to bed.  We had no noise problems and the A/C was quite efficient, the evening was quite comfortable.
The following morning we stopped for breakfast at the club.  We had a breakfast quiche and toasted bagels with peanut butter, then went out on a walk to Fisherman's wharf, which is just a couple miles away.  Upon return we packed up and checked out.
Overall Impressions:
The last time I stayed at the hotel, the only standout was the continental breakfast that was included in our package rate.  If that breakfast was included as part of Diamond membership it would be an incredible benefit, as the club offerings were pretty meager.
This time around I accomplished a little more exploring than last year, and discovered that this hotel is a pretty decent place for a weekend getaway in Monterey.  There are activities abound, and the extra space I received with the complimentary suite upgrade made this one night stay quite enjoyable.  Even their standard rooms are pretty spacious, albeit not that impressive.
The most notable negative at this hotel is the external air-conditioning units found in all of the rooms.  While they featured a remote control that made for easy changes right from bed, they all took up space that could be better used, and they stick out like a sore-thumb in an otherwise well laid out environment.  Service was great in general, and definitely superior to my experience at the Carmel Highlands Inn down the road. The location is perfect for experiencing what Monterey has to offer, and the grounds are well landscaped and well-kempt.
Please follow and like us: