The Grand Hyatt Kauai may be the young traveler's most aspiring destination within the U.S.  Indeed, it was mine nearly three years ago when I came across the Hyatt Visa card and wanted to know where the best place to use my two free nights was.  In September of 2013, I spent my first five nights there.  Since then I have stayed an additional 12 nights and I've experienced a total of 8 different rooms.  No day has been a let-down, no moment has been forgotten.
Our departure for this trip was a calm Thursday morning.  We departed Sacramento on an economy ticket with United and connected at Los Angeles International, where we took advantage of both the United Club with our day pass and the Alaska Board Room lounge with our Lounge Club access.  From there we departed direct to Lihue on an eventless 6 hour flight.  We arrived in Lihue around 12:45, and after grabbing our baggage, picking up our convertible, and making a snack run at Costco, we drove the 15 miles to the Grand Hyatt and arrived at 2:30 in the afternoon.  We chose as we always have to utilize the valet for the first night.  If you stay at this property, you should at the very least use the valet on your first day.  You are presented with a Lei, offered water, and assisted with your baggage.  You may otherwise be presented with a Lei at the front desk, but I've heard of instances where people miss out on this.
On our first stay we were checked in by Eric, on our second by Lauren.  This time we were helped by Jessie.  Jessie welcomed us back and informed us that our government rate Diamond Suite Upgrade to a Garden Suite had been further upgraded to an Ocean Suite.  Based Hyatt's website, upon check-in there was availability for all room categories across the board, less Garden Suites (as these typically fill up with people using Diamond Suite Upgrades).  I informed Jessie that I had spoken to Darlene in the reservations department about paying to upgrade further to a Deluxe Ocean Suite for the last two nights of my stay.  After conferring with a supervisor, Jessie let me know that there was availability for a Deluxe Ocean Suite on the 5th floor in the Poipu wing.  I then specifically requested room 6127, as I had heard this was the most lavish of the Deluxe Ocean Suites.  After a quick check, I was offered that room at an additional cost, which I agreed to. In the meantime, we would be in room 2029.  We confirmed our 1,000 point bonus for our Diamond Membership amenity, although for the first time we considered taking a Cabana rental instead (Value between $70 and $150)
The bellhop, Teddy, walked with us to our room and unloaded our luggage.  As bellhops go, I haven't experienced any friendlier than those at the Grand Hyatt Kauai, Teddy was no exception, nor was the man who later helped us move to our other Suite (though I missed his name)
Room 2029 is a standard sized Ocean View Room.  It is larger than the small version I experienced in room 6083, though it did feature a smaller balcony.  It was smaller than our corner large version ocean suite in room 2038, and even less convenient location wise.  It was directly above the Garden Suite I stayed in last year, and was essentially exactly the same.  All Ocean and Garden suites feature a television in both the bedroom and the living area, a wet bar, a table for 4, an L shaped couch, a Jacuzzi tub with a small TV in the bathroom, and toilets with heated seats and front and rear cleansing options.
As a Diamond member, we received a card with information about our amenities, and I scrolled through, having forgotten what they were.
Throughout our stay we would take advantage of a nightly turndown service, access to the Spa, 15% off at the Logo Shop, and most importantly Club Access.  We were disappointed to find that 15% off the Anara Spa Retail Price applied only to the Spa store, and not to services (this led to our decision to postpone a pampering until our upcoming trip to the Park Hyatt Maldives)
After unpacking, we made the roundabout trip to the Grand Club.  I say roundabout because there is no easy access to the club from a good portion of 2nd floor rooms.  We literally had to walk down a hall, turn left down another, turn left down another, elevator up, and another left with a short walk to the double doors.  All in all, you turn 235 degrees for the trip.  But definitely a worthwhile trip.
The grand club is almost always available for snacks and drinks, in fact on our last trip I did not once show up to locked doors.  Among trail mix, wasabi peas and macadamia nuts you'll find my favorite amenity: Passion Guava juice!  You're also provided with Pepsi products in cans and bottled water, along with some various carbonated canned fruit drinks.
After grabbing some trail mix and a couple of soda's, we went back to the room for some R&R.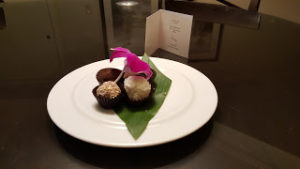 After a small amount of rest, we did something that we haven't done in our many days at the resort: walked up the trail to the big rock east of Shipwreck beach.  We admired the view of the resort and took in the awesome Kauai weather, then went back to the club for dinner.
The club was serving chicken enchiladas, and we both chowed down.  While it was nothing to write home about, they were quite enjoyable, and served as sufficient dinner.  When we returned to the room, we found an assortment of four truffles delivered by management.  We had also received a welcome dessert our previous year, and I'm unsure whether this is an amenity passed to all guests, diamond members, or return guests.  We devoured the truffles and quickly passed out.  It was 8:00.
On Friday morning we woke up to sunset, and realized we had time to make it to the morning fitness walk hosted by Ani. Ani hosts many of the fitness classes at the resort, and while I hadn't attended any in the past, she did recognize my girlfriend from previous years.
Our walk took us west over to Poipu beach park.  Last year we were able to spot Sea Turtles in the shallows, but this year we were not so lucky.  Shortly after leaving the resort, a downpour began.  We huddled under some brush for 10 minutes until it cleared enough for us to continue.
Upon returning from our walk, we went back to the club for breakfast.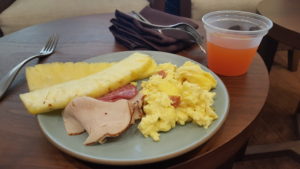 Breakfast at the club consists of an entrée, and offerings of pineapple, watermelon, cantaloupe.  They also serve sliced turkey, salami, and oatmeal.  Miso soup is served consistently throughout the day.
There is also a station for bagels and toast, with Guava and Mango jellies, Smuckers peanut butter, and delicious North Shore Coco peanut butter.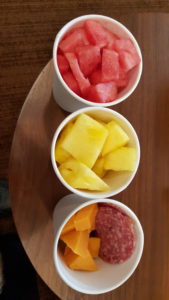 Our entrée for Friday was scrambled eggs with ham.  While we once had a great breakfast at Ilima Terrace, saving the $25+ per person with our club access was well worth it.  You may have more options and better food at the restaurant, but this was still a great substitute.   When we finished breakfast, we loaded up with extra pineapple, watermelon and cheese and salami, and dropped it off at our room.
When we arrived at the room we found a small dessert plate along with a bottle of champagne and two champagne flutes.  We opened up the note, which was clearly marked for other guests at the hotel.  We called the front office to let them know of the mistake, and offered to return the champagne.  They apologized, though no apology was needed, and told us to keep the champagne for ourselves.
Next up was to move our car from the valet to self-parking.  Though we used the valet every day during our last stay, we were on a tighter budget this trip, and the convenience was not worth the $16 a night fee.  In general, I'd recommend using the valet if you're staying in the Poipu wing, as it will save a little bit of a walk.  Last year our entire 7 night stay was in the Poipu wing, but this year 2 of our 5 nights were spent in the Shipwreck wing, far closer to the self-parking.
We grabbed our car from the valet and decided to drive over to a local shopping center to visit some jewelers and art galleries.  There, we heard about an art festival later in the evening in the town of Hanapepe.  After an hour exploring, we drove back to the hotel and dropped the car at the self parking lot.
The rest of our day was spent mostly at the pool, where we enjoyed several beverages including Lava Flows, Banana Split smoothie with rum, and the Mount Wai ale ale chiller.
The pool at the Grand Hyatt Kauai is expansive and incredible.  It begins with an adult pool level with the third floor of the hotel.  You can follow a mini-river under a bridge and over to a short tile waterslide which flows into the river pool.  From there, you follow a river with a light current around past two waterfalls that feature hidden grottos.  Once at the end of this area, you can walk up a few steps to their waterslide, and end at the 1st level of the resort in the main pool.  The main pool features a volleyball net and a mini-river that ends at the base of a large waterfall.
We also rented a 2 person kayak for 30 minutes at a cost of $10.  We used this at the lagoon pool, a "sand" filled saltwater pool larger than the others.
We had come prepared this trip with water shoes, as the stairs leading to the waterslide are uncomfortable to walk on in bare feet, along with the "sand" at the lagoon pool, which is more akin to fine gravel.  I'd strongly recommend you bring water shoes as well.
After spending most of the day at the pool, we departed for Hanapepe, where we spent the night roaming the street at an art festival.
Upon our return, we went back to the grand club for dinner.  We were served delicious sliders with Chile mayonnaise, then it was bed time.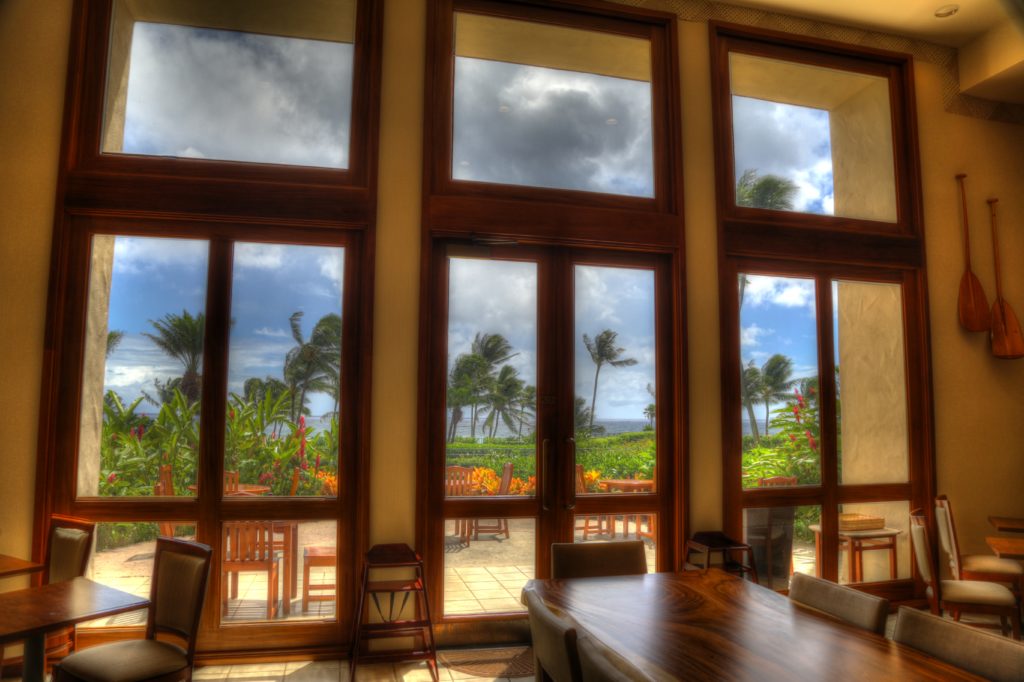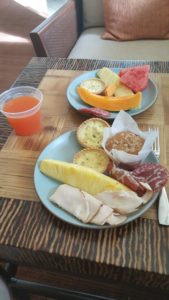 Saturday morning we woke, got ready, and headed straight for the Grand Club.
The club was serving Petite Quiche Florentines, which were terrific, along with the usual fare.  I added a muffin and a couple meats to my bowl, and discovered that I absolutely despise whatever the extraneous meat was (not pepperoni or salami).  I'm sure it's an acquired taste.  Maybe you can identify it on the left.
As shown above, the view from the club is terrific, and during a couple of our visits we did sit outside for our meals.  If you take this route, beware though... there are birds and cats abound.
More than once I've dropped off some food, reentered the club to grab something additional, and returned to find a critter had scavenged!
After our breakfast and a little relaxation, we headed west out to old Koloa town, to the Kauai coffee Plantation (highly recommended), and to Waimea Canyon.  I'll spare most of the details, except to say I was delighted that the Waimea Canyon falls were flowing in force, unlike the last time we had trekked all the way there to find it dry.
Dinner at the club was ravioli served with either Alfredo or Marinara sauce, and after our meal, another early bedtime preceded a day spent entirely at the resort.
For all the days we had spent at the Grand Hyatt, not once had we managed to stay at the resort for a whole day.  We were always too busy on an adventure--- tubing down a sugar cane canal, soaring over Jurassic Falls in a door-less helicopter, hugging the Napali coast on a luxurious catamaran, etc.
But on Sunday we "pooled" it off, spending our day changing rooms and enjoying the pool.
Our morning began with another visit to the club.  I'll spare you my breakfast photo and just let you know it was a scrumptious breakfast burrito along with a toasted bagel and peanut butter.  We continued our morning by packing up our Ocean Suite in preparation to move to a Deluxe Ocean Suite.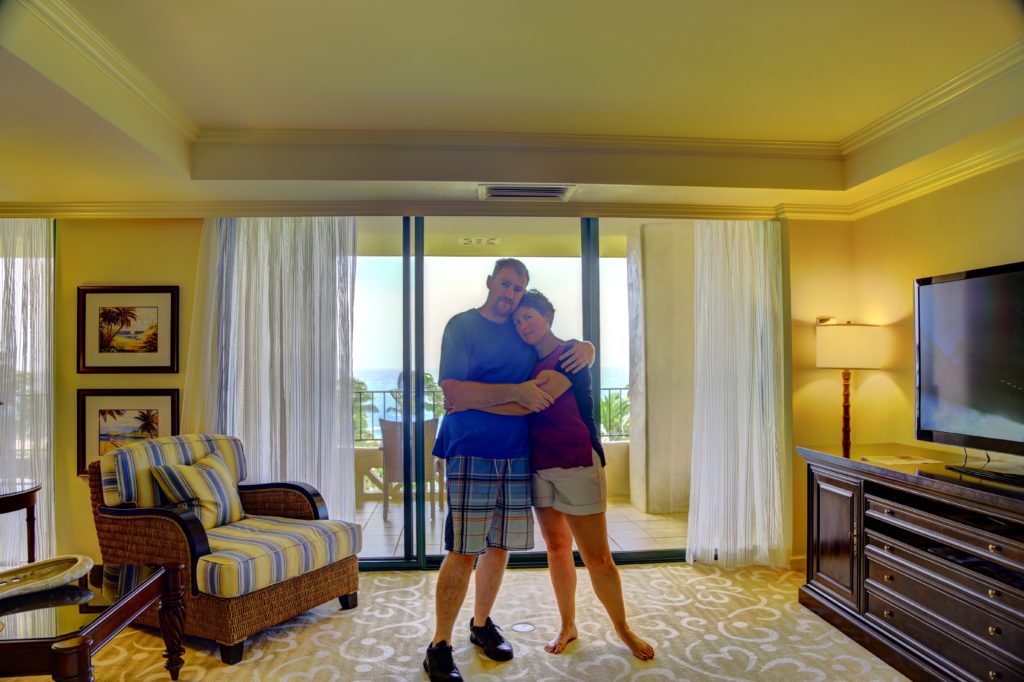 In the middle of preparations, we got a call from the lobby informing us that our new suite was ready.  Thus, we had them send a bellman to help us load up our luggage, and strolled down to 6127.
In contrast with the suite we were in, 6127 is on the opposite side of the hotel in the Shipwreck wing.  It is bigger, has a nicer view, and in my opinion is a far more convenient location for nearly everything at the hotel except for the Grand Club.
Despite it being significantly smaller than the Presidential Suite I had stayed in, this room was still magnificent.  Its location and view are prime, and it is by no means too small.
We continued our day out at the pool, this time with a water tube in hand.  We spent several hours enjoying the outdoors until it was time for dinner.
In my opinion, no trip to the Grand Hyatt is complete without at least one dinner at Tidepools, and this one was no exception.

Tidepools is the resort favorite when it comes to restaurants, offering an incredible setting with even more incredible food.  While I did once run into an entrée that didn't take my breath away, I have not run into an experience here without at least a little awe.  This time around my girlfriend and I shared an appetizer of Crab Cakes and Polenta Crusted Scallops.  The crab cakes, while great, were still a step down from my favorite: Ruth's Sizzling Crab Cakes at Ruth's Chris Steakhouse.  The Scallops, however, were terrific.  So were our entrees: my girlfriend's usual Hawaiian catch, and my kryptonite... Butter Poached Lobster.  Along with our cocktails, this was a very satisfying dinner.
Monday began with Quiche and Pineapple at the Grand Club.  We spent our final full day in Kauai heading north.  We visited Costco for more sunscreen, hit Wailua falls, the town of Kapaa, and enjoyed fish taco's at Tropical Taco in Hanalei.  We also grabbed ice cream from Lappert's and took some scenic photos at the Hanalei valley overlook.
We got back with barely enough time to grab some desserts from the club, and went back to our room loaded with chocolate brownies.  Even though we were in time, we decided to order some take out from Tidepools.  We ordered Crab Cakes, a Cream Brulee, a Chocolate Lave Cake, and a couple of cocktails.  Unfortunately the Crab Cakes weren't as delectable as they were a night earlier.  Maybe it was just because it was takeout and was presented differently, but I was not as impressed as I was at the table.   The Crème Brulee and Chocolate Lava Cake were great, so were the cocktails.  On our last night in Kauai, we passed out around 10 or 11.
We had already confirmed a late check-out of 4 P.M with the front desk, which was terrific considering the previous year we had to move out of the Presidential suite by noon on our last day.  After a quick breakfast Tuesday Morning, we made our way to the lobby to try to catch the 10:00 Bird Talk.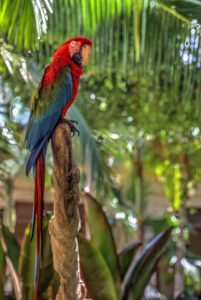 Unfortunately for us, the talk was at 10:00 A.M, and it was 10:30 when we arrived.  A quick check with the front desk confirmed that the talk only lasted 10 minutes.  This was disappointing, as the bird talks give kids and adults the chance to interact with some of the resort's exotic birds, and we've enjoyed it in previous years.
The resort has 4-6 birds that are usually on display either in the lobby or near the shipwreck bar by the pool.  You can pick up an activities guide from the front desk to find out when all the bird talk events are hosted.
We left the lobby and went back to the room to suit up for a day at the pool.
Alas, it was finally time to leave, so we packed up our belongings and loaded up the car.  Even though we were 30 minutes late getting out of the room, we had no issues from the hotel.
With our car loaded, we wandered over to the Grand Club.  Normally we wouldn't have access so late in the day after already checking out, but we had made acquaintance with one of the staff and she was nice enough to let us in to grab some dinner and snacks.  After saying goodbye, we took off for the airport to catch our red-eye back to San Francisco.
While this wasn't our favorite of our trips to Kauai and the Grand Hyatt, considering we had 2 nights less this vacation than last year, it was no less a wonderful time.  I'm intrigued by the few who don't have a perfect time here, but am well aware that there are those who can't be satisfied, and that every experience is different.
If there is one thing I wish the hotel would do differently, it would be to keep the waterslide open longer.  As it stands, it opens at 10-11 and closes somewhere between 4 and 6.  It's been like this for at least the last 3 years that I've stayed, and is definitely not long enough.
Special Thanks to all the staff who made this vacation fantastic.
Staff I had positive interactions with: Teddy (Bellhop), Irvin (Bellhop), Victor (Valet), Michael from San Diego at the Front Desk.  Jessie at the Front Desk, Eric at the Front Desk, Ani from the fitness center and Simone from the Grand Club, among many many others.
Come back soon for a guide to the rooms and grounds of the Grand Hyatt Kauai, and in the meantime checkout my Youtube channel for videos of a variety of suites on the property, including a Presidential Suite!  I also feature a video of Kauai from Land, Sea, and Air in 3D!  Youtube user novelist1985
For those with 3DTV and Glasses, select the video below:
Please follow and like us: