Last week I decided to book a night down at the Hyatt Regency in Monterey.  It would be my third trip to the hotel, and a great option for an evening getaway.  I used 15,000 Hyatt gold passport points to book the room, as opposed to a $339 nightly rate.
While our last stay was clear-cut excellence between receiving a free suite upgrade and relaxing times at the Regency club, this trip was more of a mixed bag.
We arrived at around 9 P.M.  I already knew it would be busy because the Hyatt website showed the hotel had sold out for the night, and the lobby made that even more evident.  While there was a separate desk for Platinum and Diamond check-in, there was no separate Queue for it, nor was there anyone staffing it.  About 4 people were ahead of me when I first got in line, and only one check-in agent to help them.  After a few minutes, a few more agents filed out of the back room and manned the additional stations.  Overall it was a short wait to get to the front.  Chris checked us in, letting us know we were booked in a top floor golf-course view room. He explained that as a Diamond member, I would receive complimentary breakfast for two in the Tosca restaurant.  This was new in the last few months since the Regency Club had closed down.  I got no direct answer about potential reopening of the club, it sounds like it may return or may stay closed.
He offered us our Diamond amenity: either a 1,000 point bonus or a food and beverage option.  I'm typically inclined to take the 1,000 points, as I find the food and beverage amenities at most hotels to be sub-par.  But in this case they offered a local artichoke dip, and I chose that along with a bottle of Pepsi and Tropicana orange juice.
We took advantage of the complimentary valet and carried our bags over to our room.
Our room was spacious in size.  Definitely smaller than the suite we had received on our previous trip, but still good size.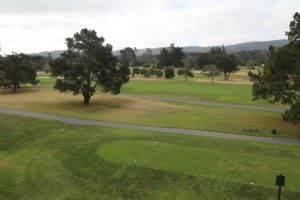 The view from the room was a decent panorama of the Del Monte Golf Course, par for the hotel.  I did notice some ocean view balcony rooms scattered about, but the views of the ocean were obstructed, and it was still a distance between the hotel and the ocean.
About 5 minutes after arriving in our room, Chris from the front desk called to inform us that the kitchen was backed up and that our amenity might not arrive until 10 P.M, 45 minutes from his call.  I advised him that it wouldn't be a problem, and kicked back into the bed.  A mere 10 minutes later a knock on the door surprised us.  It was room service with--- the wrong amenity.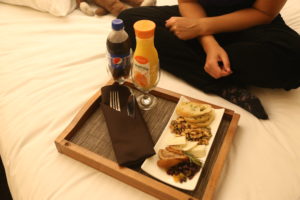 They delivered us a fruit and cheese platter along with my soda and orange juice.  I informed the server about the mistake, and he in turn showed me the amenity sheet that had been delivered to him.   Sure enough was my handwriting next to the beverage option, but it was Chris at the front desk who had mistakenly drawn a star next to the Fruit and Cheese platter option.  No biggie, it would be another 20 minutes before we received our artichoke dip with flatbread, and in the meantime we tried out the fruit and cheese platter.  It came with assorted nuts: pistachios, cashews, walnuts.  It also came with cinnamon pears, dried cranberries, garlic bread, and a small cheese collection.  I could not tell you what type of cheese, but that my taste buds were not keen to it.  The rest of the platter was enjoyable, but not as much as the Artichoke dip platter.
Before heading to bed I called the front desk to inquire about a late check-out.  Diamond members are given a check out as late as 4 P.M when available.  The agent on the phone offered us 1 P.M.
We passed out around 11 and woke at 9 to take advantage of breakfast.
It was a quick seating at the restaurant, and a waiter came to take our drink orders.  I mentioned my Diamond membership and inquired as to what was free, but got a vague response.  I decided to take a chance and order a Raspberry smoothie on top of the full breakfast buffet.  My girlfriend opted for hot chocolate and the buffet.
I made my way to the omelet station where a cook served me an Omelet with tomatoes, pepper mix, bacon, and cheese.  I also loaded up a plate with bacon, French Toast with Maple Syrup and brown sugar, and yogurt.  The food was great, and we downed our meals quickly.  When the waiter brought our bill, he told us breakfast would be removed, and I asked if I could just write the tip on the receipt, to which he answered that I could.
We left the dining room and traveled back to the front desk to see about an even later check-out.  The agent offered us 3:00, which we gladly accepted.  We left the hotel to enjoy our day in Monterey, and arrived back at 2:30.  Upon check-out, the front-desk agent advised me that my only charges would be for my Raspberry smoothie and the tip for breakfast.  This was disappointing, as my last few breakfasts I was able to order what I wanted and leave a tip without being charged for any of it, smoothies included.  Examples are at the Park Hyatt Aviara Resort, Andaz San Diego, and Hyatt Regency Orange county.  I imagine every hotel has a different take on the "free breakfast" policy, and since the Regency club had only recently closed down, I'm sure the policy in Monterey hasn't been refined to fit the norm.  I decided not to argue the bill and took off to enjoy the rest of my day in Monterey.* (See Update at Bottom)
While this stay wasn't as great as our last visit, most of the reasons were beyond the hotel's control, and I still think this is a great place to getaway for a night or two.
Check out this short video I took of whale watching in the Monterey Bay:
*Update.  Less than a week later, after completing the online survey, I received a call from the asst. food and beverage manager informing me that I was correct that I should not have been billed for tip or my smoothie and that they will process a refund for me.  After a short discussion, it sounds like this mistake is less likely to happen for future guests.
Please follow and like us: