Night two of my three night San Diego Vacation took place at the Andaz San Diego.  After spending the day at the San Diego Zoo, we drove the 3 miles south to downtown.
The Andaz only offers Valet parking at $40 per night.  I did not inquire about other nearby parking options.  We dropped off the car and walked into the most elegant lobby of the 18 Hyatt hotels I've stayed in (although not the most impressive).  As opposed to a standard check-in counter, the front desk agent entered my information into her tablet, and quickly processed my check-in.  While she did that, we were offered wine or soda along with delectable Red Velvet cupcakes.  I chose my 1000 point bonus for Diamond membership as opposed to the standard food/beverage amenity, and was told that our breakfast at the Rooftop Restaurant/Bar would be removed from the bill.
After less than 5 minutes, we were on our way up to our room: #513.
This was the first time since beginning my loyalty to Hyatt that I booked the room using another source than Hyatt's website: in this case, Rocketmiles.
I took this route, paying $175 for the night as opposed to the Government Rate of $145, and instead of earning 1375 Hyatt Points for the stay (Diamond Membership 30% bonus + 3X Points for using Hyatt Visa), I instead opted to use Rocketmiles' promotion to earn 350 Ultimate Rewards Points (2X for Travel on Sapphire Preferred) and 5000 United Miles.
Our original booked room was an Andaz Queen, but we were given a free upgrade to an Andaz Large King.
Our initial impression of the room was that it was huge, and I immediately thought I had been given an upgrade to a suite.  But my girlfriend and I both quickly realized that it was an illusion: mirrors on either side of the room made it seem much larger than it was.  After comprehending the actual size, I realized this was not a suite, but it was certainly much larger than we could've ended up in had we gotten what we booked.
The highlight of this room (and apparently most of the rooms in the hotel) was a see through-shower area with Rain-shower head.  It also had a nice view of Downtown San Diego.  But as much as we both liked the room, my girlfriend is extremely sensitive to smells, and the room smelled as though they may have covered up some smoking.  To me, it was a light, non-bothersome odor, and I could've easily stayed, (I also feel most people would not be bothered by it) but it was not to be.  Before we went downstairs for dinner recommendations and to request a room change, we quickly toured the rooftop of the hotel.  The rooftop features a bar area, dozens of chaise lounge chairs and numerous cabanas along with a small sized pool.  On this Sunday night, there were a few 20-somethings scattered about relaxing or drinking, all rather quiet.
After taking a few minutes to relax in a cabana, we made our way downstairs.  We told an agent about the smell and asked to be moved.  He introduced himself as one of the managers (I'm pretty confident Daniel was his name), and offered to show us another room we could move to.  We followed him to the elevator, and he took us to the 6th floor.  He opened the door to room #647, and we determined it would be more than suitable:
The room was an Andaz Suite, featuring a separate living area and a full tub and shower.  Though I still feel there was a smell in this room as well as the other, the odor here was significantly less noticeable.  Neither room bothered me at all, but this was more tolerable for the girlfriend.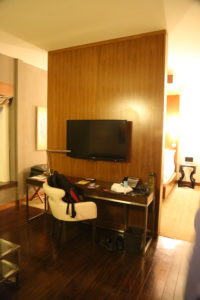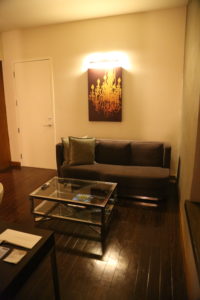 We headed out to dinner while Daniel had the staff move our luggage from the previous room to this one.  We took many recommendations from Daniel, but we ultimately ended up at Osteria Panevino.  I won't review dinner here, but I do highly recommend it.
We returned to the hotel and took a bath.  We discussed our breakfast options.  As a Diamond member, our breakfast would be free whether we ordered in room or on the rooftop.  My girlfriend was convinced that the layout of the rooftop restaurant would make for an uncomfortable breakfast, as we both figured we would end up at the bar.  But I ultimately decided against ordering in, as I wasn't completely enthralled with the room service menu, and hoped there would be additional items on the breakfast menu at the restaurant.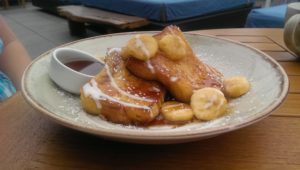 As it turns out, I was right, somewhat.
We woke up around 8:00 with plans to head out to the San Diego Zoo Safari park 30 miles north of Downtown, followed by our third night stay at the Park Hyatt Aviara resort.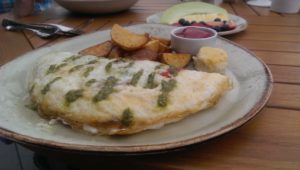 After packing up, we headed upstairs to the rooftop restaurant for our breakfast.  We were happy to see that they had reconfigured some of the patio to accommodate tables, so no need to eat at the bar.  We sat down and scrolled through the menu. The breakfast menu offered only a few additional items than what was on the room service menu, including the Andaz Bananas Foster French toast.  I ordered the Daily Fresh Juice, which in this case was a delicious, frothy fresh squeezed Pineapple Juice, and ended up ordering an item also offered on the room service menu: the Caprese Omelet.  My girlfriend ordered the French Toast and Hot Chocolate with a fruit platter.  Both entrees were incredible, easily the best breakfast I've enjoyed during my many stays at Hyatt's around the country.
Total bill with Tax and Gratuity $62.50--- complimentary with Diamond Status.
Last on our list of things to do at the hotel was request a tour of their largest accommodation, Room #648: the Star Suite.  We spent 5 minutes touring the party-centric pad.  We didn't learn anything that couldn't be derived from the website, and since we had an agent with us the whole time, I didn't bother with photos.  I did learn that discounted upgrades could be had on request at the time of check-in pending availability.  The Star Suite varies in price from $500-$2000 a night depending on time of year and events in the area.
As I discovered from both the previous night at the Regency Mission Bay and the following night at the Park Hyatt Aviara, the three Hyatt hotels I stayed in during my trip to San Diego all had their own pros and cons.  Catering to the 20's-something crowd, the Andaz would be my last choice for a family trip, as activities are fairly limited and the pool is rather small.  The proximity to the Zoo is unbeatable, but for anyone looking to take in more of the San Diego experience than solely the Zoo, you'd do just as well at the Regency closer to Sea World or the Park Hyatt closer to Legoland and the Safari Park.  Major pros of this hotel versus the Regency or Park include select free mini-bar items, treats upon arrival and served throughout in the lobby, more modern and stylish rooms, and breakfast that can't be beat.
Cons include smaller rooms, less family activities, and views inferior to those at the Regency.
In the end, extra friendly agents, a modern lobby and rooms, and an incredible breakfast make this my favorite of the three.  Yet I feel that I would be unlikely to book any room smaller than a suite, as the Andaz Large king felt rather cramped to me.
On a final note, the hotel did attempt to charge me for my breakfast despite my Diamond membership.  I noticed the charge on the bill and questioned the front desk agent.  She removed the charge from the bill and all was settled.
Please follow and like us: